It's been almost 10 years since Tim Howard started playing in the English Premier League.
In 2003, he signed for Manchester United for a fee reported to be in the region of $4 million.
At that time, Howard seemed to be a decent prospect, and he consolidated his place as Manchester United's No. 1 keeper at the age of just 23.
After a decent first season, Howard didn't really progress at Manchester United as he would have hoped, and in 2006, he moved to Everton on loan.
In February of 2007, Howard signed a permanent deal with Everton, and he's been there ever since.
Now that the history lesson is over, let's take a look at where Howard ranks among the current crop of Premier League goalkeepers.
This is probably the most difficult thing to judge, because overall, the quality of keepers in the Premier League is excellent.
In years gone by, you could probably pick out one or two who were a bit dodgy, but it's difficult to pinpoint those kinds of keepers now.
Nobody can argue that Howard is a more experienced and confident keeper than he was when he was at Manchester United.
Maybe his move to Old Trafford 10 years ago came too quickly for him.
Without being disrespectful, the level that Howard played at before moving to England was nowhere near as good as the Premier League, so he wasn't under as much pressure and scrutiny when he played in the MLS.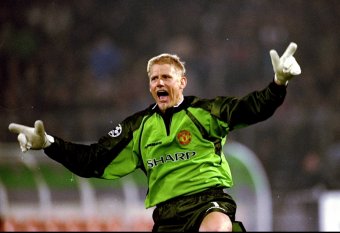 Getty Images/Getty Images
Moving to a different country where the culture toward football is completely different would be bad enough, but to have the omnipresent shadow of Peter
Schmeichel
looming over you must be a daunting prospect.
Schmeichel is one of the best keepers in history, and anyone who plays in goal for Manchester United (even to this day) is compared to him.
After Howard's competition at United were released, he must have thought he'd go on to be their No. 1 choice.
Unfortunately, that never happened, as United signed experienced Dutch keeper Edwin van der Sar from Fulham and Howard rarely played for them again.
Since Howard's move to Goodison, he's become one of the most consistent keepers in the league because he knows his place in the team is almost guaranteed.
That's enough to give any player confidence, but it's more important for keepers.
Howard's best performances have come against his former club, Manchester United.
It was because of two penalty saves from Howard that Everton beat United in an FA Cup semifinal three years ago.
He personifies what an Everton player is—someone full of heart and determination who plays for his manager.
If there was one thing that Howard could benefit from at Everton, it's genuine competition.
In the six years or so that he's been at Goodison, he's never really had anyone pushing him for his place in the team.
That kind of thing can breed complacency, and a couple of Howard's recent performances—especially against Norwich at home—haven't been too hot.
Is Tim Howard one of the best goalkeepers in the English Premier League?
In terms of ranking him among Premier League goalkeepers, he's right at the top of the list.
For me, Joe Hart is a mile above any other keeper in the league right now, but after that, it's anyone's guess.
Howard is among a raft of five or six keepers including Petr Cech, David de Gea, Pepe Reina, Wojciech Szczesny, Mark Schwarzer and Tim Krul, who are all exceptionally talented.
Like I've said before, I truly believe Howard is one of the most consistent keepers in the league, and it's no surprise when you look at how mean Everton's defence usually is.
It's very rare that you see Everton lose four or five goals, and while Howard isn't the only reason for that, he plays as much a part as anyone else, because he's the last line of defence.
Tim Howard isn't one of the best keepers to ever play in the Premier League.
It's too early to say that, but he's definitely one of the top five keepers in the league right now and has been for the last three or four years at least.
Given the quality of shot-stoppers that ply their trade in England's top flight, that's no mean feat.