10 Hottest Teenage Prospects in French Football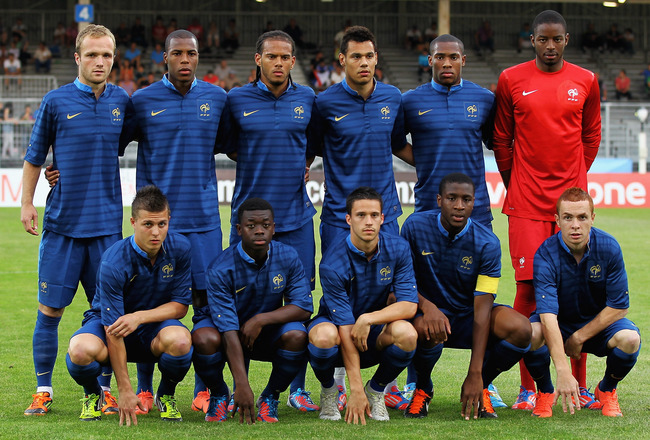 The latest crop of talent from the conveyor belt for les Bleus
Matthew Lewis/Getty Images
France has been one of world football's most fertile breeding grounds for years.
Europe's top clubs have viewed Ligue 1 as a perfect finishing school for future players, and some teams—such as Arsenal, Newcastle United and West Ham—have based recent transfer policy around the outstanding value offered across the Channel.
French clubs continue to produce the highest number of young players that then make it into their respective team's starting lineups from the academies, and France is the best represented European nationality in the Champions League.
Here are some of France's latest up and coming gems from Ligue 1 and beyond.
Bon apetit!
Kurt Zouma

Kurt Zouma's performance for ASSE vs. Lille earlier in the season

Kurt Zouma
Age: 18
Club: Saint-Etienne
Position: Defender
Nationality: French
Appearances This Season: Seven
What Sort Of Player Is He?
Saint-Etienne's Kurt Zouma is a tremendous, young Ligue 1 talent to have caught the eye from the Stade Geoffroy Guichard this year. His talent has already been noted by scouts of Manchester United and Manchester City.
A raw, powerful and speedy youngster that has yet to refine his physical prowess makes him a difficult obstacle to bypass in the Saint-Etienne defence. Growing in confidence and stature in every game last season, he has quickly staked a claim for a regular first team spot this time around. He is dominant in the air at the back and going forward and is capable of making lung-bursting runs from defence with the ball.
Who Can We Liken Him To?
French football experts are already tipping the youngster to be the new Marcel Desailly. Only time will tell.
Adrien Rabiot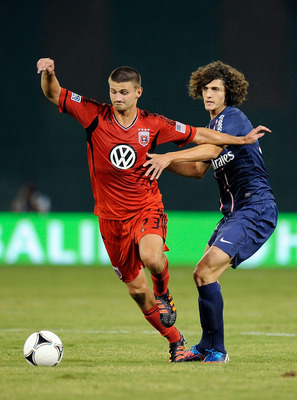 Adrien Rabiot
Patrick McDermott/Getty Images
Adrien Rabiot
Age: 17
Club: Paris Saint-Germain
Position: Midfielder
Nationality: French
Appearances This Season: Six
What Sort Of Player Is He?
Rabiot is an intelligent midfielder with exceptional passing skills, impressive awareness of his teammates and composure that belies his tender years.
His height makes him a threat in the air, but he often avoids physical confrontation. Instead, Rabiot's positioning and excellent control of the ball keep him out of danger, away from conflict and one step ahead of the game.
Who Can We Liken Him To?
At just 17, Rabiot's waif-like physique is similar to that of Javier Pastore, PSG's €42million Argentine playmaker. But in terms of French players, he is like a young Robert Pires.
Lucas Digne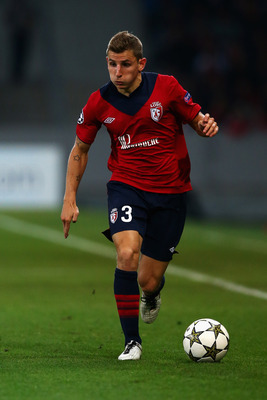 Lucas Digne in Champions League action versus BATE Borisov
Dean Mouhtaropoulos/Getty Images
Lucas Digne
Age: 19
Club: Lille
Position: Full-back
Nationality: French
Appearances This Season: 11
What Sort Of Player Is He?
Digne is a calm and composed left-footed full-back.
He is quick, but what impresses most when watching him is the command of his position and ability to balance defence and attack. Digne is calm and controlled with excellent positioning and a great sense of timing when it comes to tackling. He also chips in with important goals too.
Alexy Bosetti

Alexy Bosetti goal versus last season's Ligue 1 champions Montpellier in the Coupe de la Ligue

Alexy Bosetti
Age: 19
Club: Nice
Position: Striker
Nationality: French
Appearances This Season: 13
What Sort Of Player Is He?
An explosive presence, raw and untried but enthusiastic and threatening. This is why Claude Puel often elects to use him from the bench.
Hungry and hard-working, Bosetti has only just made the breakthrough into the Nice team so expect him to grow as Puel's young side continue to develop in the top flight. He is already an under-19 international and one of Les Aiglons' first-choice strikers.
Yassine Benzia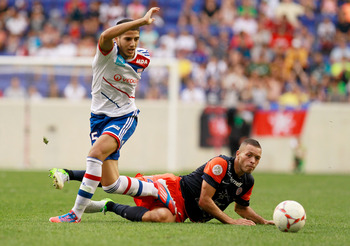 Yassine Benzia in action against Montpellier
Mike Stobe/Getty Images
Yassine Benzia
Age: 18
Club: Lyon
Position: Striker
Nationality: French
Appearances This Season: Six

What Sort Of Player Is He?
Benzia is one of the most exciting current prospects in French football and has already drawn parallels with Lyon's most recent home grown goal machine, Karim Benzema. To anyone who watches Ligue 1, he has many of the same qualities.
Benzia has superb technique for someone so young with lethal finishing skills and a serious burst of pace. Scorer of 36 goals in the French under-17 Championship in 2010-11, he signed his first professional contract later that year aged 17.
Who Can We Liken Him To?
In the mould of Karim Benzema, his former teammate, career influence and role model.
Florian Thauvin

Bastia 3-1 Bordeaux - Thauvin netted twice for the hosts

Florian Thauvin
Age: 19
Club: Bastia
Position: Attacking Midfield
Nationality: French
Appearances This Season: 13
What Sort Of Player Is He?
Author of two goals already this season, Thauvin is one of Ligue 1's hottest new properties at newly promoted Bastia.
An attacking midfielder who can also play out wide, Grenoble's loss was the Corsicans' gain in 2011 when former club Grenoble went into liquidation. Alongside Wahbi Khazri, Thauvin forms potentially one of the league's youngest and most dangerous forward lines.
Jean-Christophe Bahebeck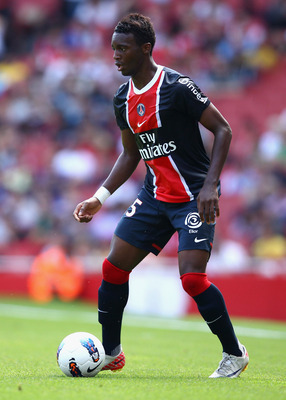 Jean-Christophe Bahebeck in action for his parent club
Richard Heathcote/Getty Images
Jean-Christophe Bahebeck
Age: 19
Club: Troyes (on loan from Paris Saint-Germain)
Position: Winger
Nationality: French/Cameroonian
Appearances This Season: 11
What Sort Of Player Is He?
Before being sent out on loan by capital club PSG, Bahebeck had already made over 20 appearances for the club under Antoine Kombouare despite only being 18.
The arrivals of big money signings such as Ezequiel Lavezzi pushed former star man Nene out of the side so there is no surprise that Bahebeck finds his chances limited in Paris.
A striker who switched out wide, Bahebeck has lightning pace and impressive technical skills. Perhaps the most remarkable part of his game though is his maturity. A future away from the Parc des Princes might be necessary if he is to reach his potential.
Jordan Veretout

Jordan Veretout along with some other promising teammates in action for Nantes last season

Jordan Veretout
Age: 19
Club: Nantes (Ligue 2)
Position: Midfielder
Nationality: French
Appearances This Season: 15
What Sort Of Player Is He?
Nantes have excelled over the years at creating two types of players: fantastic goalkeepers—like Mickael Landreau, who is now at Lille—and combative midfielders such as Claude Makelele and Jeremy Toulalan. Veretout is the next in that mould of midfielder.
The youngster has already been in the first team for two season and is showing signs that he is developing into potentially one of France's best in that role. Like his predecessor Toulalan, Veretout has an eye for a pass, likes to get involved physically and can also score—although it is not a major part of his game.
Who Can We Liken Him To?
The next Jeremy Toulalan.
Lenny Nangis

Lenny Nangis in top form for France's under-17s in 2011

Lenny Nangis
Age: 18
Club: Caen (Ligue 2)
Position: Striker
Nationality: French
Appearances This Season: one
What Sort Of Player Is He?
Already being chased by the likes of Manchester United without having made much of an impact in Normandy, Nangis is one of French football's hottest properties in a similar vein to Freddy Adu without the hyperbole.
A developing presence in the first team, fellow hot prospect Mbaye Niang has already jumped ship to AC Milan following relegation last season.
Nangis made 11 appearances in Ligue 1 last season and netted once against Ajaccio. A temperamental player whose brilliant technical ability and pace is often overshadowed by moments of madness has a lot to learn before making a big move elsewhere. Just look at Adu.
Serge Aurier

A compilation made in anticipation of Aurier's arrival at Toulouse in January

Serge Aurier
Age: 19
Club: Toulouse
Position: Full-back
Nationality: Ivorian
Appearances This Season: 11
What Sort Of Player Is He?
Having received his footballing education in northern France with developmental expert and former giant RC Lens, Aurier made the switch to Toulouse in 2012.
Now firmly established in boss Alain Casanova's starting lineup, the Ivorian is helping the side from the pink city impress with a good run of early season form. His playing style is typical of the modern full-back in that he is fast with the ball, delivers good crosses and knows how to dribble. He also attacks better than he defends, although he has an impressive sense of balance between both responsibilities.
Who Can We Liken Him To?
Bacary Sagna.
Keep Reading