SEC Basketball Power Rankings: Week 4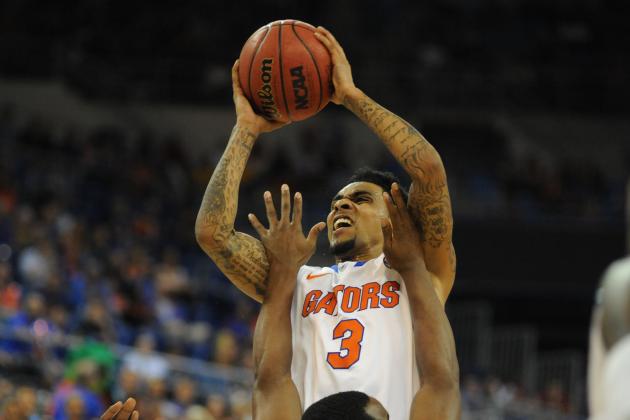 Al Messerschmidt/Getty Images

SEC teams are starting to enter the meat of their non-conference schedules, as most conference heavyweights participated in this week's SEC-Big East Challenge.
The SEC's performance in the competition was rather underwhelming, however. The conference finished 3-9 in games against the Big East, with most of the top teams losing.
There is a shakeup at the top of the rankings this week, as Florida continues to look like a complete team and Kentucky is struggling to find itself. Kentucky had earned the benefit of the doubt, but three losses are too many to overlook.
Begin Slideshow

»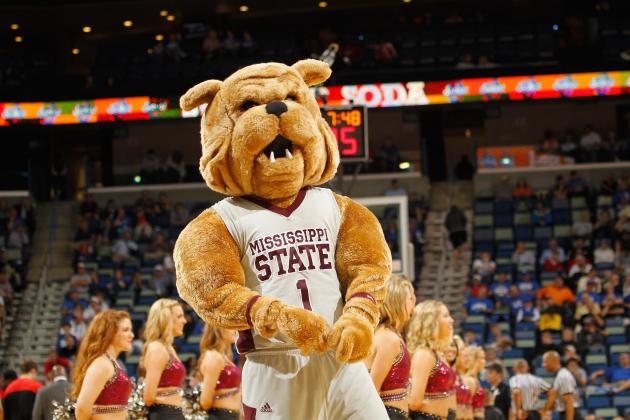 Chris Graythen/Getty Images

The Bulldogs have done nothing to play their way out of the cellar following another week of relatively uninspiring basketball.
Alcorn State is not a noteworthy opponent, but it was nice to see Rick Rays get a win nonetheless. And the Bulldogs did mount a late run against Providence, but a 10-point defeat at the hands of a below-average Big East club is nothing to write home about.
Center Wendell Lewis had the best game of his career against the Friars, contributing 16 points and 11 rebounds in just 24 minutes of playing time. Lewis is a senior, so he is not too much of a revelation at this point.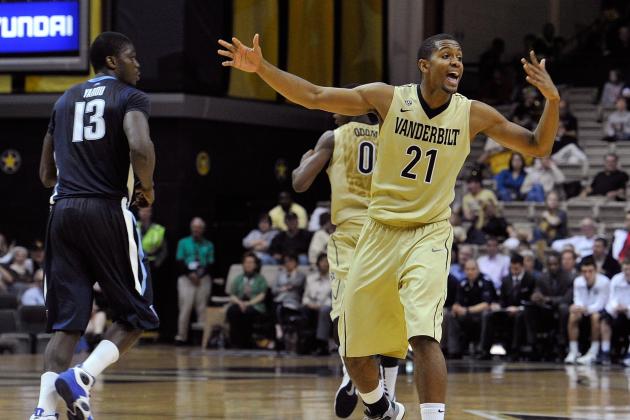 Frederick Breedon/Getty Images

The slow rebuilding process is continuing at Vanderbilt, and this week's one game didn't show much improvement on offense.
Instead, the Commodores were outplayed at home by a Villanova team that hasn't had a particularly strong start to the season. More competitive, yes, but still outplayed, and 52 points usually isn't going to cut it.
Freshman guard Kevin Bright's first career double-double was a good sign, as the Commodores clearly are still trying to figure out who this program's future leaders will be.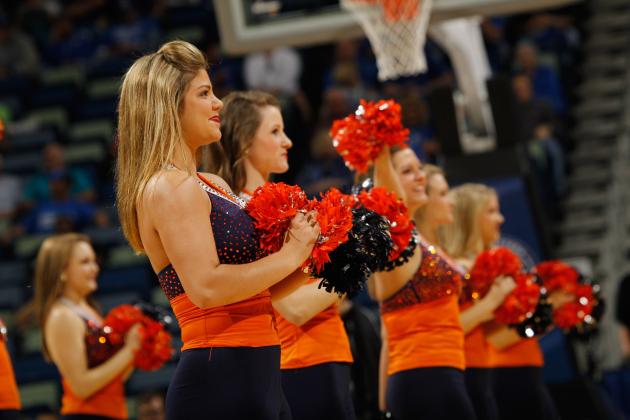 Chris Graythen/Getty Images

Like Vanderbilt, Auburn played just one game this week, and that game was a home loss to a mediocre Big East opponent.
DePaul has had very little conference success since joining the Big East, and there are no real signs that this year will be different. But the Blue Demons were able to outlast Auburn in a tight Friday contest.
Franklin Sullivan continued his early-season scoring with 28 points against DePaul, but Auburn continues to come up short so far this year.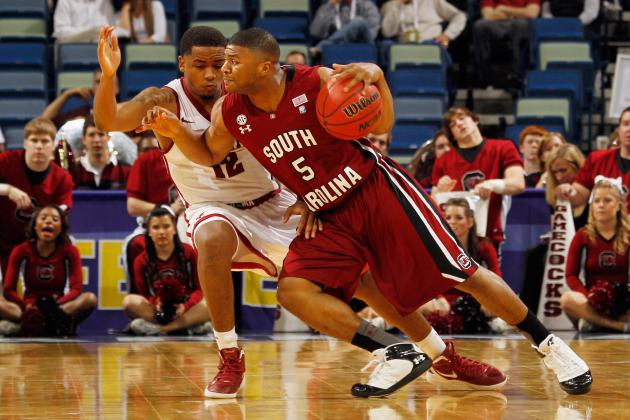 Chris Graythen/Getty Images

South Carolina took a break from facing cupcakes this week, and the results weren't pretty for Frank Martin's club.
St. John's and Clemson are both solid teams, but the Gamecocks could have mustered a better showing than losing both games by a combined 33 points. The Johnnies ran South Carolina off the court, scoring 89 points (including 51 in the second half) in a blowout victory.
The Gamecocks suffered a scare when guard Brenton Williams injured his neck against St. John's and had to be taken off the court on a stretcher, but the player was released from the hospital later that night, and further damage appears minimal.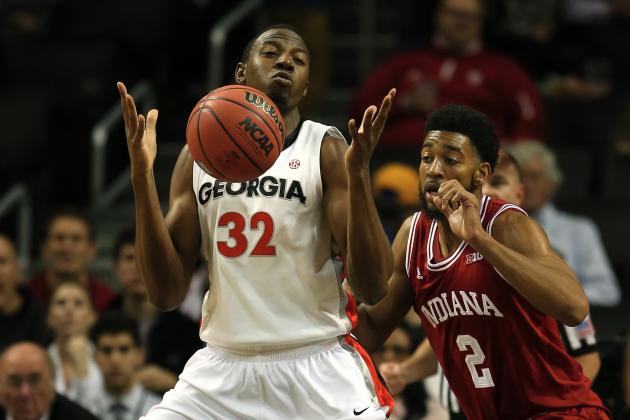 Elsa/Getty Images

The schedule has not been kind to Georgia during the first month of the season, but at some point, the Bulldogs have to start winning games.
This week's only game represented another loss to Georgia, this one by 11 points to a gritty South Florida team. A road game against South Florida is no easy task, but the Bulldogs continue to struggle on offense.
Georgia still has a few opportunities to notch decent wins, with games against Georgia Tech, Iona and USC forthcoming. But the Bulldogs are running out of time.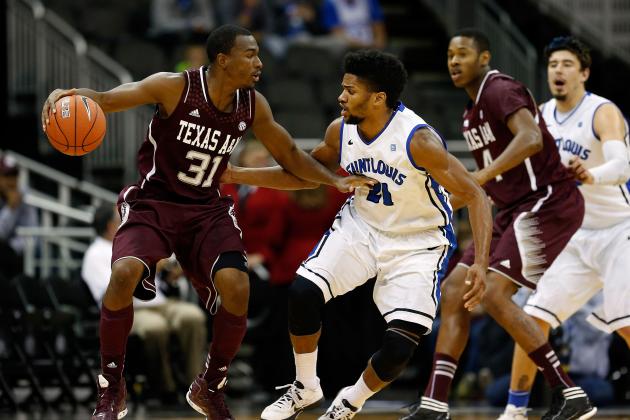 Jamie Squire/Getty Images

By virtue of their recent move to the SEC, Teas A&M (along with Missouri) did not participate in the SEC-Big East challenge. In related news, the Aggies were one of the few teams to emerge from this week unscathed.
Neither of their two wins this week were particularly noteworthy, but the Aggies did win at Houston. While the schedule hasn't been difficult, at least Texas A&M is taking care of business and racking up wins.
Elston Turner, who scored 26 points in the victory over Houston, continues to pace the Aggies offensively.
Chris Graythen/Getty Images

LSU essentially has the same early-season resume as Texas A&M, except the Tigers' record does not include a 21-point loss to Saint Louis.
The Tigers picked up their best win of the season this week, defeating Seton Hall by five points at home. It wasn't exactly a "quality win," but given that LSU was one of three SEC teams to beat their Big East foe, the victory shouldn't be glossed over either.
The victory over Seton Hall was particularly impressive because the Tigers rebounded from a 16-point second-half deficit. LSU forced 17 turnovers in the game's final 16 minutes, and Shavon Coleman led the way offensively with 13 second-half points.
Wesley Hitt/Getty Images

Another game against top-flight competition, another loss for an Arkansas club that maintains its ranking mostly on pedigree.
That said, the Razorbacks at least hung with Syracuse, one of the best teams in the country, for most of the game during this week's 91-82 loss. Arkansas simply had no answer for James Southerland's nine three-pointers.
The schedule remains tough for Arkansas, with difficult games against Oklahoma and Michigan looking this week. But if the Razorbacks want to make the NCAA Tournament this year, it's time for them to pick up a quality win.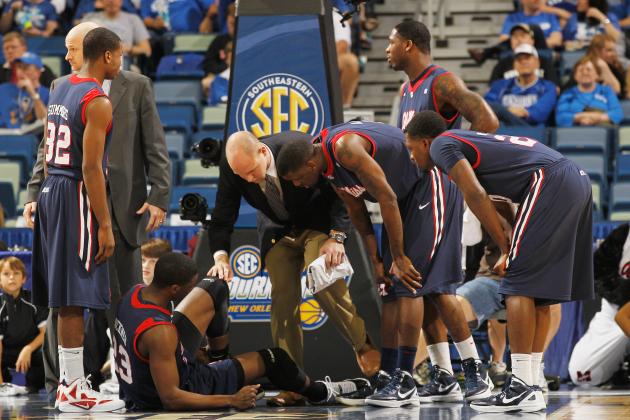 Chris Graythen/Getty Images

Ole Miss continues to win the games on its schedule, though that schedule has remained rather inviting for the Rebels.
Like in LSU's case, it should be noted that the Rebels' win over Rutgers was one of only SEC wins in the SEC-Big East Challenge. That said, a home victory over the Scarlet Knights is not exactly the lynchpin of an NCAA Tournament at-large resume.
It will be interesting to see how the selection committee treats the Rebels, who have a decent chance of emerging from non-conference play undefeated without really notching any quality wins. Ole Miss has performed well within the conference in recent years, but it will likely need a few marquee SEC victories to get on the good side of the bubble.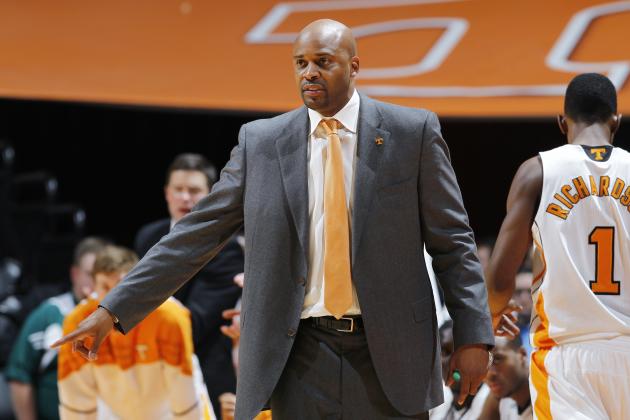 Joe Robbins/Getty Images

Tennessee and Alabama both lost one-possession road games this week, but the Vols take a dip in the rankings due to the lesser quality of their game.
On the surface, a one-point loss at Georgetown is nothing to sneeze at, but it's hard to overlook the fact that the Volunteers were only able to muster 36 points in a 40-minute game. Yes, their defense was outstanding, but Tennessee appeared clueless against the Georgetown zone for most of the game (including the final possession).
The Vols still have several chances for good wins in the coming weeks, but you have to wonder how tape from this game will dictate opinions about this team over the rest of the season.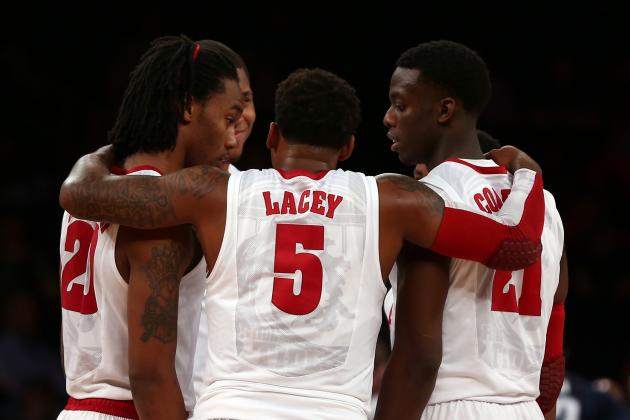 Elsa/Getty Images

Alabama suffered its first loss of the season, but the Crimson Tide continue to play good basketball and have the look of a solid NCAA Tournament team.
The Crimson Tide will likely be disappointed after a final-second loss to the Bearcats in a game where Alabama had a chance to win late, but there wasn't much they could do to defend against Cashmere Wright's difficult buzzer-beater.
The rest of Alabama's non-conference schedule is no breeze, and the Crimson Tide could have a very solid at-large resume by the end of December.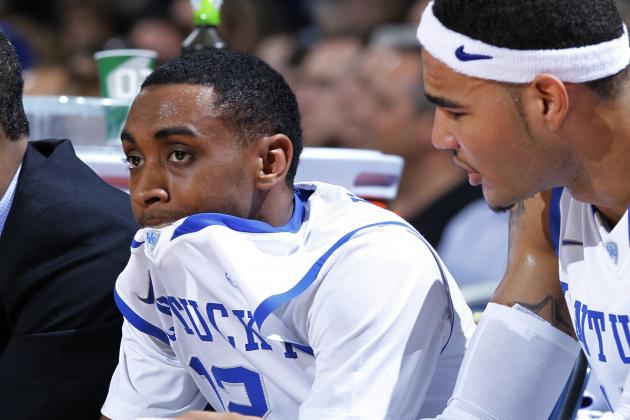 Joe Robbins/Getty Images

Kentucky continues to struggle early in the season, and suddenly, the Wildcats are looking at the possibility of coming up relatively empty in non-conference play.
It is rare to see the Wildcats lose twice in one week, but Kentucky now sits at just 4-3 on the year after consecutive losses to Notre Dame and Baylor. The Wildcats are struggling on offense and could not figure out the Baylor zone on Saturday.
Aside from a game at Louisville that will be a very tough get, the Wildcats do not really have any opportunities for quality non-conference wins remaining on their schedule. SEC play may become more of a grind for John Calipari's club than usual.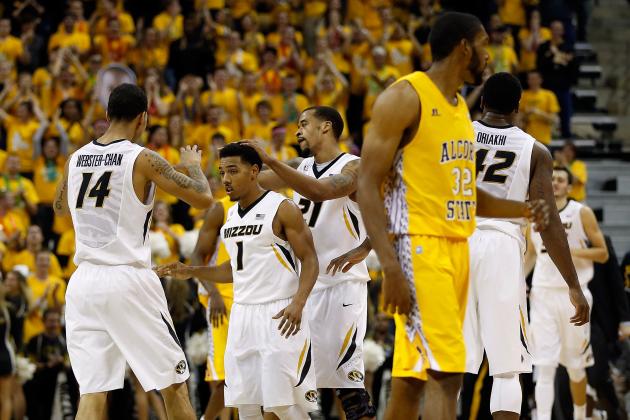 Jamie Squire/Getty Images

Missouri found itself in the same position as fellow newcomer Texas A&M this week, with a quiet week owing to their absence from the SEC-Big East Challenge.
The Tigers took care of business in a 16-point home victory over Appalachian State, so Missouri can continue to bask in its important three-point victory over VCU from last week.
Missouri has a soft two weeks ahead, but the Tigers' schedule picks up after that with games against Illinois and UCLA.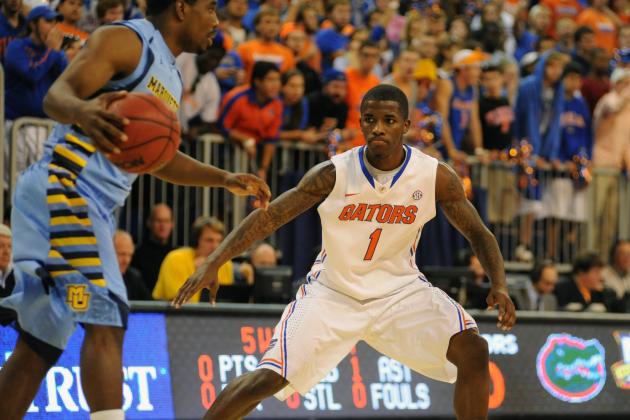 Al Messerschmidt/Getty Images

Ladies and gentlemen, meet the new top team in the SEC.
The Gators continued their flawless early-season play this week, dominating Marquette from early in the first half in a 33-point victory. Though Marquette is not the team it was last year, the Golden Eagles are clearly the best Big East team to lose in the SEC-Big East Challenge.
Six Florida players reached double-digit points in the game, as the Gators were able to get everybody touches in the rout. The Florida offense is clearly clicking on all cylinders right now, and the Gators are one of the few SEC teams that has exceeded expectations so far this season.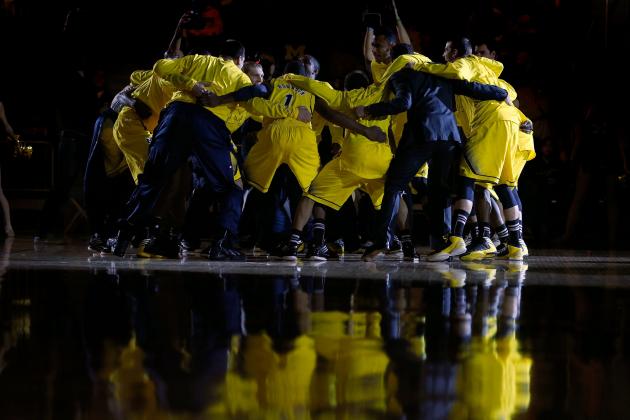 Gregory Shamus/Getty Images

1. Florida State vs. Florida: Wednesday, December 5, 7 p.m.
The Seminoles have struggled in their two most recent games, but Florida State already owns decent wins against BYU and St. Joseph's. Florida cannot take its in-state rivals for granted if the Gators want to continue their hot start to the season.
2. Virginia vs. Tennessee: Wednesday, December 5, 7 p.m.
This matchup with the Cavaliers represents Tennessee's first opportunity to get the bad taste out of its mouth following the Georgetown game. The game also represents another opportunity for Cuonzo Martin's club to pick up a quality road victory.
3. Michigan vs. Arkansas: Saturday, December 8, 12 p.m.
The Razorbacks are running out of chances to pick up a quality non-conference win, and a road victory against John Beilein's club would certainly qualify. It will be a tall order for Arkansas to hang with the No. 3 Wolverines, though, so a mid-week victory against Oklahoma may be a more reasonable goal.