Beef O'Bradys Bowl 2012: UCF vs. Ball State TV Info, Predictions and More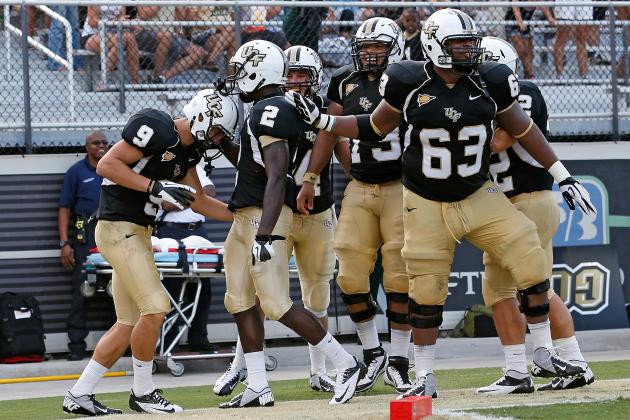 J. Meric/Getty Images

It what might be one of the hidden gems in this year's bowl extravaganza it's 9-3 UCF squaring off with 9-4 Ball State in the 2012 Beef O'Brady's Bowl in St. Petersburg, Fla.
Though neither team won their respective conferences this season both came close enough to smell a title and both lost to a string of high quality opponents.
UCF's four losses include an early loss at Ohio State, a near miss vs. Missouri (21-16) and a regular season 23-21 defeat vs. Tulsa.
The Knights final loss came in a second contest with Tulsa in the Conference USA Championship game, which the Golden Hurricane ultimately triumphed in 33-27 in OT.
Ball State, on the other hand, didn't play for a league title in 2012 but suffered defeat to three foes who all finished the season ranked in the final BCS standings.
The Cardinals first lost came at Clemson, the second was at Kent State and the third was at home vs. Northern Illinois which is now slated to face Florida State in the BCS Orange Bowl.
Though there might be a slew of sexier postseason match-ups, the 2012 edition of the Beef O'Brady's Bowl might be one of the best actual on-field clashes and will feature two high quality opponents that deserve a shot at a double-digit win season.
Begin Slideshow

»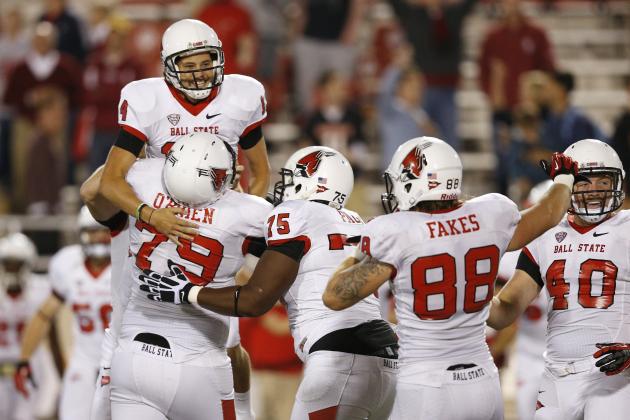 Joe Robbins/Getty Images

Where: Tropicana Field, St. Petersburg, Fla.
When: Friday, December 21 at 7:30PM EST
Watch: ESPN
Streaming: ESPN3
Betting Line: TBA
Nelson Chenault-USA TODAY Sports

Central Florida will look to win only its second bowl game in program history in 2012. The Knights are currently 1-3 in postseason play with the last and only win coming in a thrilling 10-6 victory over Georgia in the 2010 Liberty Bowl.
It's key to keep UCF's bowl record in perspective by stating that the Knights have only fielded a football team since 1979 and didn't join the FBS ranks until 1996.
Ball State, on the other hand, comes into the 2012 Beef O'Brady's Bowl with hopes of capturing the program's very first bowl win in history.
The Cardinals are currently 0-5 in postseason play and last went bowling in in 2009 when they fell to Tulsa 45-13 in the GMAC Bowl.
UCF and Ball State have met three times previously on the gridiron with the Cardinals holding a 2-1 all-time advantage. The most recent meeting between the two came in 2004 when Ball State triumphed 21-17.
The two have never met in the postseason.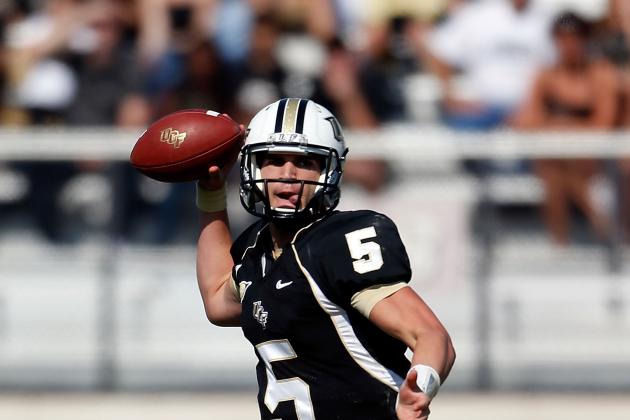 J. Meric/Getty Images

Offense
WR 81 Breshad Perriman
LT 72 Torrian Wilson
LG 63 Jordan McCray
C 73 Jordan Rae
RG 64 Justin McCray
RT 75 Phil Smith
TE 84 Justin Tukes
FB 32 B. Giovanetti
QB 5 Blake Bortles
RB 28 Latavius Murray
HB 13 D. Floyd
Defense
DE 49 Cam Henderson
DT 99 Jose Jose
DT 95 E.J. Dunston
DE 58 Troy Davis
FS 18 Kemal Ishmael
CB 21 A.J. Bouye
OLB 11 Jonathan Davis
MLB 41 T. Plummer
FS 29 L. Dankenbring
CB 37 B. Alexander
SS 26 C. Geathers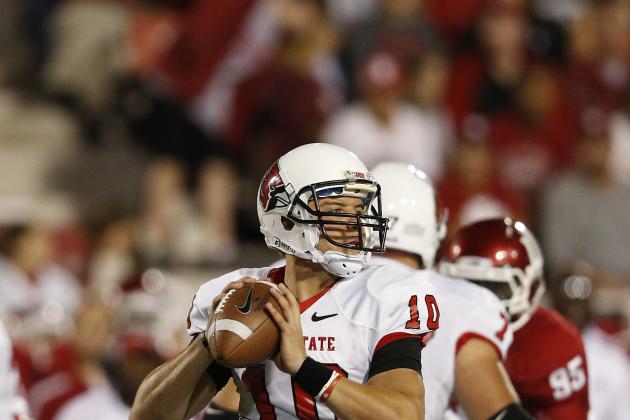 Joe Robbins/Getty Images

Offense
WR 2 Jamill Smith
QB 10 Keith Wenning
WR 9 Jack Tomilinson
WR 30 KeVonn Mabon
RB 32 Jahwan Edwards
C 62 Jacob Richard
OG 63 Chris Sparrow
OT 72 Cameron Lowry
OG 73 Dan Manick
OT 75 Matthew Page
WR 81 Connor Ryan
Defense
CB 6 Jason Pinkston
LB Travis Freeman
DE 11 J. Newsome
CB 22 Quintin Cooper
CB 24 J. Garrett
SS 27 J.C. Wade
S 34 Jarrett Swaby
LB 47 Tony Martin
DE 52 Nick Miles
DT 92 Nathan Ollie
DT 99 Brandon Newman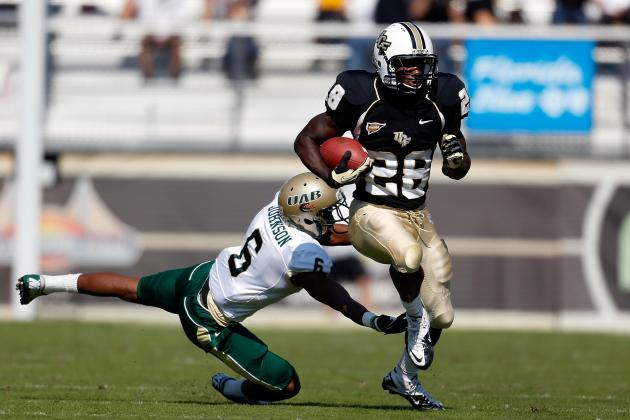 J. Meric/Getty Images

Since UCF has been more effective with its ground attack as opposed to through the air, the guy to watch on the Knight offense is senior RB Latavius Murray who leads the team in rushing.
Indeed, UCF ranks No. 46 nationally in rushing vs. No. 77 in passing making Murray's 1,035 yards and 14 TDs critical if the Knights can score enough points to knock off Ball State.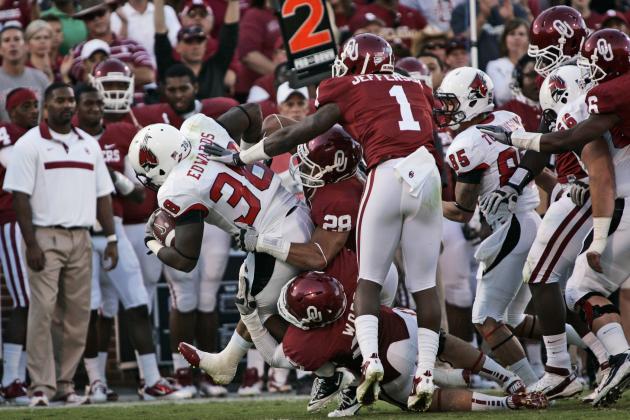 Brett Deering/Getty Images

Though QB Keith Wenning's consistent play will be key to Ball State picking up its first ever bowl win, even more critical is the output of sophomore RB Jahwan Edwards.
The impact of Edwards production this season can be illustrated by stating that he's be held for under 70 yards rushing in each of the Cardinals three 2012 losses.
If Edwards can break the 100-yard mark Ball State will be difficult to beat.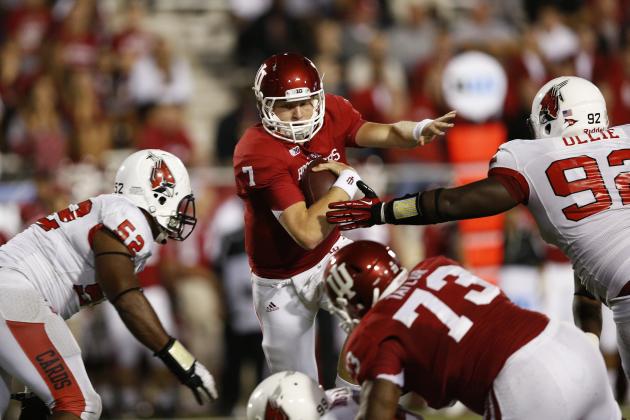 Joe Robbins/Getty Images

The simple truth in this match up is that UCF has a defensive advantage over Ball State.
And this difference is even more pointed with both offenses performing at approximately the same level.
To illustrate, UCF is ranked No. 29 nationally in scoring defense while Ball State is ranked No. 91. Unfortunately from a more specific approach the Cardinals don't have any real defensive strength to draw on in one area over another as they rank No. 108 vs. the run and No. 91 vs. the pass.
The key match-up here is Ball State's defense being able to make enough stops on the Knights' offense to stay in the game.
And this is a scenario that you have to assume is a possibility given that the Cardinals have found a way to win nine games this season.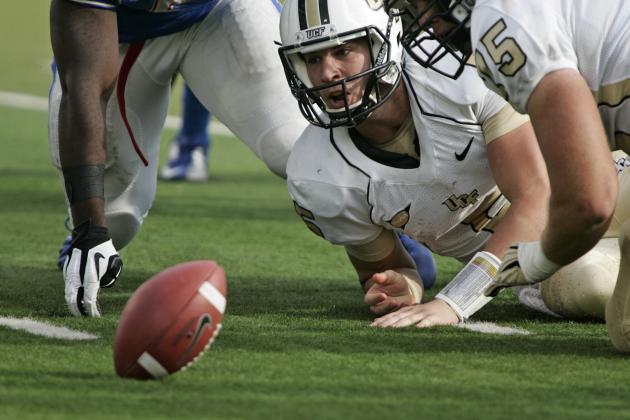 Brett Deering/Getty Images

If UCF can limit any catastrophic mistakes and play solid defense you have to figure they have the advantage in the 2012 Beef O'Brady Bowl.
The common thread in the Knights four losses this season is a rushing defense that folded when facing a talented rush-dominated offense.
This was exactly the case when UCF fell to Ohio State early in the season (think Braxton Miller) and then to Tulsa twice later in the campaign (the Golden Hurricane ranks No. 11 nationally in rushing yards).
The good news for the Knights is that while Ball State can certainly run the ball, they can be stopped.
The key for UCF is to hold the Cardinals No.1 back, Jahwan Edwards to under 100 yards. If they can do this and not turn the ball over, they win the game.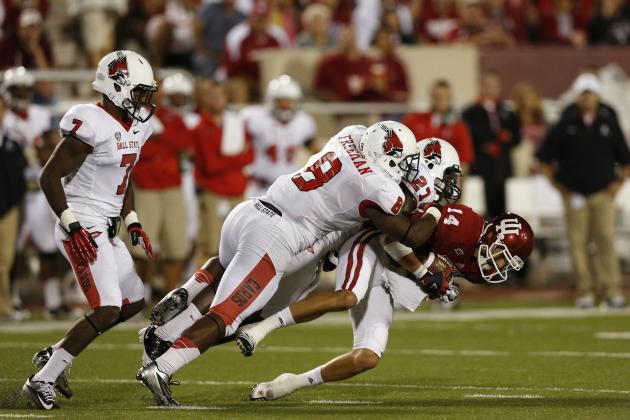 Joe Robbins/Getty Images

If Ball State wants to earn its first bowl victory in school history its going to come via a triumph in the trenches.
First, the Cardinals' offense must find a way to propel RB Jahwan Edwards over 100 yards and this means taking it to a UCF rush defense that is marginally less effective than its passing counterpart.
Secondly, the Ball State defense absolutely must make key stops that they didn't make in losses to Kent State and Northern Illinois where they came up just short of a landmark win.
On paper the Cardinals defense is not good but in the win/loss column they've found a way to get it done, an extra dose of that type of output will be necessary for a bowl win.
Lastly, Ball State is the team that can afford zero mistakes in this game as with a less steady hand at defense they will need to play with absolute precision in order to make victory a reality.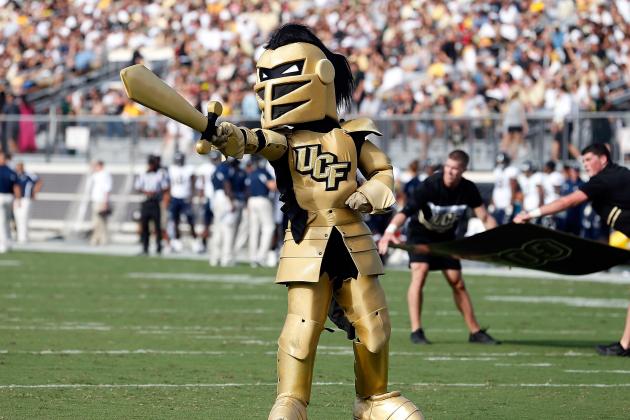 J. Meric/Getty Images

Though it would be thrilling to see Ball State cap off its 2012 season with a first-time bowl win, UCF is more than likely the better team in this postseason clash.
The Knights have a huge advantage defensively, they've been more careful with ball, suffered less penalties and arguably they've played a more difficult schedule even given the relative weakness of C-USA this year (and the strength of the MAC).
After reviewing Ball State's statistical resume you have to give the Cardinals props for scrapping out nine great wins including six straight to close out the regular season, but at the end of the day UFC has the edge.
The Knights should triumph over the Cardinals by a touchdown in the 2012 Beef O'Brady's Bowl and it should be a postseason extravaganza worth tuning in for.
Prediction: UCF 27, Ball State 20