Power Ranking College Football's Most Attractive Available Head Coaching Jobs
John Sommers II/Getty Images

The end of the regular season in college football means that the coaching carousel is in full rotation, which leads to the burning question: Which open job is the juiciest?
Indeed, as all college football conferences and programs aren't created equally, it's also universally true that all college football coaching positions aren't necessarily the same caliber of gigs.
The following slideshow power ranks the 11 current openings for head football coaches in the FBS ranks. In doing so, it'll create a Christmas wish list for gridiron leaders waiting in the wings.
The rankings combine a delicious cocktail of conference affiliation, current recruiting success, recent output and, of course, the "big time" nature of the job itself from a national perspective.
Basically, it comes down to how ready each of these programs is to win now—and how big the payoff is if they do.
Recruiting stats in this presentation come via the comprehensive yearly rankings provided by Rivals.com.
Begin Slideshow

»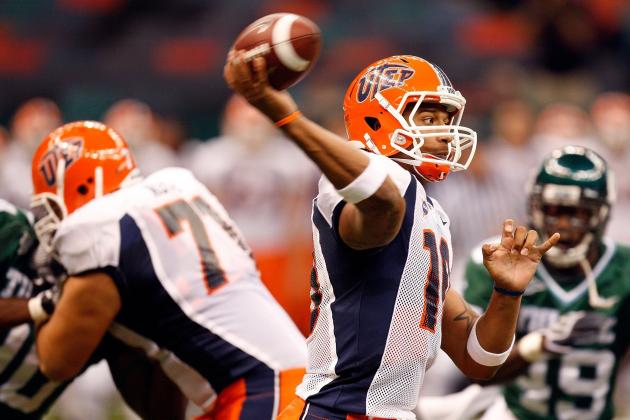 Ronald Martinez/Getty Images

The last time UTEP really made a splash was back in 2004-05, when it posted back-to-back 8-4 marks. Since then, it's been mostly mediocre soiled disappointments.
To further illustrate the challenge the Miners job presents, this is a program that hasn't won a bowl game since the 1967 Sun Bowl, when UTEP beat Ole Miss, 14-7.
Though the Miners haven't dropped to the production level of one or two wins per season, this is hardly a program on the verge of championships. This makes it a hard job to fill in terms of expecting a guy to come in and light the world on fire.
Even in the climate of conference realignment, which means that teams will drop from Conference USA and then be added, UTEP's current league home offers the kind of relative competition that won't make huge strides towards improvement easy.
Overall, UTEP is another tough non-AQ post; while it's not Siberia, it's also not necessarily a fluffy consolation to sunny California.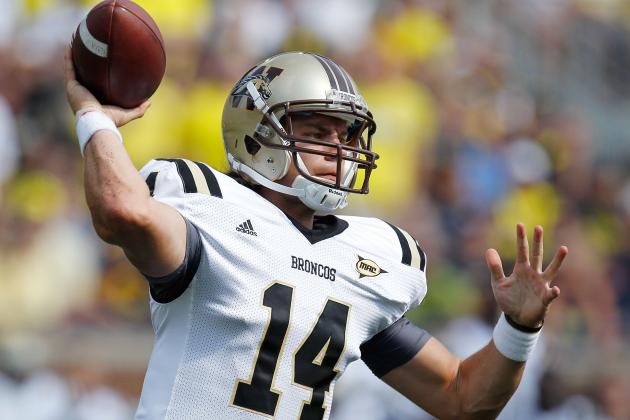 Gregory Shamus/Getty Images

The Broncos' 4-8 record in 2012 makes it easy to forget that WMU is only four seasons removed from winning nine games and was five points away from a bowl win vs. Purdue as recently as last year.
Though this may not seem like the stuff dreams are made of, it illustrates clearly that Western Michigan is not a program that is so off the rails that winning seasons are a pipe dream. This is a team that has the potential to do well in short order.
With Northern Illinois and Toledo in the MAC West, it won't be easy to win even a divisional title, but the Broncos have actually been in a good position over the last two seasons to compete for more than bowl eligibility.
Given the right guy—one looking not for some sort of desperate challenge but a place on which to launch a career—WMU could vie for titles and win its first bowl game in program history.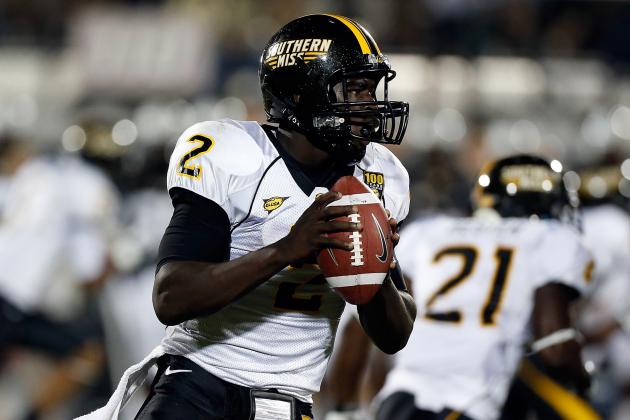 J. Meric/Getty Images

Even a disastrous 0-12 finish this season can't erase the fact that Southern Miss is a football program that is moving in the right direction.
Indeed, as ugly as 2012 was, this is still a team just one year removed from a Conference USA title. If you fancy consistent success, how about the Golden Eagles' 18 consecutive winning seasons prior to this year's debacle?
No matter how you slice it, the Southern Miss job is one of the better posts in the non-AQ ranks and absolutely the best opening in a non-BCS league as of right now.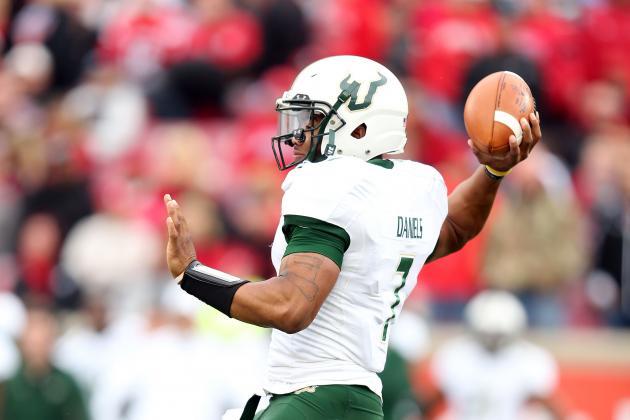 Andy Lyons/Getty Images

A job that came open just this past Sunday, South Florida is looking for only its third coach in program history.
Of course, the Bulls have only been fielding a football team since 1997.
The upside of the USF job is that the administration has been committed to making the football program a big-time-caliber affair, a claim that is illustrated by the rapid movement from the FCS to the FBS to the BCS in a mere 15 years.
The other huge plus of being the guy at South Florida is that you are sitting smack dab in the heart of some of the most fertile recruiting ground in the nation.
This means that if you can continue to build something nationally viable, you've got the close-to-home talent to continue a surge.
What hurts this job from an attractiveness standpoint is that USF's Big East home offers only one more season of full AQ status.
Indeed, after 2013, the Big East will join C-USA, the Mountain West, the MAC and the Sun Belt in a five-way dog fight for a singular automatic BCS bid.
This means that after next season the South Florida job is a lot like the openings at Southern Miss, Western Michigan and UTEP.
Until USF can land a full-fledged BCS home, its head-coaching job will look less attractive to potential applicants.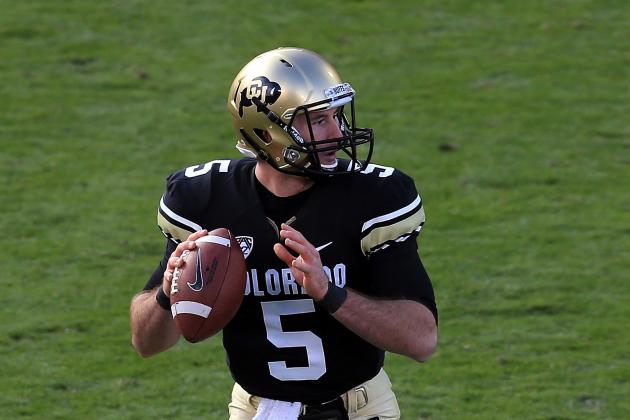 Doug Pensinger/Getty Images

It's difficult to pinpoint what it will take to make the University of Colorado a winning football entity.
The Buffaloes haven't posted a winning record since going 7-6 in 2005, and the 2004 Houston Bowl marks the last time they won a bowl game (they narrowly beat UTEP, 33-28).
To further dampen everyone's mood, Colorado is 25-61 since 2005, and the Buffs have only won four games in the past two seasons.
As far as recruiting goes, it's no big shocker that Colorado has hauled in only two classes ranked in the Rivals Top 50 over the last four years (No. 48 in 2009, No. 36 in 2012) and is currently No. 66 in the 2013 sweepstakes.
Neither of the Buffs' last two head coaches have posted a single-season record above .500 (Dan Hawkins was 19-39 in five years, John Embree was 4-21 in two tries), and after Embree lasted only two seasons, job stability at Colorado will be an issue in the hiring process.
All this said, Colorado is still a BCS job in a major conference, and given the Buffs' placement in the somewhat wide-open Pac-12 South, this is a place where wins could come given the right kind of coach.
Turning a ship that has been off-course for so long will be no picnic, but you have to think the right guy is out there, especially when you look at what guys like James Franklin have done at similar (well, kind of) stops such as Vanderbilt.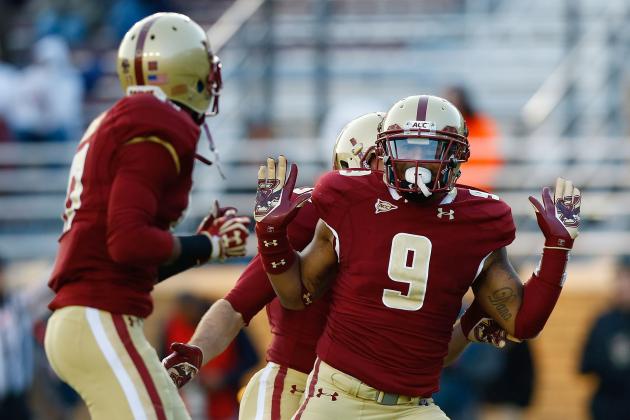 Jared Wickerham/Getty Images

After going 4-8 in 2011 and finishing 2-10 this season, it's easy to forget that Boston College reeled off 12 consecutive winning seasons from 1999-2010.
Yes, BC may look like a struggling football program, but don't forget that only 24 months ago, it wasn't.
It's important to keep in mind that the Eagles were Big East members for the first part of this streak (1999-2004) before joining the ACC in 2005, meaning that the level of competition changed during the run.
As far as what BC offers for its next head coach, it's a solid program that has recruited reasonably well (two Top 50 classes in the last four seasons) but plays in the ACC Atlantic, which is currently the more difficult of the two divisions.
Though the Boston College gig won't necessarily be easy for its next coach, it is a viable program in a BCS conference with all the variables to make a reasonably successful midlevel product.
This is a perfect fit for a guy on his way up or an older guy who is looking to finally settle in.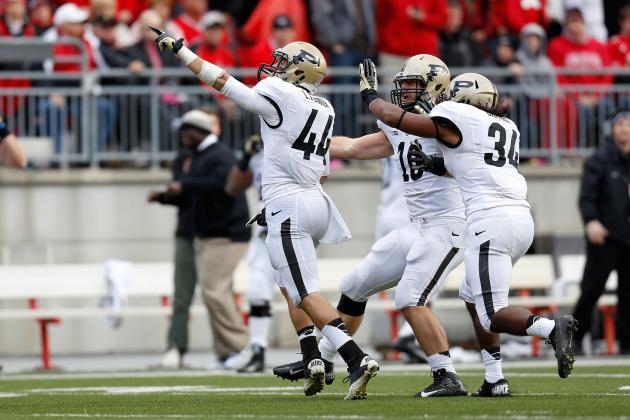 Kirk Irwin/Getty Images

The Purdue job is yet another example of how unstable the world of college football coaching really is.
Purdue is a great school, though not historically a football powerhouse in any sense of the word. It plays in a hugely competitive conference, and no matter how logical and realistic, everybody is committed—the fans, like fans everywhere, just want to win football games.
And they don't just want to win six games and play in the Fight Hunger Bowl; they want to play for titles and beat Ohio State and Michigan not every once in a while but every year.
You can't blame them, because why follow a football team if you're not expecting them to win, and win big?
And this all puts the guy who is the Boilermakers head coach in a tough spot: keep up the academic standards and win, even though we're all pretty sure you might not be able to.
Again, great school, great job in a big conference with unrealistic fans that are just being fans.
Despite all this, the Purdue job is just waiting for somebody to be the next Joe Tiller, Jack Mollenkopf or Stu Holcomb.
But the problem with the modern world of college football is, if you do lead the Boilermakers to a share of the Big Ten title (which technically you can't do any more due to the title-game format), you'll likely be receiving a slew of offers from "bigger, higher-profile programs."
Purdue is still a BCS job in the prestigious Big Ten, so it deserves a higher ranking than others.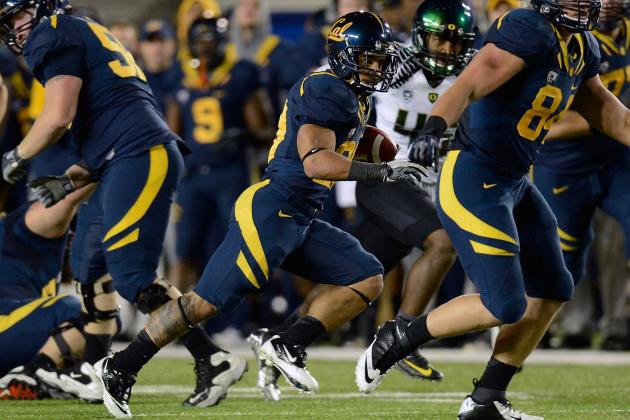 Thearon W. Henderson/Getty Images

The best non-SEC coaching opening in the land, the Cal job may sound like a way to get lost on the West Coast, but in reality it may be a peachy little number.
Yes, Cal only won three games this season and hasn't hit double-digit wins since 2006, and OK, they do play in the stacked Pac-12 North with Oregon and Stanford, but hidden beneath all this is a great set of athletes.
What?
Indeed, did you know that the Golden Bears' average recruiting numbers since 2009 are No. 4 among Pac-12 teams and behind only Oregon, Stanford and UCLA?
That's right; Cal has as much potential to rise from the ashes of despair as UCLA did after last season when Jim Mora was hired to revive Bruins football.
To illustrate, the Golden Bears' recruiting class of 2010 was ranked No. 11, the group from 2011 were No. 17, the guys from 2012 were No. 23 and the current crop is holding their own at No. 48.
And this is a number that could jump up immeasurably with the timely hiring of the right head coach.
Though there might be openings that seem more attractive, the Cal job could provide its next holder with a long-term, winning proposition.
This is a great job, and it's the right time to get it.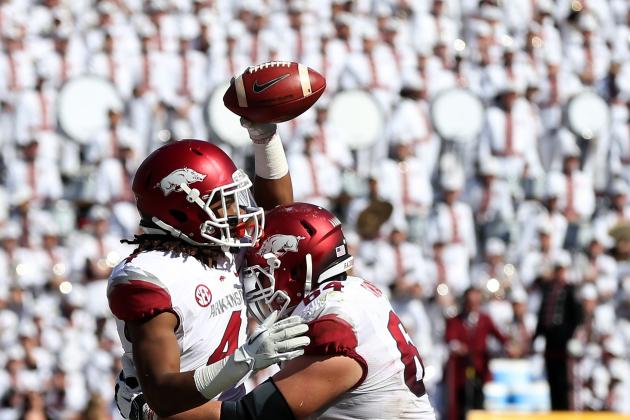 Streeter Lecka/Getty Images

UPDATE: Arkansas will reportedly hire Wisconsin coach Bret Bielema.
Though the Arkansas football program was rocked to its core by the Bobby Petrino scandal and ultimately paid the price with a dismal 4-8 finish this season with John L. Smith at the helm, hope should still be alive and well in Fayetteville.
Indeed, this is still a program that is just one season removed from back-to-back double-digit-win seasons in the SEC West, which is no small feat no matter how you slice it.
What makes Arkansas a tougher job than Auburn is twofold: First, the Razorbacks haven't recruited as well; secondly, they haven't broken through to the world of BCS wins.
The Hogs' recruiting numbers are solid, but the problem with the SEC West is that "solid" doesn't quite do it when you're keeping things relative to the division where LSU, Alabama and even Auburn recruit Top 10 classes regularly.
Arkansas hauled in the No. 49-ranked class in 2010 (technically 2013's seniors), the No. 24 group in 2011 and the No. 33 set in 2012, and the class of 2013 is currently at No. 39.
What this means from a hiring standpoint is that while the Razorbacks are talented, a coach will have more work to do than whoever lands the Auburn or Tennessee jobs, and they'll also be playing in the SEC (where the payoff is also bigger).
The second aspect as to why the Razorback job is more difficult than the other opening in the SEC West, Auburn, involves the fact that Arkansas hasn't "broken through" yet.
Yes, the Hogs have made it to the BCS (they fell to Ohio State in the 2010-11 Sugar Bowl) but they haven't won a conference title since they captured the Southwest Conference crown in 1989.
This means that the next guy will have to push Arkansas over the edge, and to do this he's got to make the team believe they belong there and that they can consistently knock off the likes of LSU, Alabama and Auburn.
The Razorback job is a great gig, but it won't be easy for whoever signs on the dotted line.
In my opinion, Bobby Petrino may be the most difficult guy to replace (and we'll assume that Smith didn't actually do that) in college football.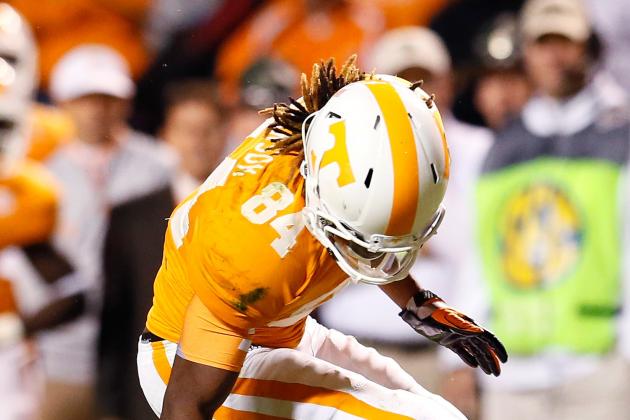 Kevin C. Cox/Getty Images

What's intriguing about the current state of the Tennessee football program and one of the more concrete reasons why the orange-panted Derek Dooley needed to go is talent.
Yes, hidden beneath layers of coaching changes and five seasons of mediocre play is the fact that the Volunteers have still managed, somehow, someway, to recruit really, really well.
And this fact makes the Tennessee job one of the two current openings (the other being Cal) that are worthy of a "diamond in the rough" tag.
To illustrate, the Volunteers hauled in the No. 9-rated group in 2010 (technically 2013's senior class), the No. 13-ranked class of 2011 and the No. 13 set in 2012, and they currently hold the No. 27-rated class of 2013.
And you've got to think that this upcoming class of signees will improve markedly depending on who Tennessee can hire.
So, on one side of the coin you've got Tennessee, a team that has gone 28-34 since 2008 and has yet to get it done in the stacked SEC East.
And on the proverbial flip side, you've got a stock pile of under-utilized top-tier talent giving the next head coach at Tennessee the "shock and awe" factor if he can manage to orchestrate wins with a great set of athletes.
Michael Chang/Getty Images

UPDATE: Auburn will reportedly hire Arkansas State coach Gus Malzahn.
Though Auburn is just two seasons removed from its most recent national championship, the 2012 season made it seem as if the glory was at least a decade in the past.
The Tigers' 3-9 finish this season marks their lowest win output since 1998, when they went 3-8 under Terry Bowden, and their highest loss total since the Tigers went 0-10 in 1950.
The winless season came in the final year of the Earl Brown era at Auburn and ushered in the glorious Shug Jordan epoch, which kicked off in 1951.
Though the openings at Tennessee and Arkansas might look to some like easier nuts to crack, Auburn is arguably the best head coach opening in the FBS ranks.
Why?
It's all about successful recruiting that has the Tigers in a position to win now, given the right staff is leading the way.
Though you could make a case that Auburn caught lightning in bottle with Cam Newton in 2010, since then the Tigers have captured a stockpile of bolts in their bottle, giving them one of the richest talent pools in the nation.
Auburn's 2010 recruiting class (technically the seniors in 2013) ranked No. 4 when signed, the group from 2011 were No. 7, the class of 2012 was No. 11, and the class of 2013 holds a No. 10 ranking in Rivals.com's listings.
Though it might look like Gene Chizik's replacement at Auburn is walking into a tough situation with a program that went 0-8 in SEC play in 2012, in reality the guy who takes over might be sitting on the biggest gold mine in the biz.
And if you're thinking it's harder to win at Auburn due to its SEC West membership, you'd be right. But keep in mind that if you do win there, the payoff is substantially bigger than at in the ACC at, say, N.C. State.