UFC on Fox 5: Predictions You Can Take to the Bank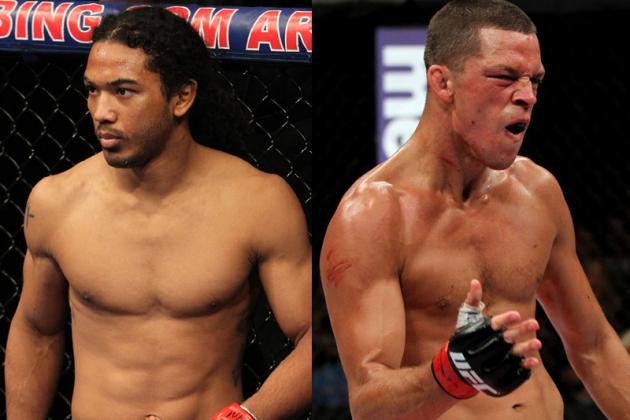 Ben Henderson and Nate Diaz will battle for the UFC lightweight title this Saturday.
Finally, the UFC returns to Fox with a title fight as their main event this Saturday.
Millions of TV viewers will be watching as UFC lightweight champion Ben Henderson makes his second title defense against veteran competitor Nate Diaz, but the rest of the night will be equally stacked with several intriguing fights.
Aside from aging legend Mauricio "Shogun" Rua facing Swedish powerhouse Alexander Gustafsson, former two-division champion BJ Penn will attempt to slow down the quick rise of young Canadian star Rory MacDonald.
But how will things end for the other fighters on the card?
Anything can happen in a UFC bout, but we've got some clear-cut calls for everything from the preliminary fights to the final bout.
From career retirements to brutal knockouts to one-sided beatdowns, here are 10 predictions that you and your friends can take to the bank this weekend.
Begin Slideshow

»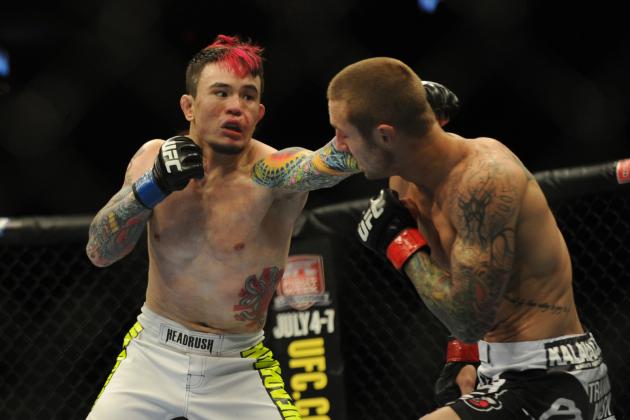 Steve Mitchell-US PRESSWIRE
Pictured: Scott Jorgensen (left)
Poor Jorgensen deserves a lot better than being stuck on the Facebook prelims.
But despite a two-fight skid at the hands of interim UFC champion Renan Barao and Eddie Wineland, this bantamweight contender remains a force to be reckoned with.
Doesn't anyone remember how badly Jorgensen wrecked Ken Stone during the Ulimate Fighter 3 Finale card that summer in 2011?
Expect a similar smashing of Ultimate Fighter 14 alumnus John Albert, who's been prone to submissions and high-level grapplers. Whether by blistering KO or grinding wrestling, Jorgensen's going to make quick work of this glaring step down in competition.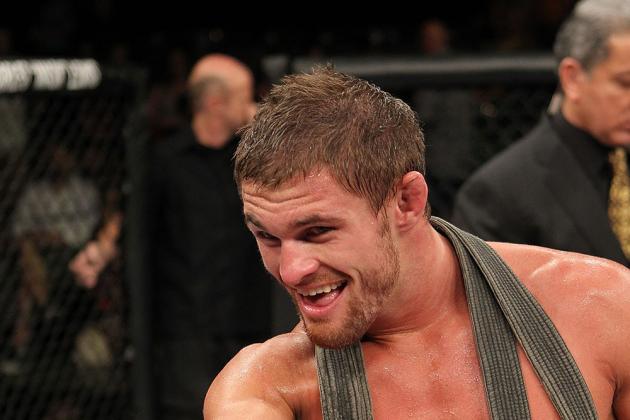 Pictured: Daron Cruickshank
It's unfortunate that Daron Cruickshank and Henry Martinez both fight at 155 pounds, because that's arguably the most talent-heavy division in the UFC.
Hence, there's no room for dead weight, and the loser of this bout will be facing a pink slip.
That's going to be Martinez, who won a debatable decision over ex-UFC fighter Bernardo Magalhaes shortly after getting chased from welterweight by Matthew Riddle.
As long Cruickshank doesn't run face-first into Martinez's knee, he'll dominate both the stand-up and grappling in this fight, eventually getting somewhere where he can dish out hammerfists.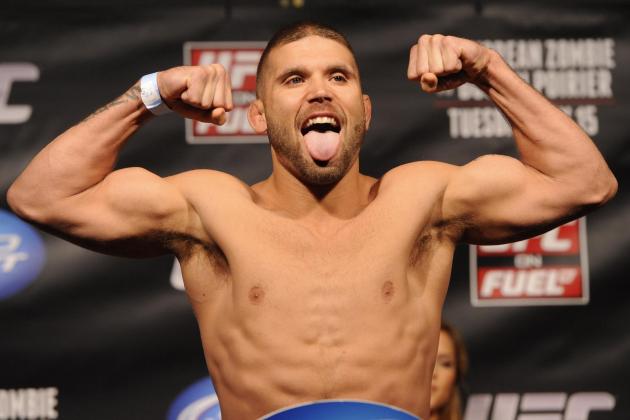 Rafael Suanes-US PRESSWIRE
Pictured: Jeremy Stephens
No matter what, Jeremy Stephens and Yves Edwards are going to fight each other.
That is, unless Stephens somehow has an outstanding warrant in Seattle.
But regardless of the legal troubles that Stephens has had throughout the last year or two (pieced together helpfully by Fight Opinion), the gritty, heavy-heanded Alliance MMA standout won't lose to Edwards this Saturday.
Aside from the fact that Stephens can't afford a career-first three-fight losing streak, even a crafty veteran like Edwards just isn't the caliber of opponent that can beat him.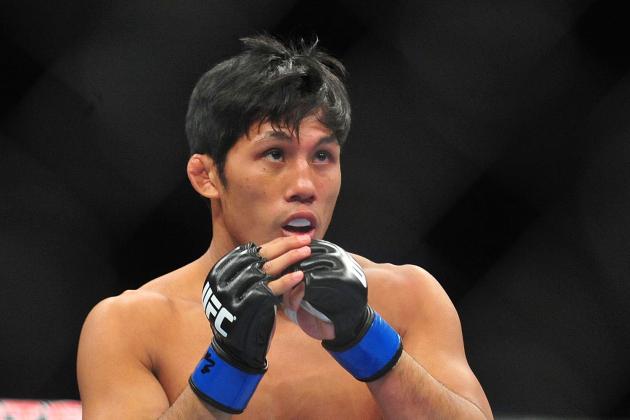 Gary A. Vasquez-US PRESSWIRE

Nam Phan is the quintessential crowd favorite who always presses the action in a fight, but that's not going to help him against Dennis Siver.
Although Phan is a decent boxer, his overly technical lack of aggression is going to cost him.
Not only did Siver look impressive against Diego Nunes, but the former lightweight should be used to the weight cut down to 145 pounds for the featherweight limit.
All Siver has to do is punch his way through Phan's nonthreatening combinations, avoid eating too many body blows and pile on the punishment until the referee steps in.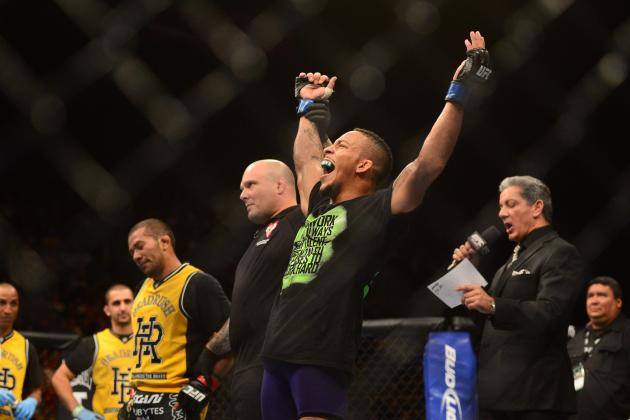 Mark J. Rebilas-US PRESSWIRE

Mike Easton certainly lives up to his ring name.
Not only is he a powerhouse at bantamweight, he seems to hit harder as he gets madder during a fight. Coupled with his diverse arsenal and constant pressure, that's going to be trouble for just about anyone else in the division without an iron chin or fast footwork.
Raphael Assuncao's problem is a little different.
Although the Brazilian is as aggressive as Easton can be, he'll most likely get into a slugfest where he'll quickly find himself outgunned. Once Easton clues in on the difference in power, he'll turn things up and try to shut Assuncao's lights off.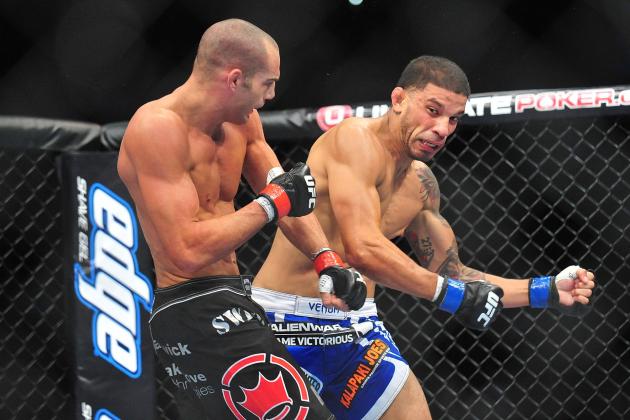 Gary A. Vasquez-US PRESSWIRE
Pictured: Mike Swick (left, black trunks)
Mike Swick might still have a bit of ring rust left from sitting out on a long string of injuries, but he looked pretty good against DeMarques Johnson.
It's also good to see that over two years of being on the shelf didn't turn Swick into the kind of fighter that would lose to Matt Brown, either.
But although Swick is a clear level above Brown talent-wise, I'm pretty sure nothing short of a baseball bat to the face can knockout the 26-fight veteran. Brown is also pretty submission prone.
Swick definitely knows that, and he'll tag his opponent on the feet just enough to send him to the mat and set up for a rear-naked choke or guillotine. It won't be easy, but it'll happen.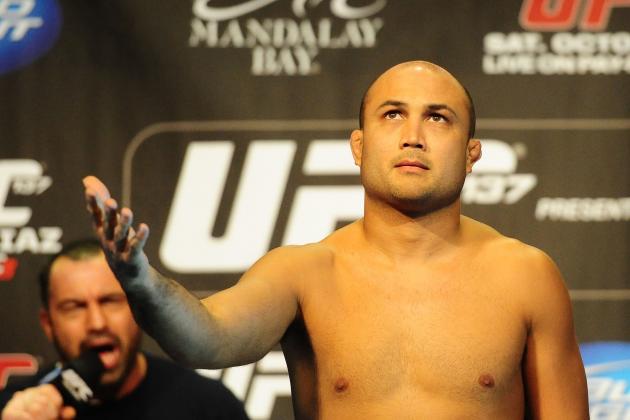 Mark J. Rebilas-USA TODAY Sports

It took the whole Internet mocking a fat B.J. Penn for him to get into shape, and it's going to take a disheartening beating for him to leave his fighting days behind.
But that's exactly what's going to happen when "The Prodigy" loses to Rory MacDonald.
Even if he doesn't say it immediately during the post-fight press conference with Joe Rogan (possibly fighting back tears), don't expect to see Penn back in the Octagon after this Saturday.
Once he looks back at his 1-4-1 record since losing his title, Penn will hang up his gloves and hopefully spend his idle retirement days enjoying the warm Hawaiian sun.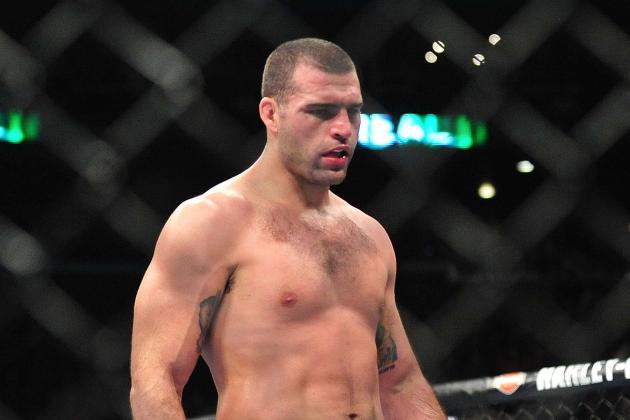 Gary A. Vasquez-US PRESSWIRE

It's not quite time for Rua to hop on the retirement train, but years of physical abuse are going to drag down the former UFC light heavyweight champion in this fight.
Gustafsson, on the other hand, will be fresh and eager to seal his spot in the title picture.
Out of the 14 men that the Swede has stomped into oblivion, only Thiago Silva has made it to the judge's scorecards, and he couldn't do much but survive the fight.
Whether Rua's cardio or chin fails him first, "Shogun" won't be as lucky as Silva.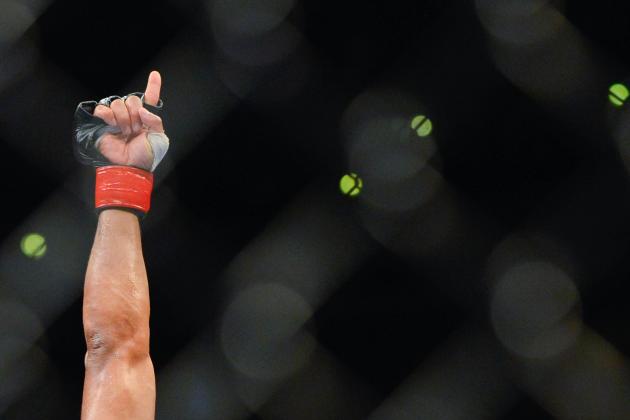 Ron Chenoy-US PRESSWIRE
Pictured: Ben Henderson (left)
It's tough to think that a brilliant striker and grappling master like Nate Diaz is going to lose this weekend, but Ben Henderson's no one-trick pony.
However, this feels like the kind of bout where "Bendo" will get beat up even when he's winning.
If you need a point of reference, just look at his first bout with Donald Cerrone and his second bout with Frankie Edgar. In both cases, Henderson was doing just enough to make the fight competitive, but he regularly ate stiff shots and put himself in bad positions.
Diaz is well-rounded enough that he'll make this fight tough for Henderson—and even if the champ's massive legs are whipping out kicks all night, the Stockon native will gut his way to the scorecards. Diaz will lose, but he'll be aggressive enough to sway some fans and cause a smattering of boos.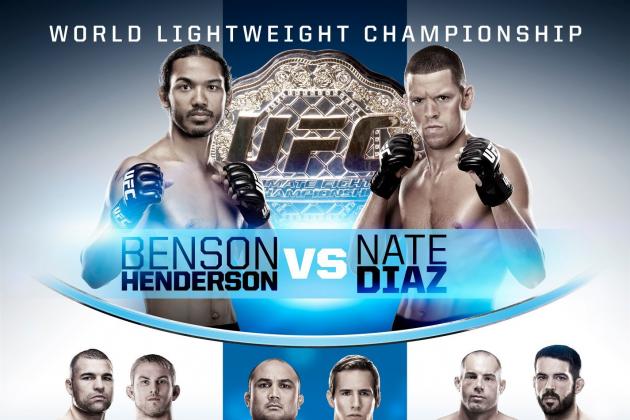 For hardcore MMA fans, it's got to be maddening that more people will watch Norbit and Shark Tank than a UFC event on free television.
But when it comes to TV ratings, "disappointment" is always relative.
Sure, previous UFC on Fox cards have been hurt by movies, the Olympics and reruns of NCIS: Los Angeles, but the competition on Saturday isn't going to be light.
And if the show turns in really low numbers, the UFC will just claim they led the male demographic.
Aside from the upcoming Manny Pacquiao vs. Juan Manuel Marquez IV event that's going to dominate the night for a lot of combat sports fans, network stations like ABC are going to be busy running holiday specials and end-of-year programming on all the usual spots.
After the ratings come out, it's pretty fair to assume that UFC on Fox 5 will lose the Dec. 8th blocks to Despicable Me, The Flight Before Christmas and an hour of Frosty the Snowman.