UFC on FOX 5: Questions Heading into Henderson vs Diaz Fight Card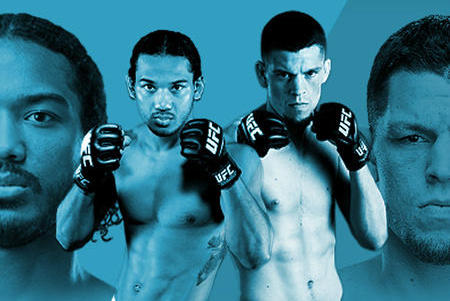 The UFC and FOX are getting aggressive in promoting the December 8 card from Seattle's Key Arena and rightfully so.
The four fight main card features three must see bouts. No hyperbole, no one would complain if these three fights had headlined a pay per view card.
I'm not dismissing the Mike Swick versus Matt Brown fight that will open the Fox card, but when you have two former champions matching up against two fighters that many see as future champs and a title fight at the top of the card, it's hard to compete.
My apologies to Mssrs. Swick and Brown.
Will BJ Penn recapture his glory days against Rory MacDonald? Will MacDonald shake the tag "the next Georges St-Pierre"?
Will Alexander Gustafsson earn a shot at light heavyweight champion Jon Jones? Will Mauricio Rua get back in thick of the 205-pound division? Will Benson Henderson silence his critics? Will Nate Diaz take a title back to the 209?
There are many questions heading into UFC on FOX 5, you want some more? Keep reading.
Begin Slideshow

»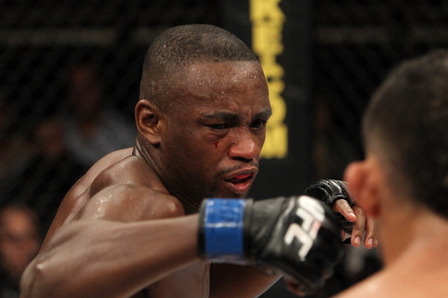 Josh Hedges/Zuffa LLC UFC via Getty Images
The Thugjitsu Master fought four times for the UFC in 2011, alternating wins and losses. In 2010, Edwards went 3-1, while fighting for four different promotions.
As for 2012, Edwards will get his first fight of the year in on December 8 when he faces Jeremy Stephens in a fight that was originally set to take place in October, but was cancelled at the last minute when Stephens was arrested(more on that later).

Some questions facing Edwards as this fight nears. Will the long layoff, help or hurt the 36-year-old veteran of 60 professional MMA bouts?
Will getting in peak fighting shape twice in a short amount of time be a problem? Will Edwards stand and bang with a fighter that has 14 wins by knockout in his 28-fight career?

It will be interesting to see what Edwards brings into the Octagon in Seattle.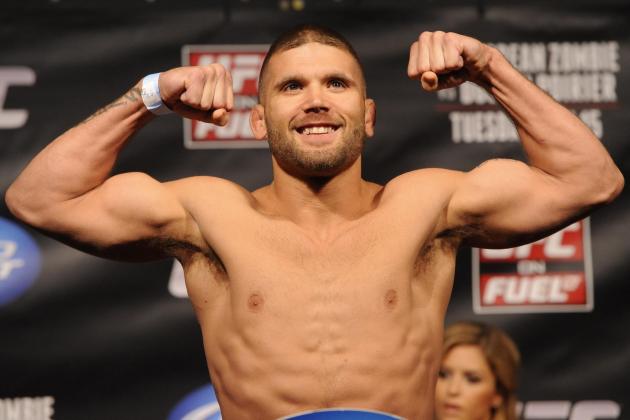 Rafael Suanes-US PRESSWIRE

We know that Jeremy Stephens was arrested on an outstanding warrant on the morning of October 5, the same date that he was scheduled to face Yves Edwards on the UFC on FX 5 fight card.
We know (thanks to FightOpinion.com) that he has been charged with the following counts, willful injury causing serious injury(felony charge), burglary in the first degree(felony charge) and assault causing bodily injury(misdemeanor charge).

We know that the trial will begin on January 9 in Des Moines, IA.

What we don't know is how all of this is going to weigh on the mind of Stephens when he enters the Octagon to face Yves Edwards. Most fighters can easily block out distractions when it comes time to work, but most fighters aren't facing serious time behind bars.

For the UFC, you can bet that there will be some attention paid to this incident and that there will be questions as to why Stephens is on the card with all this hanging out there.

I understand the man has the right to make a living. I understand that he is innocent until proven guilty, BUT, does the promotion need the negative attention that will come with one of its active fighters facing these charges?

Steve Mitchell-US PRESSWIRE

Less than two years ago Scott Jorgensen stepped into the cage to face WEC bantamweight champion Dominick Cruz. Like Joseph Benavidez before him and every opponent after him, Jorgensen failed to wrest the title from the grasp of the champion.

Since that defeat, Jorgensen has gone 2-2 in the UFC, defeating Ken Stone and Jeff Curran, while falling to Renan Barao and Eddie Wineland. In short, he has gone from fighting for a title to fighting for his UFC career.

John Albert, the man that Jorgensen will face on December 8 is not in much better shape, as he is also coming off two straight defeats in the Octagon and without the benefit of being a recent title contender.

Must win bout? You bet it is.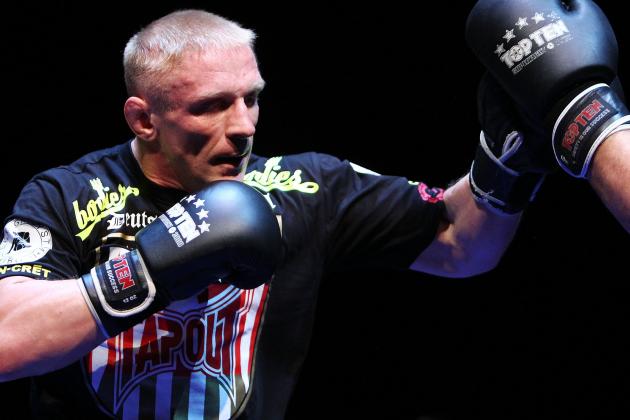 Mark Nolan/Getty Images

Following a loss to Donald Cerrone at UFC 137 Dennis Siver made the decision to drop down to featherweight.
In his UFC debut at the lower weight he handled himself well, earning a unanimous decision over Diego Nunes, a fighter whose only other UFC loss came against Kenny Florian.
Siver will face Nam Phan on December 8. One could argue that Phan is a step (or a few steps) down in competition for Siver after defeating Nunes, but that doesn't mean the fight won't be a test for the former kickboxer.
Phan has two "Fight of the Night" performances to his name and has gone the distance in each of his five UFC bouts.

If Siver takes Phan lightly he could very easily find himself out of the running as a featherweight contender.
Josh Hedges/Zuffa LLC/Zuffa LLC via Getty Images
The road Michael Chiesa took to win The Ultimate Fighter: Live was not without obstacles. Days after Chiesa secured his place in the TUF house, his father died.
No one would have blamed the young fighter if he packed his bags and went home to grieve with his family.
Chiesa opted to take a brief break from the show to be with his family and then returned to Las Vegas and took home the UFC contract, racking up one decision and three stoppage wins along the way.

The strain of living in the TUF house with 15 other young fighters and having every move you make filmed has to take its toll on the men competing on the reality show, for Chiesa that strain had to be unimaginable.

It's not a stretch to think that Chiesa has already overcome the most difficult portion of his MMA career by overcoming his loss and personal pain to win the season of TUF, everything that follows could be looked at as icing on the cake.

Having proved that he has the mental fortitude to make it in the world of mixed martial arts has some believing that Chiesa could be the next big thing to come out of the TUF house.
On December 8 he will take the second step toward becoming a force in the UFC when he steps into the Octagon to face longtime MMA veteran Marcus LeVesseur.
** I guess we will have to wait and see on this, Chiesa is out of the fight due to illness.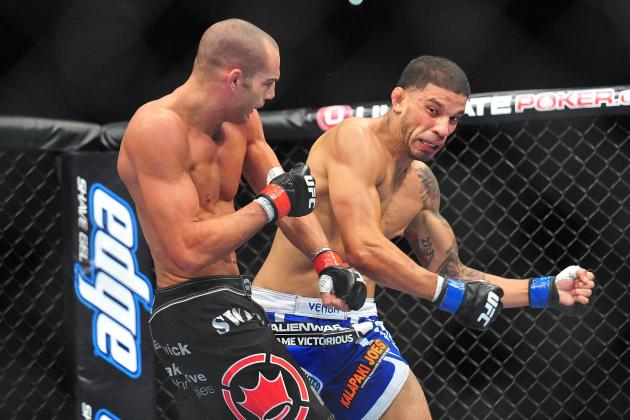 Gary A. Vasquez-US PRESSWIRE

Mike Swick was 14-2 when he stepped into the cage to face Dan Hardy on November 14, 2009 in a welterweight title eliminator fight. After 15 minutes he had won a single round on one of the judges scorecards and watched as Hardy had his hand raised in victory.
Swick's luck would get no better in his next fight, as he was choked out by Paulo Thiago and then things really got bad.

Injuries to opponents, an esophageal condition and an injury to Swick put him on the sidelines for more than two years.
When Swick returned to the Octagon on August 4, 2012 he earned "Knockout of the Night" honors, stopping DaMarques Johnson in the second round.

Swick has said he is still looking for a shot at UFC gold. The road ahead of him may be steep as he is fighting in one of the toughest divisions in the UFC right now and he has a lot of time to make up, but the UFC seems to have faith that Swick can make some noise, signing him to a new four fight deal following his victory over Johnson.

The first obstacle he will need to overcome and the first fight on that deal will be against Matt Brown in Seattle.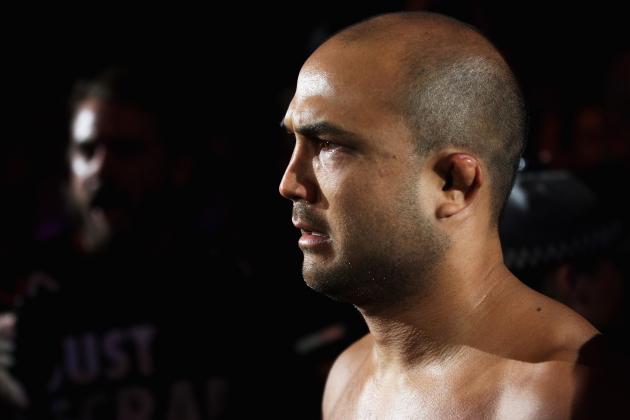 Mark Kolbe/Getty Images

BJ Penn has been talking a good game leading into his fight against Rory MacDonald. The former UFC champion has stated that MacDonald's pre-fight talk has lit a fire under him leading into Saturday night.
Penn has also bemoaned the fact the his name is no longer mentioned when fans discuss the all-time greats of mixed martial arts.
If Penn wants to put his name back on the lips of those that he feels have forgotten his accomplishments, defeating the highly touted Rory MacDonald is a good first step.
MacDonald has a lot of hype behind him and many see him as a future UFC champion, if Penn can derail the MacDonald hype train, you can bet he will once again hear his name mentioned as one of the all-time best.
That derailment will take more than words and Penn's rediscovered abs. Is Penn up to the test that MacDonald will bring?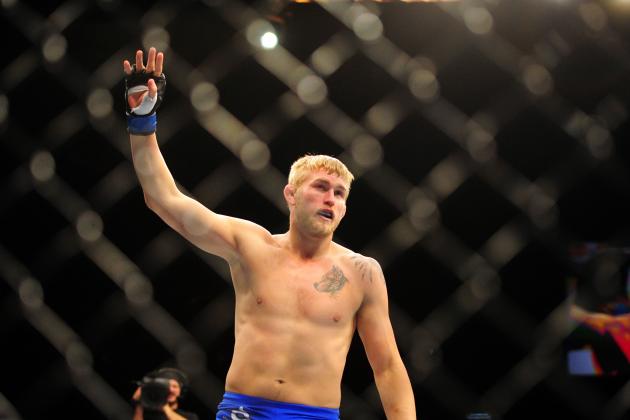 Mark J. Rebilas-USA TODAY Sports

UFC on FOX 5 is, without a doubt and without veering into hyperbole, the best card the promotion has presented on Fox since they struck their deal seven-year deal with the network.
The highlight for many will be watching to see if Alexander Gustafsson, Rory MacDonald and Nate Diaz can take the next step up the ladder in their respective divisions.
Gustafsson is being touted as a legitimate threat to light heavyweight champion Jon Jones.
If the 25-year-old Swede wants to take the next step toward a title shot he first has to get past the legend that is Mauricio "Shogun" Rua, the man Jones wrested the title from in 2011.
As for MacDonald, the 23 year old wunderkind is being hailed as a future UFC champion, that is when he isn't being billed as the next Georges St-Pierre.
MacDonald will look to shake that GSP tag along the way to being recognized for his talents alone. The next step for him will be getting past former UFC champion and future UFC Hall of Famer BJ Penn.
As for Diaz, he can stake his claim on Saturday night. With a win over lightweight champion Benson Henderson, he will take another title back to the Cesar Gracie Jiu-Jitsu camp, joining his brother Nick, Jake Shields and Gilbert Melendez as either current or former champions.
None of these fighters will have an easy task on Saturday night, but it will be interesting to see which one(s) can take the next step toward realizing the dream of every fighter that steps into the Octagon, capturing a UFC title.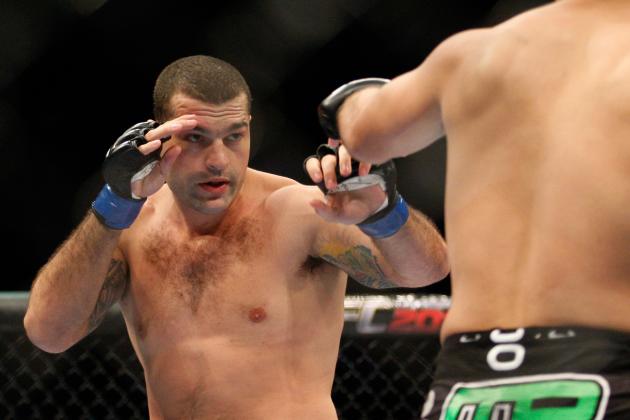 Richard Wolowicz/Getty Images

We already know that BJ Penn is inspired heading into his bout against Rory MacDonald. With that being said, despite his list of achievements he is still fighting in a sport that tends to forget what a fighter did in the past and focuses on what they have done as of late.
For Penn, as of late has not been too kind. He's gone 1-3-1 in his last five fights. So he has something to prove, not only to himself, but to the entire MMA world in general.
The other "old guard" fighter competing on the main card, Mauricio Rua, has also faced his share of defeats. In his last six fights he has been unable to put consecutive victories together, going 3-3.
Yes, you could argue that he defeated Lyoto Machida at UFC 104, but the loss is still on his record. He will have his hands full with Alexander Gustafsson on Saturday night.
Both of these veterans face tough opponents and both are in need of victories or the talk that they are far past their primes will raise its ugly head, something that no fighter ever wants to hear.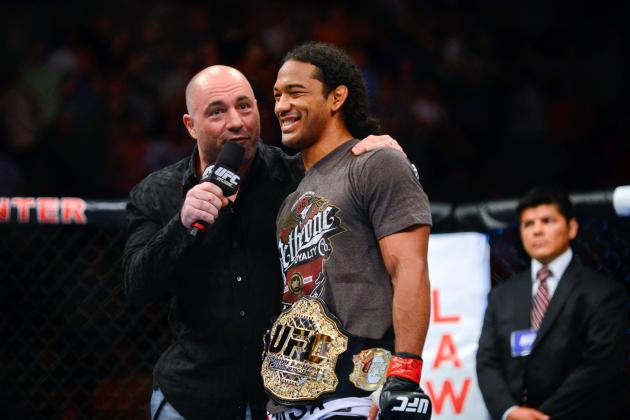 Ron Chenoy-US PRESSWIRE

Benson Henderson comes across as one of the "good guys" of MMA, but that does not prevent the UFC lightweight champion from having his share of detractors.
Henderson took the lightweight crown from Frankie Edgar at UFC 144 in a fight that many felt could have gone either way. The two looked to settle the score in a rematch at UFC 150.
Henderson also won that bout, but the victory solved nothing, as it was even closer than the first fight and despite the fact that he was awarded both wins and he is in possession of the title, some will grouse that Henderson isn't "really" the champ.
Henderson is of the mind that a win is a win. If his hand is raised after the flashiest of submissions or the quickest knockout in UFC history, it counts the same as a victory by the slimmest of margins on the scorecards.
I won't argue the fact that he is correct and when he says that it's not so easy to be decisive when you are fighting the best in the world, you know he is speaking the truth, but somewhere deep in the back of his mind, it has to bother him that there are those that doubt his championship reign.
Can he deliver a performance that can erase all those doubts?