Positive Signs That the Oklahoma City Thunder Are Back on Track
Derick E. Hingle-US PRESSWIRE

The Oklahoma City Thunder are back on track for the 2012-13 NBA season, posting a 14-4 record (as of December 3rd) that has them trailing only the Memphis Grizzlies in the Western Conference.
However, that record is just one of the many positive signs that the Thunder are right back where everyone thought they would be. This team is clicking on all cylinders right now as it steamrolls its way through inferior competition.
Trading James Harden was a controversial move that led many to doubt whether Oklahoma City would be able to challenge for an NBA title again in 2013. The Thunder have answered those doubts, proving that they were not going to allow their aspirations to be swept away with the departure of a single player.
When you look at how this team is playing, it is clear that they are still a championship contender. Kevin Durant and his teammates are performing at a very high level in almost every facet of the game.
Begin Slideshow

»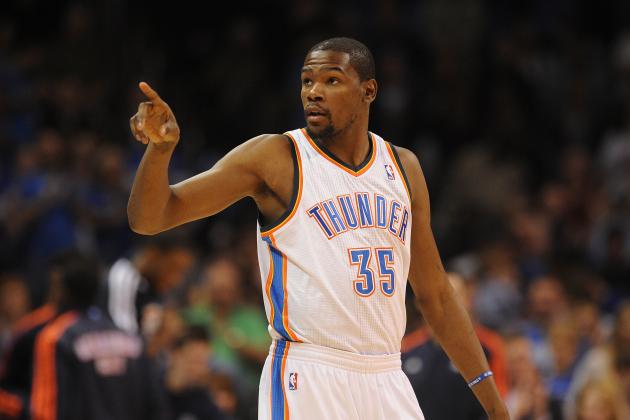 Mark D. Smith-US PRESSWIRE

The Oklahoma City Thunder are currently the league's highest-scoring team, averaging 105.11 points per contest on 48.6 percent field-goal shooting. That percentage is second only to the Miami Heat.
The Thunder also trail only the Heat when it comes to three-point percentage, as they are shooting 42 percent as a team from that area of the court. Kevin Martin's arrival in Oklahoma City has been a large part of that stat, as he leading the team, shooting 47.7 percent from the three.
The Thunder have been an offensive juggernaut for the past few seasons, but the fact that the team has continued to be one without the well-rounded skills of James Harden is impressive. It is also a bit surprising, given that the team has recovered so quickly in just a month.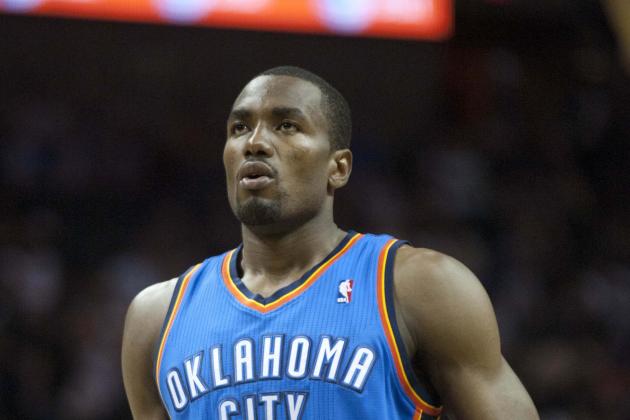 Brendan Maloney-US PRESSWIRE

This has been a staple of the Oklahoma City Thunder franchise for years now, and it is clearly not going anywhere. This team has been the best free throw-shooting team in the league and that has continued in the 2012-13 season.
As a team, the Thunder are shooting 83.4 percent from the charity stripe this season and are one of just three teams that are making at least 80 percent of their free throws. However, that is not the only impressive stat in regards to their activity at the line.
Making a high percentage of your free throws is great, but it means nothing if you cannot get them with regularity. That is not a problem for the Thunder, who trail only the Los Angeles Lakers in free throws attempted per game, with 27.2. They also lead the league in made free-throw attempts with 22.7 per game.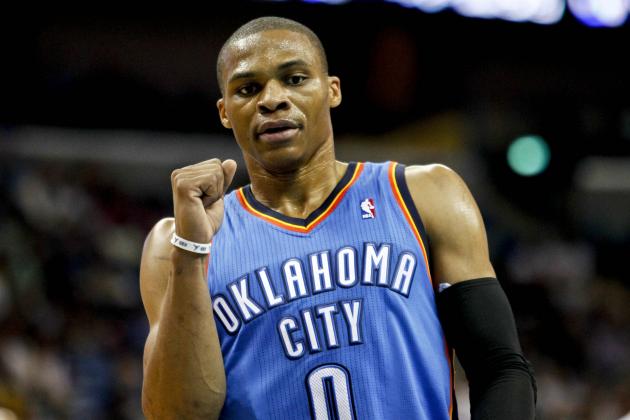 Derick E. Hingle-US PRESSWIRE

The Oklahoma City Thunder are a better team when they really move the ball and get their assists up. However, in recent seasons they have chosen to rely on isolation plays for Kevin Durant and Russell Westbrook instead, which has bogged down their offense in key moments.
They are doing a much better job at that this season. In their last 10 games, the Thunder are averaging 24.7 assists per game, which leads the NBA over that time period. For the entire season, Oklahoma City ranks seventh, with 22.67 per game.
The biggest reason for that is the commitment of the team's two superstars, Kevin Durant and Russell Westbrook, to hitting the open man. Westbrook is averaging a career-high 8.7 assists per game, and Durant is averaging 4.3, also a career high.
That is a massive improvement over recent seasons, in which the Thunder often ranked in the bottom third of NBA teams in assists. This team has to move the ball to win, and it is doing that at a high level right now.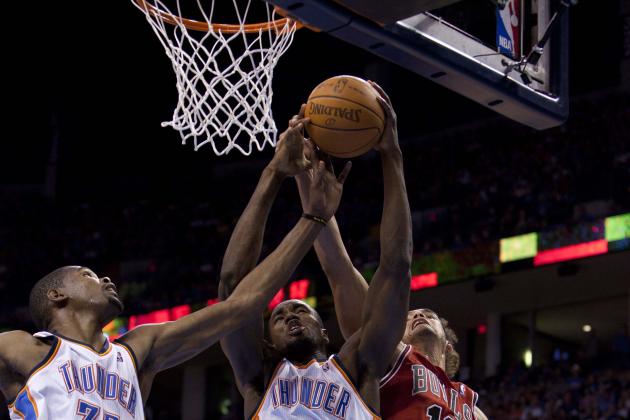 Richard Rowe-US PRESSWIRE

Another area in which the Oklahoma City Thunder are near the top of the league is rebounding. Although they only rank at 11th in the league in total rebounds per game, that rankings jumps up to seventh when you look at rebound differential.
Kevin Durant is leading this team in this area again, with 8.7 boards per game. This is another area in which Durant has committed to getting better, and it has helped his team make that improvement as well.
They are also extremely balanced in rebounding, which prevents other teams from out-rebounding them by simply focusing on a few players. There are currently seven different Thunder players that average at least three rebounds per game.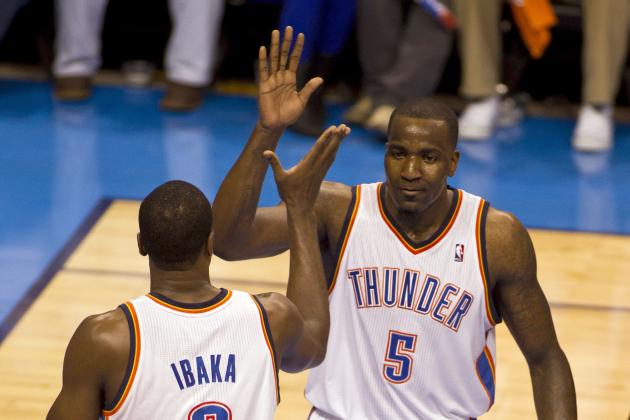 US PRESSWIRE

Defense has been something that has come and gone in the past few seasons in Oklahoma City, but it appears to have come for good. During the 2012-13 season, the Thunder have led the league in blocks with eight per game, which is potentially 16 points that they are taking off the board from their opponents. They also lead the league when it comes to have the fewest of their own shots blocked.
The Thunder are also ranked in the top 10 in the league in points allowed, allowing on average 95.28 points. They also lead the league in point differential, which is largely due to their defensive improvement, and are beating teams by nearly 10 points per game.
As if all of that was not enough, the Thunder are also ranked fifth in the league in defensive three-point percentage. Oklahoma City is rolling right now in almost every phase of the game, but defense is the biggest reason why they look so good right now and so much like the team that made it all the way to the 2012 NBA Finals.