Oregon Football: Why the Ducks Would Be Fine Without Chip Kelly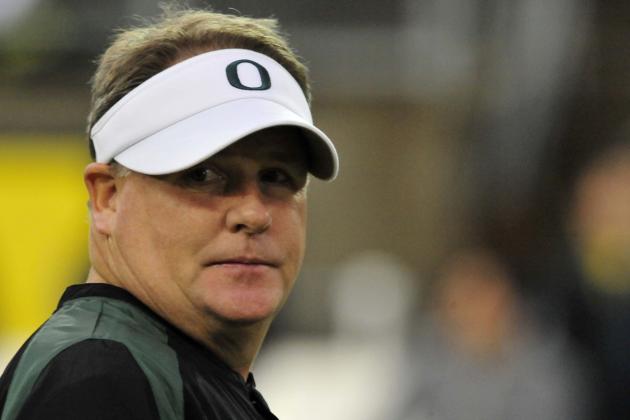 Steve Dykes/Getty Images

It's been all but assured at this point.
Chip Kelly will be leaving the Oregon Ducks football program to coach in the NFL.
Kelly skirted with the idea last season, flip-flopping between the Ducks and the NFL's Tampa Bay Buccaneers, before ultimately choosing to remain in Eugene because of "unfinished business."
Former Oregon coach, Mike Bellotti, said that once Oregon wins a national championship, it is a guarantee that Kelly will jump to the NFL.
When Bellotti made those comments Oregon was No. 2 in the nation and was a lock for a berth in the national championship, but a loss to Stanford ruined those plans.
You have to wonder however how long Kelly will choose to tread water before he thinks enough is enough and leaves.
It's predicted that Kelly will have ideal openings in Philadelphia, Kansas City, and Carolina, and you have to be hard-pressed to think that Kelly will stick around for another year.
If he does in fact leave the Ducks after this season, the Ducks will be just fine, and here's why.
Begin Slideshow

»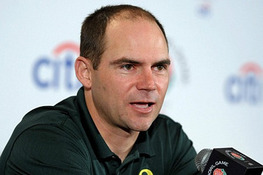 Meet your future head coach of the Oregon Ducks football team!
Back when we all thought that Kelly was a goner to Tampa Bay, Oregon officials were ready to hand Helfrich, Oregon's offensive coordinator, the job.
Kelly however came back and Helfrich remained as the offensive coordinator.
One of the biggest misconceptions about the Ducks is Helfrich's involvement with the team. Many think that it's all Kelly's masterminding, but any player in the Oregon program will tell you how much Helfrich means to the team.
The last thing Helfrich does it take a back seat to Kelly.
Kelly may call all of the plays, but Helfrich is the one that makes the adjustments from the box. Helfrich has been called one of the smartest guys in football and is involved in the game planning, scripting, and coaching on a weekly basis.
There is a reason why Kelly choose to hire him as his replacement at OC.
Donald Miralle/Getty Images

The last time the Ducks fired a head coach was 1976 with Don Read.
Since then, Oregon has used a succession process of naming their head coach.
Rich Brooks was the head coach until he decided to move to the NFL, (coincidence I think not!) allowing his offensive coordinator Mike Bellotti to replace him.
Bellotti used the same method when he choose to become the school's athletic director, allowing his offensive coordinator, Kelly, to rise up the ranks and replace him at the helm of the program.
I don't know about you but that seems to work out pretty well for the Ducks.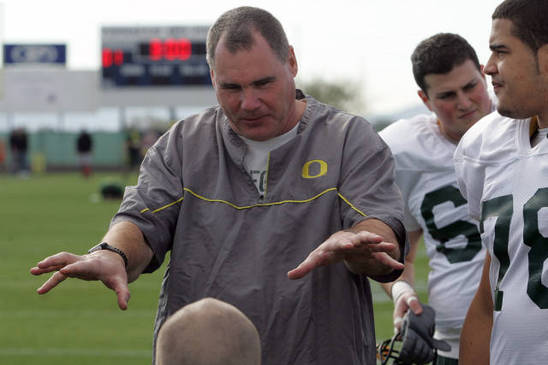 Oregon offensive line coach and running game coordinator Steve Greatwood
When Stanford's Jim Harbaugh left to become the head coach of the San Francisco 49ers, he raided his coaching staff to bring with him down the bay, leaving only offensive coordinator David Shaw to move to helm of the program.
When Kelly goes to the NFL, I can promise you the Oregon coaching staff will remain intact.
If you look at Oregon's coaching staff, you will see one thing: the majority of the coaches have been in Eugene for a long time.
I see only two assistant's following Kelly to the NFL and that is receivers coach Scott Frost and defensive line coach Jerry Azzinaro, and that's because Kelly hired them when he took over in 2009.
Defensive coordinator Nick Allioti, offensive line coach Steve Greatwood, and running backs coach Gary Campbell will most likely remain on Helfrich's staff, making the already smooth transition process of Kelly to Helfrich that much easier.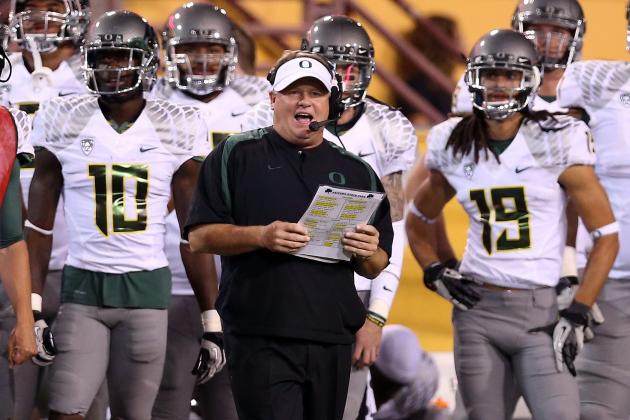 Christian Petersen/Getty Images

Kelly seems to be bracing Oregon for his departure.
According to this story, Kelly has not been making home visits to recruits, instead allowing his position coaches to recruit their own guys.
Something many people fail to realize is that the position coaches have a much bigger influence on recruits than a head coach does.
Just look at the situation that befell Cal last season when defensive line coach, Tosh Lupoi, left the program to take a similar position at Washington.
Once Lupoi left, the Golden Bear last the majority of their high profile defensive line commits.
The head guy, Tedford, was still there (not for long) but the recruits still decomitted because it's their position coach that they spend the most amount of time with.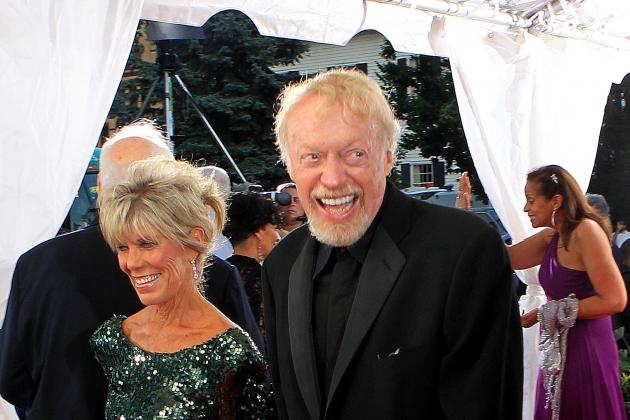 Jim Rogash/Getty Images

Phil Knight has voiced his support for Helfrich as the head coach of the Ducks, something that actually does mean a lot.
Back in 2006, Knight cut off funding to Oregon's track program due to a testy relationship with Oregon track coach, Martin Smith.
Smith resigned not long afterword and is now having success at the University of Oklahoma.
Knight's approval is going to go a long way in helping Oregon out in life after Kelly.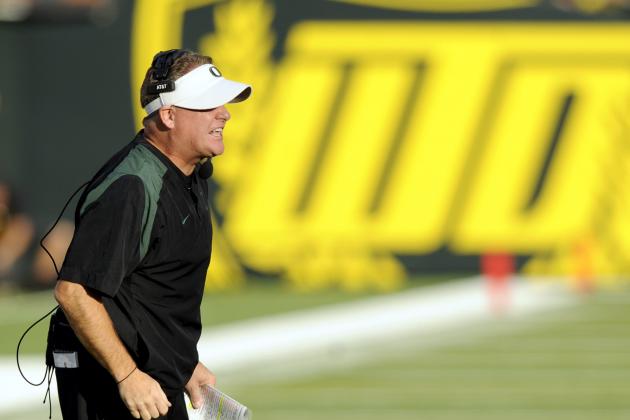 Steve Dykes/Getty Images

Do you see that "WTD" in the background?
Win the Day will still be a fixture of the Oregon program, long after Kelly has gone.
The mentality that Kelly has instilled in his coaching staff and his players is not going to disappear over night.
In the end, that's what makes making an in-house hire, that much better. Smooth transition and similar program.