UFC on FOX 5: Info and Predictions for Henderson vs. Diaz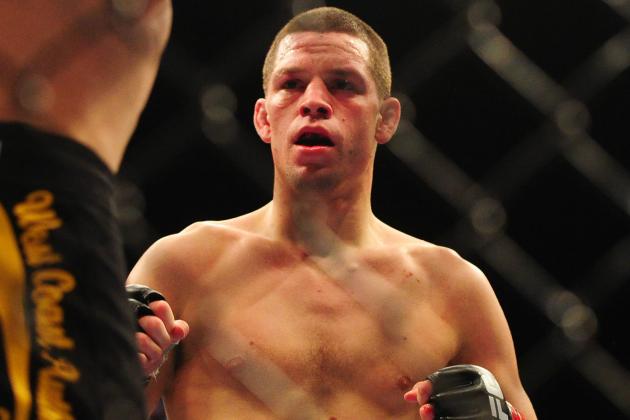 Mark J. Rebilas-USA TODAY Sports

Should he defeat Benson Henderson in the UFC on Fox 5 main event, Nate Diaz will join an elite few. The only The Ultimate Fighter contestants to ever win a UFC championship are Matt Serra, Forrest Griffin and Rashad Evans, but Diaz would join that group with a victory on Saturday.
Diaz won the fifth season of the reality series after Manny Gamburyan suffered an injury in the finals. Following his win over Gamburyan, Diaz embarked on a five-year journey to the point he has finally reached today as the top contender in the lightweight division.
In the same calendar year that his brother failed to earn UFC gold in a bout against Carlos Condit, Diaz will have a chance to crawl out from the shadows of his sibling. As the biggest fight of Diaz's career draws near, let's take a look at every fight on the card he is headlining this weekend.
Begin Slideshow

»
UFC.com
How to Watch
Facebook at 4:30 p.m. ET
Preview
Scott Jorgensen and John Albert have each lost two straight fights, but this is clearly a matchup designed to get the former back on track, as he is taking a major step down in competition from back-to-back fights against Renan Barao and Eddie Wineland.
While he has more losses than wins inside the Octagon, Albert has not made things easy on any of his UFC opponents. Despite all of his fights ending in the first round, Albert's bouts have been packed with action and back-and-forth in nature.
True to form, Albert will probably blitz Jorgensen early and look to score a stunning knockout. Jorgensen is an excellent wrestler with plenty of MMA experience, though, so he's going to take this fight to the ground early and look to hand Albert a fourth submission loss in his past five appearances.
Prediction
Jorgensen defeats Albert by submission in the first round.

UFC.com
How to Watch
FX at 5:00 PM ET
Preview
Dennis Siver and Nam Phan are bound to stand and trade on the preliminary card at UFC on Fox 5 fight card. Phan has scored only one takedown during his time as a UFC fighter, while Siver has similarly only taken one opponent to the ground in his past six fights.
While Phan's body punches are a dangerous weapon, Siver has the ability to keep his opponents on the outside with his dynamic kickboxing.
In a fight that won't do much for his standing in the featherweight division even if he wins in spectacular fashion, Siver may decide to play things safe against Phan. Should his spinning back kick land, there's always potential for a stoppage, but Phan is tough and will probably hang in there for all three rounds.
Prediction
Siver defeats Phan by decision.

UFC.com
How to Watch
FX at 5:00 PM ET
Preview
With wins in his first two Octagon appearances, some expected Tim Means would be given a step up in competition. Instead, he was booked for a UFC 151 bout with UFC newcomer Abel Trujillo. Due to the cancellation of UFC 151, that matchup was ultimately pushed back to Saturday's UFC on Fox 5.
Trujillo is riding a four-fight winning streak into his UFC debut, but he's posted an unimpressive 9-4 record in the smaller organizations he has been competing in. Conversely, Means has only lost against opponents who have competed under the UFC or Bellator banners.
While it's hard to say exactly how Trujillo will handle this step up in competition, his past results suggest he'll have trouble against an opponent of Means' skill level.
Prediction
Means defeats Trujillo by knockout in the first round.

UFC.com
How to Watch
FX at 5:00 PM ET
Preview
Both coming off of their first UFC victories, Daron Cruickshank and Henry Martinez are evenly matched and looking to make a breakthrough at UFC on Fox 5.
Cruickshank is a tricky striker with a wrestling background, so he'll pose problems for Martinez in all areas. Meanwhile, the Greg Jackson-trained Martinez is a scrappy competitor capable of making just about any matchup competitive.
Look for this fight to go the distance, with Cruickshank using his reach advantage and takedown defense to gain a slight edge on the scorecards.
Prediction
Cruickshank defeats Martinez by decision.

UFC.com
How to Watch
FX at 5:00 PM ET
Preview
The Ultimate Fighter contestants Ramsey Nijem and Joe Proctor have earned themselves spots on the UFC roster, but both fighters have many improvements to make in order to remain with the world's premier MMA organization for the long haul.
Most notably, Nijem has some of the most unrefined striking in the lightweight division. While Proctor is more skilled on the ground, he is coming off of a knockout win in his official UFC debut and is capable of taking advantage of Nijem's sloppy stand-up technique.
Although Nijem advanced further on the reality series, Proctor may be the fighter with a more promising future. Expect the teammate of Joe Lauzon to remain undefeated in official UFC bouts after his meeting with Nijem.
Prediction
Proctor defeats Nijem by knockout in the first round.

UFC.com
How to Watch
FX at 5:00 PM ET
Preview
Mike Easton has had three different opponents scheduled for his appearance on Saturday night. Originally, the bantamweight contender was booked to fight T.J. Dillashaw, but Bryan Caraway filled in for an injured Dillashaw and was eventually injured himself, opening the door for Raphael Assuncao to compete at UFC on Fox 5.
With eight straight wins, Easton is on the verge of earning a 135-pound title shot, but he'll be taking a bit of a step down in competition against Assuncao. The Brazilian has only competed at bantamweight twice in his MMA career and hasn't yet faced off against a high-level opponent in the division.
A jiu-jitsu black belt, Assuncao is dangerous on the ground, but Easton has not been taken down eight rounds inside the Octagon. Easton will probably minimize his risk taking in this fight to maintain his standing in his weight class.
Prediction
Easton defeats Assuncao by decision.

UFC.com
How to Watch
FX at 5:00 PM ET
Preview
This bout was previously booked for UFC on FX 5, but it ended up being cancelled at the last possible minute due to Jeremy Stephens' arrest for an alleged assault.
Edwards was quickly scheduled for a fight with John Cholish, but an injury allowed the UFC to re-book the fight between Edwards and Stephens following the latter being released from jail.
Both fighters are exciting strikers, so fans should be pleased that this matchup is coming to fruition.
While he's skilled on his feet, Edwards has had trouble with some powerful punchers like Stephens. Having eaten so many punches throughout his career, Edwards' chin may be starting to show some signs of weakness.
Prediction
Stephens defeats Edwards by knockout in the second round.

UFC.com
How to Watch
Fox at 8:00 PM ET
Preview
After a two-year absence from competition, Mike Swick recently made a triumphant return at UFC on Fox 4. As a result, Swick will be given a chance to continue on his comeback trail on network television at UFC on Fox 5.
Swick's opponent is a fellow veteran of the sport, Matt Brown. While he tends to make fights tough for opponents who are more skilled than him, Brown may have his hands full with an experienced and active Swick.
Brown's past four losses have come via second-round submission, so expect Swick to take this fight to the ground as much as possible.
Prediction
Swick defeats Brown by submission in the second round.
UFC.com
How to Watch
Fox at 8:00 PM ET
Preview
It has been more than one year since B.J. Penn last stepped into the Octagon, and that's a long layoff for a fighter who has long had issues with motivation and conditioning.
All reports from Penn's camp indicate that the former lightweight champion is in top form. Even if that is the case, he will still have trouble dealing with the size of a large welterweight like Rory MacDonald.
MacDonald will undoubtedly attempt to employ a similar game plan to the one that teammate Georges St-Pierre used against Penn. The Canadian should be able to out-muscle Penn frequently and take this fight to the ground, where his top control will earn him significant separation on the scorecards.
Prediction
MacDonald defeats Penn by decision.

UFC.com
How to Watch
Fox at 8:00 PM ET
Preview
As great a fighter as Mauricio Rua has been, the Brazilian has appeared to decline noticeably in his past few appearances. A couple years ago, an up-and-comer like Alexander Gustafsson would stand little chance against Rua, but a torch could be passed on Saturday.
Gustafsson has the reach and speed to cause problems for a seemingly aging fighter like Rua. If he can use that reach to avoid Rua's clinch, Gustafsson could make a huge move toward the first title shot of his UFC career.
This is a huge opportunity for the Swedish light heavyweight, and it appears to be coming at the most opportune time.
Prediction
Gustafsson defeats Rua by knockout in the third round.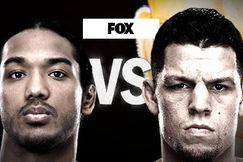 UFC.com
How to Watch
Fox at 8:00 PM ET
Preview
Benson Henderson will attempt to defend his lightweight title for the second time in the UFC on Fox 5 main event, while Nate Diaz attempts to become the fourth The Ultimate Fighter contestant to win a UFC championship.
Diaz has looked excellent since returning to the 155-pound division, but he hasn't had to meet a wrestler like Henderson since departing from the welterweight class.
The champion should be able to take Diaz down at will and utilize his outstanding submission defense to avoid being forced to tap en route to what will likely amount to a decision victory.
Prediction
Henderson defeats Diaz by decision.