5 Bold Predictions/Moves the Cincinnati Reds Make at the Winter Meetings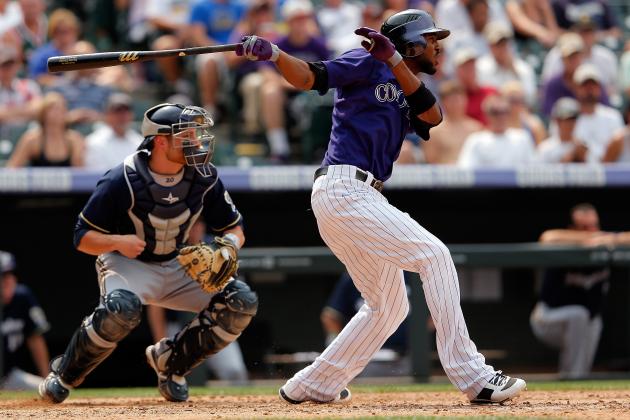 Doug Pensinger/Getty Images
Could Dexter Fowler be Cincinnati's next big move?
The Major League Baseball brain trusts will all commence in Nashville, Tenn., this week for the annual Winter Meetings. It is here that deals often come out of nowhere, rumors galore begin to swirl and the foundations are placed for trades to come.
Just see Mat Latos and Sean Marshall—both of whom were acquired soon after the meetings last season. Walt Jocketty laid the foundation for what would become a blockbuster that surprised most inside and outside of baseball.
So with the meetings beginning, we now begin to speculate. It's time to review the Reds' needs (leadoff hitter, left fielder and bench help), the Reds' wants (star leadoff hitter and a power-hitting, run-producing left fielder) and the Reds' blockbuster dreams (David Wright).
With all of this in mind it is time for us to make some bold, and even dream-like, predictions for Walt Jocketty and his club as a result of the 2012 MLB Winter Meetings.
Lets get started.
Begin Slideshow

»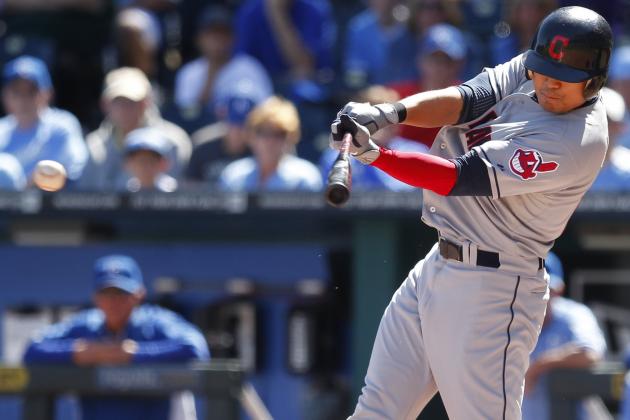 Kyle Rivas/Getty Images
Shin Soo Choo is in the last year of his contract and is unlikely to re-sign with Cleveland.
It has been rumored for a while that Shin Soo Choo was on the market, and it would only seem logical that the Reds would be interested.
In this scenario Walt Jocketty swings a sign-and-trade deal. The Reds and Choo agree to a two-year extension and Cincinnati sends Didi Gregorius and Mike Leake to Cleveland to complete the deal.
How does this deal benefit the Reds? Well, maybe not the way you may think. Choo takes over in left field but steps into the second spot in the batting order, not leadoff. Let's not forget that the Reds also struggled here as well. Reds batters only posted a .257/.310/.390 slash from the second spot in the order.
Shin Soo Choo would definitely be an upgrade.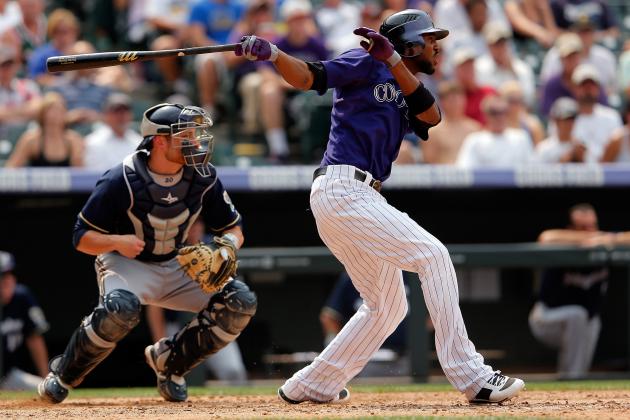 Doug Pensinger/Getty Images
Could Dexter Fowler be the Reds' answer at leadoff?
After Walt Jocketty surprises baseball execs with his acquisition of Shin Soo Choo, he then switches his focus to plugging the hole at leadoff—he stops the leak with one, Dexter Fowler.
ESPN's Buster Olney says the Reds could target Dexter Fowler at the Winter Meetings. Fowler posted a .300/.389/.474 slash line in 2012. Those numbers would be an obvious and immediate upgrade over Cincy's team-combined .208/.254/.327 slash at leadoff.
Jocketty and the Reds send Daniel Corcino, Neftali Soto and, yes, Drew Stubbs to the Rockies as compensation.
Folks, could you imagine Dexter Fowler (.389 OBP) and Shin Soo Choo (.373) setting the table for Joey Votto and Jay Bruce in 2013? Wow.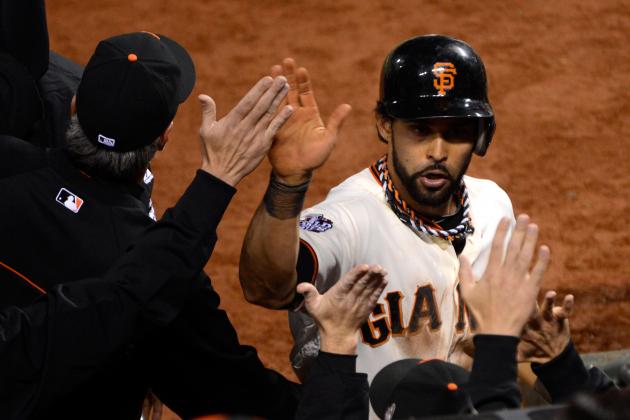 Thearon W. Henderson/Getty Images
Angel Pagan could fill the Reds' void at leadoff.
OK, so maybe those first two deals don't happen, but how about this: Cincinnati lands Angel Pagan from the free-agent market.
Pagan realizes that he isn't going to get the money he is seeking and decides to settle for the best available offer. Cincy dips in with an offer of $15 million over two years and Pagan bites. The Reds take his career .281/.333/.424 slash and place him at leadoff in 2013 and then drop him to second in 2014—to make room for Billy Hamilton of course.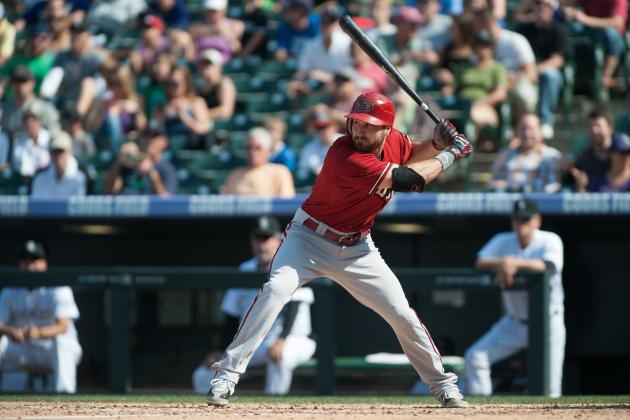 Dustin Bradford/Getty Images
Adam Eaton has the ability to be an above-average leadoff guy for years to come.
In a trade that surprises some, the Reds and Diamondbacks hook up and manufacture a deal that sends Adam Eaton to Cincinnati for Drew Stubbs and Tony Cingrani.
Though it was hard to part with Cingrani, the Reds had to jump at the opportunity to grab a high-potential and cheap solution to their leadoff woes. But wait. There is a second scenario.
In an even more surprising change of events, the Reds swing the biggest blockbuster of the offseason when they send Homer Bailey, Tony Cingrani, Didi Gregorius, Drew Stubbs and two other prospects to Arizona for Justin Upton and Adam Eaton.
Eaton takes over center while Upton holds down left, and the Reds end up adding two more young and rising stars to their lineup.
We can dream, can't we?
Alex Trautwig/Getty Images
David Wright is expected to be in Nashville for a press conference.
In a surprising turn of events, the Mets send David Wright and his newly inked contract to Cincinnati. Am I the only person that believes that the Mets only signed Wright to that extension in order to trade him?
So maybe I am stretching what may be considered reasonable thought. But the Winter Meetings are a time for such things.
The Reds send Didi Gregorius, Tony Cingrani, Mike Leake, Neftali Soto and 2012 first-round draft pick Nick Travieso to the Mets in the exchange. This may be cheap, but somehow the Mets consider and agree to the deal.
Odds of this deal happening: 5,000,000-to-1 (according to me)
Immortal words: "So you're telling me there's a chance."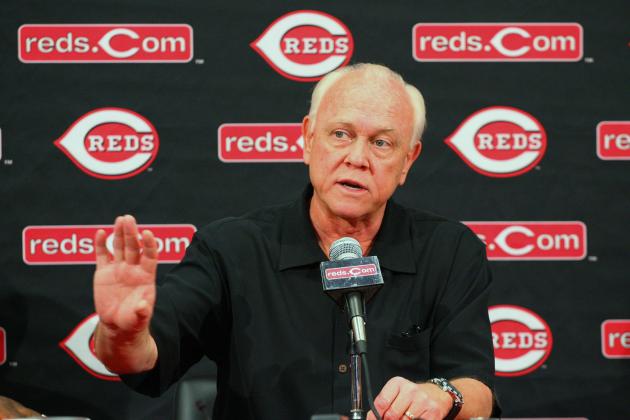 Hunter Martin/Getty Images
Walt Jocketty will be looking to improve his club at this year's Winter Meetings in Nashville.
Let's sum things up by saying this:
The offseason is a time to dream. Some dreams come true and some are shattered. Some dreams are realistic while some stretch the boundaries of our sanity.
No matter where you stand as a fan, it's always fun to watch what goes down at the Winter Meetings.
You can follow Josh Ramsey on Twitter @JRamCincy