Orlando Magic vs. Los Angeles Lakers: Live Score, Results and Game Highlights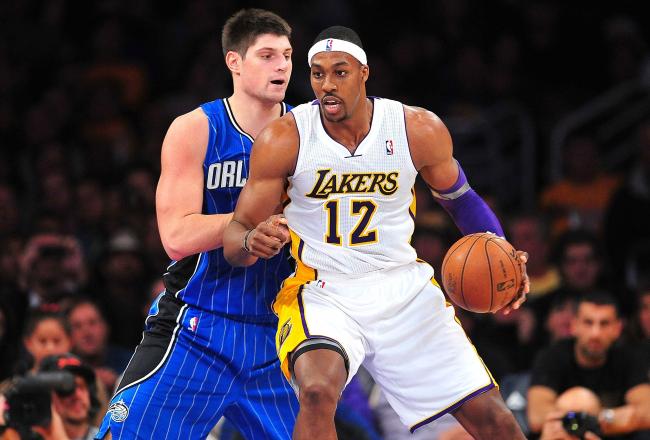 The Orlando Magic ran away from the Los Angeles Lakers in the fourth quarter on Sunday night, winning 113-103.
Scroll down for updates from throughout the game.
Everyone billed this as the game Dwight would take it to his old team. Heck, I did too (see the intro to this game). While it looked like Dwight was a man against boys, in many respects, he was a man missing free throws against boys.
The Magic just hacked Howard into submission and the strategy worked. It's hardly a new strategy against No. 12, but Jacque Vaughn realized just how well it works.
The Lakers fell to 7-5 at home and are under .500 again this season. Orlando is just 6-10 on the year, but this is by far the biggest victory of the season. Even though making the playoffs isn't a reality for the Magic, the delight of taking it to the guy who spurned the organization is profound.
Nelson had one of his best games of the season, showing his former co-captain that he can do it without him, scoring 19 points and dishing out 13 assists.
Glen Davis was aggressive and looked for his shot all night. The result was 23 points on 8-of-15 shooting.
But the real hero for the Magic was their big acquisition from the Dwight trade, fittingly enough. Afflalo put up 30 points in 40 minutes of play, hitting 11-of-18 from the floor and 4-of-8 from three point range. He nearly outscored Kobe, who managed to put up 34 in the 113-103 loss.
The Magic showed great resiliency tonight against a team they easily could have rolled over for. But that wasn't going to happen, not with how badly Redick and Nelson wanted revenge against their former teammate, not with how geared up Afflalo was to matchup against Kobe. The Magic just wanted this game more, and they took it.
MAGIC 113, LAKERS 103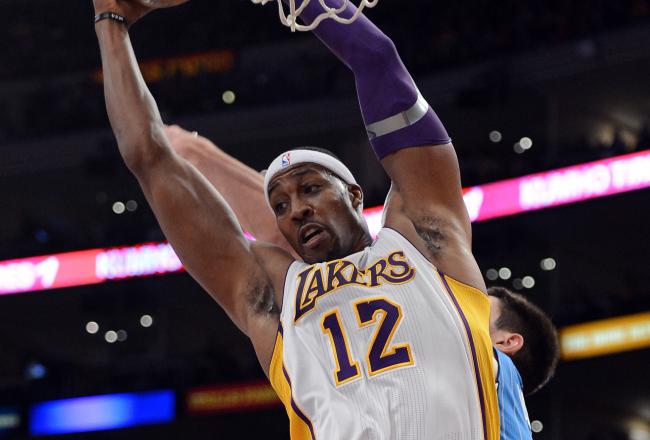 Nikola Vucevic has looked great in pick and rolls tonight. He's not Dwight Howard finishing with power dunks, but he has soft touch around the hoop.
Magic running the clock and fouling Dwight Howard = a winning strategy from here on out.
Dwight hit both of them on the last trip, but he's missed far more than he's made (9-of-21 tonight) and the Magic used the right strategy. It's just about in the books now.
MAGIC 109, LAKERS 99 — one minute to go in game.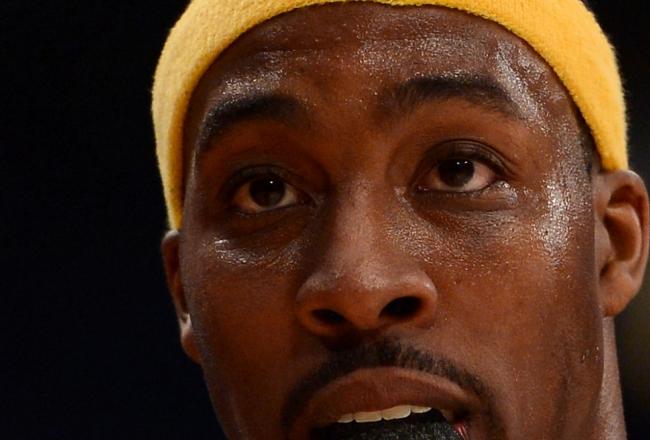 <blockquote class="twitter-tweet">
The Orlando Magic beating the Lakers by Hack-a-Dwight-ing might be the best superstar revenge fantasy game of all time.
— Bruce Arthur (@bruce_arthur) December 3, 2012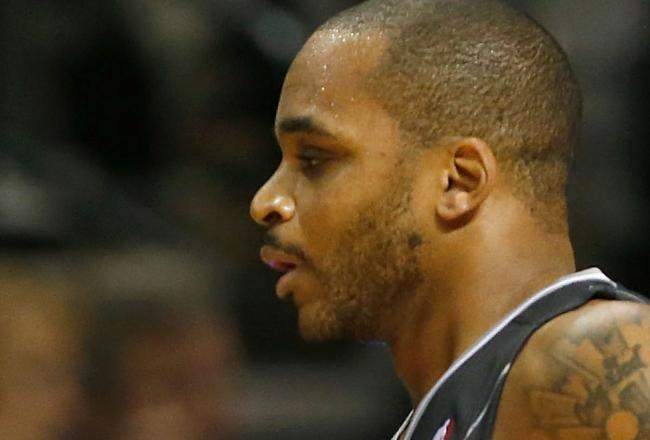 Jameer Nelson wanted in on the fun against his former partner in crime, banging a 26 foot trey to give the Magic a 98-89 lead. The Howard hacking continues as he splits a pair of free throws. There has to be nothing more satisfying for Magic fans to see the Lakers deal with his problematic free throw shooting.
Will Kobe let this one go? Unlikely, but Aaron Afflalo is doing his best Kobe impression and Nelson is heating up even more.
The Magic are on a 26-8 run and Howard has missed a dozen free throws.
MAGIC 103, LAKERS 92 — 2:30 in 4th
J.J. Redick is looking like he did at Duke, Aaron Afflalo is looking like he never has before. Two stone cold assassins, and the Magic have opened up a six point lead. They're a combined 16-of-32 from the floor for 42 points, with two-thirds of those points coming from Afflalo's game high 28.
Big Baby may not post a 20-20 game as we were insinuating Dwight might, but with 21 points and 12 rebounds, he has arguably out-played Howard.
Okay, that last statement was a huge stretch. But Big Baby has outscored him 21-15.
MAGIC 95, LAKERS 89 — 3:41 in 4th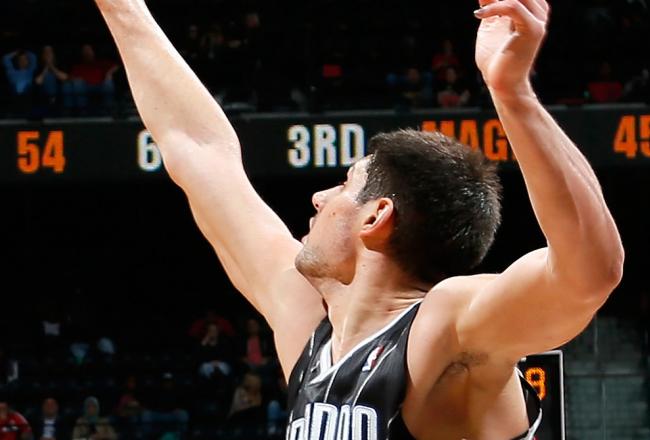 Magic cut it to one point on a Big Baby jumper.
Dwight is continuing to work Vucevic but coming up empty. Vucevic looks like that big stiff in practice who gets praised for his defense when all he is doing is the simple "bang, bang, stand up tall" routine. It's not that Vucevic can't defend, it just seems Dwight can get whatever he wants, except for a free throw to fall. 2-of-9 from the line.
J.J. Redick just got to the hole and set up Vucevic for a hard dunk. Take what the defense gives you. Oh yeah, Voo-chev-ic has also blocked three shots.
MAGIC 85, LAKERS 84 — 5:54 in 4th, Break in Action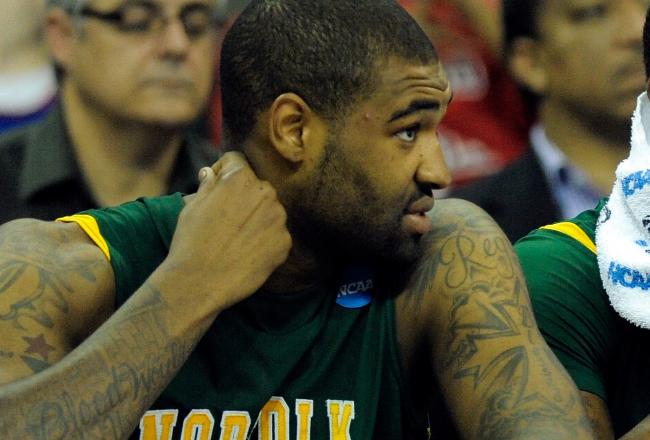 Kyle O'Quinn is working really hard, but the second round pick of the Magic is just outclassed by Pau Gasol. He'll have his nights before this season is done, but he's got a long way to go before he can out-think a player with a basketball IQ as high as Gasol's.
For all the criticism Gasol gets for being soft, it's his ability to out-think defenders that has rendered him successful on the glass and O'Quinn has three fouls so far partly as a result of that.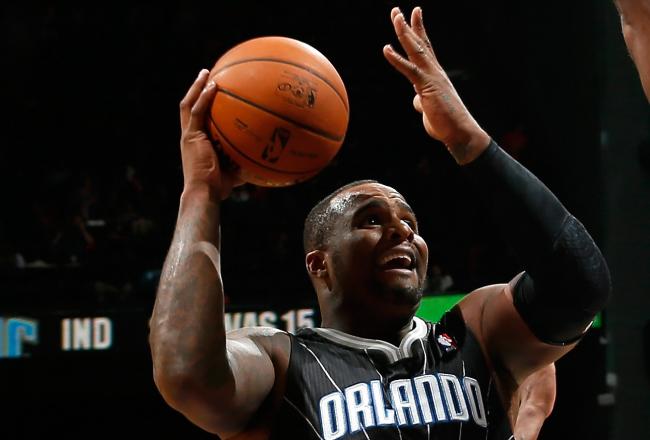 For his 10th rebound of the game, Big Baby soared off the floor a solid eight or nine inches. Joking aside, that's a double-double and he scored on the other end of the court for 16 points. Did anyone expect Big Baby to the best LSU big man product since Shaquille O'Neal?
LAKERS 77, MAGIC 75 — 10:59 in 4th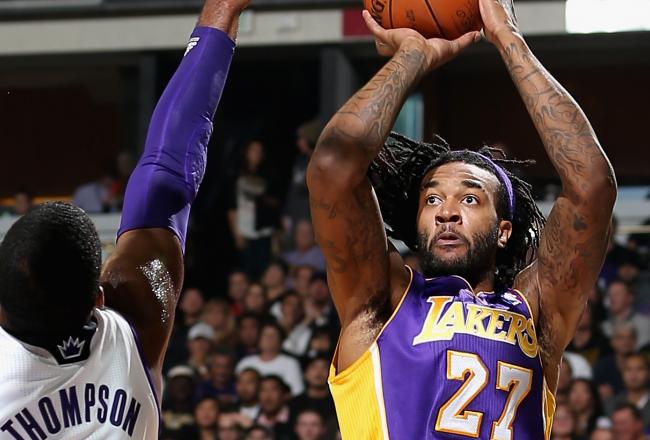 @lakersnation: Jordan Hill is sitting pretty w/ a DNP-CD so far tonight...What kind of Stern fine will this cost the #Lakers?

— Chris Bowles (@C_Bowles) December 3, 2012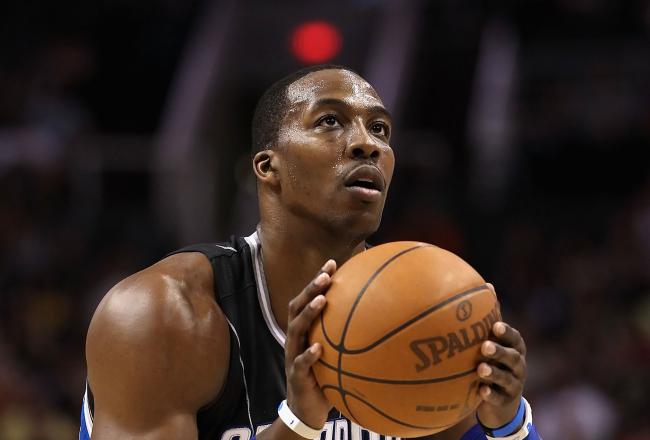 The hack-a-Dwight has initiated at the end of the quarter, as Josh McRoberts picks up his fourth foul of the game wrapping Howard up away from the ball. So much for saving your best player for the fourth. At least Dwight missed both free throws.
LAKERS 76, MAGIC 71 — 53.1 seconds in 3rd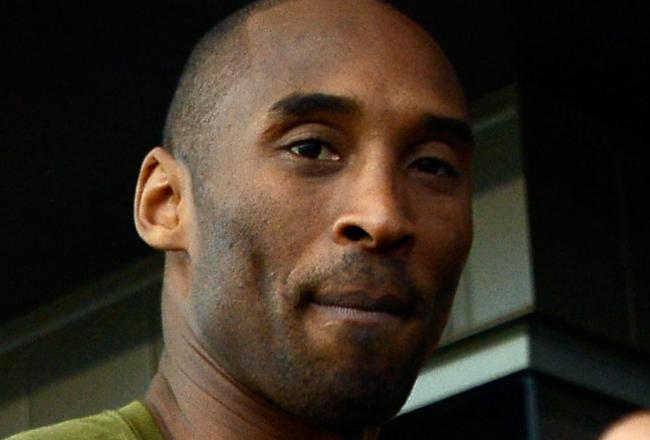 Outside of Kobe, the rest of the Laker's starters are 13-of-33 from the floor. Bryant will always be the focus of the offense, no matter the strides Howard takes. He's been an alpha his entire career, and it isn't changing yet.
MWP with another three, his third of the game.
LAKERS 74, MAGIC 69 — 1:33 in 3rd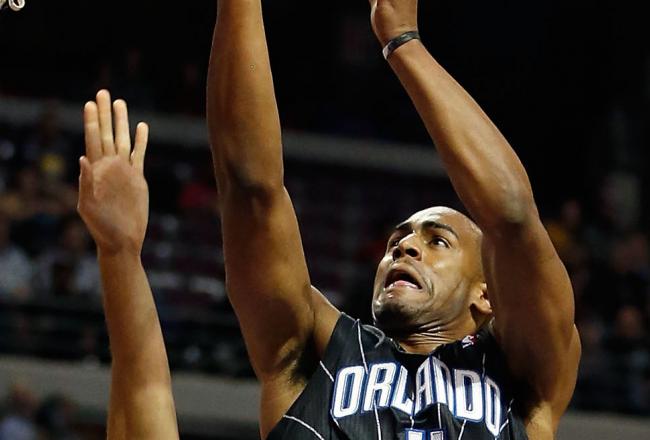 Aaron Afflalo is now looking like the player the Magic hoped he would be when they made him the main chip in the Dwight deal. Of course, they also obtained some prospects (Mo Harkless, Vucevic) and three first round picks, but Afflalo is supposed to be the guy to make an immediate impact.
So far, Afflalo has impressed this game with a team-high 21 points, nearly matching Kobe basket-per-basket.
As for Glen Davis, he's taken only one shot so far this half (making it). I'm fairly confident we haven't heard the last from Big Baby, though.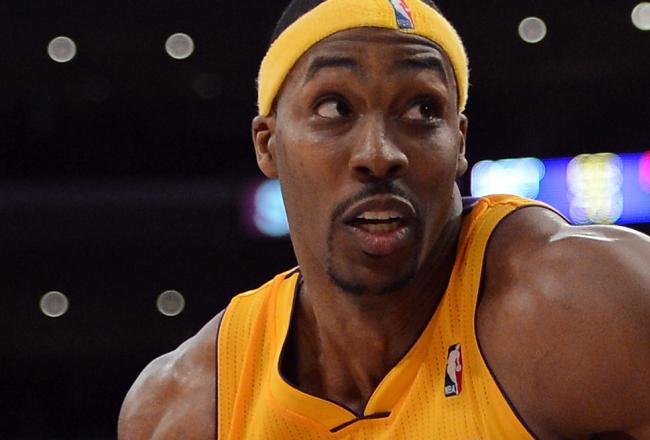 The Magic are hanging tough with four players in double figures. The Lakers have three, but they are paced by Kobe's 19 points, a game high.
Dwight Howard is having a huge impact on the game, despite only having seven points. Vucevic is a decent pro, but against Howard he looks like a JV-center. Slow to handle his rolls to the hoop and unable to box out.
LAKERS 62, MAGIC 62 — 5:24 in 3rd Quarter, Break in Action
Metta World Peace just hit his 1,000th career three pointer on a shot that was forced at the end of a possession. Somehow, it just seems fitting. The Lakers had nothing going, and Artest bailed 'em out.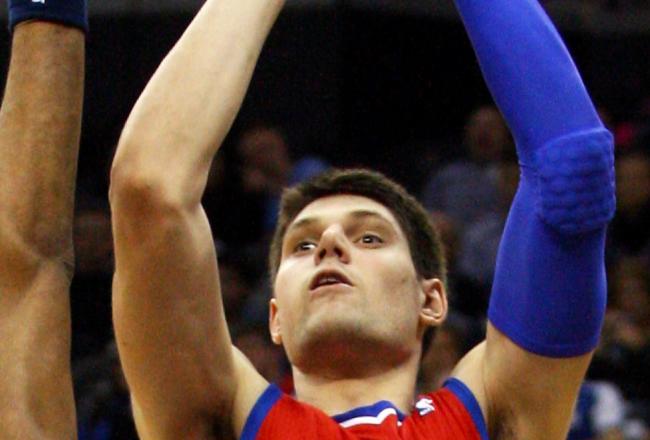 I wonder if we'll hear some color commentators this year pronounce Nikola Vucevic correctly. According to a true Slovenian, it should be Voo-chev-ic. I'm hearing "Vooch-a-vich." Come again?
While we're talking about Vucevic, he's doing his best with Dwight, but No. 12 still has 13 rebounds and it's early in the third quarter. Oh yeah, and Voo-chev-ic for two.
MAGIC 58, LAKERS 57 — 7:58 Third Quarter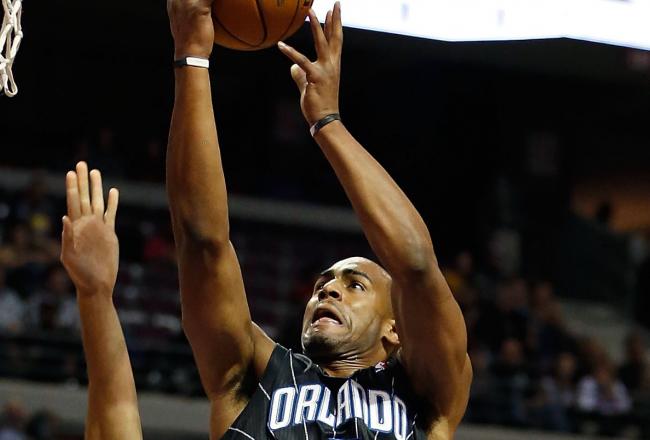 Dwight has apparently done his thing with threes, so now it's time to launch a long two. I don't think he was trying to bank it, and it didn't go in at any rate. When did he get the idea to become a perimeter jump shooting center? And how is it in any way a good idea?
Kobe Bryant tried to save it on the defensive end and the Magic worked it around for an Aaron Afflalo three, after a failed Glen Davis/Jameer Nelson pick and roll. The Magic are trying to get some other hands involved, but Big Baby seems to be everywhere.
Afflalo leads the Magic offensively with 14 first half points on 6-of-10 shooting, while Davis has launched 10 of his own shots and has 12. Redick joined the party with 11 first half points on 10 shots. The Magic are getting the ball around.
For the Lakers, it has just been a lot of Kobe Bryant. Bryant has 17 at the half and has looked for his shot or got one for a teammate over half the Lakers' possessions, as he has three assists, too.
Both teams had only six first half turnovers a piece. And the Howard-led Lakers grabbed 27 of the game's 49 rebounds, with Howard having nine of those. That 20-20 game doesn't look likely, though, as Howard finishes the half with just five points—against Nikola Vucevic.
LAKERS 52, MAGIC 52 - Halftime.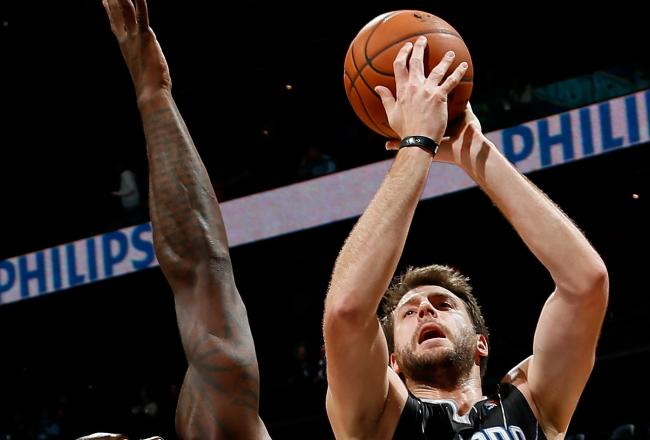 @brett_d_roberts Told you Josh McRoberts isn't a scrub
— Peter Seidel (@peteseidel) December 3, 2012
McRoberts with a quick 0-of-3 from the floor. He hasn't had a good game since his 1-of-11 three-point performance in summer league with the Pacers three seasons ago. Look, he does have three assists and has played decent ball. Not bad for a second-round pick from Duke who was at one point the number one recruit in his high school class, ahead of Greg Oden.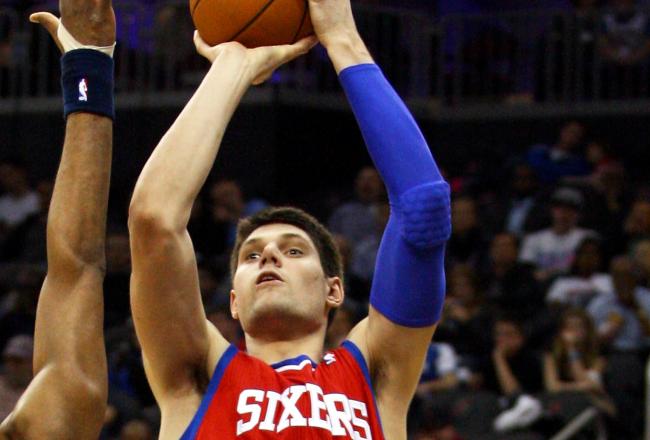 Nikola Vucevic gets beaten to the hole and Magic fans shake their head. Fortunately, for Vucevic, Dwight blows the finish and can't corral his own offensive rebound.
Vucevic doesn't look to answer back, but after some ball movement, it ends up in you-guessed-it's hands for another jumper. Davis in double figures and the Magic just not giving up, as Aaron Afflalo drills another three.
Dwight continues to attack Vucevic but misses again. You're only as good as your last two possessions, Dwight. As Dwight walks to the bench, 10 more Glen Davis All-Star ballots drop into the box.
LAKERS 44, MAGIC 42 - 4:38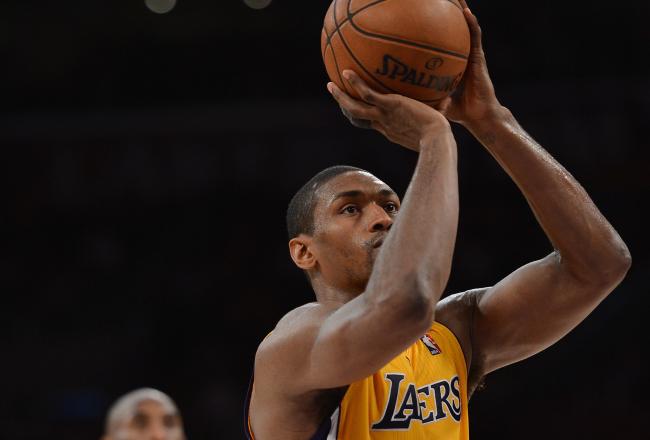 Mike D'Antoni seems to nod his head in agreement any time anyone shoots anything. I don't think D'Antoni ever saw a shot he didn't like as a player, and nothing has changed as a coach. If Kobe didn't think he had the green light before, he's now wondering if he can do any wrong offensively.
Metta World Peace is having his best season in god-knows-how-long, and D'Antoni showed his explicit approval of MWP's take to the basket on the Lakers' last possession—naturally. Metta converted only one of the two free throws.
LAKERS 36, MAGIC 29 - 8:50 2nd Quarter, Break in Action
If someone suggested that Glen Davis would be the game's high scorer at the first quarter, I would have likely taken them seriously. Glen Davis is a hired assassin, and has attempted only two less field goals than Kobe, while hitting just as many. 2-of-7 vs. 2-of-5. And he's shot twice as many free throws (2 vs 4).
In other news, Dwight Howard had seven first quarter rebounds—and if he starts scoring when he comes back in the game, he could have one of his patented 20-20 performances.
Until then, we're treated to the magic of watching Devin Ebanks and Chris Duhon work it in the Lakers' backcourt.
LAKERS 27, MAGIC 23 - Score and End of First Quarter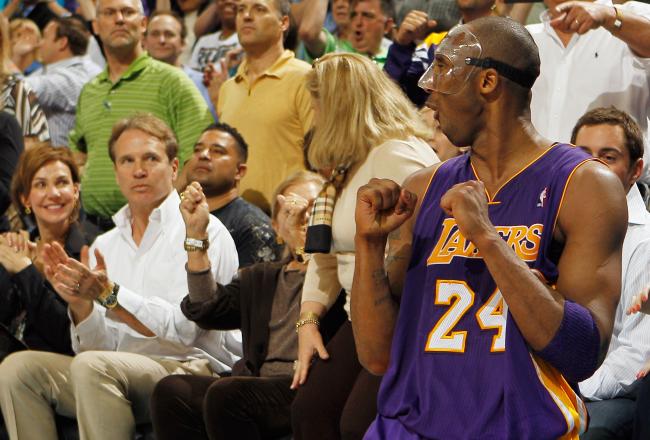 The #Lakers new court actually is genius. I am shaking my head in disgust over the 2009 Finals every time I see center court. #NeverForget

— Orlando Magic Daily (@OMagicDaily) December 3, 2012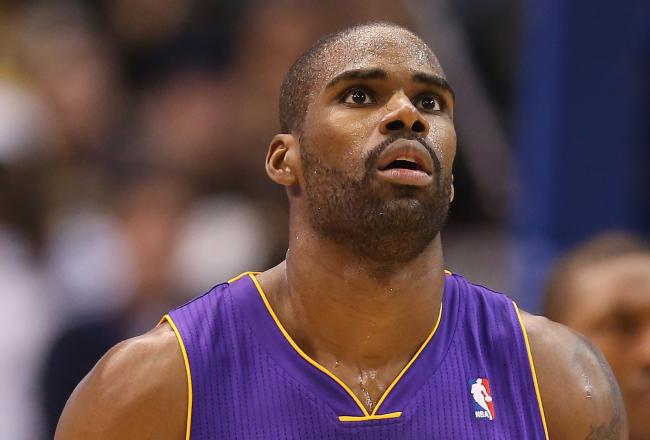 This game is quickly turning into a Kobe vs. Glen Davis show. Davis is demanding the ball and when he's not shooting, it's Jameer Nelson, who is remaining aggressive against his former co-captain.
The Lakers are moving the ball better. They just got Antawn Jamison an open three. He's coming off a huge 33 point game and still has something left apparently. He also had 12 rebounds in that 32 minutes of play. In the three games prior, he had scored 16, 19 and 3.
Jamison could be the piece that the Lakers have been lacking all season, after he saw sporadic minutes up until the 23rd of November against Memphis, when he had his first 26-plus minute game of the season.
It's just one three, but Jamison can get it cooking in a hurry. Keep an eye on the 36-year-old from UNC.
LAKERS 18, MAGIC 17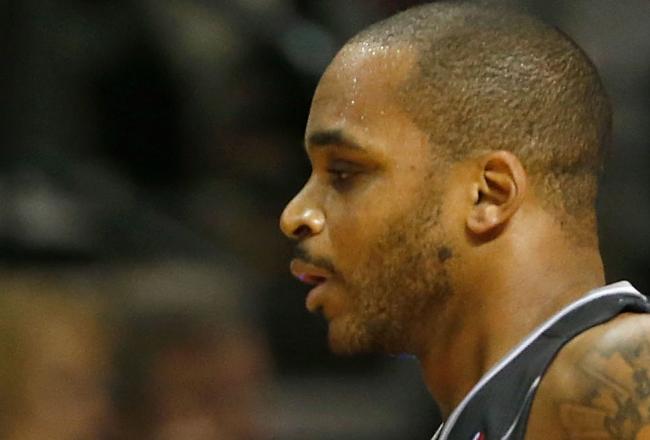 There's the Glen Davis we know and love, launching a brick long-two.
Jameer Nelson is in attack mode, getting to the line for three (hitting all three; he hasn't missed a free throw on the season) then taking a quick three the next possession (clanging it off the back of the rim).
In other news, Glen Davis shoots again from the paint, this time nailing it. Davis may have 20 tonight, as he already has eight on 2-of-4 from the floor and 4-of-4 from the line.
MAGIC 15, LAKERS 13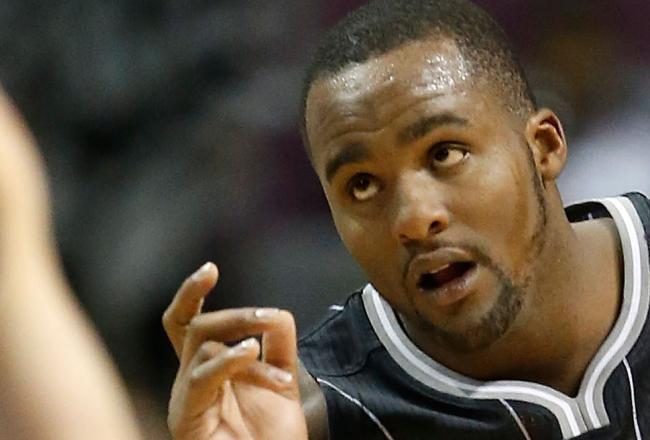 Glen Davis continues to attack, but the Lakers aren't giving him anything tonight. But hey, Magic fans, it is nice to see Davis attack rather than launch up ill fated long-twos isn't it? It's not like Davis has the speed to get past everyone, but he sure moves well considering his side. Maybe it's not so bad having Davis as a number one option after all?
Or is Aaron Afflalo the best late game go-to player?
Kobe is taking charge one way or the other and has had a hand in the last three Lakers possessions. The Lakers have a lot of options and teams are going to have trouble defending.
Oh, look at that, Davis takes it to the basket again. He has no conscience. Two from the stripe for Big Baby.
LAKERS 11, MAGIC 10 - 6:50 1st Quarter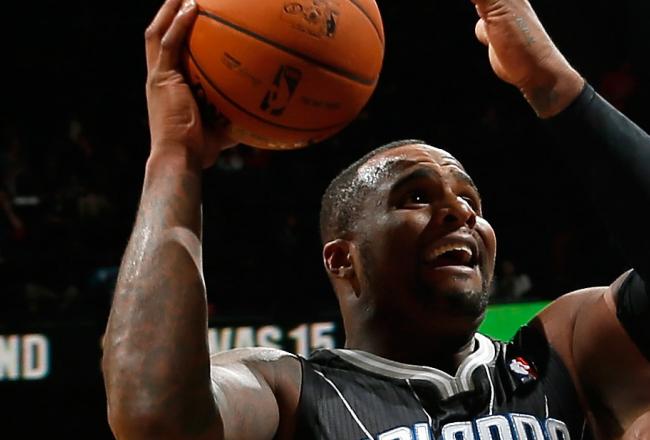 Dwight Howard misses the entire basket with his first shot, a turning hook. Glen Davis grabbed the rebound and got to the line at the other end. We're not going to suggest the Magic upgraded here with Big Baby as the de facto go-to player, but if one sequence were all we had to go on…
MAGIC 6, LAKERS 2 - 10:07 1st Quarter
This article is
What is the duplicate article?
Why is this article offensive?
Where is this article plagiarized from?
Why is this article poorly edited?