BCS Standings 2012: Final Rankings and Where the Top Teams Are Playing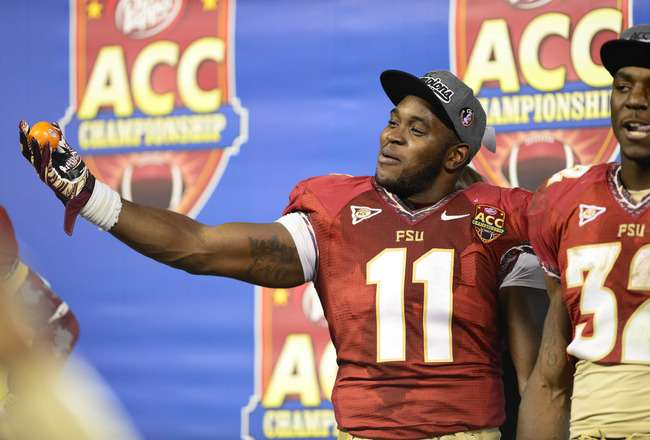 US PRESSWIRE
The 2012 regular season is officially in the books and the final BCS rankings are here. The top teams around the nation have been anxiously awaiting where they will be spending their bowl seasons.
After the great drama of the in the SEC title game, I'm sure we're all ready for some more great football, and these teams should be ready to give it to us. Too bad we have to wait a couple of weeks for it to get here.
So, where are the Top 25 headed this postseason? Read on.
No. 25: Kent State Golden Flashes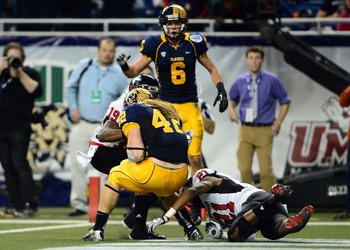 Andrew Weber-US PRESSWIRE
Bowl Destination: GoDaddy.com Bowl
Amazing to think that Kent State would finish the season ranked in the Top 25 of the BCS. It's more amazing to think that the Golden Flashes were this close to busting the BCS despite losing to Kentucky earlier in the year.
Kentucky!
However, watching them take on another upstart program in Arkansas State should make the GoDaddy.com bowl actually somewhat worth watching this season.
No. 24: San Jose State Spartans
Bob Stanton-US PRESSWIRE
Bowl Destination: Military Bowl Presented by Northrop Grumman
Even though many of the old non-AQ power teams like Utah and TCU are now part of AQ conferences, it seems like we have a new crop of upstart programs rising to potentially take their place.
Take San Jose State for example. This program is on the rise as they manged to win 10 games this season.
The Military Bowl seems a bit low for a team of this caliber, but who knows? Maybe better things lie in store for the Spartans next year...
No. 23: Texas Longhorns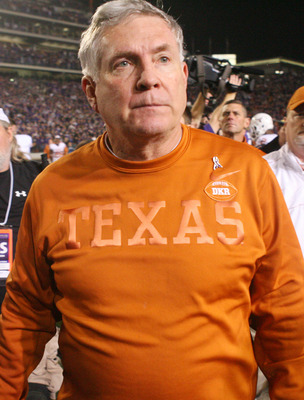 Scott Sewell-US PRESSWIRE
Bowl Destination: Valero Alamo Bowl
Yes, Mack Brown has gotten Texas back into at least enough shape to make it to bowl games and to crack into the Top 25. However, you gotta ask yourself this question:
How long will Longhorns fans be happy with appearances in the Alamo Bowl as opposed to BCS bowls?
Winning this game will certainly help keep the critics off Brown's back, but there's no doubt the folks in Austin expect more of Brown and their Longhorns than this.
No. 22: Utah State Aggies
Douglas C. Pizac-US PRESSWIRE
Bowl Destination: Famous Idaho Potatoes Bowl
Gary Anderson has Utah State pointed in the right direction as the Aggies pick up their first double-digit win season ever as well as a WAC title.
In fact, a good field goal kicker may have been the difference here between this and a potential BCS bid as misses against Wisconsin and BYU came back to haunt Utah State.
Still, if they can convince Anderson to stick around I wouldn't be at all surprised to see Utah State as a potential BCS buster next season...
No. 21: Louisville Cardinals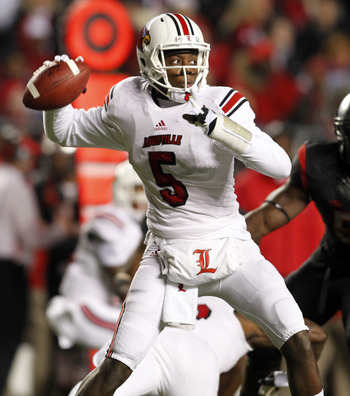 The Star-Ledger-US PRESSWIRE
Bowl Destination: Allstate Sugar Bowl
As much flack as Louisville and the Big East will get for pushing "more deserving" teams out of a BCS bowl, at least the Cardinals are ranked in the final BCS rankings. The Big Ten's Wisconsin is not.
So that's a small measure of vindication.
And you've got to respect the toughness of Teddy Bridgewater as he willed his team to victory against Rutgers despite a broken wrist and a sprained ankle to pick up this automatic bid.
No. 20: Northwestern Wildcats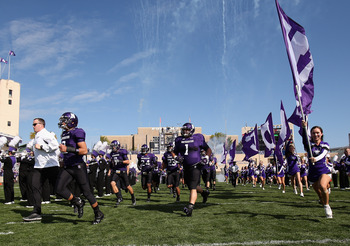 Jonathan Daniel/Getty Images
Bowl Destination: Taxslayer.com Gator Bowl
While Pat Fitzgerald has pulled off a minor miracle by getting Northwestern to now its fifth straight bowl game, he has yet to lead the Wildcats to a postseason victory.
Maybe the fifth time is the charm?
It should be an interesting game as they take on Mississippi State for that elusive bowl win.
No. 19: Boise State Broncos
Otto Kitsinger III/Getty Images
Bowl Destination: MAACO Las Vegas Bowl
Boise State has to be kicking itself a bit as if they had beaten either Michigan State or SDSU the Broncos with one loss just might have become the first one-loss non-AQ team to bust the BCS.
Water under the bridge now.
Still, it's impressive that this team lost pretty much everyone from last year's squad and still managed to win 10 games. A trip to Las Vegas is their reward.
No. 18: Michigan Wolverines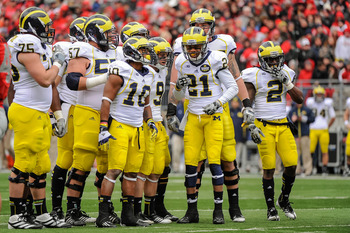 Jamie Sabau/Getty Images
Bowl Destination: Outback Bowl
Michigan may not be returning to a BCS bowl this season, but let's face it: Michigan was very fortunate to make it to one last season.
The Outback Bowl feels just about right for this squad.
They'll also get a shot at revenge against the SEC. Alabama roughed them up to begin the year and now the Wolverines will take on South Carolina to finish the 2012-13 season.
I wouldn't expect the Gamecocks to just roll over, though.
No. 17: UCLA Bruins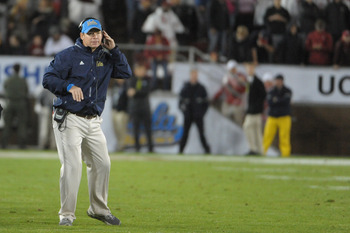 Kirby Lee-US PRESSWIRE
Bowl Destination: Bridgepoint Education Holiday Bowl
UCLA proved just how hard it is to beat the same team two times in a row as the Bruins took Stanford to the wire, but they just couldn't come away with the win over Stanford to claim their Rose Bowl ticket.
Still, Jim Mora has done a great job of getting this program turned around, and that included a win over crosstown rival USC. I'm sure UCLA fans hope that a win in the Holiday Bowl will just be the next step in the rise of the Bruins under Mora.
No. 16: Nebraska Cornhuskers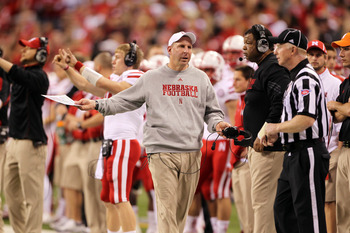 Brian Spurlock-US PRESSWIRE
Bowl Destination: Capital One Bowl
New conference, same old story for Nebraska.
Just like they used to do in the Big 12, the Cornhuskers made it a their conference championship game with a bid to a BCS bowl on the line only to choke at the end.
Although, choke is too kind of a term for the 70-31 beatdown they took as unranked Wisconsin is going to the Rose Bowl over Nebraska.
And I'd be worried if I was a Nebraska fan as they have to take on SEC runner-up Georgia.
No. 15: Northern Illinois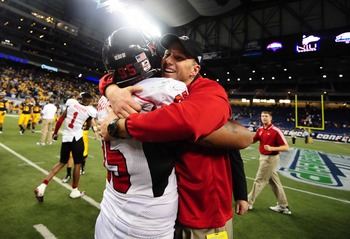 Andrew Weber-US PRESSWIRE
Bowl Destination: Discover Orange Bowl
Against all odds, Northern Illinois has become the first team from the MAC to bust the BCS as they finished in the Top 16 of the final BCS rankings and ranked higher than not one but two AQ conference champions (Louisville of the Big East and Wisconsin of the Big Ten).
More incredibly, the Huskies are also the first non-AQ team to not run the table and yet get to a BCS bowl.
Who saw this one coming?
No. 14: Clemson Tigers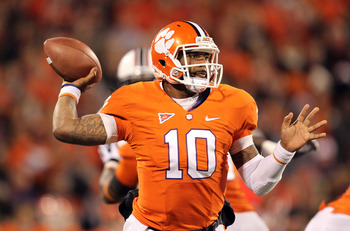 Streeter Lecka/Getty Images
Bowl Destination: Chick-fil-A Bowl
While Clemson has undoubtedly made some progress under Dabo Swinney, South Carolina once again showed the Tigers just how far they still need to go to be a true national power.
However, their upcoming date with LSU will be another chance for this young team to prove itself. After all, Tajh Boyd is now on the verge of his senior season should he decide to come back for one more year.
No. 13: Oregon State Beavers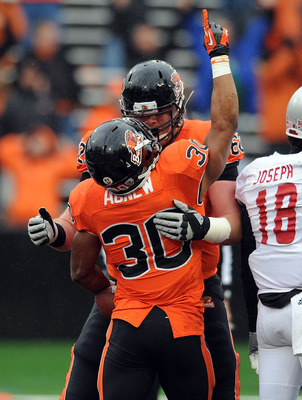 Steve Dykes/Getty Images
Bowl Destination: Valero Alamo Bowl
Oregon State probably hoped for better as they started the season 6-0.
However, the Beavers also got to be happy with getting to this point after failing to make any sort of bowl game last season. Plus, Oregon State gets a chance to put together its second 10 win season under Mike Riley.
Not bad at all.
No. 12: Florida State Seminoles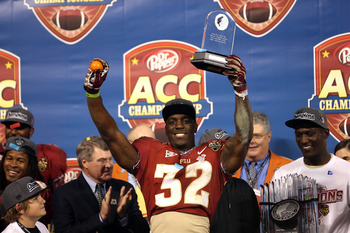 Streeter Lecka/Getty Images
Bowl Destination: Discover Orange Bowl
Florida State may not be back in good enough shape to win national championships, at least they can win the ACC.
True, the ACC isn't exactly the SEC, but what conference is these days?
Regardless, the Seminoles will make their first BCS bowl appearance since Bobby Bowden rode off into the sunset. It may just be a matter of time before Florida State makes it back to the biggest stage in college football.
However, the Orange Bowl is still a pretty large stage in its own right.
No. 11: Oklahoma Sooners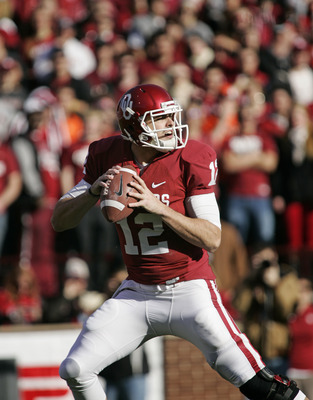 Brett Deering/Getty Images
Bowl Destination: AT&T Cotton Bowl
I'm sure that there's a lot of hate mail being sent from Norman, Oklahoma to DeKalb, Illinois as NIU picked up an automatic bid a BCS bowl that may have gone to the Sooners. Oklahoma's two losses after all came against teams ranked in the Top Five.
However, the Cotton Bowl is still a good consolation prize. At least it will be a good place to send off Landry Jones with a bang as well as his third straight 4,000 yards passing season.
No. 10: South Carolina Gamecocks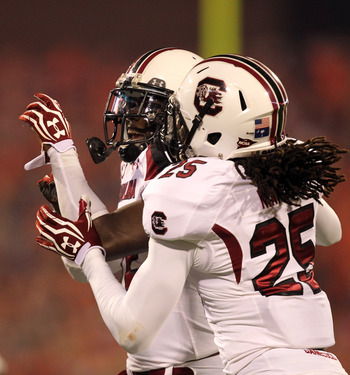 Streeter Lecka/Getty Images
Bowl Destination: Outback Bowl
Despite losing Marcus Lattimore to injury again, South Carolina finds themselves in a solid New Year's Day bowl game. This time, they face Michigan in the Outback Bowl.
No, it's not a BCS bowl and the Gamecocks just haven't found a way yet to reach that elusive SEC title under Steve Spurrier, but you gotta admit how much progress this program has made where getting to bowls like this one have become commonplace for South Carolina.
No. 9: Texas A&M Aggies
Scott Halleran/Getty Images
Bowl Destination: AT&T Cotton Bowl
Some people doubted that the Aggies would be able to even get to a bowl game given their transition to the always tough SEC West.
Those fears proved to be unfounded as Johnny Manziel did wonders for this team.
I find it ironic that A&M will face off against old Big 12 conference rival Oklahoma. The only thing that would be more ironic is if the Aggies played against the Texas Longhorns in a bowl game.
It still may happen sometime down the road, but not just yet I guess...
No. 8: LSU Tigers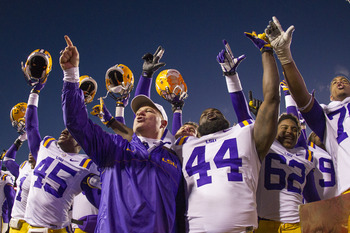 Wesley Hitt/Getty Images
Bowl Destination: Chick-fil-A Bowl
Forget the actual name of this one. This game should be called the Tiger Bowl.
Or maybe not as LSU's game vs. Auburn goes by that name. However, I've got a feeling that Clemson should be a bigger challenge for LSU.
Then again, Auburn did give LSU plenty of heartburn despite winning just three games this season...
No. 7: Georgia Bulldogs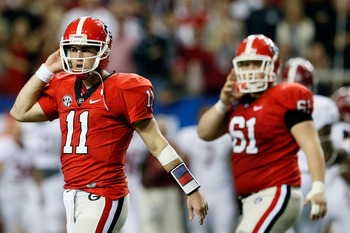 Kevin C. Cox/Getty Images
Bowl Destination: Capital One Bowl
Aaron Murray and the Bulldogs were just a few seconds away from stunning the Crimson Tide and playing in the BCS National Championship Game.
But alas, time ran out on the Bulldogs in Atlanta and due to Florida's strong resume, Georgia fell all the way out of playing in a BCS bowl.
Instead, they get a trip to the Capital One Bowl.
However, even though this one isn't a part of the BCS, they'll still have a solid experience against a quality opponent. Besides, who wouldn't want a trip to sunny Orlando?
No. 6: Stanford Cardinal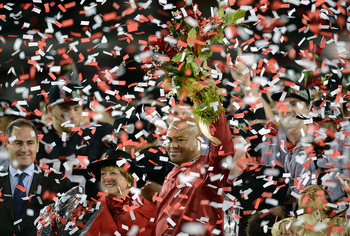 Thearon W. Henderson/Getty Images
Bowl Destination: Rose Bowl presented by Vizio
Stanford has definitively proven that there's more to the Cardinal than Luck.
Andrew Luck is in the NFL and Stanford has not only made it back to a BCS bowl without him, but they also took the Pac-12 title to boot.
Their stifling defense took down Oregon and they beat UCLA two weeks in a row to claim their first conference title since 1999.
No. 5: Kansas State Wildcats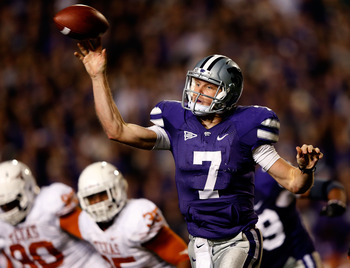 Jamie Squire/Getty Images
Bowl Destination: Tostitos Fiesta Bowl
Collin Klein was this close to clinching the Heisman as Kansas State seemed destined to go to the BCS National Championship Game.
Both of those things went up in smoke as Baylor somehow found a defense against the Wildcats.
Still, a Big 12 title and a trip to the Fiesta Bowl is something Bill Snyder can be proud of. After all, he's built up this program to the BCS level not just once, but twice.
No. 4: Oregon Ducks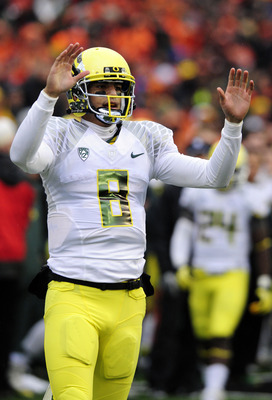 Steve Dykes/Getty Images
Bowl Destination: Tostitos Fiesta Bowl
Oregon was a field goal away from at least getting a chance at playing for a national championship. That single loss against Stanford also kept the Ducks from going to the Rose Bowl.
But you just can't keep Chip Kelly out of BCS bowls. After all, he's been to a BCS Bowl each year he's been head coach.
Now, Oregon will face Kansas State is what could have been the matchup in the BCS National Championship Game had both the Ducks and Wildcats won out. It'll be interesting to speculate what might have been as we watch this one.
No. 3: Florida Gators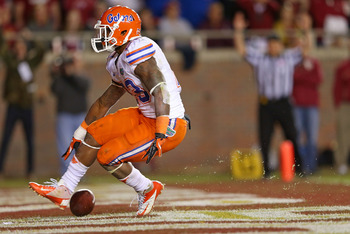 Mike Ehrmann/Getty Images
Bowl Destination: Allstate Sugar Bowl
USC had no bigger fans than in Florida as they took on No. 1 Notre Dame. Had the Trojans come out victorious, the Gators would have taken on the Crimson Tide in the second straight all-SEC BCS National Championship Game.
Unfortunately for the Gators, it wasn't meant to be.
However, a trip to New Orleans and the Sugar Bowl is nothing to sneer at, particularly as no one at the beginning of the season saw the Gators coming. An 11-1 record against a brutal schedule is something Florida fans can be proud of.
A win in the Sugar Bowl will just sweeten this already successful season.
No. 2: Alabama Crimson Tide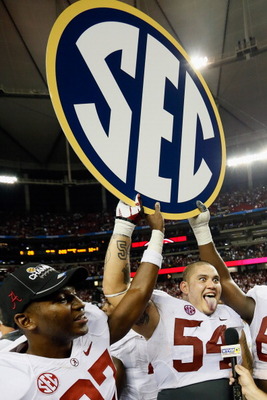 Kevin C. Cox/Getty Images
Bowl Destination: Discover BCS National Championship Game
It was perhaps a bit of a rockier road than the defending national champions expected, but the Crimson Tide are going to play for their third national title in four years.
Incredible.
Alabama almost played themselves out of the title game as they fell to Johnny Manziel and Texas A&M. However, fortune smiled on the Tide as both Oregon and Kansas State lost on the same day to make way for Alabama's triumphant return.
Georgia certainly gave the Crimson Tide all they could handle in the SEC title game. However, through it all, Alabama is in familiar territory.
No. 1: Notre Dame Fighting Irish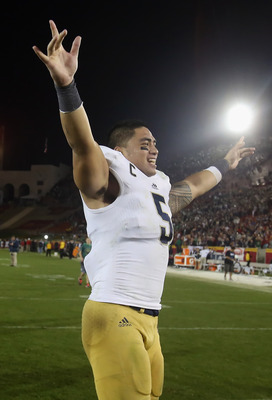 Jeff Gross/Getty Images
Bowl Destination: Discover BCS National Championship Game
Thanks to a solid defense, the strong play and leadership of LB Manti,Te'o and perhaps a bit of luck, Notre Dame is playing for its first national championship since Lou Holtz roamed the sideline.
The Fighting Irish are the only bowl eligible team to run the table in 2012, and they did it against a solid slate of teams. Now all they have to do is beat defending champion Alabama and the crystal football goes back to South Bend for the first time since 1988.
That may be a tall order, but you have to respect what the Irish have accomplished just to get here.
Keep Reading