Steelers vs. Ravens: Winners and Losers for Pittsburgh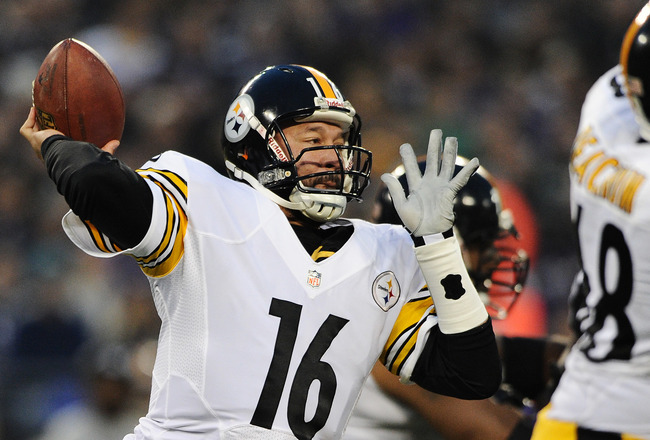 Patrick Smith/Getty Images
Heart-pounding, nerve-racking, nail-biting.
Whatever adjective you choose to describe Sunday night's contest between the Steelers and Ravens is probably acceptable.
After being down 10 points in the second quarter, the Steelers fought their way back, through fumbles and untimely interceptions, to find themselves with their 7th victory of the season on a Shaun Suisham 42-yard field goal.
Pittsburgh picks up the much needed win to improve to 7-5 and remain in the AFC's final Wild Card spot.
Off the big win, let's take a look at some winners and losers for the Steelers against the Ravens.
Winner: Charlie Batch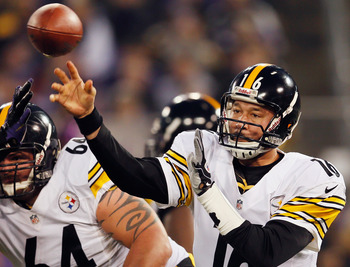 Rob Carr/Getty Images
Say what you will about Charlie Batch, but the fact remains, this guy has some serious heart.
Batch struggled early to get anything going early and it looked like Pittsburgh could be having a repeat of the previous loss in Cleveland. But Batch put the team on his back and led the Steelers to what could be their most significant victory to date.
After throwing an ugly interception to Ed Reed in the end zone, Batch recovered beautifully and marched down the field. The soon-to-be 38-year-old signal caller hit his last eight passes including a tying touchdown to tight end Heath Miller.
Batch finished the day with 276 yards and completed 25 of his 36 passes and the Miller touchdown.
It may be the final time we see Batch on the field for the Steelers as it appears Ben Roethlisberger should be ready to return to action next week. Through it all, tough times and good, Batch has been a very reliable backup for this team throughout his tenure in Pittsburgh, including the Steelers biggest win of 2012.
Loser: Rashard Mendenhall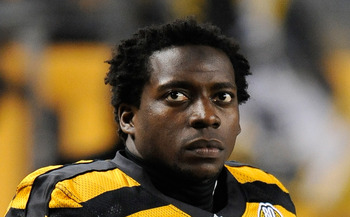 Joe Sargent/Getty Images
Anytime a guy gets demoted it's going to be a bad day. But that bad day got a whole lot worse for running back Rashard Mendenhall on Sunday afternoon.
Just a few hours before the Ravens game, word broke that not only would Mendenhall not be the starter, but he would be a healthy scratch from the Steelers 53-man roster in a game that was a must-win to save the teams playoff hopes.
The Steelers running game didn't really lack without the former 1st-round pick.
Both Jonathan Dwyer and Isaac Redman played well against Baltimore, running for a combined 92 yards and a touchdown.
It appears Mendenhall's days in Pittsburgh are all but over. The running back's contract is up at the end of the year and following the demotion and subsequent deactivation, it doesn't look like the team will be in any hurry to re-sign him at the end of the season.
Winner: Heath Miller
Rob Carr/Getty Images
Heart.
Like Charlie Batch, it might be the only word that can be properly used to describe the way tight end Heath Miller plays the game of football.
Miller has continually had success in games this season and Sunday afternoon was no different. Miller caught five passes for 97 yards and scored on a diving seven-yard touchdown that tied the game at 20. Miller led the team in all major receiving categories.
I tweeted it during the game and I'm sticking to the fact that not only has Heath Miller been great this season, but he's got to be garnering some consideration for Steelers MVP. Roethlisberger has meant a lot to this offense this season, but Miller has meant a lot to all three quarterbacks.
Miller is on pace to have a career year and deservedly so. He's done everything the Steelers have asked him to do and rarely makes mistakes.
Loser: Emmanuel Sanders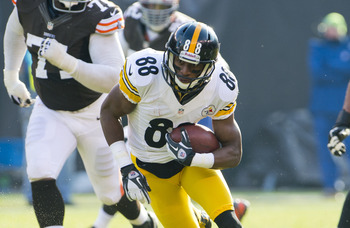 Jason Miller/Getty Images
I struggled going back and forth on whether Emmanuel Sanders was a winner or loser throughout this game before settling on my decision and I'm sure I'll catch some flack for it. But hear me out.
Sanders did a nice job on Sunday afternoon, catching five balls for 60 yards, but he had some seriously egregious miscues. Most importantly, the fumble.
Sanders caught a ball wide open across the middle of the field and probably could have taken it to the house. But instead, while trying to switch the ball to his other hand, Sanders fumbled the ball and lost it just across the 50-yard line.
Sanders also later dropped a ball on a third down that could have put the Steelers in field goal range and left with a shoulder injury.
Sanders isn't a loser in the sense that he didn't have a phenomenal game, but he lost because he had the opportunity to win a starting job over Mike Wallace (who had struggles of his own on Sunday) and didn't do anything to separate himself.
Winner: Offensive Line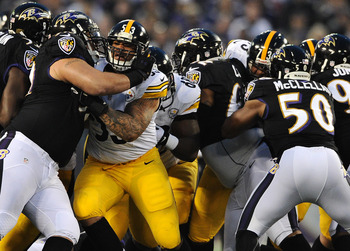 Patrick Smith/Getty Images
With injuries a plenty and a patchwork front, there weren't a lot of people holding out hope for the Steelers' offensive line against a pretty good Ravens pass rush. But in reality, Pittsburgh's offensive line played a very good game.
The Steelers' offensive line gave up only two sacks (one can be blamed on coverage) and gave quarterback Charlie Batch a really clean pocket to throw from all game long.
The move putting Maurkice Poiuncey at guard and Doug Legursky at center paid off dividends for the Steelers. Rookie right tackle Kelvin Beachum held his own against both Haloti Ngata and Terrell Suggs.
Pittsburgh needs its offensive line to be on top of its game and, looking at it, they're only going to get healthier. Willie Colon should be back next week and 1st-round pick David DeCastro is on track to return to the lineup within the next two weeks.
Loser: Cortez Allen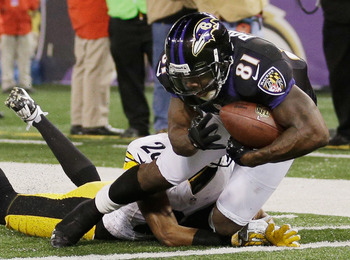 Rob Carr/Getty Images
There's always talk at any level of sports about seizing opportunities and making the most of ones presented to you.
Cortez Allen had a big opportunity presented to him on Sunday as starting cornerback Ike Taylor left the game in Baltimore early with a lower leg injury. And although he played well early on, Allen struggled to match up against veteran wideout Anquan Boldin.
Boldin finished the game hauling in a Ravens team-high five catches for 81 yards including a 2nd quarter 28-yard touchdown that gave Baltimore a 10-point lead.
Allen was also called on a pass interference in the 2nd quarter that gave the Ravens 30 free yards.
Allen has grown a lot since coming into the NFL but still has a lot of room for growth. The Steelers are going to need to get Ike Taylor back on the field for the playoff push, but Allen did get some much-needed experience.
Winner: James Harrison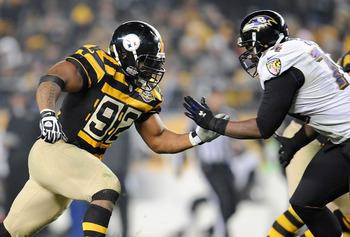 Joe Sargent/Getty Images
Over the last two weeks, James Harrison has looked like he may be returning to form. Sunday afternoon was just another step in the right direction.
Harrison overwhelmed left tackle Michael Oher en route to recording a team high seven total tackles and recording his third sack of the season. Harrison also forced a key fumble on quarterback Joe Flacco that gave the Steelers the ball in great field position late in the game.
I have been up and down on Harrison all year long, questioning if the pass rusher would be back with the team next season. But if his last three games are any indication, Harrison's knee may be getting better and better as the weeks go on.
Loser: Drew Butler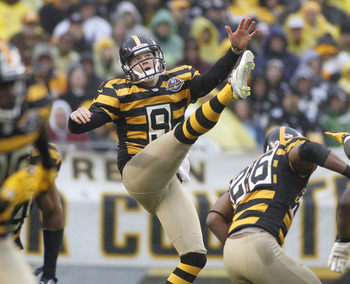 Justin K. Aller/Getty Images
It was not a great night for the Steelers rookie punter Drew Butler.
Butler, who came into the game averaging almost 44 yards per punt, struggled to get the ball deep into Baltimore territory. He finished the game averaging just 38.5 yards per punt and pinned the Ravens inside their 20-yard line just once.
Baltimore wasn't able to get any returns on the Butler punts, but that may have been because the kicks were very short.
Butler is going to have to be better going forward. With an aged defense, it would be a big benefit for the Steelers if they were able to flip the field position.
Winner: Shaun Suisham
Patrick Smith/Getty Images
The much-maligned kicker has had a rebirth in the Steel City in 2012.
After having an up and down season for the Steelers last year and having an up and down career throughout his eight NFL seasons, Shaun Suisham is finding his stride for Pittsburgh. That streak continued against the rival Ravens on Sunday.
Suisham nailed three field goals and two extra points on Sunday, including the 42-yard game-winner as time expired to give the Steelers their seventh victory of the season.
Suisham has been great all season long, missing just one of his 22 field goal attempts and has been perfect on extra points. As inconsistent as the NFL kicking game can be, it's nice for the Steelers to have a guy who has been spot on all season.
Other Notables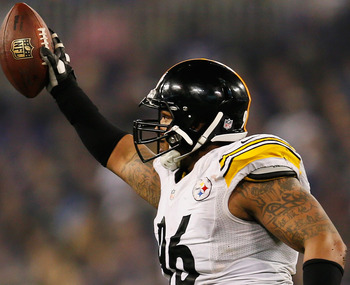 Rob Carr/Getty Images
Winners:
Jonathan Dwyer—Didn't have an exceptional game, but solidified himself as the Steelers go-to running back.
Antonio Brown—A big welcome back to the field for the Steelers' most consistent receiver. The team's passing game and offense as a whole looks a lot better with Brown on the field.
Ziggy Hood—One guy who hasn't seen his name on the winner's list a lot has been Ziggy Hood, but he deserves it today. Hood had a sack and recovered a big fumble that gave the Steelers the ball with good positioning.
Ryan Clark—Clark continues to play well for the Steelers and intercepted an errant Joe Flacco pass.
Troy Polamalu—After missing nine weeks with a calf injury, Troy Polamalu returned to the field with a vengeance. Polamalu's presence was felt on the defensive side of the ball and the unit played much better when he was in the game.
Losers:
Casey Hampton—Hampton continues to struggle getting off blocks and got blown off the ball by fullback Vonta Leach.
Brett Keisel—After playing very well for three straight weeks, Keisel finally slowed down against the Ravens. Keisel got beat badly on a long Ray Rice touchdown run.
Keep Reading

Pittsburgh Steelers: Like this team?