5 Things We Learned from the EPL Weekend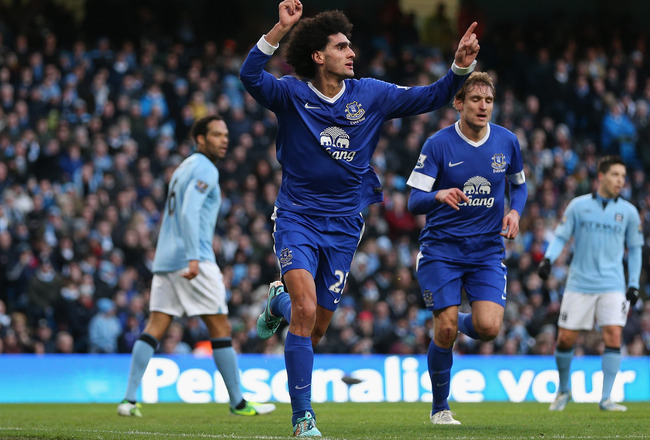 Clive Brunskill/Getty Images
December is upon us, and it's becoming clear which teams will be challenging where, with the title contenders making statements of intent and the relegation candidates showing that they're not up to par.
At the same time though, the table shows no signing of cementing itself any time soon, with just five points separating third place from 10th place. In a weekend of upsets, Chelsea scored their first goal of Rafa Benitez's reign before capitulating to lose 3-1, while Arsenal produced yet another poor performance with a shocking 2-0 defeat to Swansea at the Emirates.
Manchester United and Reading scored seven goals between them within a thrilling 26 minutes, but the match was settled at that as United won 4-3. Manchester City stumbled with a home draw against Everton, while Spurs continued a purple patch of form to beat Fulham 3-0 at Craven Cottage.
Here are five things we learned from the Premier League weekend.
Chelsea Need More Than Just a New Manager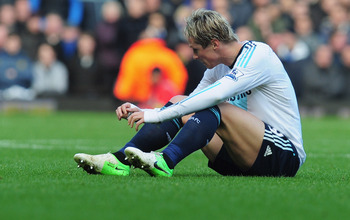 Jamie McDonald/Getty Images
Chelsea started the season as the team to beat, and for a while it looked like nothing could stop them in their path to the Premier League title. Inspired by a brilliant Juan Mata, the Blues dismantled Spurs in a 4-2 win back in October, steamrolling yet another opponent as they asserted themselves as title contenders.
Well, would you believe that that win over Spurs was Chelsea's last league win? That's right—Chelsea haven't won a single Premier League match since October 20th.
Sacking Roberto Di Matteo after the London outfit were essentially knocked out of the Champions League didn't seem to rouse up any response—under interim manager Rafa Benitez, the Blues failed to score a goal in their first two games before losing at West Ham this weekend.
Although Rafa made some dodgy substitutions this weekend that seemed to turn the match around in a bad way, it's clear that Chelsea's problems are more than just in management. Fernando Torres is back to being his old self (last season season self, not Liverpool self), the defense is looking suspect without John Terry, and a midfield of Juan Mata, Eden Hazard and Oscar is somehow lacking creativity.
I wouldn't be surprised if Benitez is sacked by the new year.
There Are Only Two Title Contenders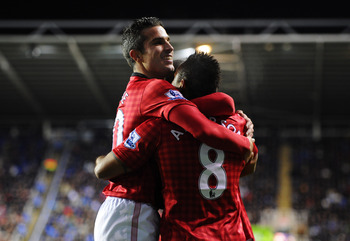 Michael Regan/Getty Images
One month ago, after Arsenal's loss to Manchester United and Spurs' loss to Wigan, I wrote that there were only three title contenders. Those teams were, of course, Manchester United, Manchester City and Chelsea.
Well, as the season develops, it becomes clear which teams are contenders and which teams are pretenders. As mentioned in the previous slide, Chelsea's true nature has shown in the past month and at the moment they're 10 points adrift of first place and looking more likely to contend for the top four, not having what it takes to stake a claim in the title race.
That leaves, as expected, the Manchester clubs. Some, like me, may be disappointed that the title contest is once again going to be a two horse race, while others may be excited to see the Manchester clubs battle it out for another season.
The battle of Manchester heats up in the derby at Etihad Stadium this Sunday, and if we learned anything from last season, the winner will go on to lift the Premier League trophy next May.
West Brom Are Still West Brom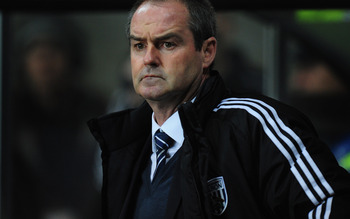 Stu Forster/Getty Images
West Brom have no doubt been the surprise package of the season so far.
Appointed at the start of the season, Steve Clarke's first and foremost objective was probably to avoid relegation, and a top half finish would have been considered an excellent season. Now in fifth place, the Baggies surely have their eye on a European spot, but can they continue to overachieve?
West Brom have cooled down in the past week though, losing 1-0 at home to Stoke this weekend and falling to a 3-1 defeat at Swansea in midweek as they looked nothing like the team that beat Chelsea 2-1 just a few weeks ago.
The goals seem to be drying out and the defense is starting to leak, but was West Brom's early season form just a fluke, or is a European spot really achievable?
What's Wrong with Arsenal?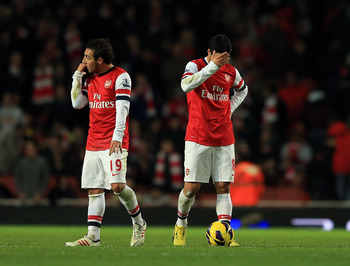 Richard Heathcote/Getty Images
As an Arsenal supporter, I don't know where to start with this one.
The season started off somewhat promising—after two 0-0 draws, the Gunners made a statement by beating Liverpool 2-0 at Anfield, before hammering Southampton 6-1 and getting a well earned 1-1 draw at Manchester City. Throw a few Champions League and CapitalOne Cup wins in there, and it was a bright start to the season for Arsenal.
Well, something happened in between then and now—since Arsenal's 3-1 win at West Ham on October 6th, the Gunners have slid down the table, dropping points left and right with their slim title hopes completely vanishing.
After drawing to Fulham and losing against Manchester United and Norwich, Arsenal fans hoped that their side's 5-2 derby win over Spurs would serve as a turning point in their form. Somehow, though, the Gunners failed to be inspired by their derby victory, drawing their next two matches against Aston Villa and Everton before suffering the hammer blow this weekend with a 2-0 loss at home to Swansea.
Arsenal's performances have been that of a mid-table club, and their current league position of 10th now reflects that perfectly.
On paper, the Gunners have quality in just about every position, but on the pitch they've looked uninspired, somehow lacking creativity with a midfield trio of Santi Cazorla, Mikel Arteta and Jack Wilshere—and I won't even start on the defense.
Does anyone know what's wrong with Arsenal?
Harry Redknapp Has His Work Cut out for Him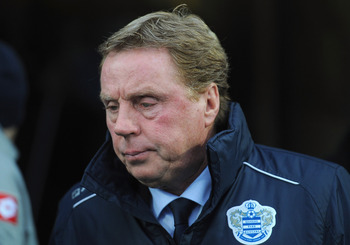 Christopher Lee/Getty Images
In my opinion, Queens Park Rangers sacking Mark Hughes and hiring Harry Redknapp was a brilliant move in an effort to save their season.
It's clear that QPR have quality—a team with the likes of Stephane M'Bia, Esteban Granero, Park Ji-Sung, Junior Hoilett and Adel Taarabt shouldn't be rock bottom in the table. Known for his skills in man management and getting the most out of his players, Harry Redknapp is the perfect man for what seems like an impossible job—saving QPR from relegation.
In his second game in charge, the West London outfit worked hard to get a point against fellow relegation contenders Aston Villa in a 1-1 draw.
Harry Redknapp got Champions League football with Tottenham and won the FA Cup with Portsmouth—but can he be winless QPR's superman?
Keep Reading