BBVA Compass Bowl 2013: Ole Miss vs Pittsburgh TV Info, Predictions and More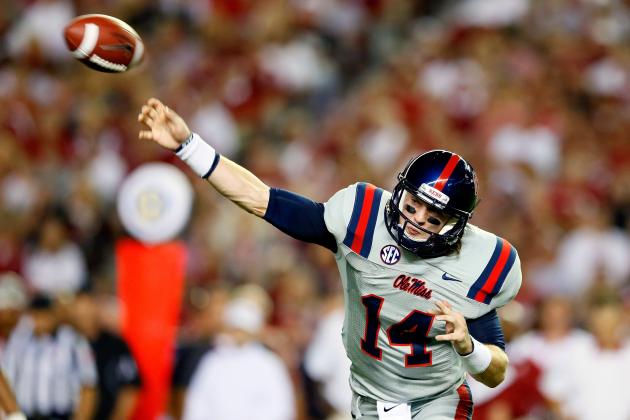 Kevin C. Cox/Getty Images
Ole Miss quarterback Bo Wallace.
The BBVA Compass bowl has never been a matchup that college football fans have circled on their schedules. Unless your team was playing in the game, there is a good chance you opted to spare yourself from watching SMU's 28-6 drubbing of Pittsburgh in last season's contest. However, in 2013, Pittsburgh will return to Birmingham, Alabama for the third straight year to play an unfamiliar opponent.
The Big East has sent a team to each of the six previous BBVA Compass bowl games. Their opponent has historically come from the ACC or Conference USA. However, in 2013, Pitt will matchup with Ole Miss, an SEC team.
This matchup will offer a true insight into the differing levels of play between conferences. Both squads will enter this game with a 6-6 mark. However, Ole Miss has three SEC wins this season over both Arkansas, Auburn and Mississippi St. The Rebels also lost to Texas A&M, Vanderbilt and LSU by a combined 10 points. This team could easily be sitting at 9-3 right now and be in contention for a more prestigious bowl matchup.
Pitt has had an extremely up-and-down 2012 campaign. After losing at home to Youngstown St. in Week 1, the Panthers went on to beat nationally ranked Rutgers and USF in their final two games of the season. Furthermore, the Panthers were an overtime field goal away from pulling out an upset victory over Notre Dame in South Bend this season. This team was truly capable of beating anybody they played, but losing to anybody as well.
The BBVA conference bowl will be an intriguing matchup if for nothing else to see how the Big East matches up with the SEC. These teams have the same record, have both come painstakingly close to knocking off nationally ranked competition this season and feature solid quarterback play. It should be an interesting one from Birmingham.
Begin Slideshow

»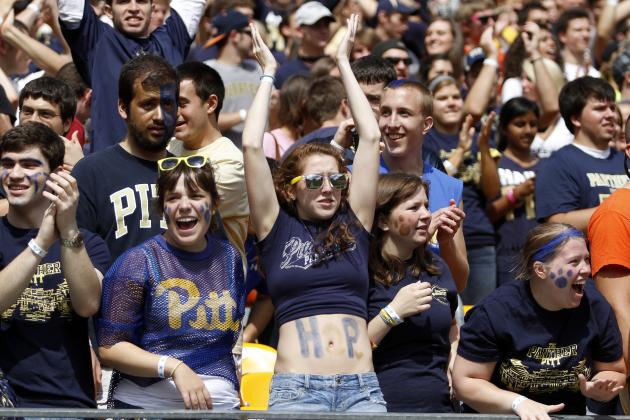 Justin K. Aller/Getty Images

When: Jan. 5, 2013, 1 p.m. ET
Where: Birmingham, Ala., Legion Field
TV Info: ESPN
Live Stream: Watch ESPN
Spread: TBA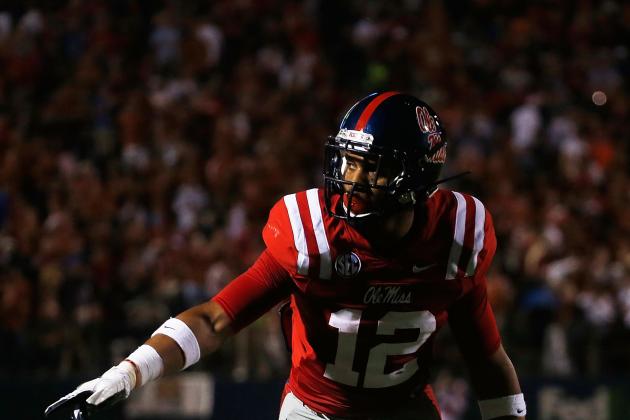 Scott Halleran/Getty Images

Which is the best BCS conference? As of late,the SEC has undoubtedly reigned supreme over the rest of the college football landscape. In fact, the last five BCS National Champions have come out of the SEC. The conference has vaulted itself into a league of its own and has become a breeding ground for future NFL superstars.
However, Ole Miss has not played a large part in the SEC's rise to national prominence. Over the last five seasons, the Rebels are 32-32 and have haven't made a BCS bowl game. Ole Miss is a good football team, but nobody in their right mind would put the Rebels on a pedestal with Alabama, LSU, Florida or even Georgia.
After going 2-10 last season, Ole Miss has an opportunity to come out of 2012 with a winning record and positive energy heading into next season. This is a good, young football team that has come a long way since last season's debacle, and it should be proud of what it has accomplished so far. The team will finally have an opportunity to prove how good they really are in front of a national television audience in Janurary.
For Pitt, this game is an opportunity for it to help put the Big East back on the map. The conference has lost several quality programs over the years, and Pitt's eventual move to the ACC will weaken the Big East even further. It may be too late for the Big East to hold onto some of its premier programs, but a win over the SEC in a bowl game would go a long way in letting other schools know that football is alive and well in the conference.
Chris Graythen/Getty Images

Offense
Quarterback: Bo Wallace, Barry Brunetti
Running Back: Randall Mackey, Jeff Scott
Wide Receiver: Donte Moncrief, Terrell Grant
Wide Receiver: Vince Sanders, Ja-Mes Logan
Wide Receiver: Ja-Mes Logan, Philander Moore
Left Tackle: Emmanuel McCray, Derrick Wilson
Left Guard: Aaron Morris, Justin Bell
Center: Evan Swindall, Ben Still
Right Guard: A.J. Hawkins, Jared Duke
Right Tackle: Pierce Burton, Patrick Junen
Tight End: Ferbia Allen, Jamal Mosley
Defense
Defensive End: C.J. Johnson, Jason Jones
Defensive Tackle: Bryon Bennett, Carlton Martin
Nose Tackle: Issac Gross, Gilbert Pena
Defensive End: Cameron Whigham, E.J. Epperson
Mike: Mike Marry, Joel Kight
Stinger: Denzel Nkemdiche, Aaron Garbutt
Huskie: Dehendret Collins, Mike Hilton
FCB: Senquez Golson, Anthony Standifer
Rover: Trae Elston, Frank Crawford
Free Safety: Cody Prewitt, Chief Brown
BCB: Charles Sawyer, Wesley Pendleton
Special Teams
Punter: Jim Broadway, Tyler Campbell
Place-Kicker: Bryson Rose, Nathan Noble
Punt Returner: Philander Moore, Jeff Scott
Kick Returner: Jaylen Walton/Randall Mackey, Senquez Golson/Jeff Scott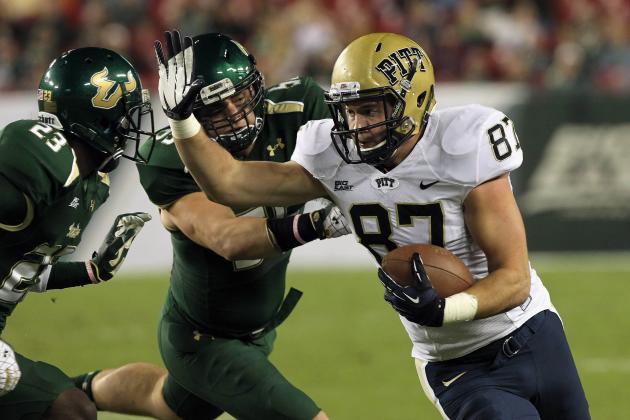 Kim Klement-US PRESSWIRE
Pitt wideout Mike Shanahan.
Offense
WR: 87 Mike Shanahan / 5 Cameron Saddler
LT: 78 Cory King / 69 Adam Bisnowaty
LG: 54 Chris Jacobson / 56 Arthur Doakes
C: 75 Ryan Turnley / 57 Arthur Rowell
RG: 56 Arthur Doakes / 64 Shane Johnson
RT: 74 Matt Rotherham / 52 Zenel Demhassi
TE: 83 Hubie Graham / 86 JP Holtz
WR: 15 Devin Street / 7 Joshua Brinson
QB: 12 Tino Sunseri / 10 Trey Anderson
Defense
DE: 45 Shayne Hale / 45 TJ Clemmings
DT: 97 Aaron Donald / 91 Darryl Render
NT: 50 Tyrone Ezell / 95 Khaynin Mosely Smith
DE: 93 Bryan Murphy / 92 Devin Cook
SLB: 49 Eric Williams / 28 Anthony Gonzales
MLB: 44 Shane Gordon / 53 Joe Trebitz
WLB: 8 Todd Thomas / 3 Nicholas Gingsby
CB: 23 Lafayette Pitts / 24 Cullen Christian
SS: 18 Jarred Holley / 41 Andrew Taglianetti
FS: 25 Jason Hendricks / 9 Ray Vinopal
CB: 2 K'Waun Williams / 24 Cullen Christian
Special Teams
Kicker: 39 Kevin Harper
Punter: 92 Matt Yoklic
Holder: 92 Matt Yoklic
Kick Returner: 5 Cameron Saddler
Punt Returner: 5 Cameron Saddler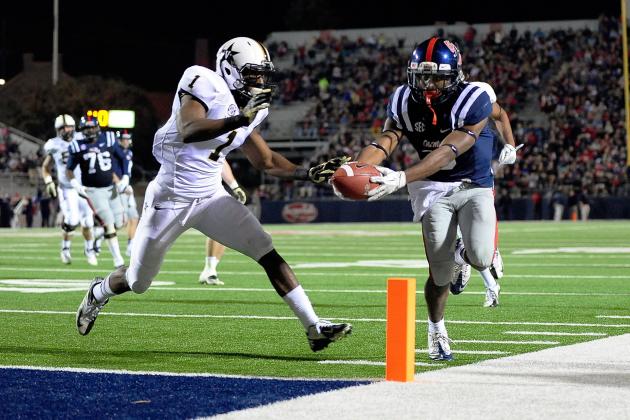 Stacy Revere/Getty Images
Ole Miss running back Jeff Scott.
Jeff Scott is a dynamic player out of the backfield for the Rebels. He has four runs this season of 20 yards or longer is averaging 4.3 yards per carry. Scott's ability to hit the hole at full force makes him a threat to break one every time he touches the ball. Scott disappeared this season against the likes of LSU and Georgia, but luckily for him, Pittsburgh is not on the level of either of those teams.
Scott is also a threat to catch the ball out the backfield. His 55-yard touchdown reception against Auburn this season showcased his speed and route-running ability. He's not a consistent threat, as there were five games this season in which he had zero or one catches. However, he has to be paid attention to on every play.
Scott could make Pittsburgh's day extremely difficult if he acts as a dual-threat out of the backfield. Ole Miss is a fairly balanced offense and having Scott's versatile skill set would make it extremely difficult for Pitt to get the correct personnel groupings on the field.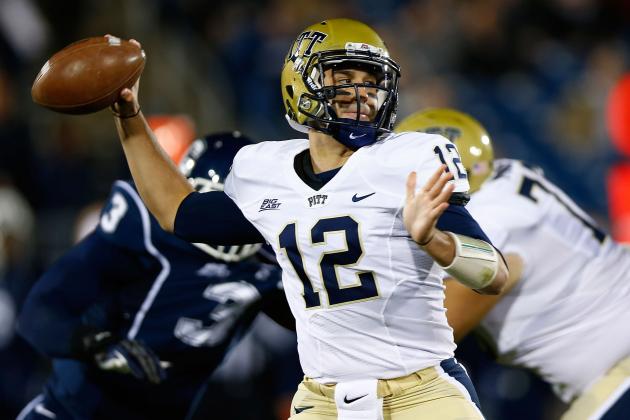 Jared Wickerham/Getty Images

Tino Sunseri has had the best season of his career in 2012. He's thrown for over 3,000 yards, completed 66.5 percent of his passes and has a touchdown to interception ratio of 19: 2. Sunseri development has allowed Pittsburgh's offense to establish itself as a force to be reckoned with this season.
The Panthers don't have the talent of the top teams in the nation or even the top teams in the Big East. However, Sunseri's play has enabled Pitt to stay competitive with several teams they were supposed to get blown out by. Notre Dame, Rutgers and Louisville were all supposed to defeat the Panthers by a significant margin. However, the team either won or came within at least 10 points of winning those games.
Pittsburgh is not an SEC team, and it doesn't have the speed or athleticism of an SEC team. However, it does have a smart, resourceful quarterback in Tino Sunseri that can keep his team competitive in this football game. The Panthers will live and die by Sunseri's arm in this one, so make sure to keep an eye on him throughout the contest.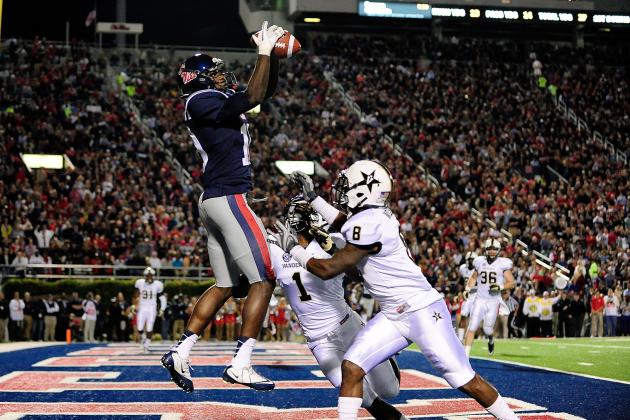 Stacy Revere/Getty Images

Ole Miss will win this matchup if its offense can make long, consistent drives down the field. Pittsburgh has only given up 19.7 points per game this season, which is good for 21st in the nation. If Ole Miss can wear down the Panthers with multiple 10-12 play drives in the early goings, it could open up the field for some big plays later on.
The key to this strategy is committing to the rushing attack, even if it falters at first. By forcing Pitt to defend the run, its interior defensive linemen will tire as the contest progresses. This will make it harder for the Panthers to rush the passer in the fourth quarter, which could make it easier for the Rebels playmakers to get their opportunities down the field in crunch time.
However, although running the football is necessary, it's imperative that Ole Miss makes plays through the air. Pitt has allowed 263 passing yards per game this season. There are holes in the secondary and a balanced offense should be able to use play-action passes to create points. Ole Miss has played the likes of LSU and Alabama this season, so it should be well-versed in game-planning for stellar defenses.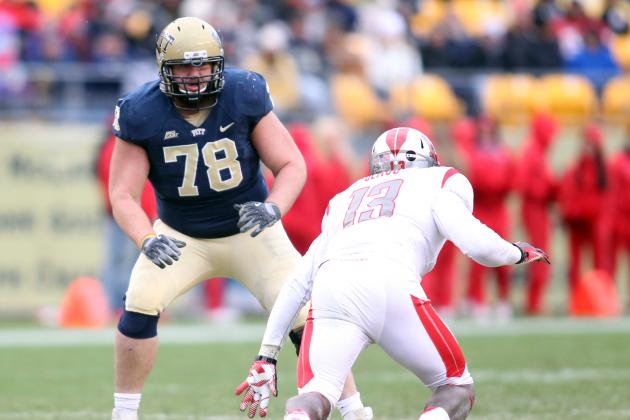 Charles LeClaire-US PRESSWIRE
Pitt left tackle Cory King.
Pittsburgh will win if it can keep Sunseri upright in the pocket. Ole Miss is a below-average SEC defense, but it still has a lot of speed off the edges with Cameron Whigham and CJ Johnson. Although Sunseri does not possess elite arm strength, he is extremely accurate inside the pocket and can make any throw on the field.
Pittsburgh has enough offensive firepower to offset Ole Miss' speed on defense. Mike Shanahan, Devin Street and Ray Graham are each viable threats to catch the ball down the field. Shanahan is averaging over 16 yards per reception this season and has a long of 77 yards. Pitts can stretch the field through the air, which will be helpful against the Rebels defense.
The only way to accomplish any of these goals is to make sure Sunseri has time to get through his progressions and make good decisions with the football. A solid rushing attack can offset the pass rush, but the onus is ultimately going to fall on Pitt's offensive line to come up big in key situations.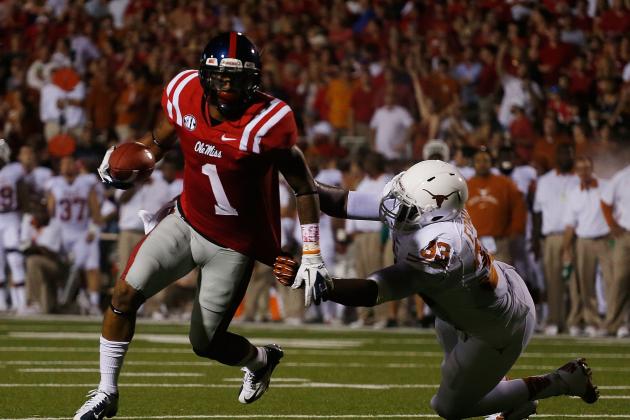 Scott Halleran/Getty Images

Ole Miss 28
Pittsburgh 13
These two squads have equal records. They both have balanced offenses and defenses that have played some tremendous football at times in 2012. However, Ole Miss' treacherous SEC schedule is going to prove to be the difference in this one.
Once a team plays the likes of LSU, Alabama and Georgia in one season, there's not a whole lot anybody can throw at it that it won't be prepared for. After playing A.J. McCarron and Andy Murray, is Tino Sunseri really going to wreak havoc on Ole Miss? It's possible, but relatively unlikely.
Ole Miss is better than its record indicates. The Rebels have played an incredibly tough schedule this season, and they almost came away with a few upsets. Unless Pittsburgh's defense plays a flawless football game, this one will get out of hand in the latter stages of the game.