Power Ranking Every Bowl Game by Best Matchup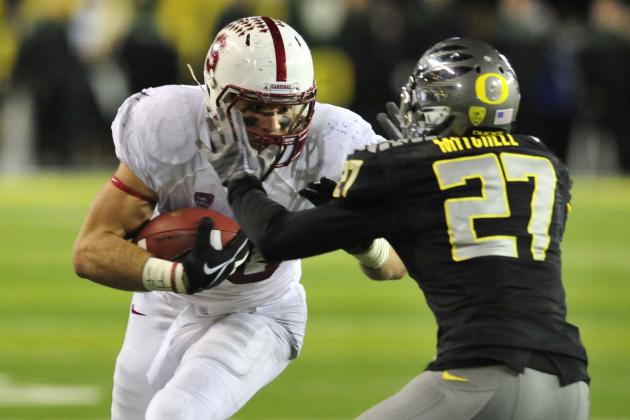 Steve Dykes/Getty Images

The 2012 regular season has come to a close, and all the conference championships have been played. As the bowl season starts, there will be many great matchups for everyone to see over the next few weeks.
While some matchups are less interesting than others, some of the smaller bowls end up having the most entertainment value.
As we roll through the list of bowls, we will rank them in order of best matchup. Some will be for historical reasons, while others will rank highly because of how "watchable" the game will be. After all, blowouts are not nearly as entertaining as a game that takes all 60 minutes to decide. (Or more, if it goes to overtime.)
Begin Slideshow

»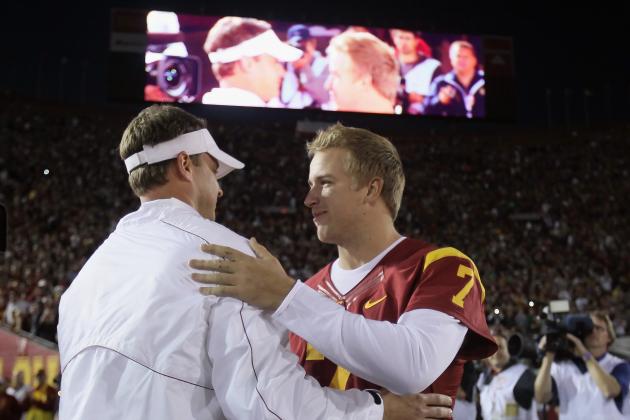 Jeff Gross/Getty Images

Matchup: USC Trojans vs. Georgia Tech Yellow Jackets
While USC certainly didn't have the season that it had hoped for, it also didn't deserve to be handed an ACC team that was simply the best option out of the non-sanctioned ACC squads.
Miami self-imposed a bowl ban, and UNC was already banned from the postseason. As a result, Georgia Tech played Florida State for the ACC title. While the game was close, one should not make the mistake of seeing the Yellow Jackets as worthy opponents of the USC Trojans.
This is the worst bowl of the 2012 postseason, and it's not even a close race at the bottom.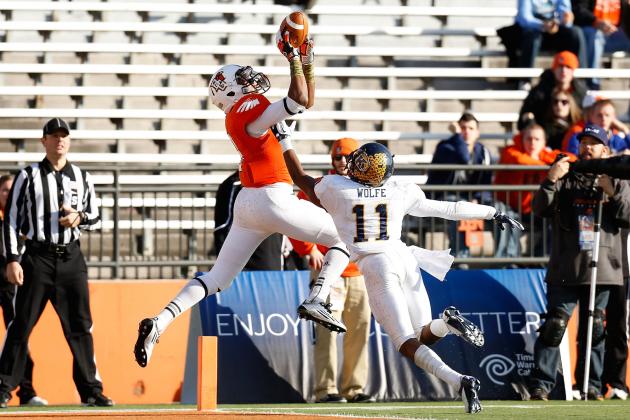 Kirk Irwin/Getty Images

Matchup: San Jose State Spartans vs. Bowling Green Falcons
San Jose State has been playing inspired football all season long, beginning with a Stanford loss that was decided by a field goal. The Spartans' only other loss on the season was to Utah State.
Bowling Green finished second in the MAC East Division, but lost four games in the process. While the defenses match up well on paper, the offenses are miles apart. This game should be over by halftime, with the Spartans well in the lead.
Rich Schultz/Getty Images

Matchup: West Virginia Mountaineers vs. Syracuse Orange
This game falls into the category of a regular-season matchup "cleverly" disguised as a bowl game. West Virginia hasn't played Syracuse since the 2011 regular season in the Big East.
It's like the gurus in charge of picking the teams think that we won't remember that West Virginia was just in the Big East last season. Oh well, anyone who was really looking forward to the Syracuse vs. West Virginia game that should have happened this year can get tickets to the bowl game.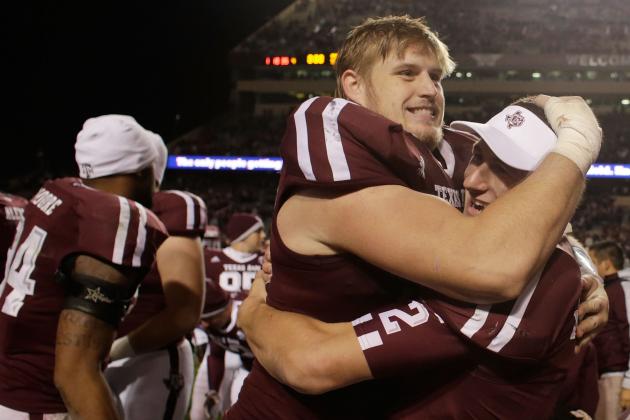 Scott Halleran/Getty Images

Matchup: Oklahoma Sooners vs. Texas A&M Aggies
This bowl is a similar story to the Pinstripe Bowl, but the tale is further complicated by the fact that Oklahoma should be in a BCS game. The Sooners were forced out by a BCS Top 15 Northern Illinois.
So, the Sooners have to settle for a battle with Texas A&M. Everyone on the Texas A&M roster has played against Oklahoma before, with the exception of 2012 recruits. At least there is another chance to watch Johnny Manziel work his magic.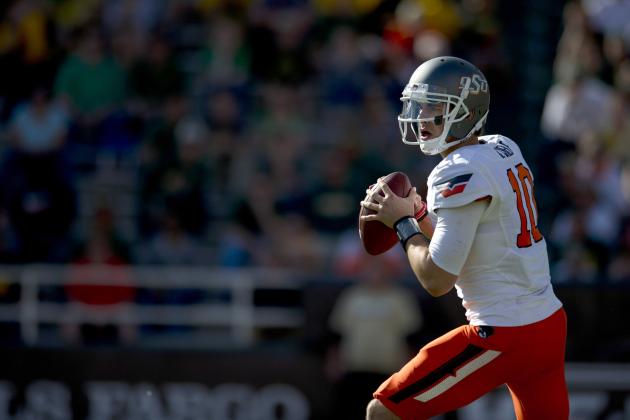 Cooper Neill/Getty Images

Matchup: Purdue Boilermakers vs. Oklahoma State Cowboys
As interesting as the selectors would have us believe this game will be, this is a severe mismatch. The Oklahoma State Cowboys possess one of the most potent offenses that Purdue will have seen all season.
The Big Ten is in a down year, and it's even further mired by NCAA sanctions against two of the top five teams (Ohio State and Penn State). Purdue facing off against Oklahoma State is almost as bad as USC facing Georgia Tech.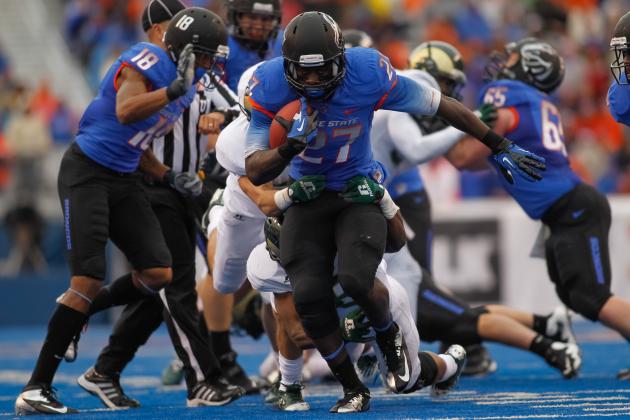 Otto Kitsinger III/Getty Images

Matchup: Washington Huskies vs. Boise State Broncos
Boise State and Washington are going to kick the 2013 season off against each other. There's nothing wrong with pitting evenly matched teams against each other during bowl season, but could the people in charge really not avoid picking these two teams?
Stanford played UCLA two games in a row because a conference championship was on the line the second time. Boise State and Washington will play two games in a row (months apart, of course) for no real reason whatsoever.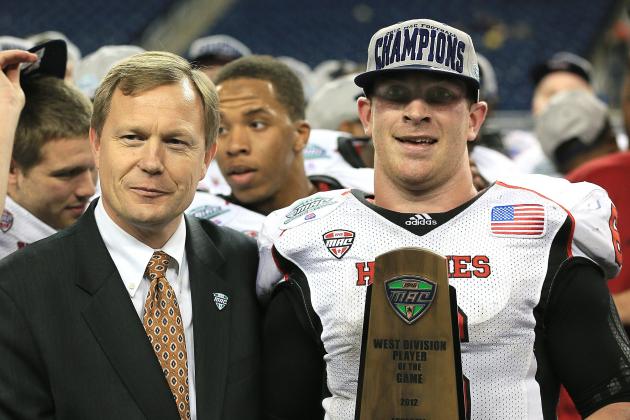 Dave Reginek/Getty Images

Matchup: Florida State Seminoles vs. Northern Illinois Huskies
This game could very well end up in the Huskies' favor when the final whistle blows. The fact that the game could be good has nothing to do with its placement on this list.
The fact is that the "fairness" aspect of bowl season has gotten far out of hand. The Huskies earned the right to go to a great bowl game, and they have had a terrific season. Nobody is trying to take that away from them.
The question you have to ask is whether the Huskies deserved it over teams like Clemson, Oklahoma or Georgia. Florida State dominated almost everyone on its schedule, and it will be pitted against the team that nobody wants.
Don't get me wrong, there should be access to a bowl akin to the Capital One Bowl for the Huskies. Jordan Lynch and company have earned at least that much. A BCS bowl, however, is a different story, and there are many teams with much better resumes than the Huskies.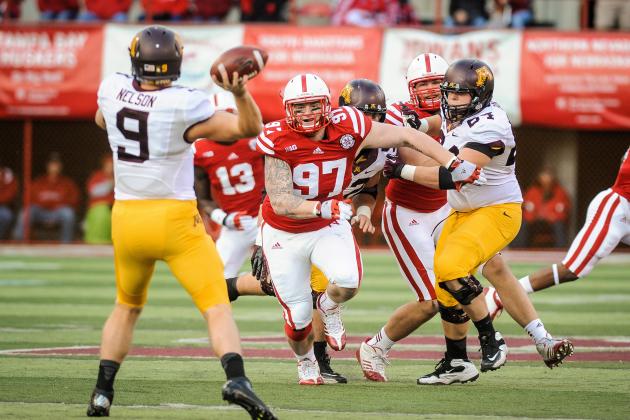 Eric Francis/Getty Images

Matchup: Minnesota Golden Gophers vs. Texas Tech Red Raiders
This game is another mismatch disguised as a football game. Texas Tech will not fall to Minnesota with so much time to prepare for the game.
Minnesota is a good football team, and would have matched up nicely with Pittsburgh, Vanderbilt, Ole Miss or USC. Why the selectors thought that Texas Tech was a good match remains to be seen. (That could prove out on the field, though.)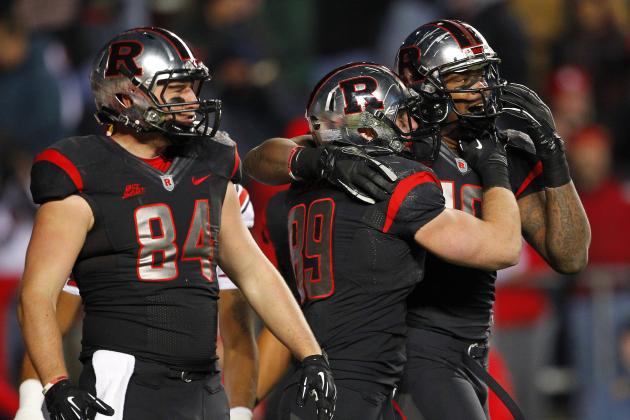 Rich Schultz/Getty Images

Matchup: Rutgers Scarlet Knights vs. Virginia Tech Hokies
There are three reasons that this game will not live up to its hype (if there is any):
1. Rutgers is really good, but happened to drop a couple of games this season that really mattered.
2. Virginia Tech is not as good as Rutgers.
3. Frank Beamer is no good at coaching in big games. He will "Beamer Ball" his way to a horrible loss in this bowl game.
On the bright side, Rutgers fans will love the scoreboard at the end of the game.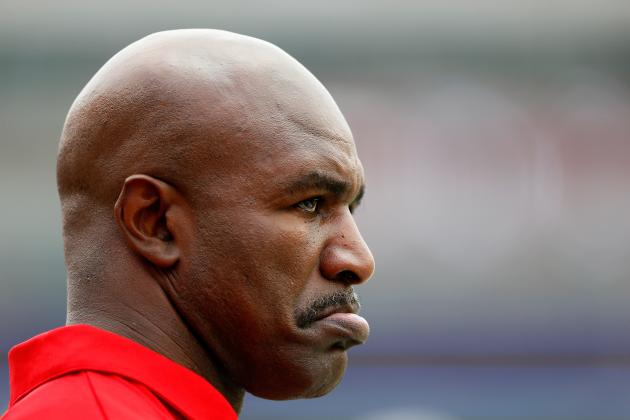 Kevin C. Cox/Getty Images

Matchup: Western Kentucky Hilltoppers vs. Central Michigan Chippewas
Western Kentucky's scoring defense is in the top half of the nation. Central Michigan's is 99th out of 124 teams. The Hilltoppers are 7-5, while the Chippewas are merely 6-6.
While these teams could theoretically put on a good show, the odds of that are very low. Hey, at least it isn't a regular-season game in disguise.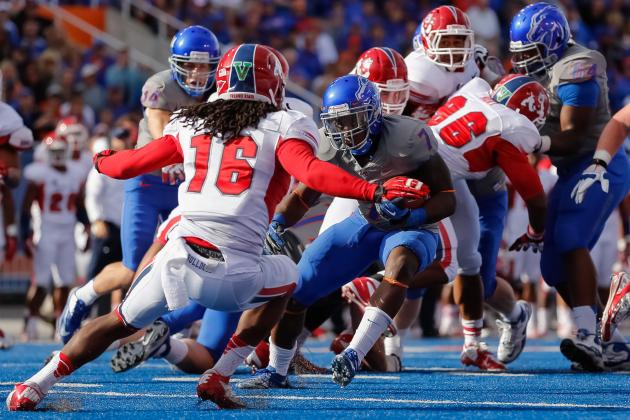 Otto Kitsinger III/Getty Images

Matchup: Fresno State Bulldogs vs. SMU Mustangs
Fresno State vs. SMU is another game that is a severe mismatch. Fresno State's offense is 12th in the nation averaging 40.3 points per game, and its defense is 27th in the nation in scoring protection.
SMU comes in at 57th in scoring defense and 60th in scoring offense. This game is a sham.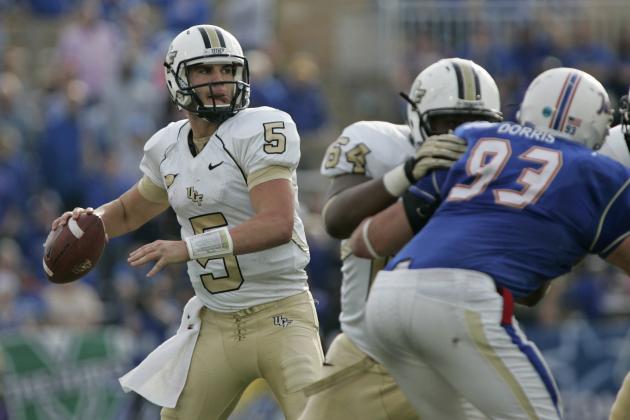 Brett Deering/Getty Images

Matchup: UCF Knights vs. Ball State Cardinals
Ball State has a terrible defense, and UCF has a decent offense. UCF is more than capable of dropping this game, which is why it appears so highly on the list. The odds of that are low, but anything can happen.
When a bowl win is on the line, teams tend to show an intensity and skill level rarely seen in the regular season. Sure, there are great games every weekend, but not every team gives 100 percent for every game.
Bowl season brings out the best in most teams. If that happens with Ball State, this game could be shockingly entertaining.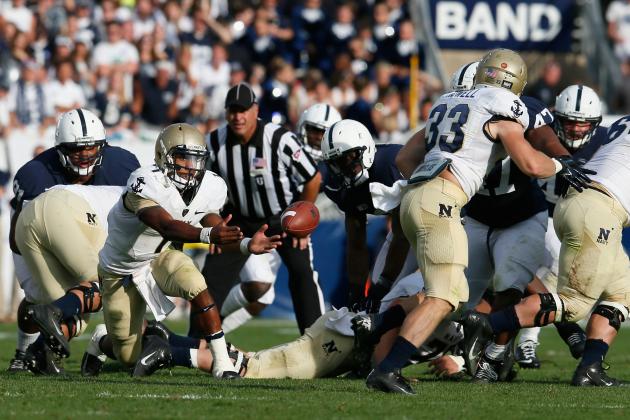 Rob Carr/Getty Images

Matchup: Navy Midshipmen vs. Arizona State Sun Devils
Navy and Arizona State earn the first "watchable" tag on the list. Casual football fans have a decent shot at seeing a good game in the Kraft Fight Hunger Bowl. Navy can show up like it did against Notre Dame or the Air Force Falcons.
Arizona State has also shown inconsistency throughout the season. If both teams show up to play, this game will be good. If both teams don't show up to play, this game could still be good. If the teams show up playing at different levels, this game could get ugly.
The risk is probably worth taking for a quarter or two.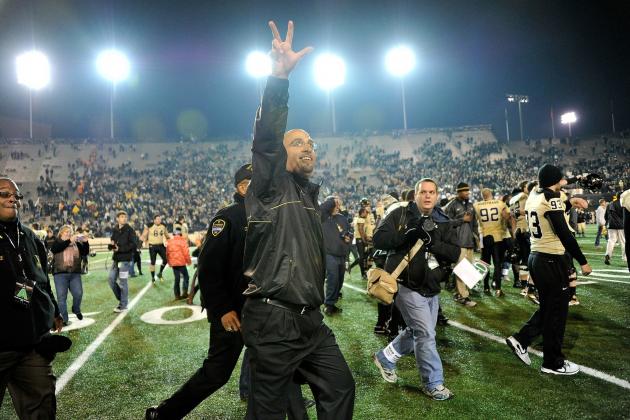 Frederick Breedon/Getty Images

Matchup: NC State Wolfpack vs. Vanderbilt Commodores
This game should be good, but there are a few things keeping it from being higher on this list. Vanderbilt is better than Tennessee overall. NC State already lost to Tennessee in the season opener.
While the teams have grown throughout the season, and NC State does have the signature win over Florida State, the Wolfpack has not proven that is has the ability to play at that level for a sustained period of time.
Vanderbilt should get past NC State with little fear of losing throughout the 60-minute span. The game comes in at No. 22 due to the fact that NC State has shown that it can play tough football for a whole game. The odds aren't the best in the world, but they are certainly there.
Rich Schultz/Getty Images

Matchup: Florida Gators vs. Louisville Cardinals
This game should have been Florida vs. Oklahoma. The Northern Illinois Huskies' appearance in the BCS picture shuffled things around a bit.
That puts Louisville (the highest-ranked Big East team with a share of the conference title) into the Sugar Bowl against the Florida Gators.
This game will probably not be as bad as the 2009 Florida vs. Cincinnati debacle, but it will be distinctly one-sided. Florida's defense will hold Louisville under 17 points, and the margin of victory will be completely dependent upon Florida's offensive performance.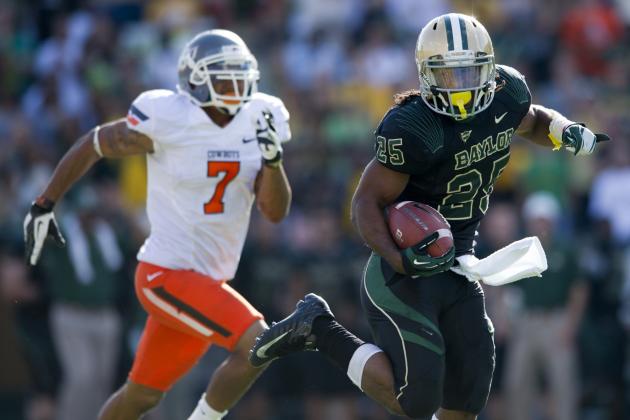 Cooper Neill/Getty Images

Matchup: UCLA Bruins vs. Baylor Bears
UCLA and Baylor will face off in what should be an offensive fireworks show. The last time Baylor was in a true shootout, the Bears fell by seven points to then-undefeated West Virginia. UCLA is not West Virginia. If UCLA's defense shows up to the game, the Bruins have a legitimate shot.
While it could be a blowout, this game could just as easily head into overtime.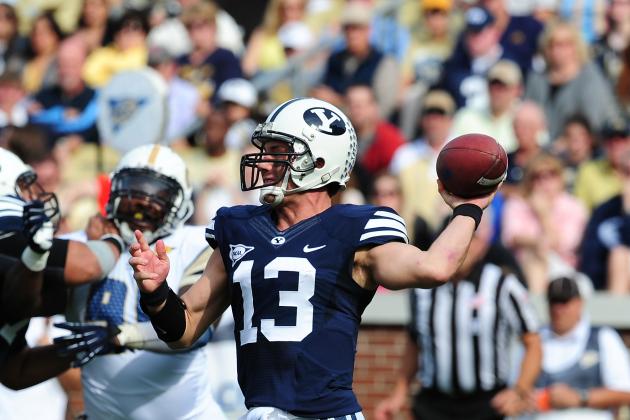 Scott Cunningham/Getty Images

Matchup: San Diego State Aztecs vs. BYU Cougars
BYU has the fifth-ranked scoring defense in the nation. San Diego State has the 44th-ranked scoring defense. When you watch BYU play, you see tough, physical football. While San Diego State has the talent to win the game, the clear favorite will be the BYU Cougars.
This game may be a minor mismatch, but it's a mismatch nonetheless.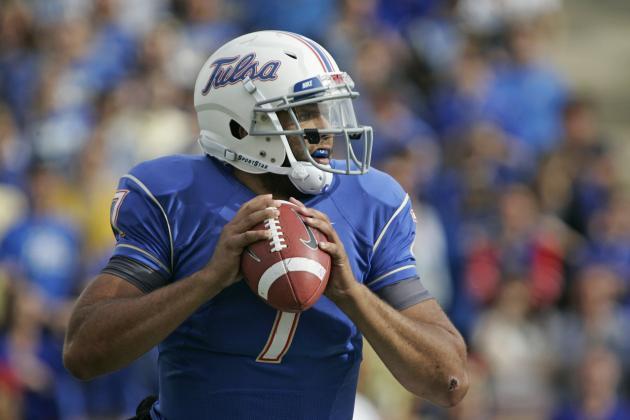 Brett Deering/Getty Images

Matchup: Iowa State Cyclones vs. Tulsa Golden Hurricane
Tulsa vs. Iowa State is one of the better games of the 2012 postseason. Iowa State has been really bad this season, and Tulsa has played really well.
If both teams play the best football they can, this game will go well into the fourth quarter. Normally a Big 12 vs. Conference-USA match wouldn't be inviting at all, but Tulsa's 10-win season has shown that it could probably hang with a lower-level AQ-conference opponent.
That description fits Iowa State perfectly in 2012.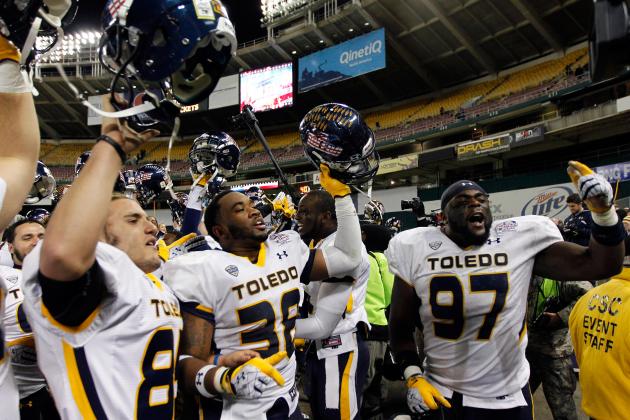 Rob Carr/Getty Images

Matchup: Toledo Rockets vs. Utah State Aggies
This game will feature two rushing attacks that are well worth watching. The Rockets and the Aggies are evenly matched, and the winner in the trenches will be the winner of the game.
If Utah State gets going early, this game will get ugly. Look for a lot of scoring in the first half, and then Utah State holding Toledo off in the second half. If it's a tight game in the fourth quarter, expect a game that keeps you on the edge of your seat until the final whistle.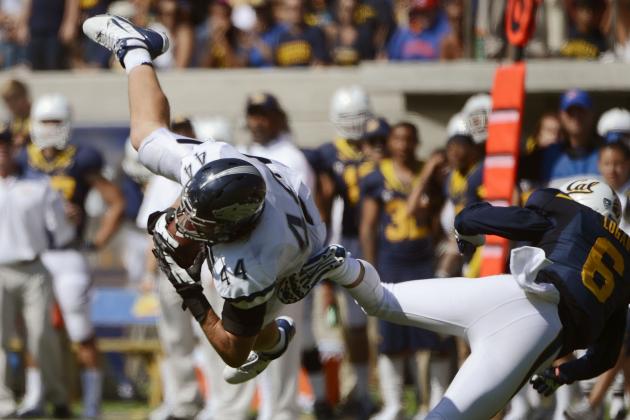 Thearon W. Henderson/Getty Images

Matchup: Nevada Wolf Pack vs. Arizona Wildcats
Arizona and Nevada have all the talent in the world to put on a great show in December. If Nevada gets going in the running game, Arizona will have to air it out just to keep up.
There are some serious offensive weapons all over the field in this game. The lack of stout defenses will make this a sort of shootout. Nevada's rush vs. Arizona's pass is a match made in heaven for folks who like point totals over 40.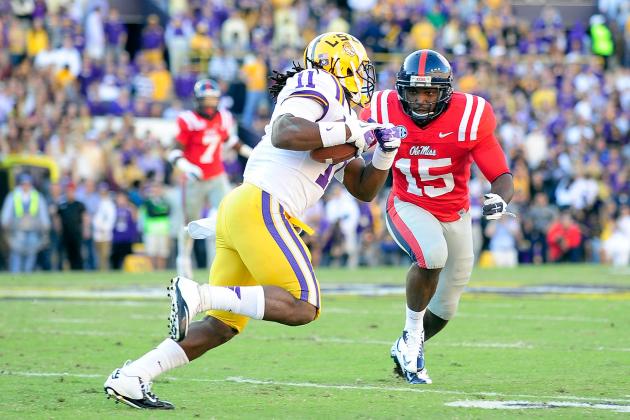 Stacy Revere/Getty Images

Matchup: Ole Miss Rebels vs. Pittsburgh Panthers
Ole Miss has shocked the SEC by earning a trip to the postseason in Hugh Freeze's first year at the helm. Pittsburgh has shown that it can hang with the best in the nation. (Literally, by taking Notre Dame to overtime.)
Ole Miss and Pitt will put on a half-and-half show for four full quarters. Some minutes will be filled with defense, while others will be filled with offense. Look for Ole Miss to ride ex-quarterback Randall Mackey to victory on the ground in this one.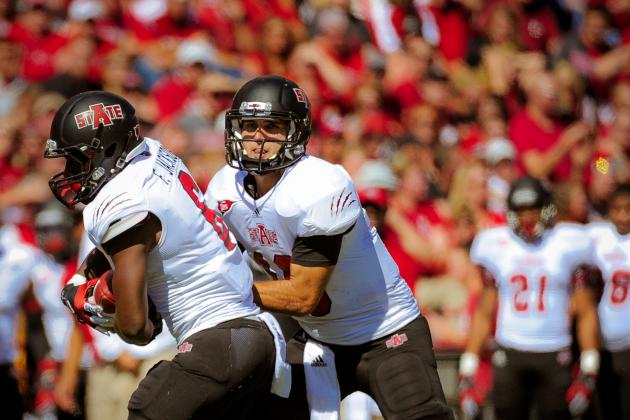 Eric Francis/Getty Images

Matchup: Kent State Golden Flashes vs. Arkansas State Red Wolves
GoDaddy may not have sponsored the BCS title game, but the idea to pit the MAC No. 2 against the Sun Belt champion has proved to be a great one. The GoDaddy.com Bowl tends to give us good games that aren't decided until the fourth quarter.
Arkansas State and Kent State both have the talent to win the game. The only issue with this game is its placement right between the BCS bowls and the BCS title game. It does give a bit of a letdown in performance compared to the games surrounding it.
This year, that's less of an issue than in years past.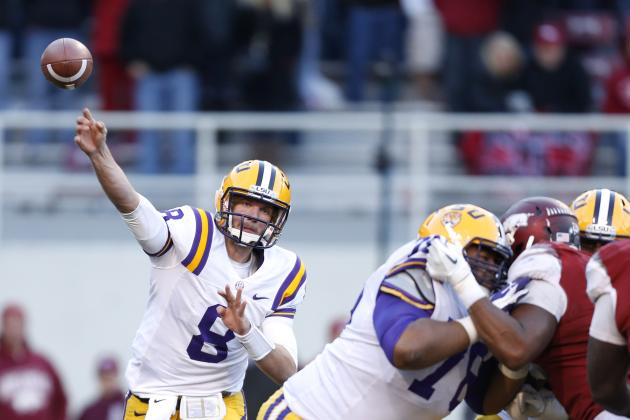 Wesley Hitt/Getty Images

Matchup: LSU Tigers vs. Clemson Tigers
The Chick-fil-A Bowl and the Chick-fil-A Kickoff games have a lot in common. Pitting good SEC teams against good ACC teams seems to be the M.O. of the Atlanta-based company's invitation-only matches.
LSU vs. Clemson should be a great game. LSU's defense should prove more than Clemson can handle, but Clemson has now faced an SEC-style defense comparable to LSU's. (South Carolina in the rivalry-weekend match.)
Both these teams enter the bowl season with 10-2 records, but you can expect the game to be at least as close as the 10-point decision against South Carolina. Whichever team wins, this will be a game worth watching.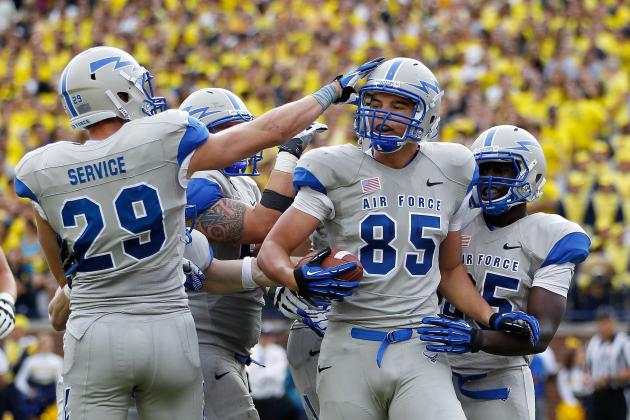 Gregory Shamus/Getty Images

Matchup: Air Force Falcons vs. Rice Owls
Rice and Air Force both enter the postseason with 6-6 records. While it may seem odd that this game is ranked ahead of the Clemson vs. LSU clash, this match is much more even than the Chick-fil-A bout.
Either team could run away with the win; Air Force could do so literally, as the Falcons have one of the best rushing attacks in the nation. Though it doesn't feature headliners on the docket, this game is one of the more underrated postseason matches of the year.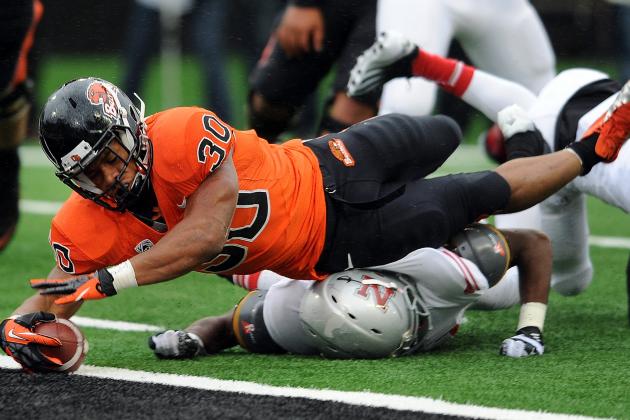 Steve Dykes/Getty Images

Matchup: Texas Longhorns vs. Oregon State Beavers
Texas vs. Oregon State has the potential to be an epic battle. So far during the 2012 season, Texas has not fared well in games that should have been epic. The Oklahoma Sooners blew out the Longhorns, TCU beat Texas in a battle that should have been won early by the Longhorns offensively.
Texas has a habit of not showing up at the most inopportune moments on the football field. The fact that the Longhorns have time to prepare could help them out a lot, though.
Look for the Longhorns to bring a war to the table at the Alamo Bowl, even though the Texas offense should blow the Beavers out of the stadium.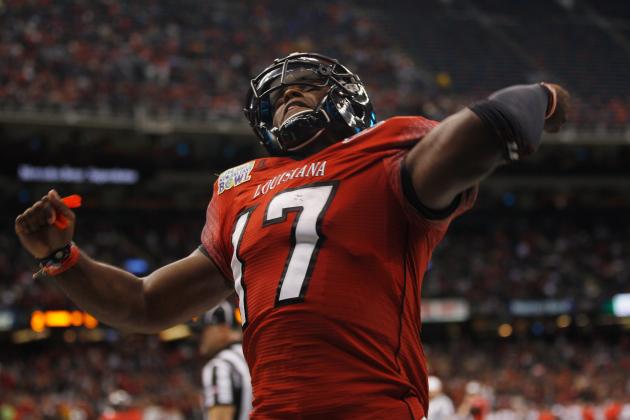 Chris Graythen/Getty Images

Matchup: East Carolina Pirates vs. Louisiana-Lafayette Ragin' Cajuns
East Carolina and Louisiana-Lafayette are fairly similar teams that both have the opportunity to come away victorious.
The Ragin' Cajuns have set a school record by appearing in back-to-back bowls, and they will be fighting to include back-to-back postseason wins in that equation, too.
East Carolina is turning over a new leaf with Ruffin McNeill at the helm of the program, and a bowl win would give a huge confidence boost to the Pirates' fanbase. With so much on the line, expect a bitter battle for the entirety of the match.
Gregory Shamus/Getty Images

Matchup: TCU Horned Frogs vs. Michigan State Spartans
TCU and Michigan State are two programs that are enjoying a shift in their conferences' powers. Michigan State will need another offseason to make a contender out of its quarterback, and TCU will need a couple of recruiting classes before it can contend with the elite in the Big 12.
These are two programs that will be on the rise after this season, and they are evenly matched at the moment. This could very well be a preview of a playoff quarterfinal in the next few years or so.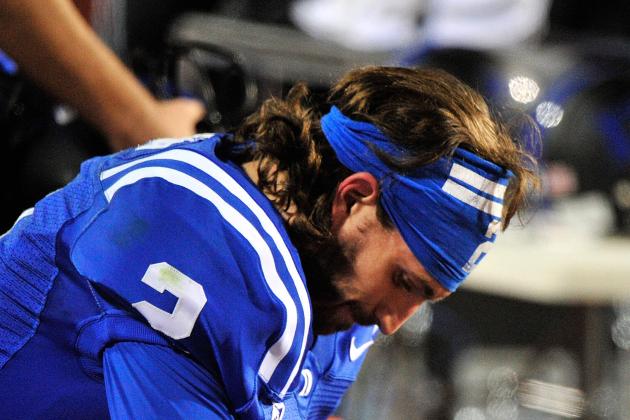 Grant Halverson/Getty Images

Matchup: Cincinnati Bearcats vs. Duke Blue Devils
Yet another set of teams that could go toe-to-toe from whistle to whistle will be facing each other in the Belk Bowl.
Cincinnati has shown that it can certainly be worse than Duke. Duke has shown that it can be worse than Cincinnati. Both teams have exhibited flashes of greatness throughout the season, which indicates that a postseason win will be good enough motivation for a great game.
The Blue Devils are in the postseason for the first time in almost two decades, and Cincinnati has left itself a lot to prove after some disappointing losses in 2012.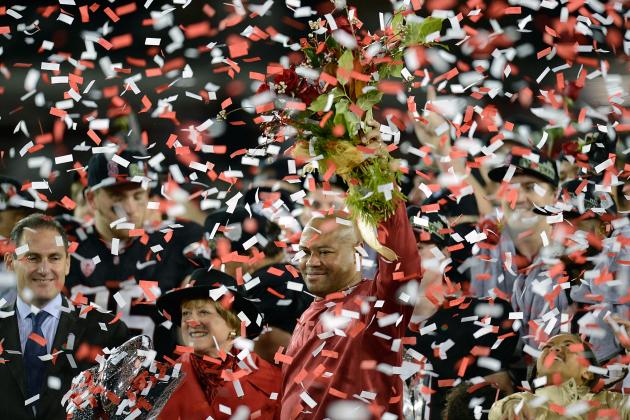 Thearon W. Henderson/Getty Images

Matchup: Wisconsin Badgers vs. Stanford Cardinal
While this may not have been the preseason expectation for the Rose Bowl (or mid-season for that matter), it's certainly the hand we have all been dealt after the Pac-12 disintegrated over the past few weeks.
Add in the shocking victory that Wisconsin earned in the Big Ten title game, and you've got the Rose Bowl that probably should have happened last year. (Oregon shouldn't have dropped games and been left out of the national championship last year, but the Ducks didn't get that memo.)
Stanford has a great rushing defense, and Wisconsin has a great tailback in Montee Ball. This is going to be a game that is won by sheer will. Whichever team wills itself to victory on the ground will win. Montee Ball is the key to victory, and Wisconsin will live or die by his performance.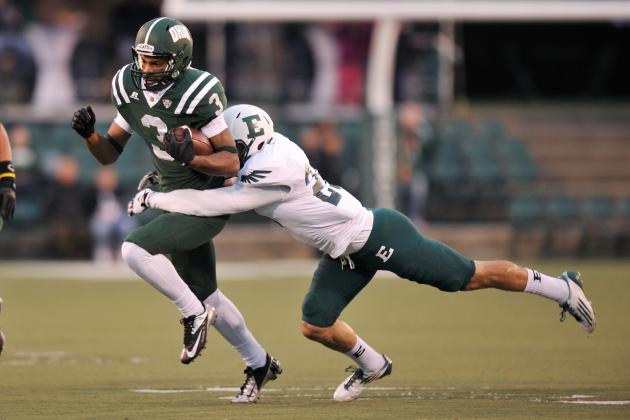 Jamie Sabau/Getty Images

Matchup: Ohio Bobcats vs. ULM Warhawks
Possibly the most underrated game in the lineup, the Ohio Bobcats, of the MAC, against ULM, of the Sun Belt, will be an epic match that could end up in overtime.
The Warhawks and the Bobcats both have signature wins over AQ opponents that prove they are worthy of respect. This game will be far more entertaining than the USC vs. Georgia Tech joke that's masquerading as a bowl game.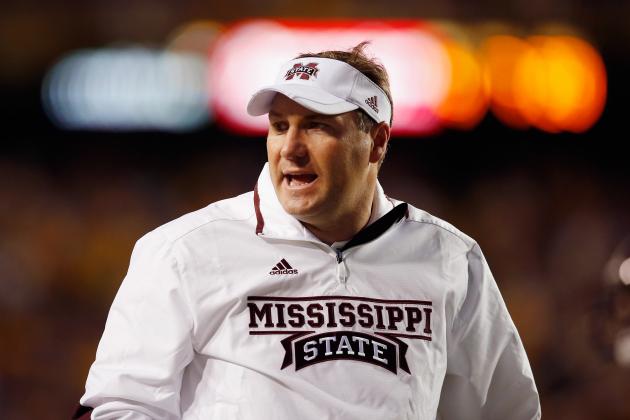 Chris Graythen/Getty Images

Matchup: Mississippi State Bulldogs vs. Northwestern Wildcats
Northwestern has come a long way since the win over Vanderbilt back in Week 2. Mississippi State had a great season, and even achieved an inflated ranking due to the order of its schedule.
Northwestern and Mississippi State fought valiantly in their respective conferences to earn this Gator Bowl trip. The game could easily go either way, and there will be some pretty good football along the way.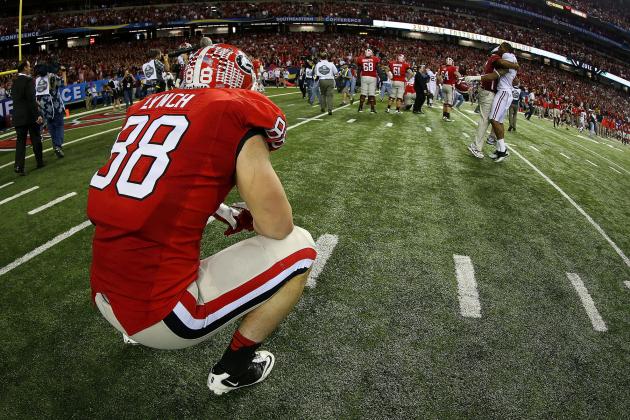 Mike Ehrmann/Getty Images

Matchup: Nebraska Cornhuskers vs. Georgia Bulldogs
While the title of this bowl game isn't what either team wished for at the beginning of the season, the matchup is legendary. The South Carolina vs. Nebraska postseason match was a pretty good indication that this game will be memorable.
If you're hoping for another 30-13 final score, you may not want to watch. Georgia's defense and Nebraska's offense will likely have issues figuring each other out, and the score will be higher than that for Nebraska.
This is a great matchup on paper, but Nebraska had better spend the entire time between now and then plugging up the holes that Montee Ball slashed in the defense during the conference title game.
If that doesn't happen, this game's going to get ugly. Nebraska's recent loss will provide fuel for the performance that will come against Georgia. These two teams just endured tough losses in their championship games. This is must-watch TV.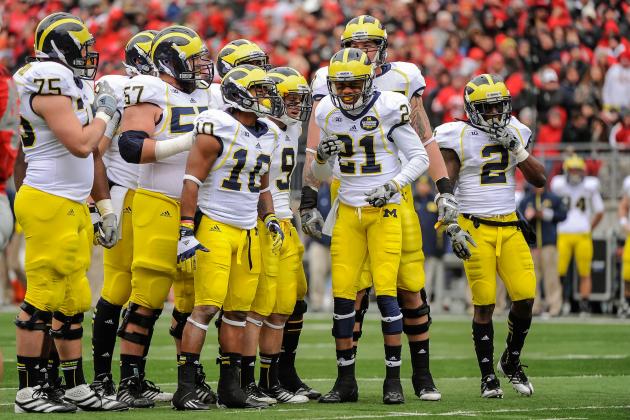 Jamie Sabau/Getty Images

Matchup: Michigan Wolverines vs. South Carolina Gamecocks
Michigan is not the same Michigan that lost to Alabama in the season opener. Michigan's losses have almost exclusively come at the hands of the current AP Top Five. (The lone exception is the loss to Nebraska.)
While South Carolina should win this game, the Gamecocks should have beaten Florida this year. They lost by 33 points instead. Michigan and South Carolina have all the ingredients for a great game.
The issue is the risk taken by watching. There are also all the ingredients for a major blowout in either direction. South Carolina losses are rare; it would behoove you to watch at least a few minutes of the game.
You wouldn't want to miss an SEC postseason loss, no matter how unlikely it may be.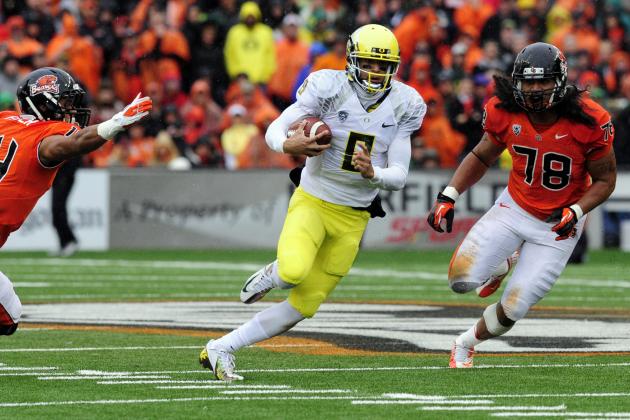 Steve Dykes/Getty Images

Matchup: Oregon Ducks vs. Kansas State Wildcats
There is a legitimate argument that this may turn out to be the best bowl game of the season. It is essentially the exact opposite of the national championship game. Both of these teams are known for their offenses, whereas the two teams facing off in the title game are known for their defenses.
The Fiesta Bowl is the yin to the national championship's yang.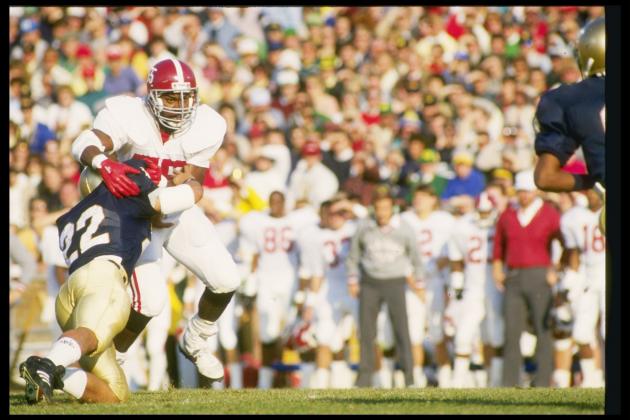 Jonathan Daniel/Getty Images

Matchup: SEC champion Alabama Crimson Tide vs. undefeated Notre Dame Fighting Irish
Not only is this clearly the best matchup of the season, it's one of the best national championship matchups in college football history.
This should blow the ratings records out of the water. If James Cameron ever directed a national championship game, this would be it.
(If not for the Notre Dame storyline and the crystal football, this game would have been tied for first with the Fiesta Bowl matchup from the previous slide.)