Oregon Football 2012: Why Marcus Mariota Will Be a 4-Year Starter at Oregon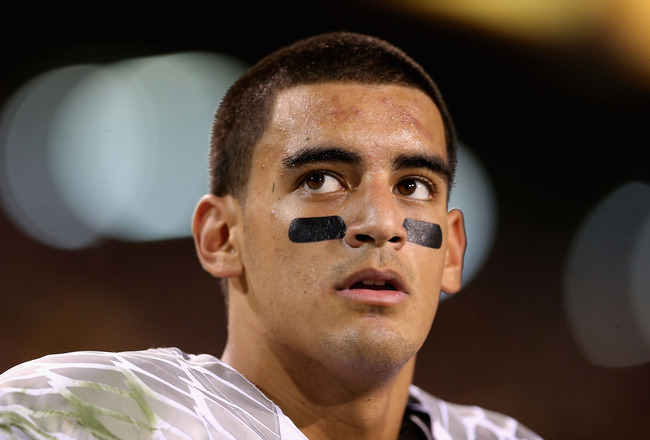 Christian Petersen/Getty Images
Marcus Mariota has been phenomenal as a freshmen quarterback for the Oregon Ducks. He has proved that he can make throws in the pocket, keep plays alive with his legs and stay poised through the process of it all.
If the Ducks would've gone undefeated through conference, Mariota would have likely been given an invitation to New York as a candidate for the Heisman Award.
With many of his accomplishments tackled as a freshmen, it would seem that Mariota would be looking to reach the big leagues early, but these are the reasons he will stay.
He Doesn't Want to Pull a Darron Thomas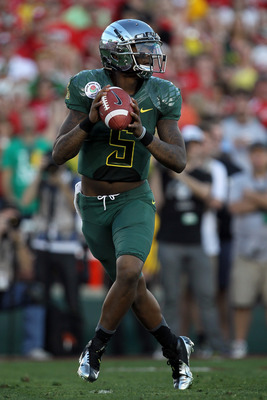 Stephen Dunn/Getty Images
Darron Thomas had an amazing career at Oregon. He led the Ducks to their first BCS National Championship game and in 2011 won the Rose bowl for the first time in 95 years.
All that success went right to Thomas' head and he thought he was a sure draft pick for the NFL.
After not getting drafted and ending up in the Canadian Football League, I'm sure Thomas regrets leaving early.
If Mariota is smart, he will learn from Thomas' mistake and stay as Oregon's starting quarterback for four seasons.
Achieving accomplishments is great, but any college coach will tell players that there is always something else to learn or tweak that will enhance their play.
Mariota has excellent coaches helping him at Oregon, he needs to stay as long as he can and continually soak up the knowledge they have to offer.
Doing this will best prepare him for the next level.
The College Experience
Kevin Casey/Getty Images
Living in a college atmosphere is different than any other experience--especially when you're a D-I football star. Students around campus treat you like a God.
The other day, one of my roommates at the U of O, saw Marcus Mariota on campus and posted this on his Facebook:
Just saw Marcus Mariota (the UO quarterback) on campus. I stared at him for a while all the while minimizing the amount of drool that emanated from my mouth. he chuckled a little, tilted his head and gave me a slight head nod. he acknowledge my existence. Whenever I see him from now on, we are no longer strangers. We are acquaintances. We have a history. TOGETHER.
I made the most efficient passing quarterback in the country chuckle and he noticed my existence. #besties #mostexcitingdayofmylife.
Never again in a football player's life will they live in an atmosphere where thousands of their peers praise their very presence and every breath they breathe.
Mariota is already a king at the University of Oregon, he needs to keep his heir going.
THREE MORE YEARS! THREE MORE YEARS! THREE MORE YEARS!
Adoration for Oregon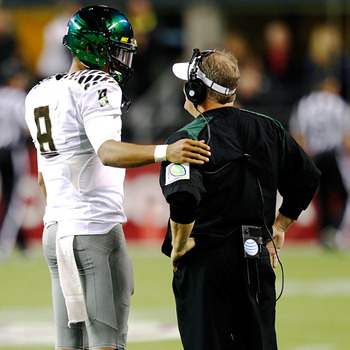 Going into his senior season at Saint Louis high school in Honolulu, Mariota didn't have much going for him. He was a backup quarterback until his senior season, which meant there was very little scouting, if any, on him to that point.
Mariota had one season to show scouts his talent, and the school that took notice of that talent was Oregon. According to ESPN Recruiting Nation, out of the five schools that scouted Mariota, Oregon was the only school to offer him.
If it weren't for Chip Kelly and the Oregon staff, Mariota would not be a star...this young, anyway.
It seems to me that their would be a sense of adoration between Mariota and the opportunity Oregon has given him. This may be a big factor in Mariota staying for four whole years as quarterback.
His Brothers
Marcus Mariota credits Hawaii for many things. After some trash talk back and forth during the Oregon-Washington game, I specifically remember him talking about his Hawaiian friends and how they always have each other's backs. The type of "you mess with one of us, you mess with all of us" attitude.
In the altercation with the Huskies, Mariota showed he has the backs of his fellow teammates. I'm sure that he would love to stay and graduate with his brothers in his recruiting class.
It seems that Mariota invests deeply in family and friends, so this is a big factor in my belief that he will stay at Oregon for as long as he can.
Once he gives everything he feels he could for the Oregon program and his teammates, then, Mariota will move on to bigger things.
Keep Reading

Oregon Ducks Football: Like this team?