Orlando Magic vs. Los Angeles Lakers: Postgame Grades and Analysis for L.A.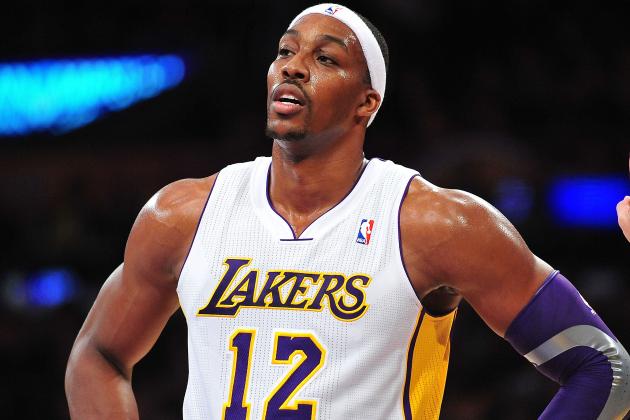 Gary A. Vasquez-US PRESSWIRE

Orlando Magic 1, Dwight Howard 0.
The Magic sunk the Lakers, 113-103, Sunday night, and they did so by enforcing their will agains the defense-less Lakers.
Howard's first game against his former team didn't go exactly as planned. The Magic spoiled the part, led by Aaron Afflalo, Glen Davis and Jameer Nelson, with 30, 23 and 14 points, respectively.
There's no way around the fact that the Lakers got outplayed from the tip. The Magic wanted this one more, and it showed in the way they constantly attacked on offense and locked Howard down on defense.
Howard ended the night with 17 points on 41.7 percent shooting, with 15 rebounds, and while that production isn't too shabby, it wasn't the kind of game the Lakers needed him to have against his former employer.
Kobe Bryant dropped 32 points, but he shot just 44 percent on the night. The real problem for the Lakers wasn't Howard or Bryant's performance, though. It was their overall lack of defense throughout the game.
Giving up 113 points to a Magic team averaging just 91.1 points per game coming into the matchup is simply inexcusable.
It was an ugly loss for the Lakers and it's one that certainly has to sting quite a bit, especially for Howard.
This isn't the start to the 2012-13 season the Lakers had in mind, and it's going to take some serious work to turn things around in L.A. Lakers fans are hoping that Steve Nash can soon come return to the lineup and bring the consistency that the Lakers so desperately need.
Begin Slideshow

»
Darius Morris had a very rough night. Watching his performance leaves Lakers fans further clamoring for Steve Nash's return.
He's not necessarily holding the Lakers back, although he ended the night with two points on 20 percent shooting from the field, with three assists and two rebounds. What he's failing to do is have any positive impact on the game.
The Magic defense never saw Morris as a threat, which allowed them to key more on Kobe Bryant and bring help-side defense into the paint.
If the Lakers are going to survive without Steve Nash, or even Steve Blake, they have to get more production out of Morris.
If that doesn't happen, it may be time to start thinking up a lineup that features Kobe Bryant at the point, World Peace at shooting guard and Antawn Jamison at the small forward spot.
Final Grade: F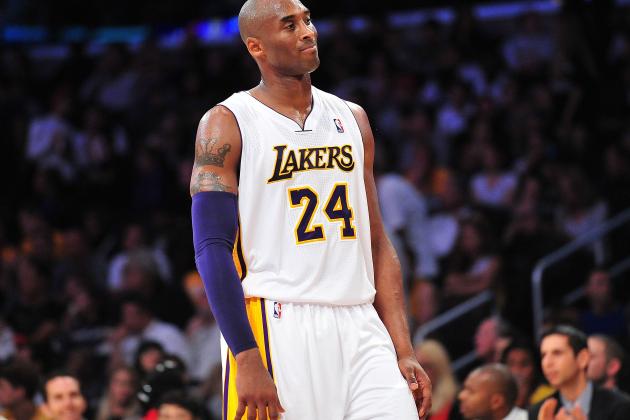 Gary A. Vasquez-US PRESSWIRE

As usual, Bryant poured in a lot of points, but he also didn't shoot the ball with a high level of efficiency.
Kobe ended the night with 34 points, but he had to jack up 27 shots to get there. He shot just 44.4 precent from the field, but he made up for that a bit by shooting 90.9 percent from the charity stripe.
Kobe somewhat made up for his inefficient shooting by dishing out five assists and grabbing seven rebounds. But even that wasn't enough, because his teammates, specifically the second unit, weren't consistently knocking down the open shots he got them.
When 32 points, seven rebounds and five assists doesn't result in a victory it doesn't look nearly as glamorous, and that's the case for Kobe's performance against the Magic.
I'm sure Kobe had a nice talk with everyone in the Lakers locker room after this one. I certainly would love to be a fly on the wall for that one, because he needs to get this Lakers team focused.
Final Grade: B+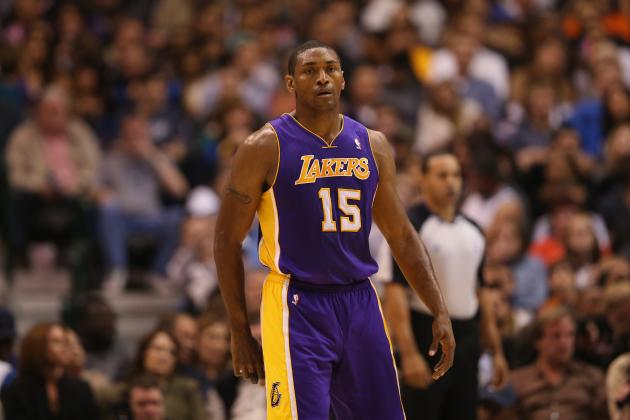 Ronald Martinez/Getty Images

Metta World Peace and his 50 percent shooting from beyond the arc was the surprise of the night.
The Lakers are lucky that World Peace stepped his game up his game early on, because if he hadn't, this one could've gotten out of hand a lot earlier on.
Unfortunately, the more World Peace scored, the more shots he took. I'm sure when he lined up the shots, he expected them to go in. But he ended the night shooting just 38.5 percent from the floor.
MWP had a well-balanced night across the board, ending with 15 points, five assists, five rebounds and three steals.
World Peace's defense on Aaron Afflalo was very unimpressive though.
Lakers fans expect his defense to be the foundation of his play, but Afflalo ended the night with 30 points on 61.1 percent shooting.
Final Grade: C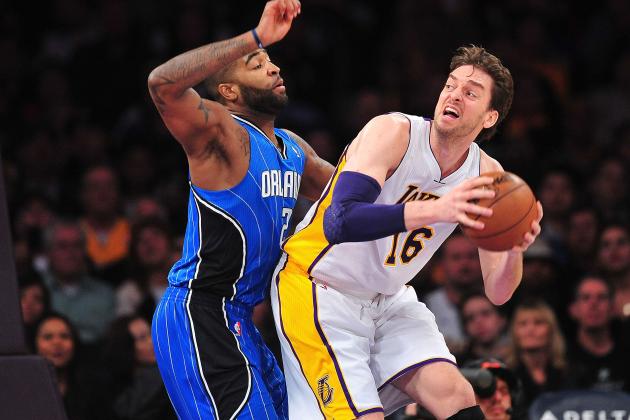 Gary A. Vasquez-US PRESSWIRE

Pau Gasol didn't have a terrible game, with 11 points, seven rebounds and two assists. But he didn't assert himself as a top option for the Lakers either.
He was more aggressive offensively, but that resulted in seven missed shots on the night—ending the night with a 36.4 field-goal percentage. Gasol wasn't as much of a facilitator as he had been the past few games, and that was a major reason why this game was so close for so long.
Sure, being a facilitator isn't in Gasol's job description. But the Lakers are a much better team when he's finding open teammates on the court as defenses extend to defend him.
Gasol also didn't reel in any offensive boards, which is somewhat surprising seeing the talent he was going up against in Glen Davis and Josh McRoberts.
He's definitely taken a back seat to Howard's dominance in the paint. That's not necessarily a good thing, though, because the Lakers need him to be more aggressive and productive on both sides of the ball.
Final Grade: C-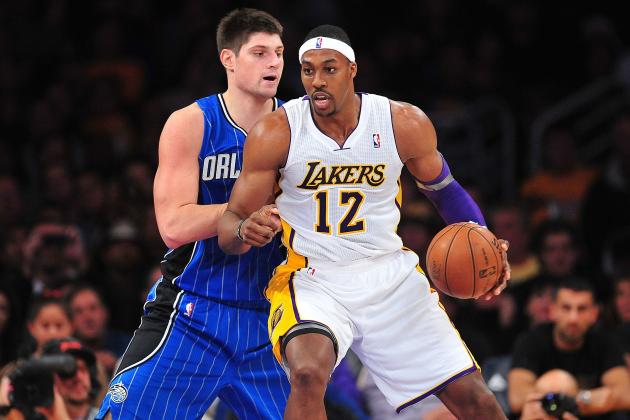 Gary A. Vasquez-US PRESSWIRE

Dwight Howard told the Orlando Sentinel that it would be a "bit weird" going up against his former employer, the Orlando Magic.
He clearly didn't let that hold him back from having a rather impressive performance. Howard ended the night with 21 points on 46.2 percent shooting, grabbing 15 rebounds while he was at it.
His stats may not seem that impressive, but the Magic double-teamed him almost every time he touched the ball. If the Magic hadn't done that, Howard would've had a career night, because Nikola Vucevic certainly couldn't handle him alone.
The times when the Magic left Howard facing isolation defense, it ended with easy dunks and buckets.
I'm sure Howard would've loved to drop 35 points and 20 rebounds on his former team, but he'll have to save that performance for March 12, when the Lake Show take their talents to Orlando for Howard's glorious return.
While Howard had 21 free-throw attempts, it should be noted that Howard had a rough night, as usual, from the charity stripe (42.9 percent). That has to improve if the Lakers expect to compete with the best of the best in the NBA.
Further, his defense against Nikola Vucevic was extremely weak late in the game. There's no way he should put up 17 points on Howard, and that's partially why Howard's grade isn't higher.
Final Grade: B-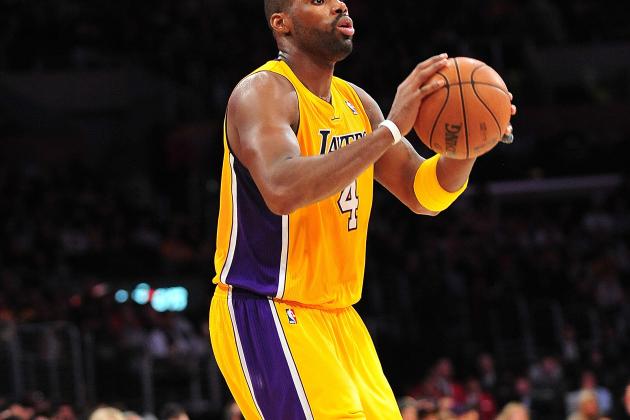 Gary A. Vasquez-US PRESSWIRE

It wasn't as good as his 33-point, 12-rebound performance against the Denver Nuggets, but Jamison led a Lakers second unit that otherwise was extremely unimpressive and his 10 points and five rebounds helped the Lakers stay competitive with the Magic until late in the fourth quarter.
Jamison's offensive production helped the Lakers hang around with the Magic, but his defense on Glen Davis was underwhelming to say the least.
It seemed like the Magic made a run every time Jamison was leading the Lakers second unit, with Kobe and Howard on the bench. That can't continue to happen if the Lakers are going to improve as a team.
The Lakers need Jamison to be a true leader on the court when the team's starters are getting rest. He didn't exactly do that Sunday night, and that's why, despite leading the Lakers bench in production, he's getting a solid C-.
Final Grade: C-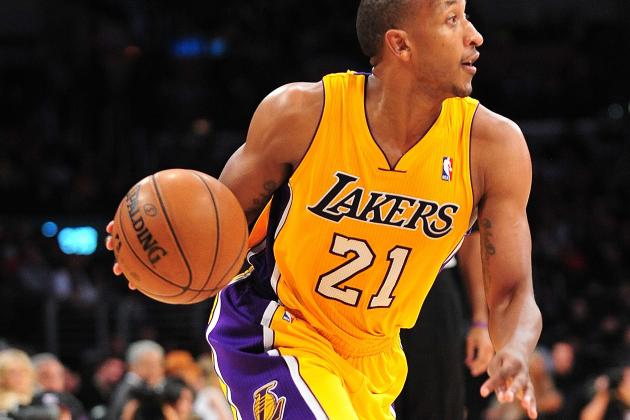 Gary A. Vasquez-US PRESSWIRE

I'd rather play for the worst team in the NBA than to have been a player coming off the bench for the Lakers Sunday night.
After their 20-point performance against the Magic, I'm sure Kobe is going to have some choice words for them, and rightfully so. If Jodie Meeks wasn't jacking up questionable shots early in shot clock, Devin Ebanks was finding ways to take questionable shots.
The Lakers bench is just not that great. Aside from Antawn Jamison, the rest of the Lakers bench seemed better suited for the NBA D-league than playing the Magic Sunday night.
Without consistent and efficient bench production, the Lakers are going to struggle against whoever they go up against—including against a Magic team that, on paper, should get blown out by the Lake Show.
It could be that the Lakers are playing down to their competition, but in all honesty, it's mainly because their bench production, more often than not, is rather abysmal.
If it wasn't for Jamison, the Lakers bench would get an F. His 10 points bumps them up to a D+.
Final Grade: D+