2012 Coaches' Poll Votes Revealed: 11 Coaches with the Most Ridiculous Votes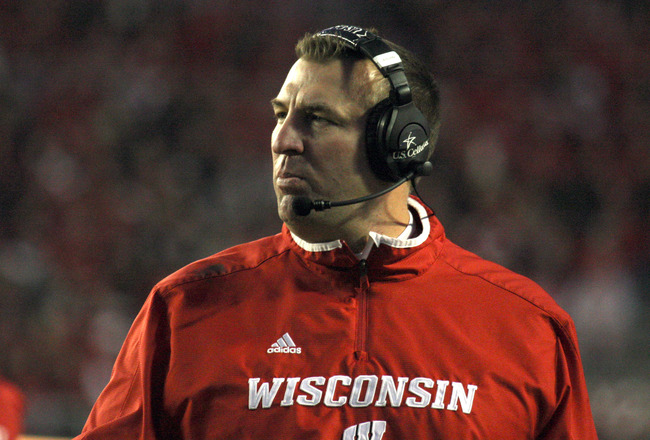 Mary Langenfeld-US PRESSWIRE
The USA Today coaches' poll released the results of the final regular season votes for every coach Sunday. While there are always a number of surprises, this year brought a few more than expected.
There were a number of ridiculous votes that took center stage when the release was made public—most notably the favoritism shown to Oklahoma from a number of coaches that happened to find them on their schedule.
Taking a look at the poll, there were a number of coaches that really made names for themselves to close out the year. Here are the 11 coaches with the most ridiculous votes to close the season.
Todd Graham: Keeping it West Coast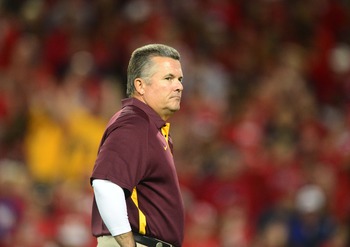 Mark J. Rebilas-US PRESSWIRE
Todd Graham took the final Top 25 vote as a way to show his West Coast bias to close the year. Graham voted Oregon No. 3—a respectable choice—but he also placed Stanford just one spot lower at No. 4.
After the photo finish that occurred in the SEC title game, Graham voted the Bulldogs as the No. 5 team, just behind Stanford.
To finish his vote, he threw in a vote for Fresno State, who finished the overall vote at No. 30. He also managed to vote his 7-5 Sun Devils team at No. 20—they finished the final voting tally at No. 35.
Jim Grobe: Longhorns Must Be a Childhood Favorite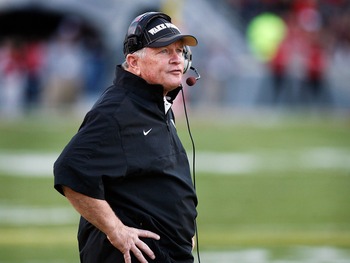 Mark Dolejs-US PRESSWIRE
Jim Grobe didn't draw a ton of attention with his Top 25 vote, but when you look closely you see an absurd favoritism to Texas.
The Longhorns finished 8-4, with a loss to Kansas State to close out their year. Texas was not anywhere near competitive in the game and it has struggled to find consistency all season.
Why Jim Grobe—an ACC coach—would place the Longhorns as high as No. 18 is beyond explanation. Coach Grobe must have forgotten to catch the highlight reel on Saturday night before casting his ballot.
Brady Hoke: Wolverines Better than People Think…So he Says
Andrew Weber-US PRESSWIRE
Brady Hoke saw no shame in putting the Michigan Wolverines at the No. 15 position in the Top 25. The Wolverines finished the voting at No. 22 with a 8-4 record this year.
Every other vote was spot on, but showing such favoritism doesn't do you, or your team, any favors. Just like Todd Graham placing his team 15 spots higher than the rest of the coaches, this vote made Hoke look silly.
This is also a solid contributor to the argument that the coaches should not be able to form one-third of the voting for the national title. Can a playoff get here soon enough?
Art Briles: Keep it in the Big 12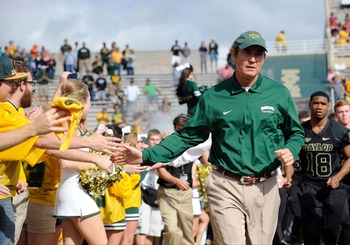 Jerome Miron-US PRESSWIRE
Art Briles is clearly proud of his conference and team's accomplishments this fall. The Baylor coach voted Kansas State No. 4 and Oklahoma No. 6. Both teams landed on Baylor's schedule, and the Bears knocked off Kansas State in November.
Briles was obviously favoring his conference and the teams that would help Baylor snag a solid bowl bid.
Another surprising vote that came from Briles was the placement of Georgia at No. 11. The Bulldogs played one of the best games of the season against Alabama, finishing just a few yards shy of a win in the SEC title game.
Tommy Tuberville: Forgetting the Auburn Years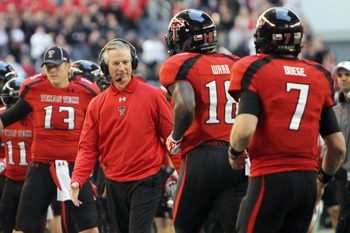 Michael C. Johnson-US PRESSWIRE
Tommy Tuberville clearly forgot about his undefeated 2004 squad when he placed his final tally in the coaches' poll on Saturday night.
Tuberville put a one-loss Alabama team at No. 1, one spot above the undefeated Notre Dame Fighting Irish.
While his vote didn't hurt Notre Dame or keep it from the title game, it is a surprising vote by the former Auburn Tigers head coach. Outside of this vote, he stayed mainstream, but the Alabama shift to No. 1 is an eye-catcher.
Brian Kelly: Keeping the Schedule Tough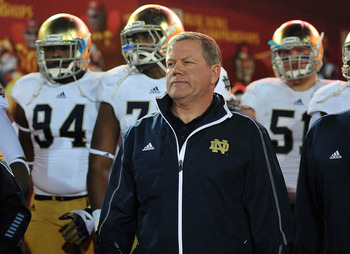 Gary A. Vasquez-US PRESSWIRE
Brian Kelly joined his Big 12 coaching brethren when he placed Oklahoma at No. 9 in his final vote. Kelly also followed the lead of Brady Hoke and placed Michigan at No. 15.
The Irish were not in need of help from the coaches' poll, but the national perception is that their once lauded schedule has fallen hard to better competition this year.
It is one of the more unbelievable moves of the final coaching vote.
Tim DeRuyter: Just Say No to SEC Bias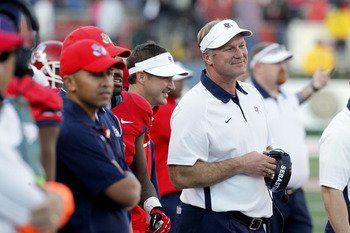 Cary Edmondson-US PRESSWIRE
Tim DeRuyter made a point with his final ballot. The Fresno State coach dropped Alabama to No. 3 and kicked Georgia into the No. 8 position.
He did keep Florida at No. 4 and LSU at No. 5, but it was clear that DeRuyter was sending a message to the top teams of the SEC with his vote. He also placed Michigan at the No. 16 position, another unusual vote.
DeRuyter is a hot name in coaching as a rising star, but after looking at his final vote I doubt he lands in the SEC. His lack of faith in the Crimson Tide and Bulldogs is surprising and shows a profound anti-SEC streak in his methodology.
George O'Leary: No Hard Feelings Notre Dame, Go Huskies!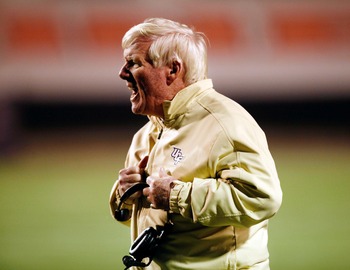 Ivan Pierre Aguirre-US PRESSWIRE
George O'Leary landed his dream job in 2001 when he was hired by Notre Dame. The new era of Irish football was expected to have arrived, with hopes at an all-time high. After inaccuracies were found on his resume, he was fired from Notre Dame.
Apparently he has no hard feelings, which is good to see. Now the head coach at Central Florida, O'Leary has a vote in the Top 25 and placed Notre Dame at No. 1.
While that is a normal vote, his love for Northern Illinois is stunning. He placed the Huskies at No. 11, showing a lot of respect for the MAC squad.
While the Huskies are a great squad this season, they are not the No. 11 team in the country. This vote was a surprise to say the least—he must have had a slip of the pen.
Bret Bielema: Mistake or Miscalculation?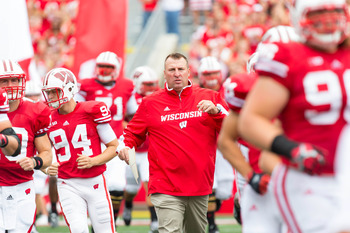 Jeff Hanisch-US PRESSWIRE
Bret Bielema led his Wisconsin team to its second Big Ten title in two years. The Badgers have won both Big Ten title games that have been played.
The guy knows how to coach football, but he had a bit of controversy that followed his vote.
When he placed his ballot for the No. 11 team in the country, he initially had Oklahoma State instead of Oklahoma listed.
According to ESPN.com's Jake Trotter, USA Today reported that it listed the vote incorrectly. Here is the tweet:
According to USA Today, the Bielema vote was listed incorrect in the database. He actually voted OU 11, and OSU unranked.

— Jake Trotter (@Jake_Trotter) December 2, 2012
Who knows what really happened, but again another issue has arisen with the final coaches' poll and its effect on the BCS system.
James Franklin: Notre Dame at No. 4?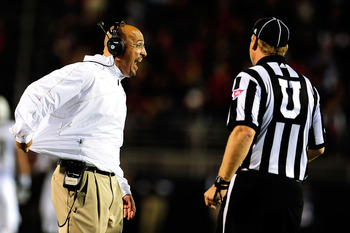 Stacy Revere/Getty Images
James Franklin wins the competition for the nuttiest final vote of the college football season. In an amazing twist, he voted the undefeated Notre Dame Fighting Irish as the No. 4 team in the country.
Franklin listed SEC foes Alabama, Georgia and Florida as the top three teams in the poll.
After Notre Dame at No. 4, Franklin placed LSU at No. 5. Not only did Franklin take Notre Dame out of the Top Three, he also put Oregon three spots lower than its final placement in the poll.
To top off the absurd vote that was cast by Franklin, he placed his Vanderbilt Commodores at the No. 16 position in the poll. Vanderbilt finished outside the final Top 25, at the No. 27 position.
Rocky Long: Aztec Pride
Christopher Hanewinckel-US PRESSWIRE
Rocky Long is very proud of his 9-3 San Diego State squad. He has taken this team to new heights and is not afraid to show that he believes in his team.
Long has gotten his team into the national discussion for the bowl season, but placing the squad at the No. 20 spot was a bit much.
Sure the Aztecs have put together a great year, but they are not better than the bottom fifth of the current coaches' poll. He didn't stop there as he placed the Fresno State Bulldogs at the No. 16 spot in his poll.
The Bulldogs finished the voting at No. 30.
Keep Reading