Should Mark Sanchez, Tim Tebow or Greg McElroy Start for Jets in Week 14?
Use your ← → (arrow) keys to browse more stories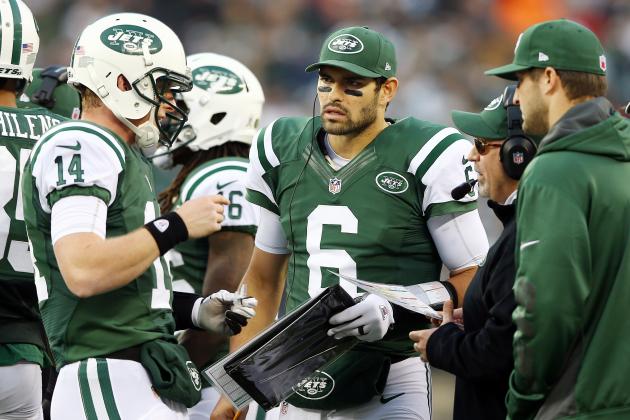 Elsa/Getty Images

There has been a quarterback controversy for the New York Jets all season long, but things escalated on Sunday when Mark Sanchez was benched against the Arizona Cardinals.
Greg McElroy entered the contest down 3-0 in the fourth quarter and threw what turned out to be the game-winning touchdown for the Jets.
To make things more complicated, Tim Tebow was inactive for the game with injured ribs.
After the game, Rex Ryan was still unsure about the team's future at the quarterback position, according to Manish Mehta of the New York Daily News:
Rex doesn't commit to Sanchez next week: "I'll let you guys know"

—

Manish

Mehta

(@MMehtaNYDN) December 2, 2012
So which player should start for the team going forward? Taking a look at each player makes the decision pretty easy.
Mark Sanchez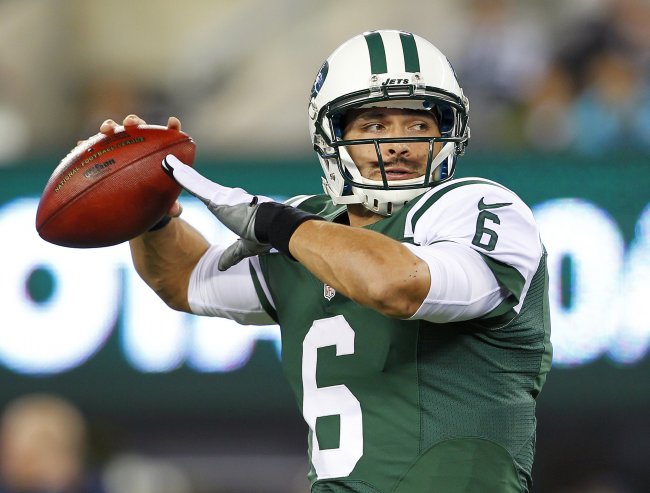 Rich Schultz/Getty Images
Mark Sanchez has been the starting quarterback all season and the results have not been pretty.
Against the Cardinals, Sanchez completed only 10 of his 21 passes with no touchdowns and three interceptions. Amazingly, this was the sixth time this year that he completed less than half of his passes.
Throughout the year, he has done very little besides hurt this team. While he does not deserve all of the blame for the team's struggles, the team would certainly be better with a more able quarterback.
He could not get a single point on the board against a Cardinals team that has allowed over 20 points in five straight games.
After this terrible season, it is likely that his time as a starter for the New York Jets is over.
Tim Tebow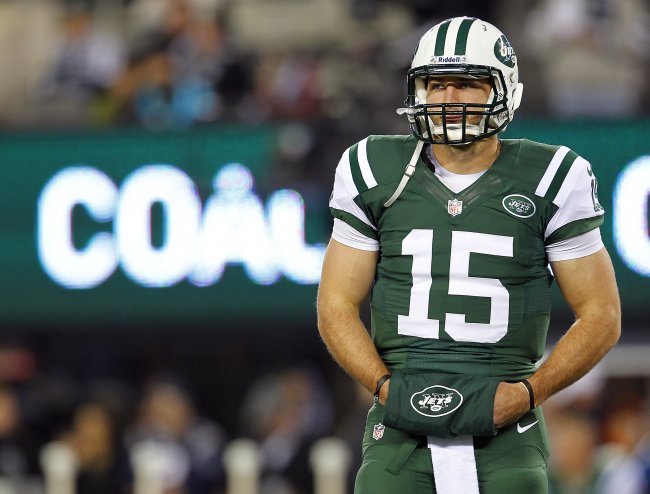 Rich Schultz/Getty Images
This is the man that fans have been clamoring for all season long.
He had a magical year in 2011 with the Denver Broncos, and the mindset is that he is "just a winner" that should be on the field at all times.
On the other hand, it was only a couple of weeks ago that his own teammates ripped him in the media. According to Manish Mehta, the players called him "terrible" and only referred to him as "an athlete," instead of a quarterback.
The coaching staff has also refused to put Tebow in despite having the opportunity all year long.
It is near impossible to win in this league without the support of teammates and coaches.
In addition, Tebow only completed 46.5 percent of his passes last season, which is much worse than Sanchez's 55.4 percent.
Even if he is healthy, the popular backup would not be a smart choice for the Jets.
Greg McElroy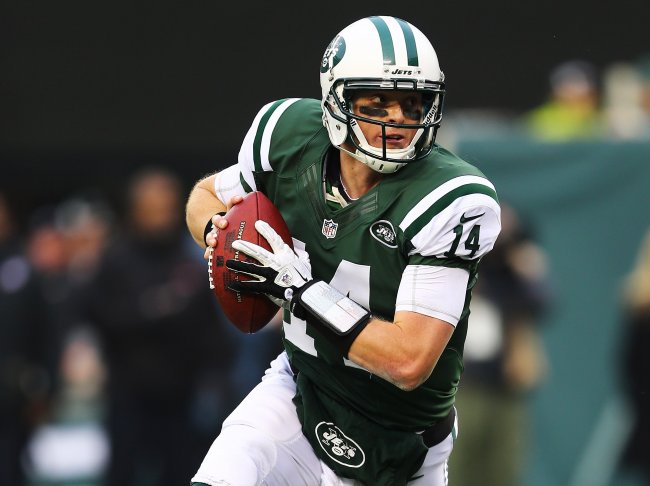 Al Bello/Getty Images
Although he came into the league unheralded as a seventh-round pick in the 2011 draft, Greg McElroy could get his opportunity to shine on the Jets.
Fans in New York are so desperate for a quarterback that they gave a standing ovation to the third-string quarterback upon entering the game, despite the fact that he had not thrown a single pass in his NFL career.
Who Should Start for the Jets?
McElroy was an efficient passer at Alabama, completing over 70 percent of his attempts and throwing only five interceptions compared to 20 touchdowns in his final year.
He also showed his leadership abilities as the Crimson Tide won the 2009 national championship.
Verdict: Greg McElroy
McElroy does not have great arm strength and he is unlikely to be the future of the franchise.
However, the second-year player deserves a chance after completing five of his seven passes with a touchdown in a win in his first regular-season appearance.
New York already knows what the other players on the roster can do; it does not make sense to leave one stone unturned.