Vikings vs. Packers: Minnesota's Biggest Winners and Losers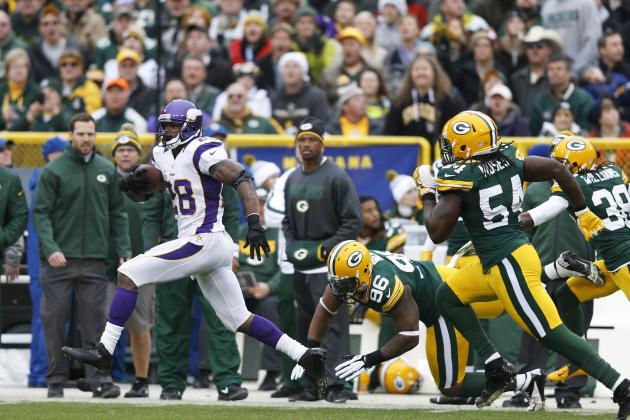 Joe Robbins/Getty Images
Adrian Peterson finishes the touches on his 82-yard touchdown run. He finished with 210 yards on the ground.
Another week, another similar line of topics to discuss relative to the latest Minnesota Vikings loss.
The Vikings fell to the Green Bay Packers, 23-14, on Sunday in Week 13.
Minnesota was led by Adrian Peterson's 210-yard performance on 21 carries (10 yards per carry). Peterson continues to be the game's most dangerous running back, but he again received no support from the passing game.
Minnesota's defense did a solid job of keeping Green Bay's offense in check, but didn't get the necessary stops on third down when it needed to.
The game, as a whole, was a disappointment for the Vikings, and as was the case last week, I opted to pick four winners and four losers, although there were more losers than winners in this one.
Begin Slideshow

»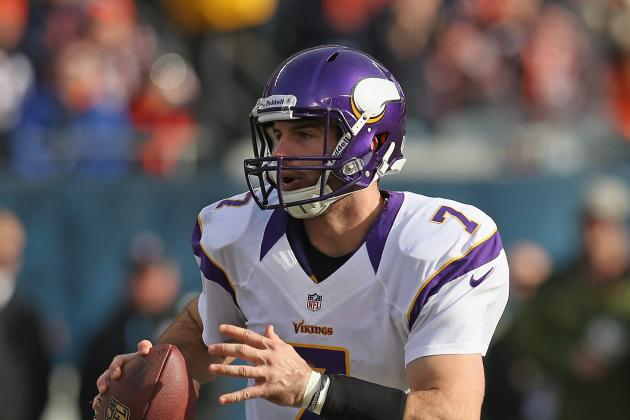 Jonathan Daniel/Getty Images
Christian Ponder struggled, again, completing 12 of 25 passes for 119 yards with a touchdown and two picks.
This storyline is almost becoming as consistent as the sun rising. At some point, it won't be worth mentioning because everyone will expect it.
But once again, Christian Ponder struggled mightily on Sunday. Yes, he's without his favorite offensive weapon, but he didn't show the ability to make many throws regardless of who the target was.
Ponder finished 12-of-25 for 119 yards with a touchdown and two interceptions. His passer rating was 36.0.
He still gets too uncomfortable in the pocket too quickly and likes to take off outside before giving the receivers the full opportunity to run their routes. FOX analyst Troy Aikman pointed out on one particular play that if Ponder had sat in the pocket for an extra second and looked off Green Bay's safety, then he could have hit Kyle Rudolph for roughly a 25-yard touchdown pass. Instead, he took off for about an eight-yard run.
When Adrian Peterson ran a streak down the sideline and burned his defender, leaving nothing between him and the end zone, Ponder underthrew the game's best back. He didn't even give Peterson a chance to make a play.
Now, those calling for Joe Webb to start, hold up. Ponder is only a second-year pro, not even one full season in as a starter. He's awful right now, but he needs time. Minnesota needs to fully invest itself into its 2011 first round pick. Now is not the time to bail. If he's still struggling at this time next season, let's talk.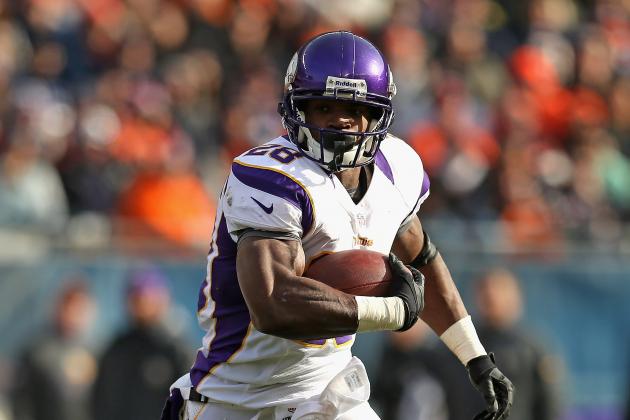 Jonathan Daniel/Getty Images
Adrian Peterson went off for 210 yards on 21 carries with a touchdown against Green Bay.
He's at it again. Hide your kids. Hide your wife. Everyone in his path is in danger.
Adrian Peterson finished this Week 13 contest with 210 yards rushing with a touchdown on 21 attempts (10 yards per carry).
Much like the Ponder storyline, week after week, it feels like we all should expect this. Peterson is a freak of nature, disproving many facts of the medical world.
He was explosive, electrifying, dashing and powerful throughout the day. He's the best running back in the game and possibly the best player.
He's worth the price of admission week after week, and the only knock on him this season has been his three fumbles.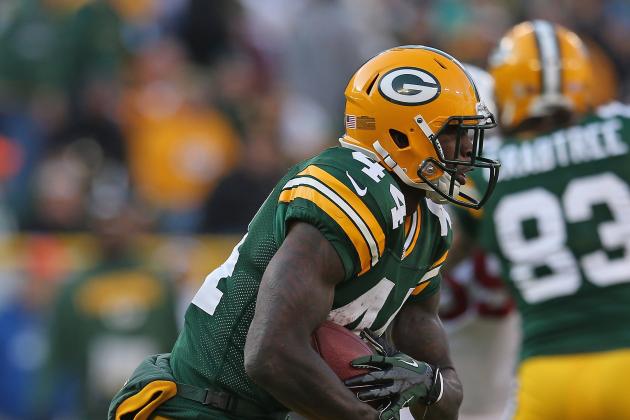 Jonathan Daniel/Getty Images
James Starks was part of a ground game that rushed for 152 yards against Minnesota.
It hit a new low for the Minnesota Vikings on Sunday when they couldn't even hold the lowly Green Bay Packer ground game to under 100 yards.
Led by James Starks' 66 yards, including a 22-yard TD scamper, the Packers rushed for 152 yards.
It was the sixth time in the past seven games that the Minnesota defense has allowed 113 yards or more on the ground. Over that stretch, the Vikings opposition averages 141.1 yards per game.
The Williams Wall is dead, and Jasper Brinkley isn't E.J. Henderson stuffing runs up the middle. Minnesota entered this game ranked 15th against the run (111.7 yards per game) and will fall further down the list after this performance.
Thankfully, for the defense's sake, the pass defense has improved this season. That unit ranked 13th entering this game, up from the 26th it was ranked last season.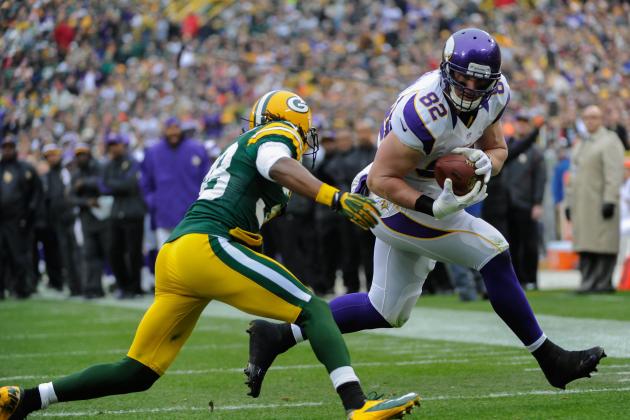 Benny Sieu-US PRESSWIRE
Kyle Rudolph caught six passes for 51 yards and a TD against Green Bay.
The resurgence of Kyle Rudolph has come at a phenomenal time for the Minnesota offense. With Percy Harvin out each of the past three games, Rudolph has become Christian Ponder's go-to target.
Rudolph caught six passes for 51 yards and a touchdown against Green Bay. It resulted in his eighth TD of the season and his 45th reception. He leads the team in touchdown receptions.
Without Harvin, not only has Rudolph become the go-to player in the vertical game, but the only one.
He struggled in the midseason, catching two passes over a three game stretch without a TD, but has picked his game up since.
His future in the NFL is very, very bright.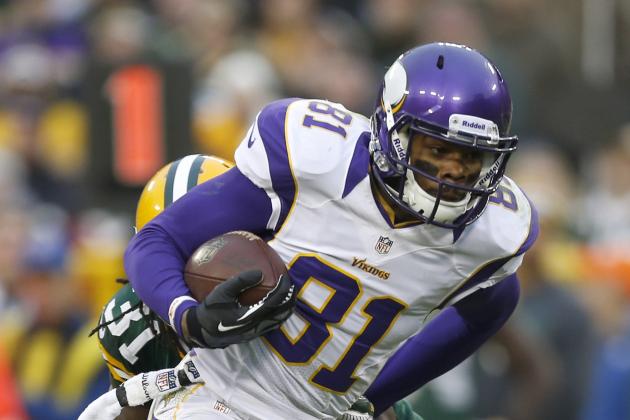 Wesley Hitt/Getty Images
Jerome Simpson was the only non-rookie wide receiver to catch a pass in Week 13.
If you weren't with me before, then you should definitely be with me now. Earlier this season, I wrote a piece stating the Minnesota Vikings needed to completely revamp their wide receiver corps this offseason.
Now, more than ever, that point is clear.
Percy Harvin has missed the past three games, and over that stretch, no wide receiver outside of Jarius Wright stepped up.
In Week 13, Jerome Simpson was the only wide receiver with a full year of NFL experience to make a reception. He caught two passes for 25 yards. Wright caught one pass for 13 yards. Michael Jenkins and Devin Aromashodu went without a reception.
The trio of Aromashodu, Jenkins and Simpson combined for three receptions and 18 yards against the Bears.
All three shouldn't be brought back for 2013.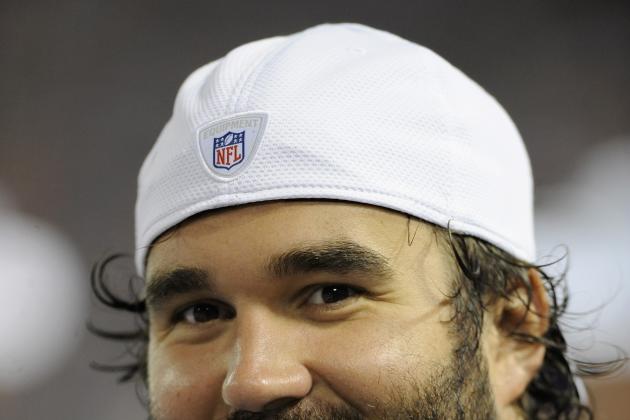 Hannah Foslien/Getty Images
Center John Sullivan and the offensive line didn't allow a Christian Ponder sack against the Green Bay Packers.
Entering this affair, the Minnesota Vikings had allowed the 12th-most sacks (27) in 11 games (2.7 per game).
That's an OK rate (43.2 sacks over 16 game season), but isn't ideal for a second-year quarterback continuing to struggle his way through his NFL career.
Against the Green Bay Packers on Sunday the Vikings allowed zero sacks and one quarterback hit. That's a good day's work.
Now, part of that was on Christian Ponder. He spent as little time as possible in the pocket today, which gave the defense fewer opportunities to record a sack. Also, the Packers were without their top pass-rusher in Clay Matthews. That helps out a lot.
The offensive line still had to do its job despite those characteristics when it was called upon, and it posted a shutout. Well-done.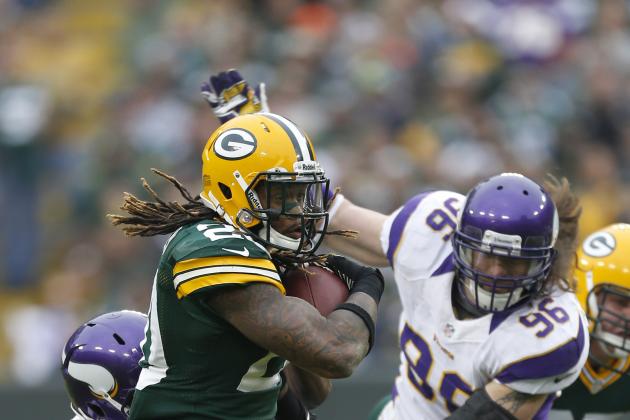 Wesley Hitt/Getty Images
Minnesota's defense allowed the Packers to convert on 9 of 16 third down attempts.
If the Vikings had done a better job slowing the Green Bay Packer offense on its third-down attempts, this game could have been a different story.
The biggest example of this was on Green Bay's final scoring drive, which ate up 11 minutes of the fourth quarter.
The Packers converted on four of five third-down attempts. Three of the conversions were on downs of five yards or more. The other, a 3rd-and-2, was a play in which the pass rush had Aaron Rodgers dead, but let him outside to convert with his legs.
Green Bay's offense finished the game 9-of-16 on third-down conversions, with six of those conversions coming on 3rd-and-5 or longer.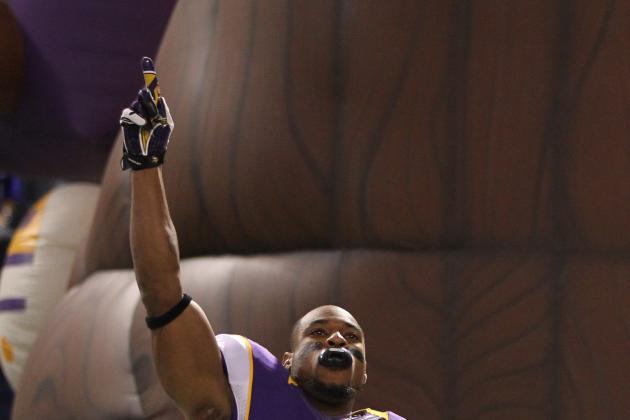 Brace Hemmelgarn-US PRESSWIRE
With the struggles of the wide receiver corps, Percy Harvin can use that as leverage to get a new contract.
It's been a tough three games for the Minnesota Vikings, and in that stretch, it's been a tough three games for the Minnesota receiving corps.
Outside of Kyle Rudolph and glimpses of Jarius Wright, the unit is filled with a bunch of players best suited to stand on the sidelines rather than participate in an NFL game.
While that hurts the Vikings on the field, it benefits Percy Harvin off of it.
Harvin claims his short-lived demand for a trade was based solely on concerns over his role in the offense. I buy that it was part of why he demanded a deal. I don't buy that it was the sole purpose. I think Harvin was upset with his contract too, but realized he would warrant a new one with the big season he expected to have.
Now that he's having a big season (62 receptions, 677 yards and three TDs in nine games) and the Vikings receivers are struggling, he'll be in a good position to get what he wants this offseason (whether it's a new contract or a new role on the team).