Adrian Peterson's Ranking Among NFL's Top 10 Running Backs Ever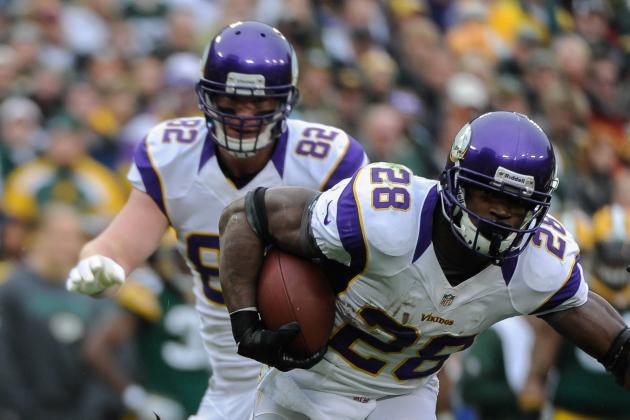 Benny Sieu-US PRESSWIRE

Adrian Peterson's epic 210-yard rushing performance against Green Bay today only solidifies his status among the NFL's top 10 greatest running backs ever.
But exactly where does the Minnesota Vikings' superstar rank at the moment? And does the future Hall of Famer have a chance to be the best running back to ever pick up a pigskin?
Begin Slideshow

»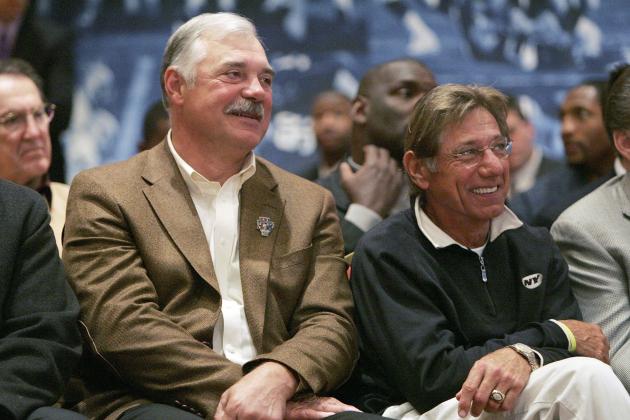 Andy Lyons/Getty Images
Larry Csonka hanging out with former AFC East rival Joe Willie Namath
Larry Csonka was physical as hell. The Dolphins fullback made the Redskins actually look like the "Over The Hill Gang" in Super Bowl VII. Zonk's encore performance against the "Purple People Eaters" was even more impressive.
Alan Page, Jim Marshall and Carl Eller were victims of Csonka's legendary 145-yard performance as Miami manhandled Minnesota in Super Bowl VIII.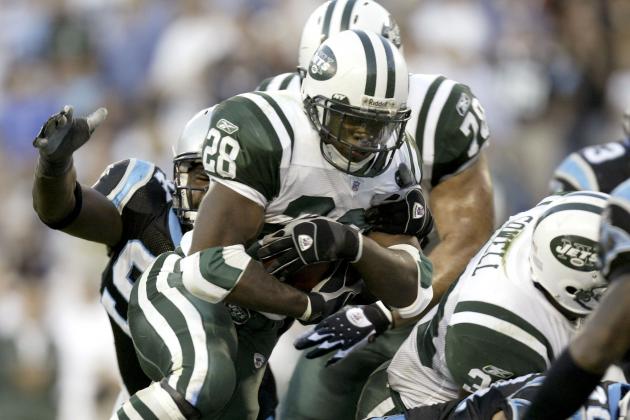 Craig Jones/Getty Images

Curtis Martin's 14,101 rushing yards ranks fourth all-time; his 10 straight 1,000-yard seasons to start a career tied Barry Sanders' NFL record.
It was a travesty Martin didn't make the Hall of Fame in his first year of eligibility. However, he was enshrined in Canton this past summer in his second chance.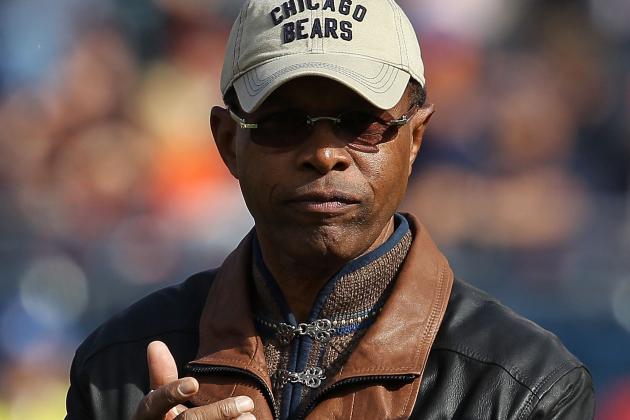 Jonathan Daniel/Getty Images

Gale Sayers' 4,956 career rushing yards doesn't even rank in the top 100 all-time. So how can Sayers be considered the eighth-greatest running back ever?
Basically, the Kansas Comet played only five pro seasons with the Chicago Bears; he scored 22 touchdowns including 14 rushing and six receiving in his 1965 rookie season.
Sayers finished with 56 total touchdowns in 68 career NFL games and averaged five yards per carry in his pro career, before a second knee injury ended his football days prematurely.
You can make a case that Terrell Davis' career was comparable, but Sayers was more dangerous and ahead of his time.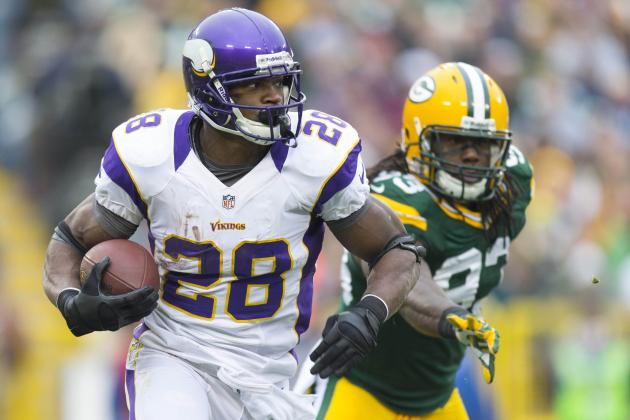 Jeff Hanisch-US PRESSWIRE

In his best game since his ACL surgery last December, Adrian Peterson rushed for 210 yards today while averaging 10 yards per carry. Minnesota still lost to Green Bay, but Peterson's legend grew even larger.
Peterson set an NFL record in 2007 by running for 296 yards in a single game against San Diego, surpassing Jamal Lewis' previous record by a single yard.
Adrian is now averaging five yards per carry for his career and a staggering 6.2 in 2012. With 1,446 rushing yards through 12 games, Peterson is also on pace to surpass his career-high of 1,760 yards in 2008.
Peterson's 210 yards today gives him a career total of 8,198 in less than six full seasons. By the time his career ends, I believe Adrian Peterson could be recognized as the second-greatest running back in NFL history.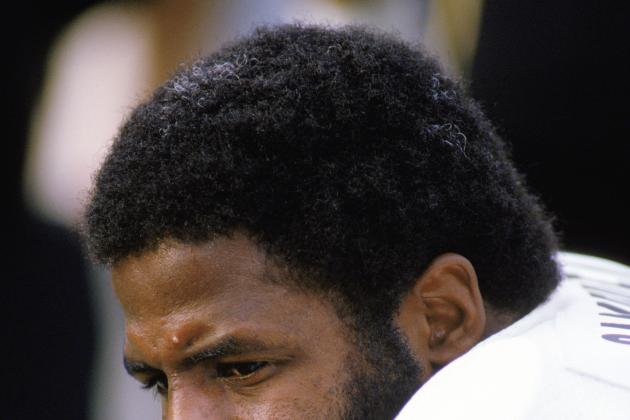 Rick Stewart/Getty Images

Earl Campbell was a one-man wrecking crew who dominated all defenses except Pittsburgh's famed Steel Curtain, and he gave them fits as well.
The Tyler Rose's punishing style caught up to him, limiting him to eight seasons and "only" 9,407 rushing yards.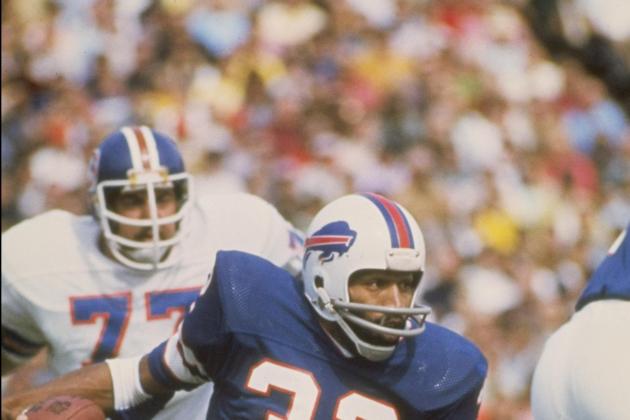 Getty Images/Getty Images

O.J. Simpson's 227 yards against Pittsburgh's Steel Curtain in 1975 was just another day at the office. In fact, Simpson ran for 200-plus yards six times and at least 250 yards twice, which are both NFL records.
The Juice's unprecedented 2000-yard season in 1973 came when the season was still only 14 games.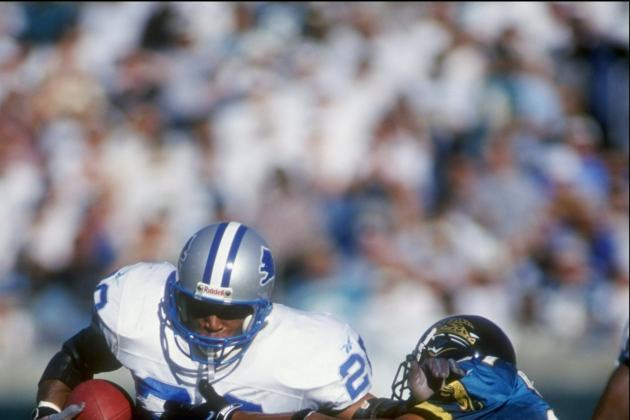 Scott Halleran/Getty Images

Barry Sanders was a whirling dervish like Sayers and he also averaged five yards a carry in his NFL career. Sanders played twice as long as Sayers and could have easily lasted a few more seasons.
As it was, Barry rushed for 15,269 yards behind consistently porous Lions offensive lines. So why doesn't the NFL's third all-time leading rusher rank higher on this list? Read on.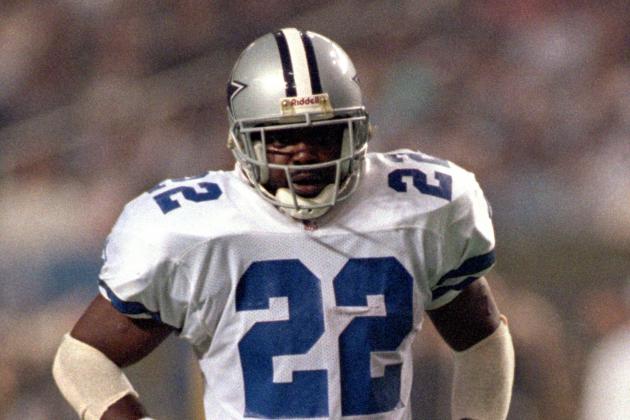 George Rose/Getty Images

Emmitt Smith was the unquestioned leader of three Super Bowl champion teams. If you don't agree, check out the 1993 classic (technically Jan. 2, 1994) when Emmitt gutted out 168 rushing yards and caught 10 passes in the critical season finale against the New York Giants. Most of those stats came after the Dallas Cowboys legend dislocated his shoulder.
The leading rusher of all-time (18,355 yards), Emmitt's prowess in short yardage and goal-line situations puts him ahead of Sanders in my book.
Jonathan Daniel/Getty Images

The late Walter Payton had an even better all-around game than Emmitt's. Most of Payton's offensive lines in Chicago were arguably even worse than Sanders' in Detroit, but Walter still ran for 16,726 yards (second all-time).
The nickname Sweetness hardly said it all. Payton was a bruising runner and blocker, who also excelled at catching and even throwing the football.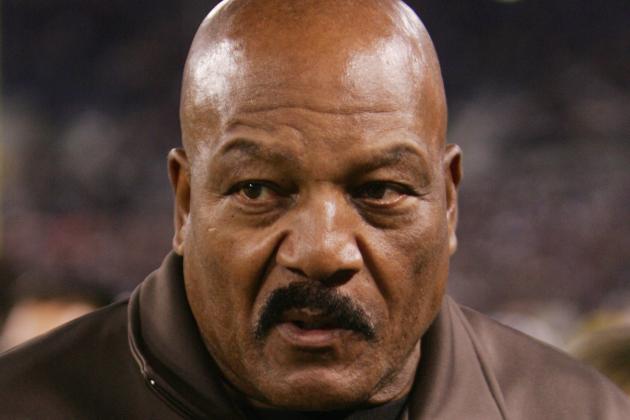 Doug Pensinger/Getty Images

Jim Brown's status as the all-time best running back is a no-brainer and probably always will be. To this day, Brown has been pushed as the most dominant NFL player ever at any position by only Jerry Rice.
In an era of 12-game seasons, Brown rushed for 12,312 yards from 1957-65 while averaging 104 yards per game and 5.2 yards per carry.
A devastating combination of power and speed made Brown an immortal in both football and lacrosse (if you go back to his Syracuse days). Brown led the Cleveland Browns to their last NFL championship in 1964. Following the next season, while still in his prime, Brown decided to retire from football and pursue an acting career.