UFC: How Does Junior Dos Santos Stack Up Compared to Past UFC Champions?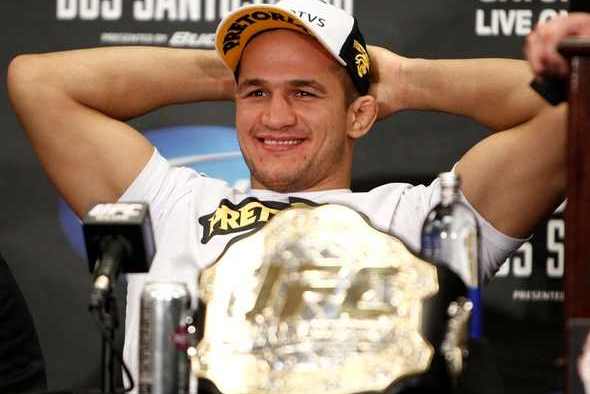 mmacarnivale.com
As Junior dos Santos looks to the future, he no doubt realizes the challenge ahead of him, personified in Cain Velasquez: a bulldog of a fighter with excellent grappling skills, seemingly limitless cardio and heavy hands.
Granted, the champ KO'd Velasquez early in their last bout, and while a decisive finish is always good, it is rarely the grounds for making a sound game plan for a rematch, save for the plan of landing heavy and landing early.
The second go-round, things are likely to be much tougher for both men.
Still, you have to hope that dos Santos is really taking things seriously. It's not just that he's fighting a monster in Velasquez, but it's also that he's been talking in the press about how much he'd like to fight one of the Klitschko brothers in a boxing contest, confident he would knock them out.
Hopefully, that's just the talk of a focused champion who is confident in his skills, instead of the talk of a champion who is indulging in hubris, taking too many things for granted.
Because let's be honest, when talking about the UFC heavyweight title, there have been a lot of great champions to hold that belt, and none of them—not a single one—have been able to defend the belt more than twice before having it ripped from around their waist.
Still, at first glance, dos Santos looks like he can succeed where so many others have failed. But then when we consider his predecessors, we see that he is not the first one to look "unbeatable" in the division, only to have it all taken away.
So let's take a closer look at Junior dos Santos and the other UFC heavyweight champions that have come before him and see how he stacks up as he tries to march forward to become the greatest in the divisions history.
Begin Slideshow

»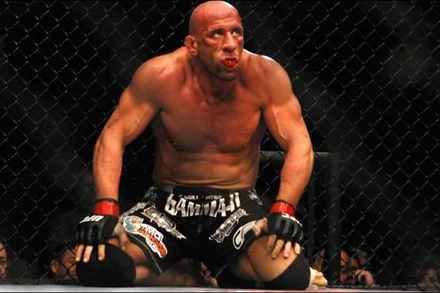 mmamania.com
When it comes to power and sheer aggression, Coleman was perhaps the most aggressive and powerful fighter of his time.
Although he wouldn't really develop much of a striking game until he defected to Pride, during his time as champ in the UFC, he was a wrecking machine that loved to be in the cage.
As it turns out, Coleman lost his hold on the belt because he never dreamed that there was a man alive who could withstand his assault once he got them down. Then, Maurice Smith came into the picture and blew that notion out of the water, surviving on the ground under Coleman's furious onslaught, making it back to his feet and then battering the champion with punches and leg kicks until by the end, he was nothing but a weary, bruised punching bag.
So, how does he rate compared to dos Santos?
It is hard to say, as times were different back then. Had the same Coleman emerged in the sport as it stands today, he could have been a vastly better fighter.
Still, it seems that dos Santos is better. He has fought many types of fighters and found a way to defeat them all, looking much like a heavyweight version of Chuck Liddell along the way, which is never a bad thing.
Coleman was a straightforward fighter that kept it simple: take them to the ground and pound them out. In that way, he and dos Santos are a lot alike in that the reigning champion also keeps it simple: stuff those takedowns and blast them out standing.
But odds are that eventually dos Santos will learn the same thing Coleman did: Sooner or later, you face a fighter who can put you into positions you don't want to be in. That is what saw him lose his belt way back when, and in truth, it's basically the same thing that has happened to every heavyweight champion since.
As we haven't seen anyone put dos Santos in such a position, we don't know how he will handle it, and we can't just assume he will shine in those bad spots just because he's got great training partners.
But if Velasquez has learned anything since their last fight, we might find out in the rematch.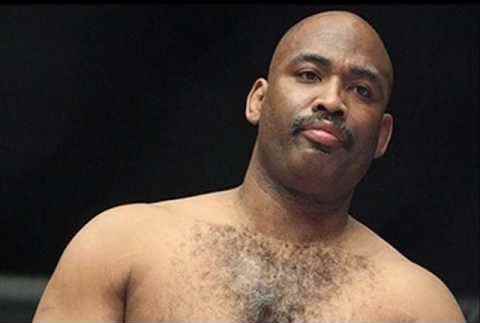 mmastreamed.com
This one is interesting.
Maurice Smith and Junior dos Santos are a lot alike in that they are strikers at heart with serious hands and a love for the stand-up.
We can't really know who is better on the ground, as again, we've never seen dos Santos have to deal with any kind of serious adversity from his back. He could be great from there or he could fold like a lawn chair; we just don't know.
But we've seen both of them stand up, quite a bit in fact, and in this area, they are both close to equal.
Smith had the better technique, hands down, where I think dos Santos has more power that Smith did. They seem equal in terms of speed, and while Smith was more of a ring technician, dos Santos is more of a brawler.
Were these two greats to meet in a striking contest, it would be great, and very close.
Still, this is MMA, and overall, based on what we know thus far, I give a slight advantage to dos Santos—a slight advantage. In a striking contest.
As UFC heavyweight champions, a defense against Frank Mir means more than a defense against Tank Abbott.
Sorry, Tank.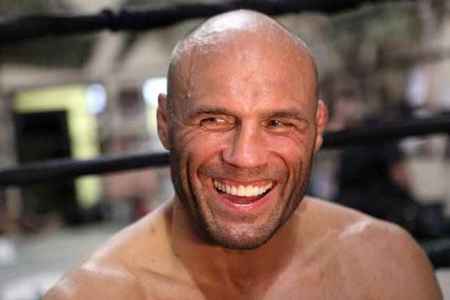 lasvegassun.com
When it comes to all the champions on this list, only two of them have had the stuff to become two-time UFC heavyweight champions: Tim Sylvia and Randy Couture.
When it comes to three-time champions, there is only one.
Trying to compare Couture and dos Santos is both easy and hard. They are both tenacious fighters who love every aspect about fighting, and they are both accomplished.
But where it begins to get difficult is in comparing their mindsets and mentalities.
Yes, there is the physical side, which basically boils down to the fact that Couture was the better grappler (especially for MMA, as his above-average stand-up helped set up takedowns), whereas dos Santos is the better stand-up fighter.
But then you start to look at things a little bit deeper, and it becomes clear that when it comes to making a game plan, none were better than "The Natural."
Couture lost the belt during his second reign to a much larger, heavier Josh Barnett and then lost his next fight (another bid for the title after Barnett was stripped) to Ricco Rodriguez for much the same reason.
Then, he spent some time at light heavyweight and then came back to the heavyweight division and started beating up guys who were bigger than the men that drove him from the division in the first place.
Simply put, Couture never stopped evolving, and he had a mind for the sport unlike anyone else.
Still, even though Couture has all of these points firmly in his back pocket, dos Santos has proven that he still has the style and skills to stop opponents much larger than himself.
In all honesty, dos Santos really does have what might be the winning ticket, as long as his ground game is as good as one would think it should be if he spends anytime around the Nogueira brothers.
Thus far, I think dos Santos stacks up about equally to Couture, with a high chance of surpassing him if he stays dedicated and stops daydreaming about a career in boxing.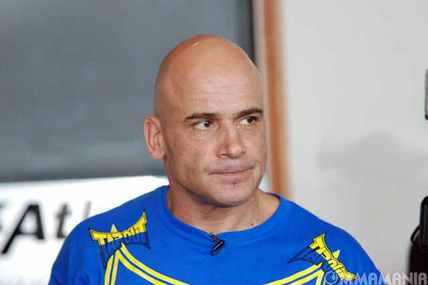 mmamania.com
It's hard to believe that Bas Rutten was fighting Kevin Randleman for the heavyweight crown over 10 years ago, because in many ways, it seems like it was just yesterday.
Rutten, like many others on this list, won the title, but never defended it. He chose to give up the belt so his friend and training partner, Pedro Rizzo, could go after the title and have a career as a champion.
What he didn't know was that Rizzo would try for the belt three times and be defeated three times, but that is a different story for a different day.
As a striker, Rutten is every bit as fearsome as dos Santos, hands down. I am not saying Rutten was a better striker, but I'm not saying dos Santos was superior either.
Perhaps the difference between the two is that Rutten was a little more clinical in his attacks, a little…colder. God, how he loved to hurt a fighter to the body.
Dos Santos, on the other hand, is more of a berserker, but everyone who enjoys the striking aspect of MMA appreciates both the tactician and the brawler.
But as a UFC champion, dos Santos leads Rutten 1 to 0.
kevinrandleman.com
Randleman is one of those rare fighters who seemed so aggressive and formidable that they looked like they could dominate their division through sheer force of will alone.
When coupled with high athleticism, a willingness to receive hurt in order to give it and a passion to win, it seems like all the ingredients are there for a long title reign, perhaps rivaling even that or Bernard Hopkins.
But Hopkins was dedicated to the basics of his sport while always trying to improve, and that seems the difference. Randleman has always looked like a fighter that only lived up to half of his potential.
As a UFC champion, he was a good one, for as long as he lasted. His lone title defense saw him rebuff Pedro Rizzo in resounding fashion, only to then be dethroned by Randy Couture.
Still, there are similarities between Randleman and dos Santos, namely that they both looked basically unstoppable after their first title defense. Then, you have their ferocity and their athleticism.
Here's to hoping we get to see dos Santos not only put on his back, but fight well from there, because when we have that question answered, we will know quite quickly if he's better as a UFC champion than Randleman was, or not.
This is pretty equal, as Rizzo was in his own way more dangerous to Randleman than Mir was to dos Santos. If dos Santos can defeat Velasquez a second time, he stands above Randleman.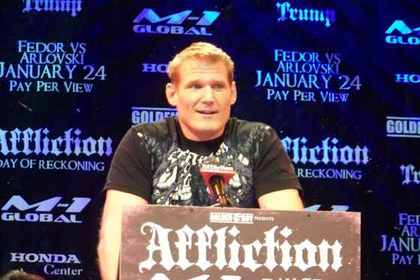 urdirt.com
While being one of the most well-rounded fighters in the history of the sport for the heavyweight division, Josh Barnett didn't make much of an impact in the UFC.
He defeated Randy Couture, which is no small thing, but he was dominated by "The Natural" in the first round, and his size may or may not have contributed significantly to his capturing the title.
Then, he failed a drug test and was stripped of the belt and has not fought in the UFC since that time.
It's hard not to look at a fighter as accomplished as Barnett and want to include their accomplishments outside of the UFC, but that is not what this is about. This is about the UFC title and if dos Santos has what it takes to outdistance his peers, and when considering the case of Barnett, he already has.
Barnett never defended the belt while dos Santos has, but just once.
Still, if dos Santos hopes to keep that belt around his waist for years to come, it wouldn't be a bad thing for him to look at the dedication Barnett placed at being as well-rounded as he could. Barnett was an unpredictable fighter for most of his career for that reason alone, and in MMA, unpredictable is good.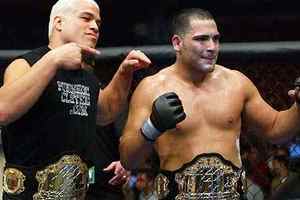 urdirt.com
Much like Josh Barnett, Ricco Rodriguez never made a successful defense of the belt after defeating Randy Couture in a come-from-behind stoppage in the final round of their bout at UFC 39.
When Rodriguez was climbing the ladder, he was terribly impressive. He was well-rounded, aggressive, highly-skilled (he trained BJJ under JJ Machado, which speaks volumes) and had a high level of cardio, even though his belly didn't look it.
He spent a lot of time putting in all the hard work needed to go from being an overweight man to a serious MMA champion, and he really deserved every accolade that was handed to him—except none were handed to him, so he took them in the best way possible: in the cage.
Then came the KO loss to Tim Sylvia, and from there, the career of Rodriguez went downhill rather quickly.
I don't honestly know if dos Santos is as overall well-rounded as Rodriguez was (for his time), but he is exceptional enough in his striking and takedown defense that it seems safe for me to say that he stacks up higher.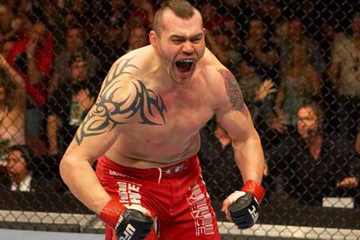 sportsnet.ca
Now, before everyone starts throwing popcorn bags and rotten produce at the stage, I want to say that when it comes to having passion for the heavyweight belt, I don't think anyone had more of it than Tim Sylvia.
This is important to note, because while dos Santos may be toying with the idea of trying to get a boxing match against one of the Klitschko brothers (doesn't matter which one, as either one of them would knock him out with ease), Sylvia was only about one thing: the UFC belt.
He was so passionate about it that he won it twice, and during his second reign, he racked up two title defenses.
Sylvia's biggest advantages were his desire, his reach, his knockout power and his training camp, MFS. When a fighter has those four going for him, he can accomplish a great deal, and were it not for losing to Randy Couture (and I think we can say Sylvia lost because he didn't take Randy seriously, and stylistically, Couture was a very bad matchup for him), Sylvia would have probably defended the belt at least three times, which would have, in turn, made him the most successful UFC heavyweight champion in history.
While I think dos Santos is a better fighter, I don't know how he stacks up as a champion when compared to Sylvia. I am tossing out Sylvia's first reign, as he tested positive for banned substances, but his second reign saw him defend the title twice. Granted, the competition wasn't as good compared to Frank Mir and Cain Velasquez (if dos Santos defeats Velasquez a second time), it still ties the record held by Couture and Lesnar.
Right now, I say they stack up about equally based on accomplishments defending the crown, but if dos Santos beats Velasquez, he gets the nod.
And if Velasquez wins, Sylvia is ranked above him.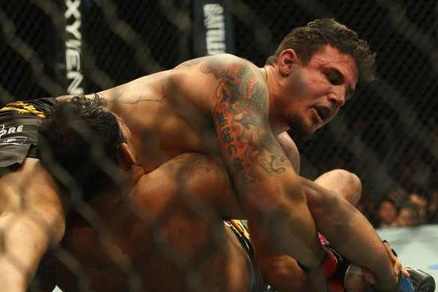 ufcgaming.com
Frank Mir could have been one of the most dominant champions the company had ever seen had it not been for that nasty motorcycle wreck.
In truth, the only time Mir was the legitimate heavyweight champion was when he defeated Tim Sylvia way back when at UFC 48.
Then, he won the interim belt by defeating Big Nog, only to then lose his chance at unifying the titles when Brock Lesnar crushed him at UFC 100.
So, how does dos Santos stack up to Mir as a UFC heavyweight champion?
Well, he has already surpassed him by defeating Mir by KO and earning his first title defense, so he is clearly above him in the standings.
Some say a younger Mir would have done better, but again, styles make fights, and I don't think a younger Mir would have had any more success at getting dos Santos to the mat.
Overall, I think dos Santos clearly ranks above Mir.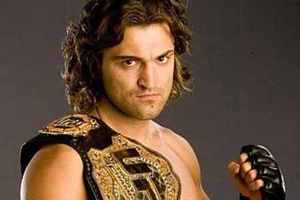 fightinginsider.com
Dana White often laughs at this chapter in the company's history, saying it was the time when the UFC's heavyweight division was the weakest.
But when was it ever the strongest?
For as long as Pride FC was around, the UFC's heavyweight division was always second-best.
Either way, Andrei Arlovski was at first an interim champion that was then the legitimate champion (as Mir took longer and longer to come back, the interim title became the real title), and he defended his title impressively, but against competition that was well below the bar.
Truth be told, the division was weak back then, and the proof is in the two men Arlovski defeated to defend the belt: Justin Eilers and Paul Buentello.
Thus far, it is clear that dos Santos, while only having one title defense, still ranks higher than Arlovski based on quality of opposition alone.
On a side note: Arlovski can say he knocked out Roy Nelson, whereas dos Santos could not. The small comforts we take pleasure in…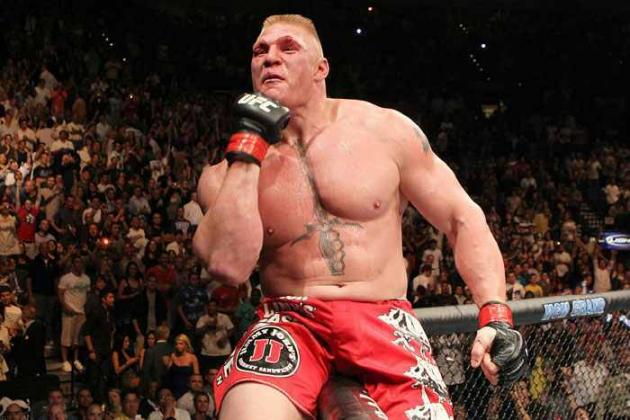 ufc.com
When speaking of champions that ruled with brute strength and ferocity, there is perhaps none that rival Brock Lesnar.
He mauled his way to the title, defended it the first time while getting sweet revenge against Frank Mir and then things began to get tough…
He took a nasty beating in the first sound of his second title defense, against Shane Carwin, but came back in the second to win by submission.
Then he was felled brutally by Cain Velasquez, and we know the rest of the story from there.
Still, he managed to defend the title twice, and unless dos Santos can defeat Velasquez and notch his second title defense, Lesnar will be ranked ahead of him in status as UFC heavyweight champion based on successful title defenses alone, which is what this is all about.
The career of Lesnar mirrors that of dos Santos. Both men were thought to be basically unbeatable, and while Lesnar and his fans learned this to be false (and it always is), dos Santos is still in that area where nearly everyone sees him to be so good that he will reign for years to come.
Perhaps dos Santos has the skills to prove his followers true, but until he defends the title successfully twice, we simply don't know.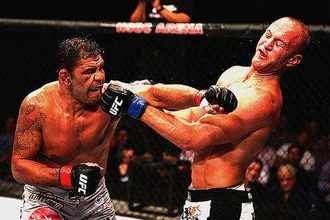 tumblr.com
Perhaps one of the most skilled and well-rounded fighters to ever hold a UFC belt (even if it was interim), Antonio Rodrigo Nogueira could have been a great heavyweight champion for the company if he had gotten there just a bit sooner.
But after countless wars and wear and tear on his body, his time in the UFC came just as Father Time was moving in next door.
As a fighter, I honestly think the man known as "Big Nog" is at least the equal of his student, dos Santos.
But dos Santos is in his prime and is the legitimate UFC champ, with a title defense in his belt over the man to beat Nogueira twice, and history will remember the student as greater than his teacher when looking at the UFC heavyweight champions list.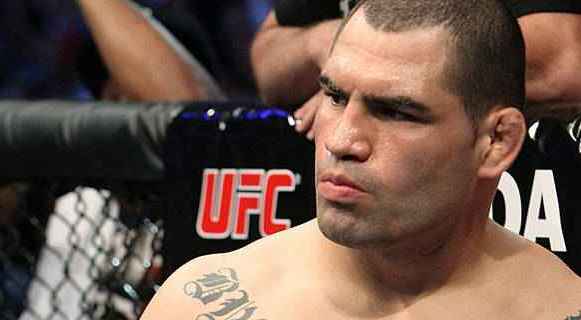 msn.foxsports.com
Speaking of men who looked unstoppable…
After Cain Velasquez handed Brock Lesnar his derrière on a silver platter and took the belt home with him as the only fighter of Hispanic decent to ever win a heavyweight title in any combative sport, the word was out that Velasquez was simply too much for anyone, and most fully expected him to take dos Santos down early and often and from there, pound him out on his way to greatness.
Then dos Santos landed that heavy punch, Velasquez went down, dos Santos swarmed and AKA saw their man dethroned before he could ever mount an offense, yet alone defend the belt a single time.
Velasquez has a chance to start over, much like GSP did when he fought Matt Serra a second time, and should he succeed and reclaim the belt, dos Santos will still rank above him, for the time being, as the more accomplished champion, once again, thanks to one title defense. After all, one is 100 percent better than none.
Should dos Santos win, Velasquez falls way down the ladder, which is shocking to consider since it was just a little over 18 months ago that he seemed to be the man in the division.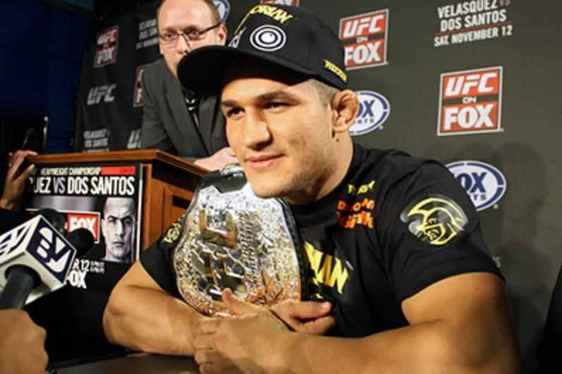 mma-core.com
The UFC heavyweight title has always seemed to be a bit of a puzzle for all those who claimed it. Many took it by storm, but how to hang on to it? That seems to have always been the real problem.
Junior dos Santos looks like he is poised to do what no one else before him has ever accomplished: three title defenses, or more.
He needs to stay utterly focused and ever improving if he hopes to accomplish this. He's got the tools to do so, but he can't fall prey to hubris or resting on his laurels; if he does, he will be dethroned.
It's always somewhat amusing to see just how many people come out of the woodwork when a fighter comes along that claims the title, screaming that he's the best ever in his division. Such is the case with dos Santos, and this is nothing new.
But until he defends the belt three times in a row (a feat I do feel he can do), perhaps they would be better served by saving their breath. They will need it to claim he was never that good should he falter as all other who have come before him.
**NOTE: Shane Carwin was not represented simply because his case was the same as many others who never defended the belt a single time and because he lost so resoundingly to dos Santos in their bout.