Cardinals vs. Jets: Final Report Card, Player Grades for New York Jets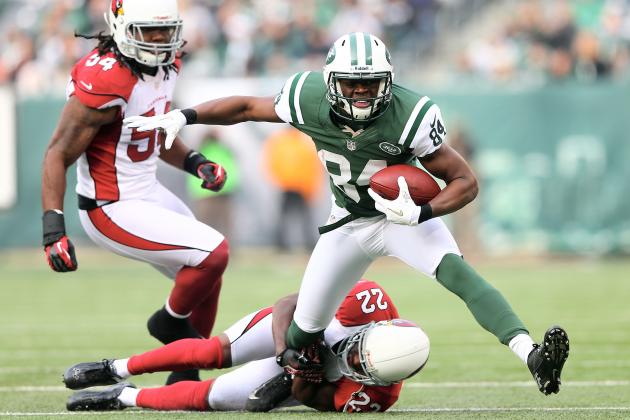 Elsa/Getty Images

Where do you even start with this game?
The New York Jets beat the Arizona Cardinals 7-6, so that's the most important thing.
However, the story of the week will be the situation at quarterback.
By now, you should know that Greg McElroy came in for a putrid Mark Sanchez and led the Jets to a come-from-behind win. In one of the most misleading stats in the NFL, it will actually go down as a "fourth-quarter comeback" for McElroy.
So now there is the question as to who will start next week at quarterback.
Fans may actually form an angry mob and show up at Rex Ryan's house if Sanchez is named the starter, but it's not that simple to give the reigns to McElroy.
The Jets still have a fighting chance here and they aren't going to win four games in a row using the game plan they had to use with McElroy.
But then again, how can Sanchez be given his starting job back after playing even more carelessly today than he had in his previous games.
Ryan made the right choice today, but it will be a tough call going forward from here.
That's something to consider as the Jets get back to work this week.
On the other side of the ball, the Jets defense didn't allow a touchdown all game and the Cardinals mustered just 134 yards of offense
While it is true that Ryan Lindley isn't a legitimate NFL quarterback, he did throw for over 300 yards last week. Give the Jets defense credit for doing what they needed to do.
There's a lot to digest right now, so let's get started with the individual grades.
Begin Slideshow

»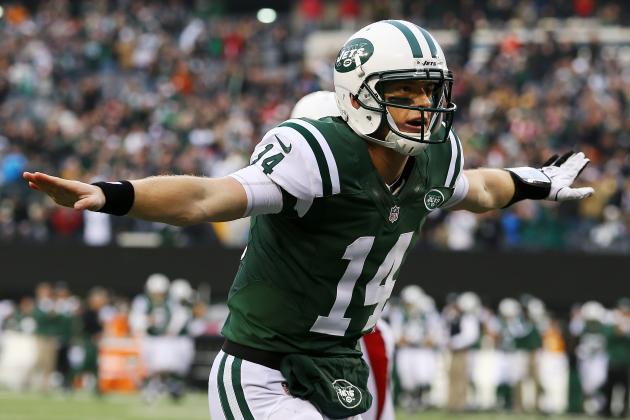 Al Bello/Getty Images

Mark Sanchez: F+
Sanchez was completely careless with the ball once again and this time it earned him a spot on the bench. Sanchez threw three interceptions and the only reason it wasn't four was because William Gay dropped another one right in his hands.
Sanchez was 10-of-21 for 97 yards and three interceptions.
We'll tack a "+" on his F for handling himself well in the postgame press conference.
Greg McElroy: A-
McElroy didn't have a dramatic offensive game by any means, but he showed enough poise to manage the team to the 7-6 win. McElroy completed a number of safe passes to keep two drives moving well and finished 5-of-7 for 29 yards and a touchdown.
McElroy showed the patience of a veteran on his touchdown pass to Jeff Cumberland. He rolled right and despite the fact that Cumberland was wide open from the start, he let the play continue to develop and made the simple pass on time.
McElroy took two shots downfield and missed on both of them. One other side note, you can bet that Rex Ryan will have some words with him about sliding to avoid contact.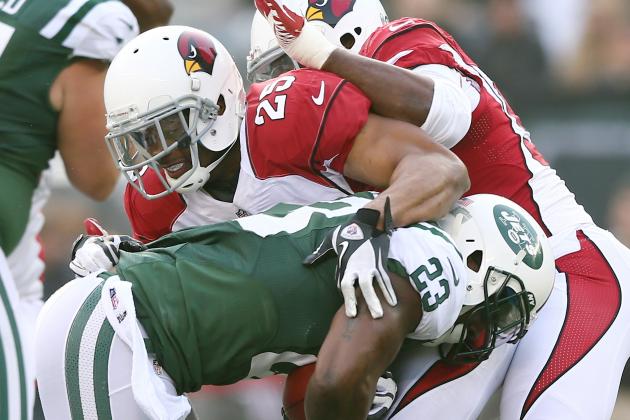 Elsa/Getty Images

Shonn Greene: B
Greene ran his best when the game was on the line. He finished with 24 carries for 104 yards, including 45 on the final drive. Early in the game though, Greene was slow and didn't show any kind of burst against a poor run defense.
Bilal Powell: A-
Powell ran extremely well early and had an overall strong game. Powell started the game in the backfield and was the Jets' most consistent back all day. This is two good games in a row for Powell, who ran for 58 yards on 12 carries for a 4.8 yard average.
The only thing keeping Greene ahead of Powell is that he remains trustworthy when taking care of the ball.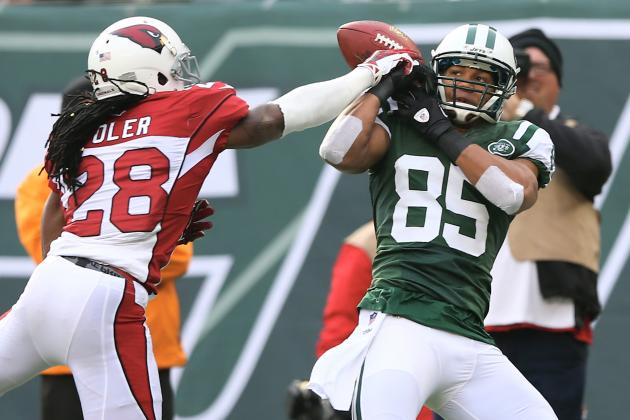 Elsa/Getty Images

Chaz Schilens: F
Schilens had two chances to make huge plays in this game and didn't come down with either. While both balls were slightly underthrown, a good NFL receiver would have at least made one of those plays, if not both.
In the first quarter, Schilens dropped a deep ball that bounced off his back shoulder. Later in the half, he bobbled another deep ball, allowing Patrick Peterson to make an acrobatic interception.
Scihlens also had a mindless false start penalty with 4:14 left to play that pushed the Jets further away from field-goal position while they were trying to seal the victory.
Stephen Hill: B+
Hill had a solid game, catching every catchable ball thrown to him. He finished with five catches for 40 yards. He also drew a key penalty to help the Jets convert a 3rd-and-3 on their final drive.
Jeremy Kerley: B-
Kerley didn't have a highly productive game, but he did come up with a great clutch grab for 13 yards against Patrick Peterson on a 3rd-and-9 on the game's final drive. Kerley finished with three catches for 37 yards.
Kerley did have one bad drop early.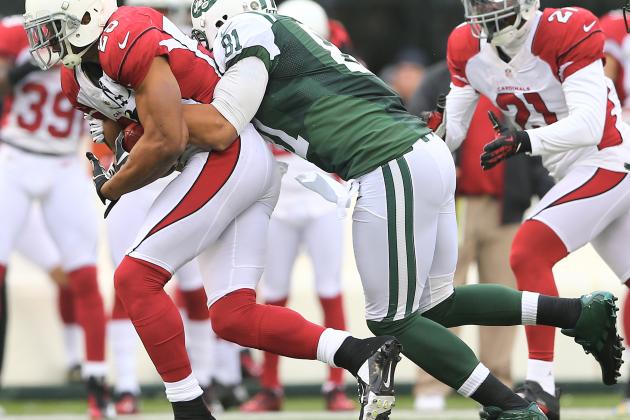 Elsa/Getty Images

Dustin Keller: B
Before he got hurt, Keller caught two passes for 17 yards. He made a nice play to extend the ball beyond the first-down marker as he was falling out of bounds for a conversion. Keller injured a knee on the play and did not return.
Jeff Cumberland: A-
Cumberland caught the only touchdown by either team in the game, a simple one-yard toss from Greg McElroy. He also caught a 24-yard pass early from Mark Sanchez. Cumberland did blow a blocking assignment in the second half that allowed a sack of Sanchez.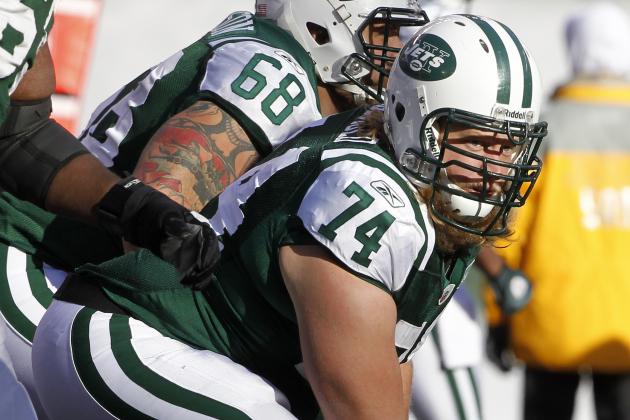 Rich Schultz/Getty Images

D'Brickashaw Ferguson and Matt Slauson: A
The left side of the line did a stellar job as the Jets clearly felt they had mismatches there. In a shift of what they usually do, the Jets ran more to the left side today and it worked well. They also played penalty-free football and provided good pass protection against a strong pass-rushing team.
The left side of the line allowed one sack early when Sanchez held on to the ball too long.
Nick Mangold: A
Mangold was fine once again today. He kept the middle of the line clear and was his usual self.
Brandon Moore and Austin Howard: B-
Moore and Howard were also fine. They allowed more pressure than the left side and the team also went away from them in the running game. They did decent enough, but not as good as the left side.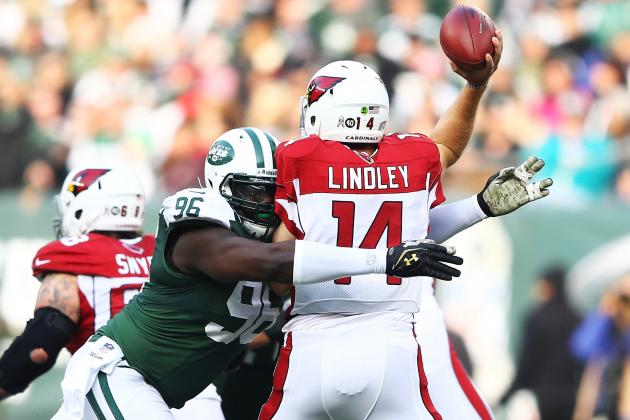 Al Bello/Getty Images

Muhammad Wilkerson: A+
Wilkerson continues to be a man among boys and you'd hope his play this year results in Pro Bowl recognition. Wilkerson didn't have the tackle numbers he usually does, but did have two impact plays. On 2nd-and-2 from the 18-yard line, Wilkerson stuffed Beanie Wells at the line of scrimmage. It was a key play in helping the Jets force a turnover on downs.
Later, Wilkerson sacked Ryan Lindley with 8:31 left in the game to force a punt on what would be the Cardinals' final offensive play of the game.
He finished with three assisted tackles and two quarterback hits.
Mike Devito: C-
DeVito was quiet with just one assisted tackle on the game.
Sione Pouha: B
Pouha was a little more active today than he had been recently. He had three total tackles and helped bottle up the Cardinals running game.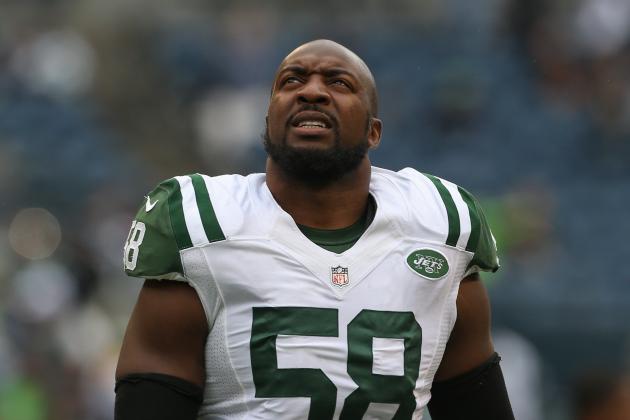 Otto Greule Jr/Getty Images

David Harris: B+
Harris had three assisted tackles, three solo tackles and a half of a sack. Harris was expected to have a good game against a team that doesn't feature much speed or a dangerous tight end. It's the teams with quick backs and tight ends who are dangerous in the passing game that give him problems.
Bart Scott: A-
Scott was part of an active defense and was a threat all game long. He had a half of a sack on two different occasions and played with a passion that was expected of him since he got here. As with Harris, these are the types of teams Scott can shine against.
Calvin Pace: B-
Pace didn't have any impact plays, but did contribute three total tackles.
Bryan Thomas: A-
Thomas had one of the key early plays in the game when he dropped Beanie Wells for a loss of one yard on 4th-and-1 from the Jets 17-yard line. It was the best scoring chance the Cardinals had all game. Thomas finished with four total tackles, including one for a loss of six yards.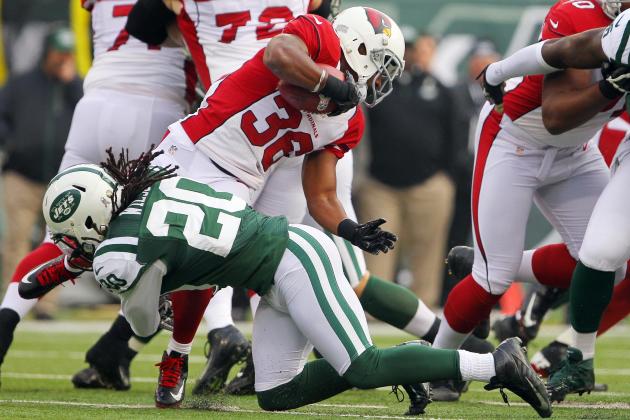 Ed Mulholland-US PRESSWIRE

Antonio Cromartie: A
Cromartie gave up an early 23-yard reception to Larry Fitzgerald but then shut down the All-Pro receiver the rest of the game. It's true that having Ryan Lindley at quarterback helped keep Fitzgerald's stats down, but holding a possible future Hall of Fame receiver to one catch is impressive no matter who is at quarterback.
Kyle Wilson: B-
Wilson led the team with six total tackles, including five solos. He had an early penalty that would have hurt against a more competent team.
LaRon Landry: A
It was a quiet game for all the Jets safeties as Lindley couldn't complete anything in the middle of the field. Landry came up with an interception when he undercut both Cardinals receiver Michael Floyd and Jets defensive back Donnie Fletcher.
Although the Jets didn't do anything with the turnover, it did stop any momentum the Cardinals had after intercepting Mark Sanchez two plays before.
Yeremiah Bell: B-
Bell had just one assisted tackle in a quiet day for him.
Ellis Lankster: B
Like the other cornerbacks, Lankster had a rocking-chair game as Lindley's passes weren't anywhere near his targets. He had three total tackles.
Elsa/Getty Images

Nick Folk: F
Folk missed both of his field-goal chances and in a close game like this, that could have been a killer. The field-goal attempts were from 46 and 52 yards, so they were tough. But he is paid to make those.
Robert Malone: B+
Malone had six punts for a 43.8 average and two punts inside the 20. His best punt was a 60-yarder that Patrick Peterson inexplicably caught on the goal line and tried to return. He had a 40-yard dud to bring his average down.
Demario Davis: F
Davis had the outside containment on the fake punt and blew it. What he was doing crashing down into the line, we'll never know.
Kyle Wilson: A
Wilson made a tremendously athletic play to make sure the fake punt stayed just a 40-yard gain and didn't go all the way to the end zone. He initially forced Rashad Johnson inside, showed patience to contain him and then made the tackle. Nick Bellore and Jeremy Kerley were also pursuing him, but it was Wilson who made the right play there.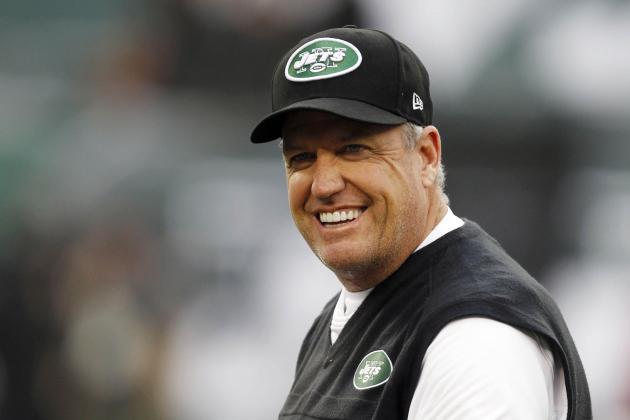 The Star-Ledger-US PRESSWIRE

Rex Ryan: A
With the fans ready to revolt and Mark Sanchez flinging the ball all over the field without a care in the world, Ryan needed to do something drastic. He did so with 4:48 left in the third quarter when he turned to Greg McElroy.
It's easy for fans to sit there and say it was an obvious move to make, but in truth it really wasn't. If the move backfires, it ruins the psyche of Mark Sanchez, puts the final nail in the coffin of this season and puts doubt in the mind of McElroy.
Ryan also knew full well the debate this will all spark and disregarded that. Basically, he risked everything, including his own job, to try to spark the football team to a win; and it worked.
Ryan also handled himself in the postgame situation very well. He chided his team for the turnovers (which was a shot at Sanchez) but then didn't jump to any proclamations in his press conference.
He was also seen consoling Sanchez after the game.
While the Jets ultimately won the game and fans are already making a big push for McElroy to start, it's just not that easy.
McElroy was given the most vanilla offense possible to work with and did what was asked of him. However, the Jets aren't going to go out and win their final four games playing like that.
Whatever Ryan does from here on out will be a huge gamble.
Just know that Ryan has the guts to make these decisions and deal with the consequences they bring, and not every coach would be willing to do so.
Tony Sparano: D
Why in the world Sparano would come out with an aggressive passing game plan is beyond me. The Cardinals have one of the bast pass defenses in the league, have done well sacking the quarterback and haven't stopped the run all year. If Sparano used the game plan he used with McElroy right from the start, this controversy likely wouldn't have been upon us.
The only thing keeping him from an F was the way he handled McElroy. Sparano gave him simple throws to make and kept the ball out of the middle of the field. He also fed Greene the ball consistently on the last drive, which he should have been doing from the start.
Note: There is some debate as to who was responsible for having Khalil Bell in the game at that crucial point. Quality control coaches usually monitor a "next man up" system when it comes to the depth chart, so that could very well have been the situation as Joe McKnight was out with an injury. But Ryan or Sparano could have stepped in and put Powell in that spot.
Either way, whoever was responsible for that decision gets an F on that one move.