Pac-12 Football: Power Ranking the Top 10 Plays of 2012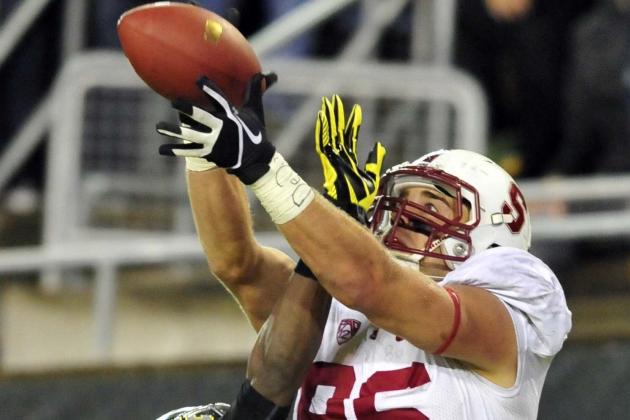 Steve Dykes/Getty Images

It's been a crazy season for Pac-12 football, and there's been a bounty of huge plays on the season. From electric punt returns to game changing defensive plays, the conference has been a constant highlight reel.
This was a hard task to undertake, because it really has been a huge year for the Pac-12. How does one sift through all the Kenjon Barner touchdowns? Or all the Reggie Dunn kickoff returns?
Here's my ranking of the top 10 Pac-12 plays this season.
Begin Slideshow

»
With a huge Pac-12 upset on the line, Stanford needed some magic on this fourth quarter drive. No wonder Kevin Hogan looked to his No. 1 guy Zach Ertz.
Dropping back, Hogan floats one up to the corner of the endzone. As Ertz goes vertical he barely beats the Oregon receiver to the ball.
Originally called an incompletion, the touchdown was later reviewed and ruled a touchdown.
The score would tie the game 14-14, setting up the inevitable 17-14 Stanford win in overtime.
Ka'Deem Carey has had a huge season, but his biggest game came against Colorado.
Carey set two single game rushing records, one for Arizona and one for the Pac-12.
Carey finished his game with 366 yards and five touchdowns. He averaged a ridiculous 14.6 yards per carry.
The video highlights some of Carey's biggest plays from that game.
" };

Terron Ward didn't have an amazing season, but he did have two big games for Oregon State. One of those was against Cal, when he rushed for 128 yards and two touchdowns.

One of those touchdowns came on this ridiculous 47 yard run.

Ward bursts into oncoming traffic, getting caught up between both lines. Somehow he emerges, shaking off two more Cal defenders before hitting open ground and the endzone.

By far some of the toughest running I've ever seen.

Skip to the 1:07 mark for the play.
" };

Arizona State's defensive line has caused havoc in the Pac-12 all season, and this is one of their best highlights.

With Oregon State pinned back deep in their own territory, Beaver QB Cody Vaz drops back looking for a long first down.

Sun Devil lineman Will Sutton breaks through the Beaver's o-line. With a big hit, he forces the ball out of Vaz's hands. In comes teammate Junior Onyeali with the big pickup, who walks into the endzone for an ASU score
Kenjon Barner is practically a human highlight reel, and it was hard to not fill this list with his plays. But I had to get some variety in here, so I narrowed it down to one.
By far Barner's best run of the season had to be this 80-yarder against Washington State.
Barner showcased his strength as he broke through the entirety of WSU's defensive front, and his epic speed as he has no issues getting to the endzone once he hit the open field.
" };

Marqise Lee is another Pac-12 highlight machine, and he had plenty of long touchdowns on the season. One of my favorites was this huge 75-yard touchdown pass on USC's first offensive play of the year.

Lee catches a pretty short pass, with his back turned to the endzone. He makes a quick pivot, shakes a couple defenders and then it's off to the races.

The play not only highlights his crazy speed, but also his stunning athleticism.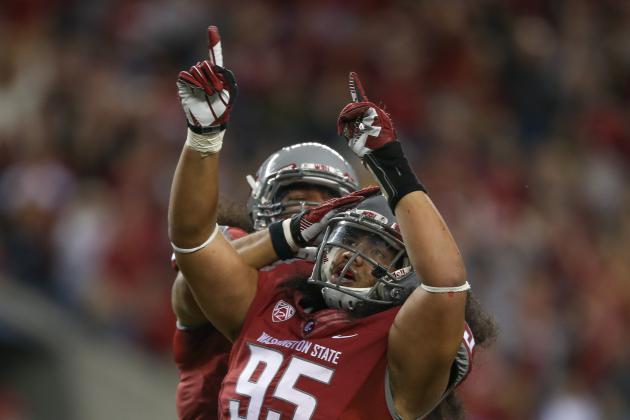 Otto Greule Jr/Getty Images

You don't always see defensive plays this high on a top plays list, but it's hard to not give props on this one.
This season's Apple Cup was quite a game, but when push came to shove WSU made the bigger plays.
With the Huskies looking for a big score in overtime, Keith Price drops back for a pass, but gets caught up by the Cougars. As he's going down he lobs the ball up hoping for a miracle.
In comes Kalafitoni Pole with a one-handed nab. Though he didn't find the endzone, Pole's 60-yard return inevitably set up the winning score for the Cougs.
Video can be seen here.
We have some offense, we have some defense and now we have some special teams. And this isn't a big return, but instead a great heads up play by the kicking team.
With a surprisingly close game against Colorado, Washington needed to get its hands back on the ball.
After the punt bounced off the Nelson Spruce—the Buffs' return man—it looked like the ball was headed out-of-bounds. In comes Kevin Smith with this hustle of a play to get the ball back into play.
In doing so, the Dawgs were able to get on the ball and force a huge special teams turnover.
If you don't know Reggie Dunn's name yet, learn it.
This guy is a return machine, with four touchdowns on kickoffs this season. His five 100-yard returns in his career is not just a Utah record, not just a Pac-12 record, but an NCAA record.
His biggest game came this season against Cal, when Dunn had two very long touchdowns.
Now we get to the biggest Pac-12 play of the season. Is anyone surprised that it comes out of Oregon?
De'Anthony Thomas—AKA the Black Mamba—can hurt a team in any way. On this particular day, he decided to do his damage with his return game.
Already with a huge deficit to overcome, Colorado made the mistake of punting to Thomas.
At first it looks like he's toast. Thomas nabs the ball, and retreats about 20 yards back, running from a stampede of Buffalo defenders.
Suddenly he turns a corner, and the rest is history. Thomas hits the sidelines and never looks back, putting up a huge score for the Ducks.