Knicks Free Agency: Why The Knicks Should Keep David Lee and Drop Nate Robinson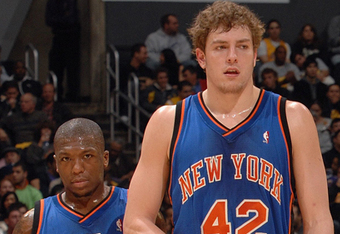 This off season, the Knicks will have a major personnel decision regarding the status of two restricted free agents: David Lee and Nate Robinson.
In a perfect world, they could keep both Lee and Robinson, but in reality, it seems that they must let one go if the Knicks want to have sufficient cap room during the "Summer of LeBron".
At the beginning of the season it looked like a no-brainer, David Lee was a must have while Nate Robinson was expendable.
However, since shortly before the All-Star break, Robinson played the best basketball New York has seen since Allan Houston was donning the No. 20.
Furthermore, Lee's play has diminished as the season has worn on, re-opening the argument regarding which player the Knicks must keep.
Yes, it's true that Robinson has carried this team on his back for the last quarter of the season with his exceptional scoring ability, but Lee's consistency makes him the player the Knicks MUST have in the future.
Nate Robinson requires a lot of shots in order to maximize his effectiveness. That may fly within the Knicks current talent-drained roster, in a few years, with possibly two max contract free agents carrying the Knicks team, those shots will greatly diminish.
It will no longer be alright for Robinson to demand the ball, ignoring set plays within the offensive system and go one-on-one with a defender.
Robinson will have to defer to his more skilled and more valued teammates, playing within a set system where he will no longer be given free reign.
Furthermore, Robinson does not contribute anything else on a consistent level besides points. He cannot run the point position because he lacks the ability to effectively set up his teammates for good shots, and obviously not a force on the boards due to his "vertically challenged" status.
Due to his inability to run the point, the only effective position for Robinson is to come off of the bench. He is far too small to start at the shooting guard position, and thus, must act as a reserve combo guard.
While Robinson is best coming off the bench, it is simply unrealistic to expect the Knicks to pay Robinson the money he will demand for a bench player who will eventually have to defer shot opportunities when the Knicks retool in 2010, especially if Robinson's contract diminishes their cap room for that all important summer.
David Lee, however, is extremely important to the Knicks future plans.
He is extremely consistent in his ability to pull down double-doubles, trailing only Dwight Howard for most throughout the league.
Furthermore, Lee does not need a lot of shot opportunities to be effective. He prides himself on being able to get garbage points around the rim while he is still expanding his mid-range game, which has vastly improved since last season.
Lee's greatest strength is his rebounding capabilities. He is among the league leaders in rebounding, contributing great numbers on the defensive boards, and creating a constant threat on the offensive glass.
Lee is a perfect fit within the new Knicks offense. He is great at running the pick-and-roll, which is a staple within the D'Antoni half-court set. Furthermore, he is very versatile, being able to play with his back to the basket, facing up and in transition.
In 2010, the Knicks will be looking to sign either Chris Bosh or Amar'e Stoudemire alongside another max contract free agent. Lee would fit in as a great compliment to either of these players in the Knicks front court, providing additional size while being able to contribute on the offensive end not by demanding the ball, but rather, taking advantage of others play making abilities.
David Lee's potential will be maximized not when he is expected to create on the offensive end, but rather, when he can focus on crashing the boards, capitalizing off of the pick-and-roll, and consistently converting on the mid-range jumper.
Lee will not help a team win a championship when he has to be a go-to guy, but if surrounded by other All-Stars, he could be the key piece in finalizing a championship roster.
Nate Robinson will succeed most when he can have free reign over a team without a definitive go-to-guy. Robinson may put up bigger numbers than Lee, it is Lee who will help the Knicks win a title in the future.
During this off season, Lee is a necessity while Robinson is a luxury.
Fans will not like to see Robinson go, the Knicks must depart with the energetic " super-sub" to begin solidifying a roster that is built to contend for a championship.
This article is
What is the duplicate article?
Why is this article offensive?
Where is this article plagiarized from?
Why is this article poorly edited?

New York Knicks: Like this team?