Minnesota Vikings vs. Green Bay Packers: Live Score, Highlights and Analysis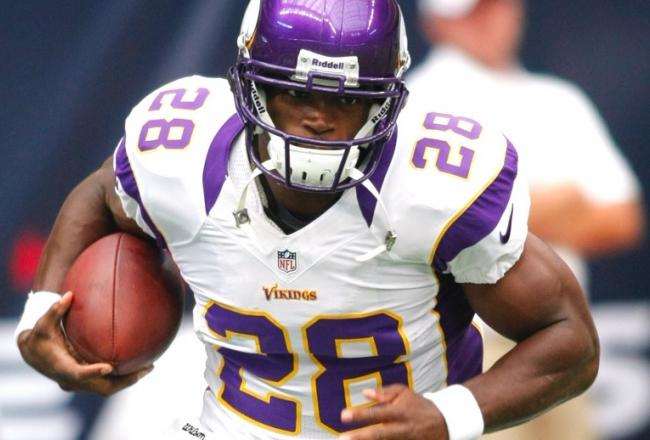 It's in the books and the Green Bay Packers (8-4) were victorious over the Minnesota Vikings (6-6), 23-14.
It wasn't Aaron Rodgers' best performance of the season (27 of 35 for 286 yards with a TD and an interception) but it was enough to knock off Minnesota.
The Vikings relied on a heavy dose of Adrian Peterson and were on pace to win the game with it while driving into the red zone on their first possession in the third quarter before Christian Ponder threw one of two interceptions on the day.A score there would have, at least, made the game 17-10 Vikings.
Peterson finished with 210 yards on 21 carries (10 yards per carry) and a touchdown. He was on top of his game.
But Ponder wasn't. He finished 12 of 25 for 119 yards with a TD and two picks. He didn't ever look comfortable as a passer and failed to give Minnesota a chance to win on a day when Peterson went off and the defense held the Packers in check, for the most part.
Minnesota plays Chicago at home and Green Bay gets Detroit at home.
It's halftime in this one and the Minnesota Vikings lead 14-10.
The Packers (7-4) took the early 10-0 lead scoring on each of their first two possessions. But the Vikings (6-5) got their star running back Adrian Peterson going. He scored on an 82-yard run thanks to missed blocks and his break away speed.He has 126 yards at the half.
Aaron Rodgers has played very well in the first half going 18 of 23 for 170 yards and a TD. The offensive line is struggling and the Vikings rush has gotten more and more intense as the half progressed. With T.J. Lang's return questionable, the O-line may be in trouble.
Jordy Nelson's return is uncertain at this point for Green Bay, but the offense still has James Jones, Randall Cobb and Greg Jennings.
This one looks like it will come down to the wire, so stay here for live updates throughout.
FINAL: Packers 23, Vikings 14
It looked like it would be a close one, but after Christian Ponder's interception on Minnesota's opening drive of the second half it was all Green Bay.
Ponder was incapable of leading the offense anywhere on this day, and Green Bay did just enough to win.
43 seconds Fourth Quarter, Packers 23-14: Christian Ponder will get one more shot to put some points on the board and show some signs of life. He's had a rough day: 10 of 22 for 99 yards with a TD and two interceptions, which is good enough for a 36.0 passer rating. That won't win many football games.
1:51 Fourth Quarter, Packers 23-14: Well, this one is in the books barring a miracle (or curse, depending on your outlook). Blair Walsh missed his 42-yard field goal, appearing to bear the curse of Mason Crosby.
Christian Ponder crushed Minnesota's chances today.
2:27 Fourth Quarter, Packers 23-14: Well, Christian Ponder is putting together some sort of a drive here. He's gotten bailed out by his receivers and still looks too uncomfortable in the pocket. It's tough to watch and appears to be too little too late.
4:00 Fourth Quarter, Packers 23-14: Well, Mason Crosby came through on the clutch with a 31-yard field goal. He was true this time.
The Vikings are going to have to demonstrate an aerial attack to get back into this one. The ground game cannot be relied upon as time is of the essence.
Green Bay is in prime position to win, despite the losses of T.J. Lang and Jordy Nelson.
7:32 Fourth Quarter, Packers 20-14: The Vikings have been AWFUL on third down defense. The Vikings have put the Packers in multiple third down spots and been unable to slow down the potent offense. They've had opportunities to too, like when Aaron Rodgers scrambled for a 2-yard pick up after avoiding the rush.
This drive is killing the Vikings defense.
15:00 Fourth Quarter, 17-14 Packers: Christian Ponder had an awful series there. He completely underthrew a wide open Adrian Peterson then threw behind Kyle Rudolph to end Minnesota's drive with an interception. It's ugly.
Adrian Peterson is having a historic day, which is too bad for the Vikings given the terrible play of their QB.
2:12 Third Quarter: Packers 17-14: James Starks' 22-yard run came out of nowhere. Minnesota displayed some bad tackling and the Pack made some nice blocks to make it happen.
Momentum is definitely in Green Bay's favor at this point.
5:40 Third Quarter, Vikings 14-13: Green Bay opted to get cute with it and Aaron Rodgers bombed an interception to Vikings rookie Harrison Smith. I didn't see that one coming, but that happens when you go for the home run.
7:02 Third Quarter, Vikings 14-13: It feels as if the Packers are on the verge of busting this game wide open. Aaron Rodgers and the offense have an opportunity to take the lead here, and I totally expect them too.
Minnesota's defense has been bending without a break, but it feels like a break is coming. The Packers have been close multiple times, but haven't succeeded yet.
7:02 Third Quarter, Vikings 14-13: The Vikings are finding out the hard way that you can only be competitive for so long with a run-based offense in today's NFL.
Adrian Peterson is great, but you can't win if you don't have reliable wide receivers (even with Peterson rushing for 177 yards). If Minnesota didn't have Percy Harvin, then this wide receiver corps would be the worst in the NFL. It's awful.
The Vikings should be looking to get Jarius Wright more involved. He has shown the ability to catch the football and gain some yards with it. Jerome Simpson, Devin Aromashodu and Michael Jenkins have not.
7:47 Third Quarter, Vikings 14-13: Well, I guess Mike McCarthy has faith in his kicker Mason Crosby after all. My guess is he wanted to try to catch the Minnesota defense off guard with the offense on the field on fourth, and since the Vikings called a timeout he opted to kick it after all.
7:51 Third Quarter, Vikings 14-10: This appears to be the ultimate slap in the face of Mason Crosby. On fourth down with what would be a 40-something yard field goal, Green Bay coach Mike McCarthy appears ready to go for it.
Prior to this week McCarthy has reiterated that Crosby is his guy and that he's comfortable with him. Going for it here on fourth down appears to say the exact opposite. I'm excited to hear what everyone will say about Crosby after the game if McCarthy opts to go for it here.
12:40 Third Quarter, Vikings 14-10: Dan Wiederer reports via Twitter (https://twitter.com/StribDW/status/275324274296901632) that Jordy Nelson and T.J. Lang are out the rest of the game.
Lang is a big loss as it means rookie free agent Don Barclay will play the rest of the way at right tackle. Nelson is a sustainable loss with Greg Jennings, James Jones and Randall Cobb.
13:51 Third Quarter, Vikings 14-10: Adrian Peterson continues to prove that he is the best running back in football with that big run to open the second half. He has 178 yards and a TD.
Christian Ponder did the worst thing a QB can do in the red zone: throw an interception. Minnesota's offense can't keep up with Green Bay's and needs to cherish each offensive possession, especially in the red zone with a reliable kicker like Blair Walsh.
For Green Bay, that interception was huge. Momentum was completely swinging Minnesota's way after the big Peterson run and now it's back its way after the pick.
HALFTIME, Vikings 14-10: The Vikings have been flagged five times for 48 yards and were lucky that their last penalty, a 5-yard offsides penalty, didn't cost them three points at the end of the half.
It will be interesting to see what the Packers say after this one about Mason Crosby. They've been saying the right things about his struggles, but he's making it very difficult for them to back him. The 53-yarder he missed at the end of the half isn't a gimme, but it wasn't even close. That combined with the near miss from 30 yards is scary for a Green Bay team with Super Bowl aspirations.
2:00 Second Quarter, Vikings 14-10: Jason Wilde, of 540 ESPN Milwaukee, tweets (https://twitter.com/jasonjwilde/status/275316810755227648) that the return of Packers Jordy Nelson and T.J. Lang is questionable.
The Nelson absence wouldn't the end of the world. Green Bay still has James Jones, Greg Jennings and Randall Cobb. The Lang absence would be a big deal. The Vikings are beginning to get pressure on Aaron Rodgers and that is likely to continue without Green Bay's best offensive lineman. Don Barclay will be tested with Brian Robison across from him.
4:23 Second Quarter, Vikings 14-10: Appeared to be a weak roughing the passer penalty on Kevin Williams, which will negate a Vikings interception. Minnesota needed that. It will have to force a turnover or two to win this game because Aaron Rodgers and the passing attack are so potent.
4:55 Second Quarter, Vikings 14-10: Don Barclay now in at right tackle for the Green Bay Packers as T.J. Lang gets his left leg looked at. The Milwaukee Journal Sentinel's Bob McGinn wrote a piece today about why Barclay may be a good fit for the Packers at left tackle (he suggested moving T.J. Lang back to his left guard spot).
5:08 Second Quarter, Vikings 14-10: Well, that was a nice run by Adrian Peterson. Let's leave it at that. But that was some awful tackling from the Green Bay Packer defense. That unit can't afford to do much more of that if it wants to win this game. Peterson is the running back equivalent of Aaron Rodgers at quarterback. If he's given opportunities (like missed tackles), then he'll burn you.
6:42 Second Quarter, Packers 10-7: Great job by Aaron Rodgers to keep his composure after nearly getting sacked by Jared Allen. Allen should have had the sack and Jermichael Finley maybe should have had that ball. Mistakes made on both sides on that play.
8:08 Second Quarter, Packers 10-7: Aaron Rodgers is good at what he does, relative to hard counts. It's understandable that once in a while he'll get a defender to jump. It happens. But the Vikings are showing no discipline and look like a bunch of high school players out there consistently getting caught in the neutral zone.
9:08 Second Quarter, Packers 10-7: Adrian Peterson continues to break NFL records and career paces. Here is the latest: https://twitter.com/ESPNStatsInfo/status/275311940019048449
11:15 Second Quarter, Packers 10-7: That was a huge stop and confidence booster for the Minnesota defense. It had allowed Green Bay to march up and down the field at will on its first two possessions.
Minnesota's offense can't keep up with Green Bay's if this thing turns into a high-scoring affair, which means the defense will need to do more of what it did on that last possession.
11:15 Second Quarter, Packers 10-7: Amazing that the Packers and John Kuhn were unable to pick up that short third down. Just shows how unreliable the Packer running game and offensive line are. I know it's just one play, but it's been a trend throughout the season for Green Bay.
This article is
What is the duplicate article?
Why is this article offensive?
Where is this article plagiarized from?
Why is this article poorly edited?

Minnesota Vikings: Like this team?