Giants vs. Redskins: Final Game Grades, Report Card and Analysis for Washington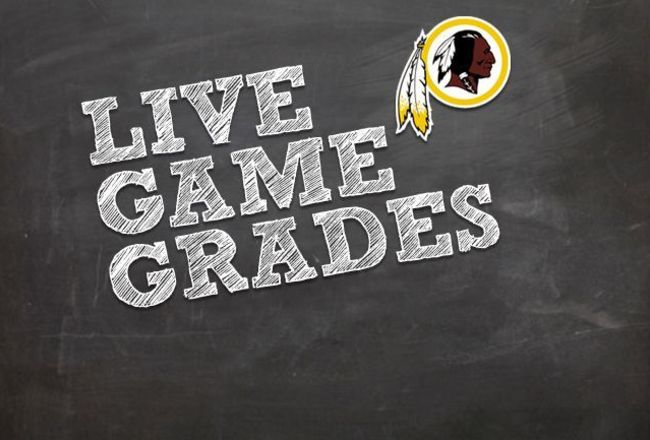 Final
Redskins 17
Giants 16
Robert Griffin III and the Redskins prevailed to defend homefield against Eli Manning and the Giants on Monday Night Football, putting on a surprising show of stout defenses and strategic offense.
In an NFC East division race that looked pretty one-sided three weeks ago, the Redskins have firmly placed themselves amongst the very possible and they have Baltimore, Cleveland, Dallas, and Philadelphia to close the year and make their final push.
The following is a final report card and player analysis for the Washington Redskins following their win over the New York Giants.
Robert Griffin III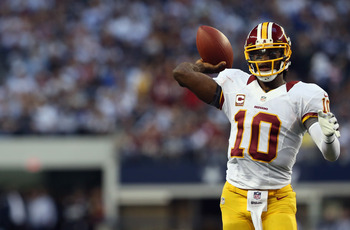 Ronald Martinez/Getty Images
Robert Griffin III – A
Although not his flashiest stat line of the season, Robert Griffin III had an amazing game given the situation, the spotlight, and the opponent.
Finishing the game with 163 yards of 13-of-21 passing and one touchdown, Griffin also made the Giants pay by way of his speed and added 72 rushing yards on five carries.
Griffin started off the game struggling with his placement, but he improved following halftime and he held well in the pocket tonight. Some will blast Griffin for a few of the hits he took, but he's undoubtedly more cautious than he was at the beginning of the season.
The most significant part of Griffin's game tonight (and really every game) is his winning attitude and relentlessness. A perfect example came in the fourth when Griffin scrambled from the pocket and was racing full speed towards the sideline. In a situation where staying in bounds was crucial, Griffin gave up his body before the sideline and took a "gumby hit" as coach likes to call it, propelling the rookie's body backward with his leg pinned underneath--ultimately staying in bounds and keeping the clock moving.
Following the game, Griffin brushed it off by saying that he had to "take one for the team."
Pregame Analysis
Over the past two weeks against division opponents Philadelphia and Dallas, rookie QB Robert Griffin III has put his brilliance on display to the tune of 504 yards, eight touchdowns and just one interception.
Redskins fans hope that stellar play continues.
For Griffin, it's not the Giants passing defense that's intimidating—New York is allowing over 250 passing yards per game. Instead, Griffin will need to keep his head on a swivel against a stout pass-rushing squad that ranks fifth in the league with 30 sacks on the year.
With Pierre Garcon expected to play, Griffin should have his best possible arsenal on the field. Josh Morgan should get plenty of looks underneath and Aldrick Robinson can work with Garcon to stretch the field.
Backfield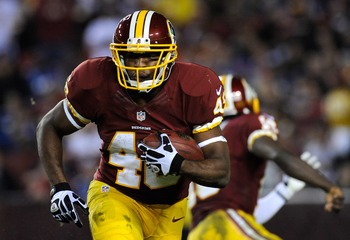 Patrick McDermott/Getty Images
Alfred Morris – B+
The only thing holding back Alfred Morris from another perfect grade this week was the fumble in the redzone that ultimately led to three points for the Giants. Other than that, Morris ran extremely hard (as usual) and he demonstrated great vision through holes made possible by an impressive offensive line.
Morris finished the game with 124 yards on 22 carries, including some huge pickups in the final quarter to help seal the game. Morris was clearly bothered by his fumble earlier in the game and he ran with serious purpose following it.
Darrel Young – A
One catch for 15 yards might not do it for you, but Darrel Young was awesome in the run game tonight and he helped big time on bootlegs and inside rushes.
Receivers & Tight Ends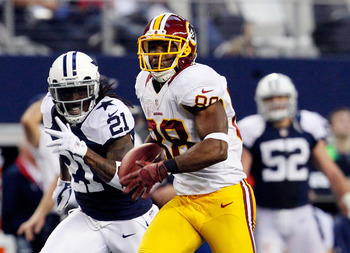 Tom Pennington/Getty Images
Logan Paulsen – C+
Three targets, one catch, 11 yards.
Not a great game for the tight end tonight. He had a couple drops that should've definitely been catches and his blocking wasn't up to par when compared to previous weeks.
Niles Paul – B-
Decent blocking out of him today, but Niles Paul dropped his only target in tonight's game.
Pierre Garcon – B
It's amazing the recovery (?) that Pierre Garcon has made and how easy he has regained explosiveness following a serious foot injury.
Garcon remains Griffin's favorite receiver with 11 targets tonight, hauling in eight of them for 106 yards and a touchdown. He did, however, have a couple of drops that were enough to frustrate just about anyone watching the game.
He and Griffin's relationship is scary already and the receiver isn't even 100 percent.
Josh Morgan & Leonard Hankerson – B
Collectively, Josh Morgan and Leonard Hankerson had three catches on five targets for just 31 yards. While Morgan was expected to play more of a role in the short game, both of the receiver's contributions as blockers in the run game went a long way.
Pregame Analysis
Going against a Giants team that hangs their hat on rushing the passer, the Redskins offensive line will need to take a huge step forwards in pass protection for this game.
As important as it is to establish the running game and pound Alfred Morris early, the Redskins need the passing game, and Robert Griffin III, in turn, needs his chance to throw without running for his life. If right tackle Tyler Polumbus was ever going to surprise us this season with reliable pass blocking, Monday night would be an ideal time.
Morris rushed for 120 yards against the Giants earlier this season, so the Redskins can attack the ground with confidence. A bonus in this game, however, could be wide receiver Pierre Garcon and his surprising explosiveness since returning to action. Even if Garcon doesn't haul in big catches, the Giants will be forced to respect his speed and the running game will benefit.
Offensive Line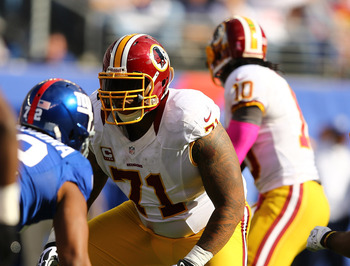 Al Bello/Getty Images
Trent Williams – A
Playing hurt and toughing it out for yet another game, Trent Williams performed well and did a great job protecting RG3's blindside. He's quickly becoming one of the better left tackles in football.
Kory Lichtensteiger, Will Montgomery, Chris Chester, and Tyler Polumbus – B
Robert Griffin III may have taken more shots than we would've liked, but he never suffered a sack and there were plenty of pockets for the quarterback to climb tonight.
More importantly, the offensive line was very good as part of the ground attack tonight. Not only did Alfred Morris finish with more than 120 yards, but the offensive line got tough at the end of the game to help seal the win.
Also, hats off to the offensive line for a disciplined football game. As a team, the Redskins had just four penalties and at least two were on defense.
Defensive Line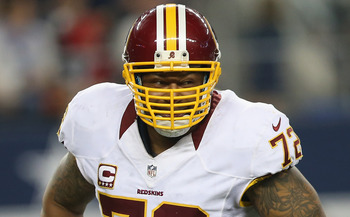 Ronald Martinez/Getty Images
Stephen Bowen, Barry Cofield, and Jarvis Jenkins – B+
I complained about the lack of pass rush from the Redskins tonight, but that wasn't at the fault of the defensive line. Both Stephen Bowen and Barry Cofield were stout against the run tonight and Jarvis Jenkins continues to improve.
Linebackers
Rob Carr/Getty Images
Rob Jackson – B
Noticed him setting the edge on more than a couple of plays tonight, Rob Jackson has been a pleasant substitute for the injured Brian Orakpo. Obviously talent levels aren't even between the two, but Jackson does fire off the ball and he plays with passion.
Jackson finished with one sack in the game.
Ryan Kerrigan – C+
As much as I love Ryan Kerrigan, I can't help but notice the lack of pass rush from him this season. When watching that same ol' boring, wide attempt to the outside, I can't help myself but think about an underneath or spin move that would give Kerrigan at least one sack per game.
London Fletcher – B-
When it comes to playing in the box and filling running lanes, London Fletcher is as good as it gets. But when forced to drop back in coverage, Fletcher is a known liability.
That being said, Fletcher's leadership and passion on the field translates to the rest of the defense and literally helps a team like the Redskins turn an entire season around.
Fletcher finished today's game with a team-leading six tackles.
Perry Riley – B
Contributing with six tackles of his own, Perry Riley continues to look like the eventual replacement of London Fletcher. As he showed tonight, Riley is instinctive and a sure tackler.
Secondary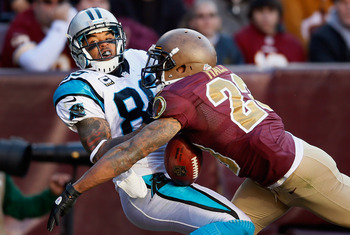 Rob Carr/Getty Images
DeAngelo Hall – B
Not that it was a terrible game for him tonight, but DeAngelo Hall had his worst football game of the past three weeks and he was only beat once (by Victor Cruz).
Jim Haslett didn't send Hall on quite as many blitzes from the edge as we saw against the Eagles and the Cowboys, but he was effective when they were called.
Josh Wilson – C+
Is it just me or has Josh Wilson had a problem with keeping his footing this season?
Once considered the Redskins best cover corner entering the season, Wilson hasn't exactly impressed over the last few games.
Madieu Williams – C
Most notably in the first half, the Giants receivers got behind Madieu Williams on more than one occasion and his angles weren't great tonight.
Cedric Griffin – B-
Decent spot start for Cedric Griffin tonight, including a very lucky pass breakup in the first half that likely saved a touchdown.
Pregame Analysis
Although the Redskins defense appears improved since the bye, the New York Giants have all the weapons necessary to gash them.
Against the Eagles, Jim Haslett had an easier game plan than most, going against rookie QB Nick Foles. And against the Cowboys, the Redskins forced turnovers and contained the Dallas rushing attack. But the Redskins should be more than familiar with the Giants and their ability on offense.
For those that worked to forget, it was Eli Manning connecting with Victor Cruz for a 77-yard go-ahead touchdown with just over a minute to go in the last meeting between the two that won the game for the Giants. And if Haslett and the Redskins don't correct that this week, there will likely be much of the same.
As impressive as he's been over the past couple weeks, continued strong play from cornerback DeAngelo Hall could be the fuel that makes this defense run effectively against the Giants.
Special Teams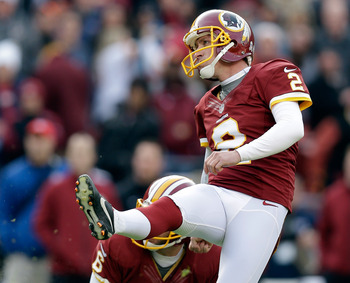 Rob Carr/Getty Images
Kai Forbath -- A
Connecting on a 33-yarder and all of his extra points, Kai Forbath remains perfect.
Brandon Banks -- D
He has lost it as a return man. As much as I'd like to see him progress, it almost appears that Banks riding pine would be a good and strategic move going forward.
Niles Paul had the game's best kickoff return for the Redskins, taking one 39 yards.
Pregame Analysis
It feels like we talk about it every week, but Brandon Banks and his disappointing season thus far is entirely too frustrating to ignore. So frustrating, in fact, that it wouldn't be a surprise to see Banks riding pine in kickoff and punt return sets.
Instead, focusing on Kai Forbath and his clutch field goal kicking since being picked up after the season was underway, carries much more optimism moving forward. And when it comes to a divisional battle, Forbath's leg may come in pretty handy for what's expected to be a close game.
Coaching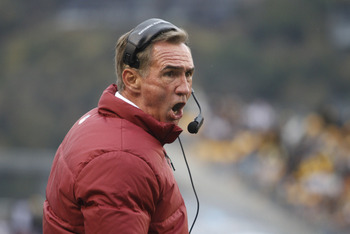 Justin K. Aller/Getty Images
Kyle Shanahan -- A
Other than the redzone screen on second down in the first half to Pierre Garcon, I loved every bit of Kyle Shanahan's game plan tonight. The Redskins kept the Giants guessing in the first half and Griffin's legs were turned into weapons in the second.
Not to mention, Kyle never shied away from his rushing game and his offensive line came out and played tough for him.
A risky and rewarding game from Kyle Shanahan.
Jim Haslett -- B
The Redskins held the Giants to just 16 points. Color me shocked.
This defense--most notably the secondary--has been the weakest part of the Redskins all season. Yet, in the biggest game of the season and probably the past ten years, the defense showed up and actually shouldered the game.
Although not a fan of the bend-don't-break mentality, give credit to Jim Haslett for recognizing the talent he has and getting the most out of it. We could call him the anti-Cam Cameron of this game.
Pregame Analysis
Offensive coordinator Kyle Shanahan makes some questionable calls here and there, but he shouldn't be the coach Redskins fans are worried about.
In their last game, Redskins defensive coordinator Jim Haslett didn't have his best outing against the Giants. Since the bye week, however, Haslett has found a little fire (ehh?) by way of stunts along the defensive line and timed blitzes that actually have an effect on opposing offense.
In order to rebound from a crap showing in Week 7, Haslett needs to stick to the plan of the last two weeks and keep this game close for RG3 and the offense.
Keep Reading

Washington Redskins: Like this team?