Big Ten Basketball: Ranking the 10 Biggest Difference-Makers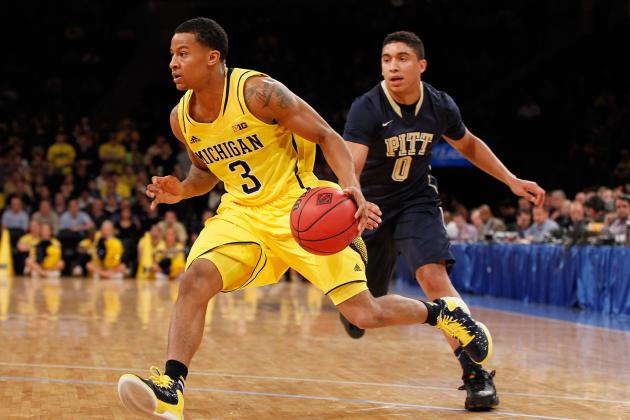 Mike Stobe/Getty Images

Despite a 6-6 tie with the ACC in last week's Big Ten-ACC Challenge, I believe the Big Ten is the nation's best conference. On Monday, the pollsters agreed as at least six Big Ten teams are in the AP Top 25.
This slideshow is not a list of the 10 best collegiate players in the Big Ten. It's not about the 10 best NBA prospects in the Big Ten. Rather, it's a list of the 10 biggest difference-makers in the Big Ten, based on what I've seen over the course of the first three weeks of the year.
I believe that being a difference-maker means that your affect on the team that you play for is substantially in a positive manner. While this list will very well change throughout the course of the season, the 10 guys listed here deserve it because they make their squads better with their presence.
Begin Slideshow

»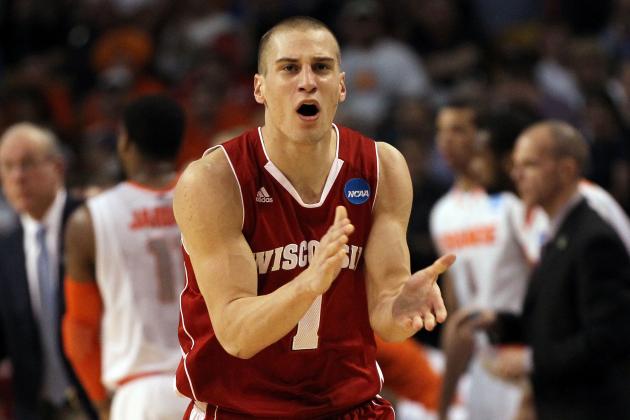 Jim Rogash/Getty Images

After rarely finding the court as a freshman, before taking on a bigger role off Bo Ryan's bench a year ago, Ben Brust has broken out during the first month of his junior year.
With the graduation of Jordan Taylor, season-ending injury to Josh Gasser, and incompetence of freshmen point guards Traevon Jackson and George Marshall, Brust has saved the Badgers backcourt.
Brust currently averages 13.5 points and 7.5 rebounds and was leading the Big Ten in rebounds a week ago, despite only standing 6'1". Brust is currently shooting 44 percent from long range, knocking down 2.4 attempts per game.
While Wisconsin's strength would be their frontcourt with seniors Jared Berggren, Ryan Evans and Mike Bruesewitz, Brust is the key for Wisconsin to get another top-four Big Ten finish for Bo Ryan, which seems to be in serious jeopardy at this point.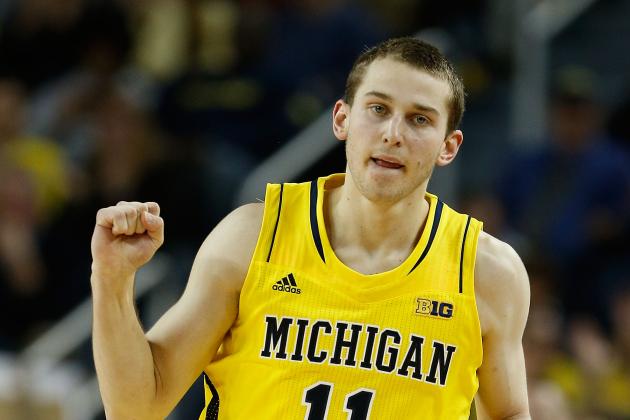 Gregory Shamus/Getty Images

Another unexpected sharpshooter cracks the list, with true freshman Nik Stauskas. Prior to the season, Stauskas was thought to be the third best of the current freshman class in Ann Arbor, behind Glenn Robinson III and Mitch McGary. The 6'6" Stauskas only entered the team's starting five this past weekend against Bradley, where he scored 20-plus points for a second straight game.
The two-time reigning Big Ten Freshman of the Week, Stauskas gives the Wolverines the shooter who can stretch the floor and thus filling the void that Zack Novak and Stu Douglass left upon graduation last spring.
Stauskas has reached double-figure scoring in his last six games, some of which the third-ranked Wolverines may have lost without this key contributor.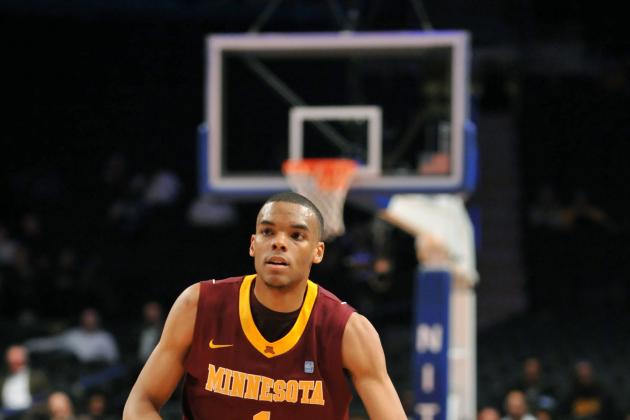 Jason Szenes/Getty Images

After regaining the starting point guard position late in his freshman season last March, Andre Hollins went on a mission.
First, he knocked out Northwestern's NCAA tournament chances at the Big Ten Tournament, a game which Minnesota won in overtime. The Gophers lost in overtime the next night to Michigan; however, Hollins still made the All-Tournament Team. This sparked Hollins and the Golden Gophers in the NIT, where they reached the finals before losing to Stanford.
On November 23, Hollins scored 41 points in an 84-75 win over his hometown school Memphis Tigers, accounting for just under half of Minnesota's points.
Not only is Hollins the floor general for Tubby Smith's team, but he is also a team captain as just a sophomore. Hollins will need to continue scoring in double figures, but also need to get his teammates involved in their balanced scoring attack.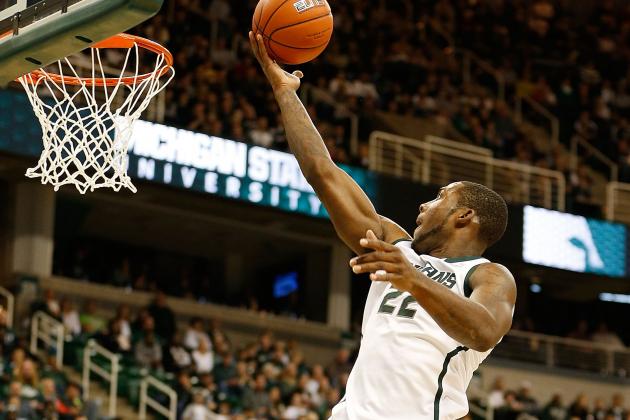 Gregory Shamus/Getty Images

When Branden Dawson went down last March in a game against Ohio State, tearing his ACL, Michigan State knew it would be tough to advance far into the NCAA tournament. Despite receiving a No. 1 seed, MSU was ousted in the Sweet 16 to Louisville.
Losing the then athletic freshman Dawson certainly didn't help their chances, which was a tough way to see beloved senior and former Big Ten Player of the Year Draymond Green end his career.
While Tom Izzo's team only has one senior, Derrick Nix, and no superstar like Green, I believe Dawson is the key to this team's success.
Dawson has made an incredibly quick recovery from ACL surgery to average 10.9 points, 5.6 rebounds, 1.8 assists, and 2.4 steals, while not being overused in 26.6 minutes per contest.
Dawson, like many Michigan State recruits, is a great rebounder for his size, especially on the offensive end. He is also the best player on the team at attacking the basket.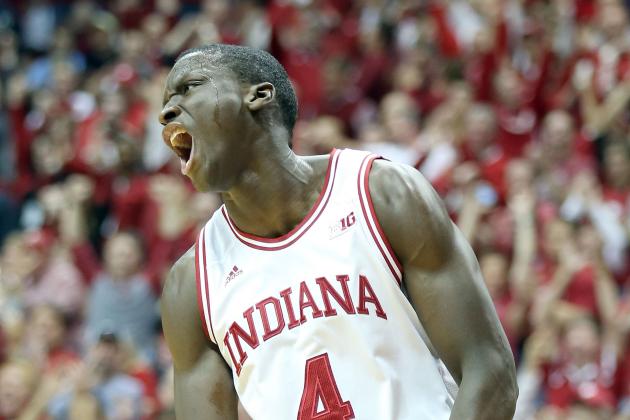 Andy Lyons/Getty Images

Victor Oladipo seemingly gets better and better every time I flip on an Indiana game, which is a scary thought considering he is only a junior.
Oladipo currently averages 12.4 points, 5.1 rebounds, 2.0 assists, and 2.3 steals, while shooting an incredible 63 percent from the floor. However, he's only shooting 27 percent from behind the arc. The fact of the matter, though, is that Oladipo can get to the basket at will and uses the rim as a shield better than anyone.
He's also an elite defender who can match up with guards because of his speed, as well as forwards because of his long wingspan and tremendous motor. If Oladipo can improve on his jump shot and play under control, he will be a much better pro prospect at the shooting guard position.
He is just one of many Hoosier weapons, but aside from Cody Zeller, is most key for Tom Crean team's potential for greatness.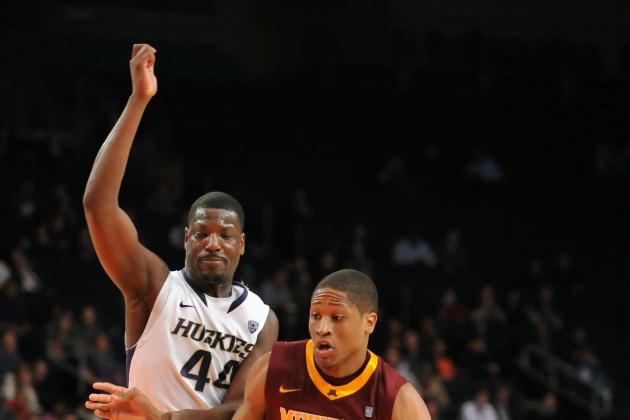 Jason Szenes/Getty Images

Like Oladipo, Williams is a highlight reel waiting to happen.
Another terrific defender, Williams averages 1.7 blocks and 0.9 steals on the defensive end of the court, but also contributes 14.1 points, 6.2 rebounds and 2.3 assists on the offensive end of the court. Williams made a huge improvement last season when Trevor Mbakwe went down for the year.
Williams became "the man" for Tubby's team, by making the move to his natural power forward position. Williams continues to play that position, despite a thin 6'7" 200-pound frame. However, between Williams' incredible wingspan and vertical, he makes up for the physical strengths of other Big Ten power forwards.
After two straight NIT appearances, this hometown senior from Minneapolis would love nothing more than to get Tubby Smith's most talented team at Minnesota into a deep NCAA tournament run.
Jamie Sabau/Getty Images

As a freshman, Deshaun Thomas was an instant offense spark off the Ohio State bench. His role increased as a sophomore, but was often overshadowed by classmate Jared Sullinger and senior William Buford, despite averaging 15.9 points last season. As a junior, Thomas is now the Buckeyes' top option and has responded by averaging 21.0 points and 6.5 rebounds while shooting 50 percent from the floor and 44 percent from deep.
Thomas has scored at least 14 points in all six Buckeye games in 2012, and isn't afraid to put up a ton of shots on any given night. In fact, Thomas has shot the balls 14 times or more on five occasions.
The 6'7" junior from Fort Wayne, Indiana has been called the second-best player on the team to Aaron Craft by some, mainly because of Craft's defensive ability and leadership. Without Thomas' consistent scoring, though, Ohio State will have no chance at a fourth consecutive Big Ten title.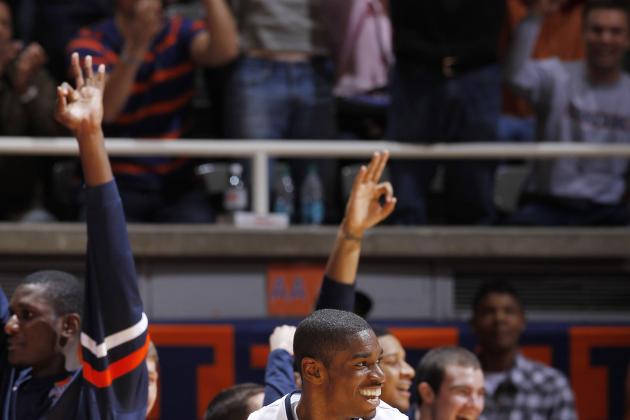 Joe Robbins/Getty Images

Who could have called a perfect 8-0 start, including a Maui Invitational title, for Illinois prior to the season? Even as a graduate of the orange and blue this past spring, I thought that a Big Ten preseason ranking of ninth in the conference seemed more the fair.
Paul was awarded MVP of the Maui Invitational, leading the Fighting Illini to consecutive wins over USC, Chaminade and Butler, all double-digit wins in a tournament in which Illinois never trailed.
Paul, who showed his will to take over games with a 43-point performance against Ohio State las season, struggled to end his junior year. As a senior, though, he has scored at least 13 points in every game this year, good for an average of 18.3 points.
On top of that, Paul adds 4.8 rebounds and 4.1 assists, and is shooting 42 percent from deep on a team that leads the nation in made three-point field goals per game. When Paul gets hot, he can hit even the most contested outside shots.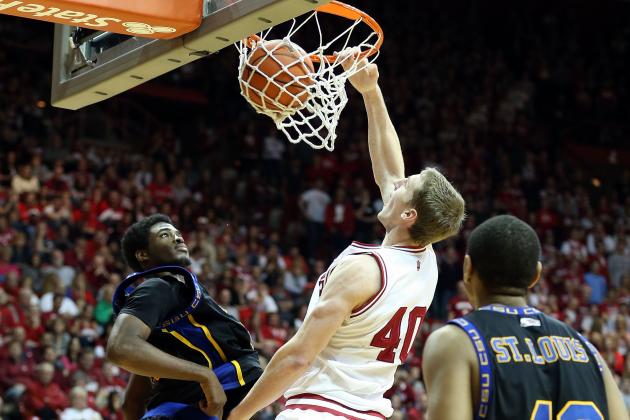 Andy Lyons/Getty Images

The preseason National Player of the Year, Cody Zeller, nearly single-handedly turned around an Indiana team a year ago.
IU finished last in the Big Ten in 2010-11, before finishing fifth in the league and advancing to the Sweet 16 before being defeated by Kentucky in the 2011-12 season, despite basically only adding Zeller to the team. Because of this, IU was rewarded with the No. 1 overall ranking to start this season, which they have lived up to thus far.
Zeller's averages nearly mirror those of a year ago, currently at 15.0 points, 7.6 rebounds, 1.3 assists, 1.4 blocks, and 1.3 steals, while converting on over 63 percent of his shot attempts.
Zeller is as consistent as they come and can be counted on for the figures I gave above on a game-by-game basis. At 7'0" he has as good of a back-to-the-basket game as any player in the nation, leading most to believe he will be a top-five pick when he decides the NBA is for him.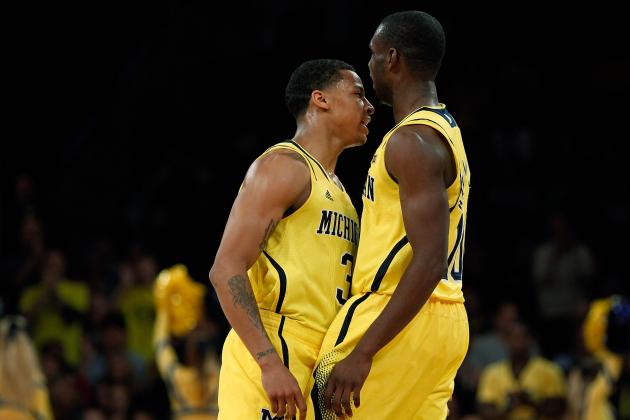 Mike Stobe/Getty Images

At the top spot of this list, I give sophomore Trey Burke the slight edge over Cody Zeller, as the two were Co-Big Ten Freshmen of the Year a year ago.
Although Zeller stands a foot taller, the 6'0" Burke is averaging 16.0 points, 7.1 assists and 2.9 rebounds for the third-ranked Wolverines. Not only has Burke's scoring increased from a year ago, but he is averaging 2.5 more assists per contest thus far.
Getting his teammates involved is huge for the point guard, who is on a much more athletic team than a year ago, despite being co-champions of the league last season.
Not only will the Big Ten Player of the Year race between these two outstanding players be fun to watch, but the Big Ten race is already shaping up to be a tight one, and not a single conference game has even been played yet.
Burke also decided to wait on the NBA, after being left with a sour taste when Michigan was knocked out to John Groce's (now at Illinois) Ohio squad in the second round of last year's NCAA tournament.
The Wolverines have no seniors within the team's top six players, so the future in certainly bright for both Burke and the remainder of John Beilein's squad.