NHL Rumors: The 8 Players Most Likely to Be Traded Once the Lockout Ends
Jeff Gross/Getty Images
Montreal Canadiens captain Brian Gionta in front of former Hab Hall Gill and goalie Peter Budaj.
National Hockey League teams aren't able to deal players just yet—that would require the lockout ending, and everyone knows for the owners to truly break the players that it isn't going to happen anytime this season.
Still, that won't stop true hockey fans from pondering the "what ifs" and just how their respective teams would look with any one of the following eight players likely to be traded in the lineup once hockey starts up again.
Here they are for your reading pleasure...
Begin Slideshow

»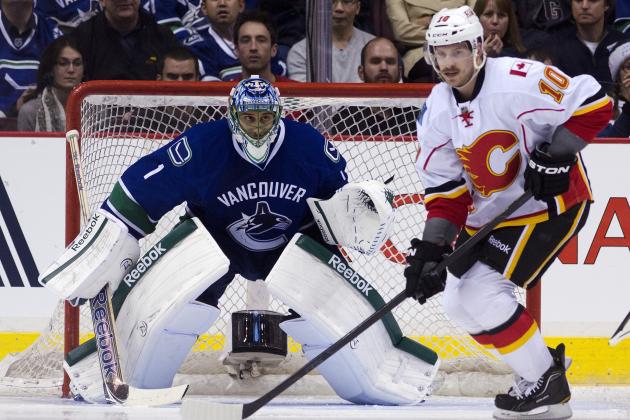 Rich Lam/Getty Images
Roberto Luongo of the Vancouver Canucks.
Officially, Roberto Luongo is still a Vancouver Canuck, but does anyone truly see him as ever wearing that uniform again, especially with Cory Schneider locked up for the next few seasons and with reports that once the lockout ends, Luongo's as good as a Toronto Maple Leaf (via NBC Sports)?
Well, maybe "good" and "Toronto Maple Leaf" don't belong in the same sentence, but I'm sure that's what general manager Brian Burke would be looking to change by hypothetically acquiring the starting goalie.
As it stands now, the Canucks are $2,431,667 away from the salary cap and trading away Luongo's in-excess of five million hit would do wonders toward enabling gm Mike Gillis to build a true contender next season.
So, even if the above-mentioned reports are false, still look for Luongo to land someplace else, even if that means a return to the Florida Panthers.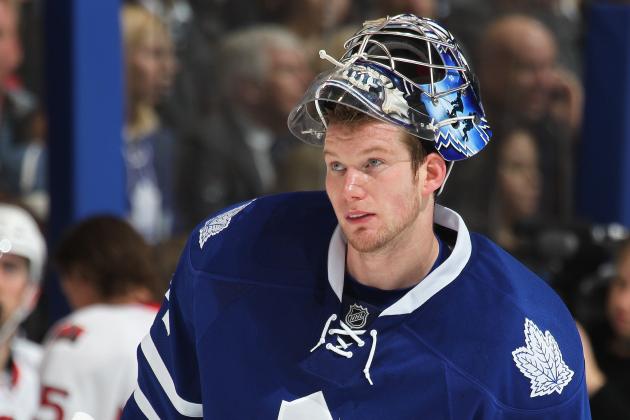 Claus Andersen/Getty Images
James Reimer of the Toronto Maple Leafs.
Ben Scrivens could theoretically be the goalie going the other way in the hypothetical Luongo deal, but it's also possible neither he nor current Leafs starter James Reimer will be a part of it at all. That doesn't mean both will remain in Toronto, though.
Former FAN 590 Leafs beat reporter Howard Berger believes Reimer will indeed be the odd man out, with the Edmonton Oilers and Tampa Bay Lightning being possible targets (via Berger Bytes).
Looking back at Brian Burke's career, he has been in a similar position before, forced with a decision of whether or not to trade Ilya Bryzgalov, who had shown starting potential with the Anaheim Ducks—and had not yet verbalized his fear of bears and his mind's insane inner workings in general.
Of course, being afraid of bears is not the crazy part. It's actually quite a good philosophy by which to live. It was the deadpan head nod he delivered afterward as if to indicate extreme pride for sharing such a critical bit of information. Unfortunately, not really worth a gold star, but, hey, here's a small tiny-like dot instead.
In any case, the point is Burke has traded away goalies for less than market value before:
For Bryzgalov, he got Matt Clackson, a third-round pick, and future considerations from the Phoenix Coyotes just to give him a shot elsewhere.
Logic dictates Reimer would be a far more attractive option than Bryzgalov ever was, meaning Reimer, of which reports indicate isn't afraid of lions or tigers either (but maybe smurfs that go by the name Brian), could very realistically land with another team.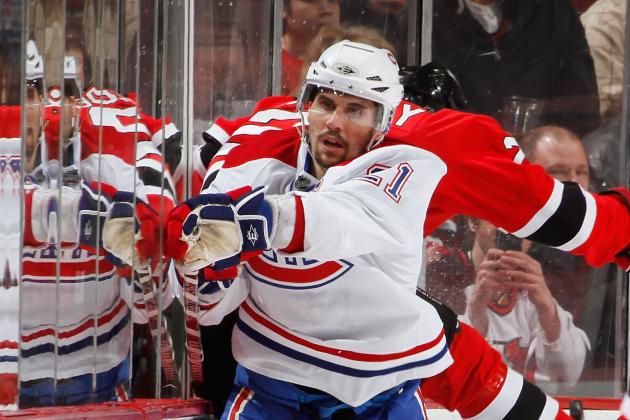 Paul Bereswill/Getty Images
Brian Gionta of the Montreal Canadiens.
Chris Chelios? Traded away. Guy Carbonneau? The same. Kirk Muller? Ditto.
In fact, six of seven Montreal Canadiens captains from Bob Gainey onward have been dealt. The only one who wasn't? Saku Koivu, whom the Habs opted to keep for their lengthy 2008-09 playoff run of just four games.
Needless to say, the next edition of the Habs won't be nearly that good. With Gionta due to become an unrestricted free agent in 2013-14 and his play being inconsistent and injury-ridden during the best of times and sub-par during the worst, expect him to be traded away sometime next season.
Jeff Gross/Getty Images
Ales Hemky (left) and Sam Gagner (right) of the Edmonton Oilers.
Edmonton Oiler Ales Hemsky, too, will be an unrestricted free agent after 2013-14, but he will likely get traded due to the emergence of a younger and more capable (and more consistent) team core. It's simple mathematics, really.
There are six top-six spots available (that's not the math part, that's a given). Taylor Hall, Jordan Eberle, Ryan Nugent-Hopkins, Sam Gagner, Nail Yakupov (and whomever the Oilers draft with the number-one pick next June) are all top-six forwards.
Ryan Smyth is as well, and even though he will be a UFA at the end of next season, too, chances are he will gladly take a pay cut to stay in town. Not likely the case with Hemsky, who, despite his consistency issues, injury issues, size issues and lack of a front tooth, is still a top-line forward.
Indeed, "chip" does not necessarily equal grit, and he may not be egotistically equipped to play a lesser role on the team. As such, look for the Oilers to deal him as soon as the right offer comes along, for his sake.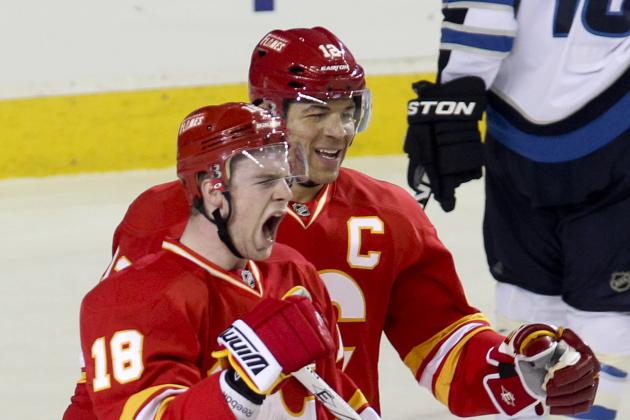 Mike Ridewood/Getty Images
Matt Stajan (front) and Jarome Iginla of the Calgary Flames.
As much as Calgary Flames management would like to hold onto Matt Stajan as irrefutable evidence the team actually got something in return for Dion Phaneuf, it's clearly not working out.
As much as they require bodies at center, Stajan now finds himself below the inconsistent Michael Cammalleri, the unproven Roman Cervenka, the overrated Mikael Backlund and the glorified minor-leaguer Blair Jones on the Flames' Hockey News depth chart (via The Hockey News).
While Cammalleri and Jones can play wing, at this point, it's probably best to cut losses and go with the story that Phaneuf left as a free agent.
The Flames might not get much more than a conditional-on-reaching-the-Stanley-Cup-Finals seventh-round draft pick in return, but, considering Stajan's 18 points and $3.5-million cap hit, take it and run.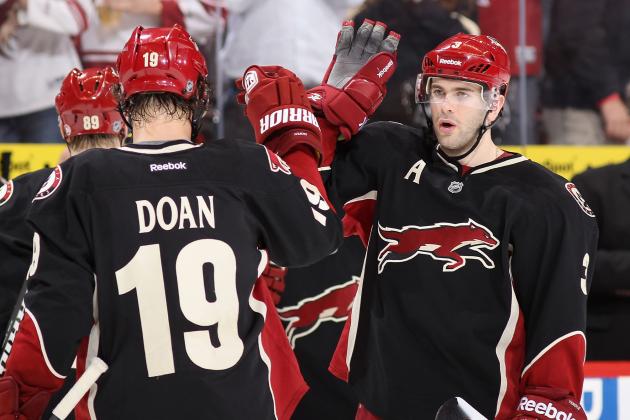 Christian Petersen/Getty Images
Keith Yandle (right) and Shane Doan of the Phoenix Coyotes.
When Shane Doan got resigned to a four-year contract worth an average of $5.3 million per year by the Phoenix Coyotes, it seemed more than coincidental to say the least that it was an amount just above Keith Yandle's $5.25-million cap hit.
Yandle was rumored to be leaving Phoenix all last season, and the fact remains the team's defense can survive losing a stud like him, especially if it means upgrading its less-than-stellar forward lines.
Sure the Coyotes are currently still below the cap floor of $54.2 million and can ill afford giving up Yandle for next to nothing, but they could theoretically take back excess salary in any hypothetical deal. Pavel Datsyuk for Yandle, maybe?
Stranger things have happened, and what Ken Holland wants Ken Holland usually gets, even if his free-agent signing spree of this past summer would indicate that would be a failed starting goalie to back up Jimmy Howard and an oft-injured defenseman to replace Nicklas Lidstrom.
Okay, so maybe he doesn't get exactly what he wants. I mean, Lidstrom did retire, obviously before plans to clone him were set in motion, and Ryan Suter did sign elsewhere. Also, it's not like Holland would want to trade Datsyuk, even though he is getting up there and poised to become a UFA in 2014…just a thought.
There's little denying Olli Jokinen had a pretty good season last year with the Calgary Flames. However, that's only when compared to the prior three seasons, in each of which he put up just 50-odd points.
Jokinen, who will be 34 in just a few days, hasn't aged well. Truth be told, he didn't develop all that well either, only reaching superstar status at the age of 27 and losing it after just two seasons as a truly top-end player.
So, the 61 points he scored last year are all fine and good, but he's not the first-line center Winnipeg thought it was getting when he was signed this past summer. He may never well have been, in truth.
It's not like Jokinen hasn't been traded before, and the trend should continue once hockey starts up again.
He will be a UFA in 2014 and could be a deceivingly attractive option at the next trade deadline for a team looking to add depth up front for the playoffs, because as much as the Jets would be a sentimental favorite to make them, they likely won't, not with Jokinen anyway.
He's only made one playoff appearance in his career and that was when he was traded for by the Calgary Flames at the trade deadline in 2009, and the team had done most of the heavy lifting to reach the promised land beforehand.
Traded to the New York Rangers the following season prior to that deadline to help vault that team into the postseason, he failed to score on the team's infamous final shootout attempt of the season against the Philadelphia Flyers, helping to cost them a berth.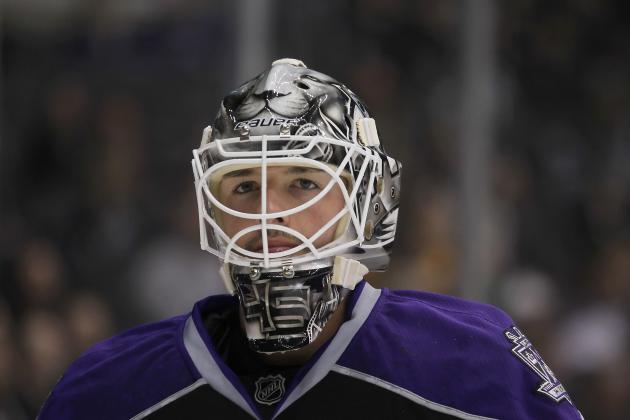 Jeff Gross/Getty Images
Jonathan Bernier of the Los Angeles Kings.
The Los Angeles Kings likely won't get a lot for Jonathan Bernier. Of course, they don't need to, one of the perks of winning the Stanley Cup and all.
However, Bernier is an asset who is getting antsy and has asked to be traded (via Sportsnet). He's got number-one talent, but no shot at the number-one spot in L.A., making him expendable too.
So, the Kings, perhaps looking to prime their roster for a lengthy playoff run, may be tempted to deal him for below market value for some spare parts, rather than risk him becoming a distraction.
Of course, this is all under the assumption the lockout ends before Jonathan Quick's 10-year deal runs its course.