Week 13 NFL Picks: Last-Minute Predictions for Every Game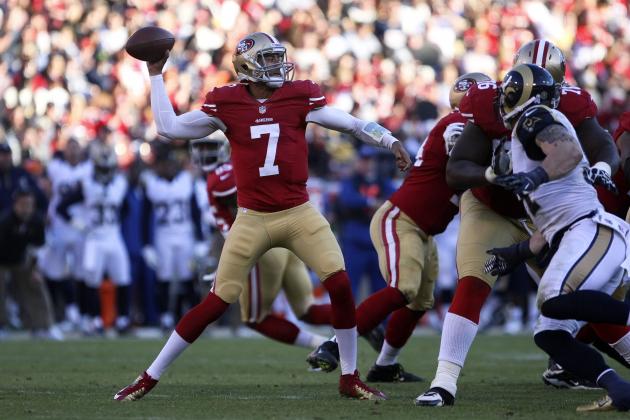 Kelley L Cox-US PRESSWIRE

As the NFL regular season winds closer to its end, the games on each week's schedule ratchet up in importance. Such is the case for Week 13.
Eleven of the 15 games remaining games on this week's schedule have direct playoff importance, including several that feature clinching scenarios for division titles or postseason berths. Others games will continue to help shaping the wild-card race over the final month of the 2012 season.
Needless to say, Week 13 begins what should be a fascinating conclusion to another season of the NFL.
In the following slides, we'll break down each game left in Week 13 and give you final-score predictions. We'll update the slides throughout the day to give you the final score for each contest, too.
Begin Slideshow

»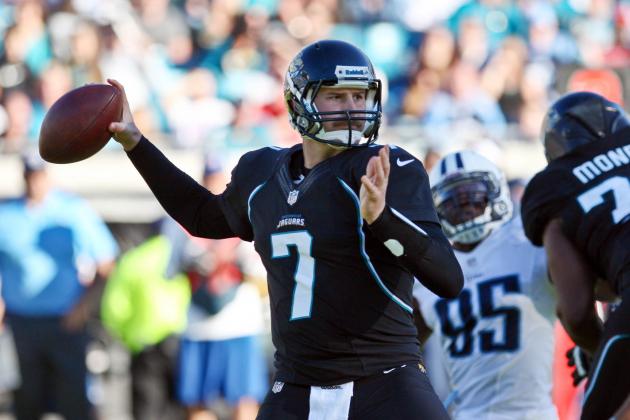 Rob Foldy-US PRESSWIRE

Fifty degrees with rain showers in Buffalo? On Dec. 2? Thanks to seasonally warm temperatures, the passing game should be available for both offenses.
Could that favor the Jaguars, who suddenly have a productive and explosive passing game with quarterback Chad Henne (615 yards, six touchdowns last two games)?
Jacksonville rides some late-season momentum to its third road win in two years.
Pick: Jaguars 27, Bills 21
Final: Bills 34, Jaguars 18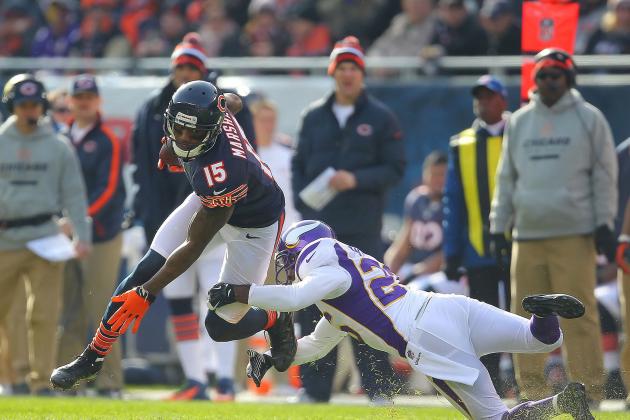 Dennis Wierzbicki-US PRESSWIRE

Seattle's ability to rush the passer and play physically with Brandon Marshall on the perimeter certainly gives the Seahawks a chance on the road.
But this team just seems to lose a gear when playing away from home, and Russell Wilson has a tall task against a very good Bears defense. It would take a Kaepernick-like effort from the rookie quarterback for the Seahawks to get a rare road win.
Pick: Bears 23, Seahawks 13
FInal: Seahawks 23, Bears 16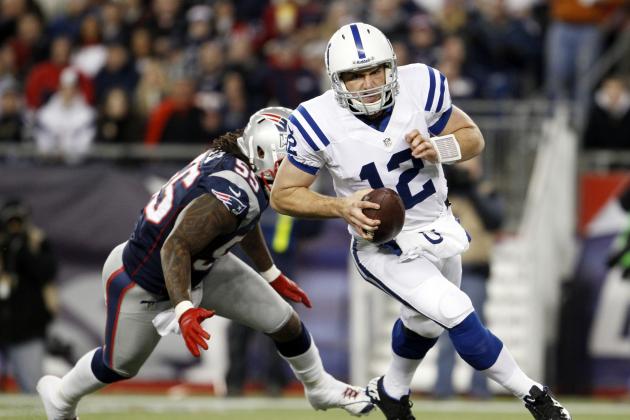 David Butler II-US PRESSWIRE

It's really hard to deny Andrew Luck's home-road splits, especially when the Colts have another difficult test away from Indy on Sunday. Over six home games, Luck has thrown nine touchdowns and three interceptions, good for a passer rating of 86.1. The Colts are 5-1 at home.
In five road games, however, Luck has thrown an NFL-high 10 interceptions with a combined passer rating of 65.4.
Those are wide splits over a somewhat large sample.
Pick: Lions 30, Colts 20
Final: Colts 35, Lions 33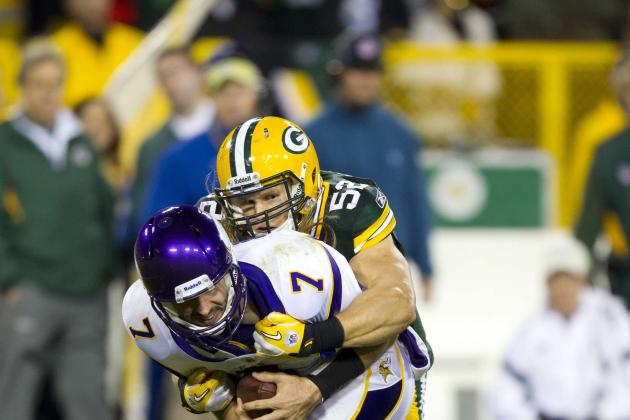 Jeff Hanisch-USA TODAY Sports

The focus for the Packers defense Sunday will seemingly be on Vikings running back Adrian Peterson, who is leading the NFL in rushing after 11 games.
But a better predictor for success may be how the Packers handle quarterback Christian Ponder.
Since Peterson was drafted in 2007, the Packers haven't lost a game in which they've held a Vikings quarterback to a passer rating below 70.0. And even when Peterson finds space, Green Bay can win in this series. The Packers are actually 4-1 since '07 when Peterson runs for 100 or more yards.
Pick: Packers 34, Vikings 18
Final: Packers 23, Vikings 14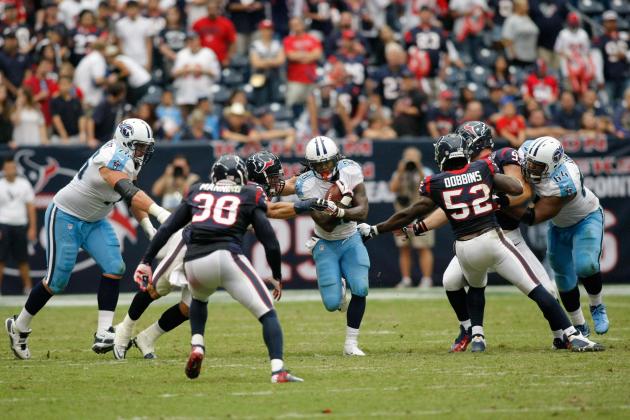 Brett Davis-US PRESSWIRE

The Texans haven't been dominate over the last two weeks, but wins are wins this time of year. Now, Houston is just a win away from sealing up a playoff berth.
Standing in the way of that clinching scenario, at least for one week, are the 4-7 Titans. Tennessee just doesn't possess enough on either side of the football to think the Texans are ripe for an upset in Week 13.
Pick: Texans 27, Titans 16
Final: Texans 24, Titans 10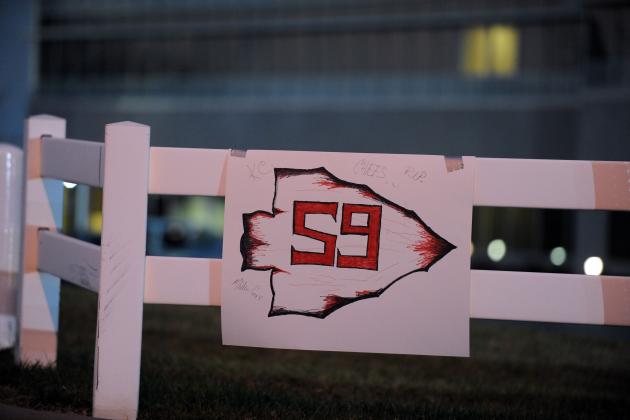 John Rieger-US PRESSWIRE

There will be a lot of heavy hearts in Kansas City Sunday, both on the field and in the stands. How those emotions will effect the actual product on the field is impossible to predict.
While you don't get to root for teams much in this profession, a win Sunday could give the community of Kansas City a brief moment of solitude in the midst of an unthinkable tragedy.
Pick: Chiefs 20, Panthers 17
Final: Chiefs 27, Panthers 21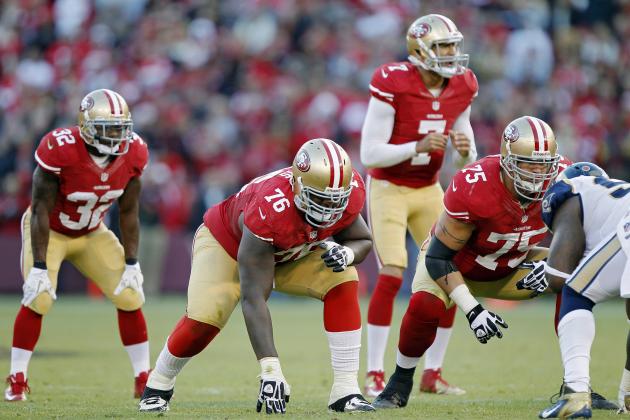 Brian Bahr/Getty Images

It wouldn't be difficult to argue that the Rams accomplished more against 49ers quarterback Colin Kaepernick than either of the two defenses that faced him in a starting role the last two weeks. Back in Week 10, St. Louis held Kaepernick to just 117 yards passing and 66 yards rushing in a 24-24 tie.
But don't forget, the running game (nearly 160 rushing yards) was the real vehicle for the Rams' near upset a couple weeks back. Don't expect the 49ers' prideful defense to allow Steven Jackson to run wild again.
Pick: 49ers 20, Rams 14
Final: Rams 16, 49ers 13
Marc Serota/Getty Images

Patriots quarterback Tom Brady hasn't thrown an interception since Oct. 14, a stretch that also includes 14 touchdown passes and five straight New England wins.
And while Miami hasn't always been a great city to Brady, the Patriots have won by double digits in each of the last two meetings on South Beach (41-14 in 2010, 38-24 in 2011). The MVP front-runner should continue his roll.
Pick: Patriots 35, Dolphins 17
Final: Patriots 23, Dolphins 16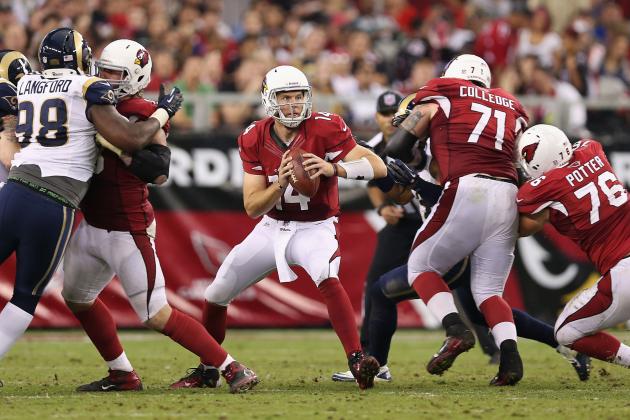 Christian Petersen/Getty Images

Offensive purists and quarterback connoisseurs may want to shy away from Cardinals vs. Jets. The Ryan Lindley-Mark Sanchez battle at the game's most important position could quickly turn into a giveaway fest that lacks a scoring punch.
In the end, you'll have to pick which defense you think is more capable of giving short fields and easy scoring opportunities to its offense.
I'm tempted to say Arizona, but Lindley is the shakier bet at quarterback.
Pick: Jets 17, Cardinals 13
Final: Jets 7, Cardinals 6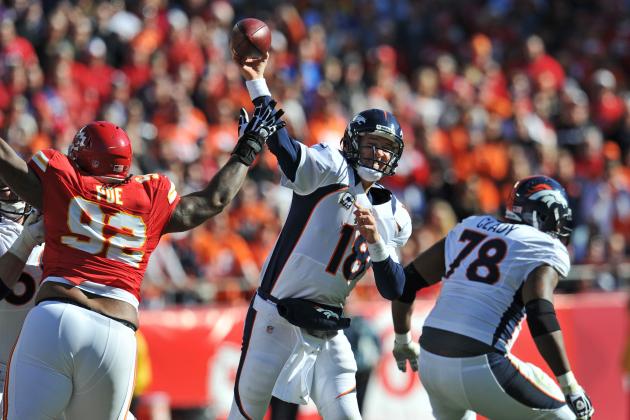 Peter Aiken/Getty Images

With 16 interceptions and a handful of strip-sacks, the Buccaneers are one of the more opportunistic passing defenses in the NFL. Unfortunately for Tampa Bay, defenses that rely on getting turnovers while still giving up high volumes of efficiency in the passing game typically don't fare well against top quarterbacks.
Peyton Manning certainly qualifies, even if he hasn't been as razor sharp lately. He'll find holes in the NFL's 32nd-ranked passing defense.
Pick: Broncos 31, Buccaneers 25
Final: Broncos 31, Buccaneers 23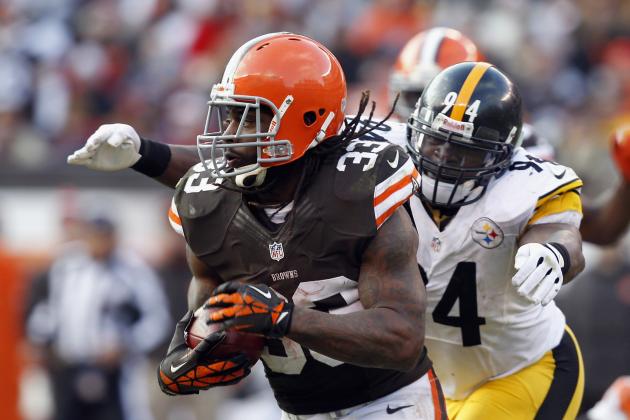 Matt Sullivan/Getty Images

ESPN's Adam Schefter reported early Sunday morning that the Raiders are likely to be without running back Darren McFadden against the Browns. Considering the tropical-storm conditions near Oakland, McFadden's continued absence could have ripple effects.
The Browns, on the other hand, have a healthy Trent Richardson to lean on, should passing the football become an impossible task.
Pick: Browns 20, Raiders 10
Pick: Browns 20, Raiders 17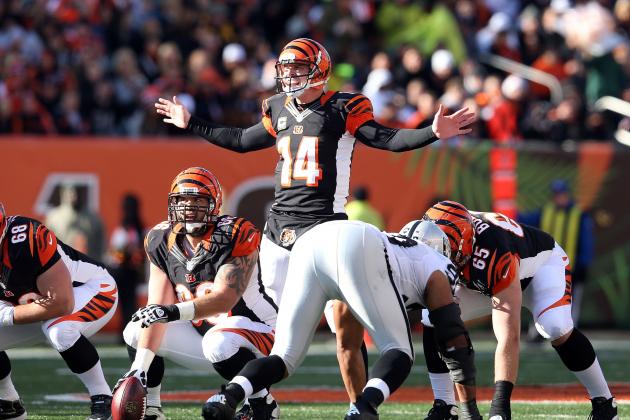 Andy Lyons/Getty Images

I found Bengals vs. Chargers to be the week's most difficult game to call. In one hand, you have a 4-7 Chargers team that could pack its bags and head for an early offseason. In the other, Norv Turner's teams have historically played very well this time of the season.
The Bengals have won three straight to get back into the AFC wild-card race. What gives?
Cincinnati gets the nod here, but this one could go either way.
Pick: Bengals 24, Chargers 20
Final: Bengals 20, Chargers 13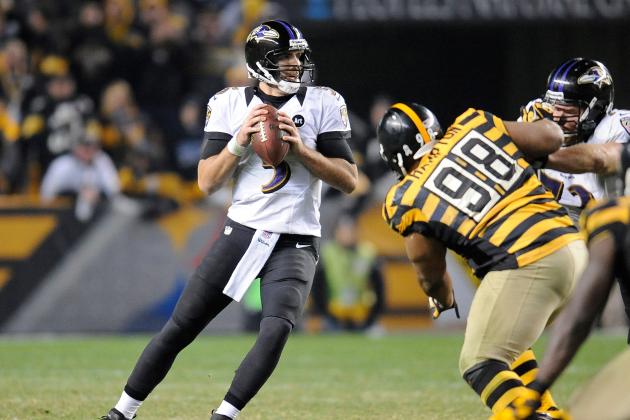 Joe Sargent/Getty Images

This rivalry game means everything to these two teams, but the Steelers have to be somewhat looking ahead. Pittsburgh hasn't beat the Ravens without Ben Roethlisberger, but he's expected back sooner rather than later.
A loss Sunday can be withstood as long as Roethlisberger is back for the final four games, a stretch that includes a vital clash with the wild-card-hungry Bengals.
Pick: Ravens 21, Steelers 17
Final: Steelers 23, Ravens 20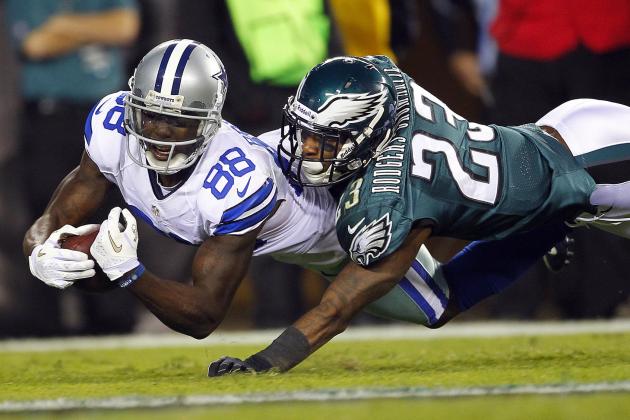 Rich Schultz/Getty Images

If the Cowboys can't beat a sinking Eagles team playing rookies at both quarterback (Nick Foles) and running back (Bryce Brown) behind one of the NFL's shakiest offensive lines, there will be big trouble in Dallas.
Sunday night is a must-win if the Cowboys have any inclination for playing beyond Week 17.
Pick: Cowboys 23, Eagles 16
Final: Cowboys 38, Eagles 33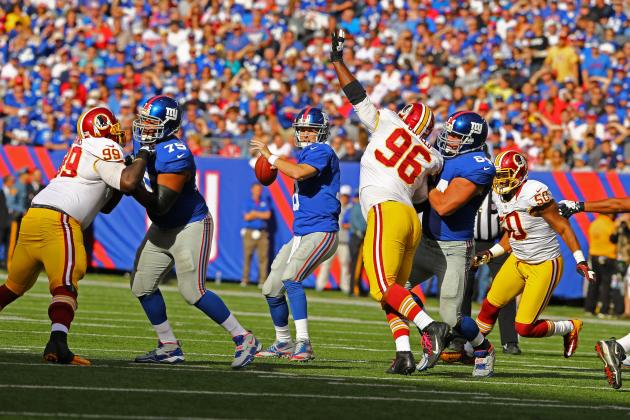 Al Bello/Getty Images

As expected, the Giants sprung to life after everyone was ready to leave them for dead. Sleeping through November is just what this football team does. But the Redskins have witnessed their own revival the past two weeks, and now Monday night's matchup has big playoff implications.
It took a 77-yard touchdown from Eli Manning to Victor Cruz to save the Giants in the first meeting between these two teams, but how do you bet against New York in December?
Manning will find a way late.
Pick: Giants 27, Redskins 24