Last Minute Odds, Picks Against the Spread for NFL Week 13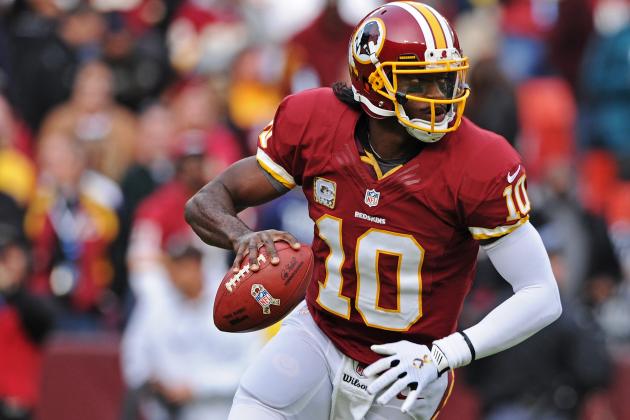 Patrick Smith/Getty Images

Just as we get set for kickoff in Week 13 of the 2012 NFL season, last-minute picks including the spread are quite fascinating.
A game such as the Monday night showdown between Robert Griffin III and Eli Manning will be an excellent contest, because both are fighting to win the NFC East. Not to mention, the entire NFC is shaping up to be one close race in December.
So, will RG3 and the Washington Redskins top the defending Super Bowl champion New York Giants at home? Well, let's first check out everything for Sunday and then the prime time games thereafter.
Note: All spreads are courtesy of FootballLocks.com
Begin Slideshow

»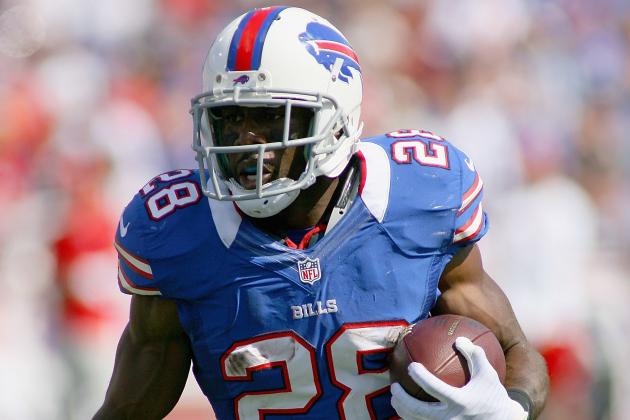 Rick Stewart/Getty Images

This game will be a bit more explosive than expected.
We know the Buffalo Bills are capable of moving the ball, because running back C.J. Spiller averages 6.7 yards per carry. In addition, we've seen Ryan Fitzpatrick dice up defenses on more than one occasion, despite the interceptions.
Well, the Jacksonville Jaguars have become more high-powered with Chad Henne under center. On the flip side, the Jags still remain suspect defensively as does Buffalo.
In short, each offense moves the rock quite consistently. The winner, though, fields the better ground game for balance to control the tempo.
Buffalo against the spread
Bills 31, Jaguars 24
Final Score: Bills 34, Jaguars 18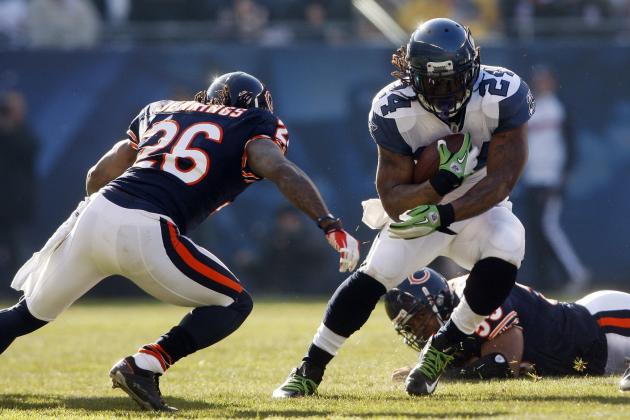 Jerry Lai-US PRESSWIRE

Two things regarding the Seattle Seahawks and Chicago Bears.
The first regards Seahawks' defensive backs Richard Sherman and Brandon Browner. According to Gregg Rosethanl of NFL.com:
The Seattle Seahawks might boast the best cornerback duo in the league in Richard Sherman and Brandon Browner. They are certainly the most physical. And until their reported suspension appeal is heard, they remain available.
Secondly, is Bears' running back Matt Forte. Per Sean Jensen of the Chicago Sun-Times:
Bears running back Matt Forte was limited in practice for a second consecutive day, and he said he expected to play Sunday against the Seattle Seahawks.

"I'm feeling good," Forte said.
The continued concern, though, is Jay Cutler's pass protection. Seattle can rush the passer and the Bears have struggled in keeping Cutler off the ground this season. Factor in Marshawn Lynch capable of slamming Chicago's defense and Seattle has an advantage.
Seattle and the points
Seahawks 21, Bears 16
Final Score: Seahawks 23, Bears 17 (OT)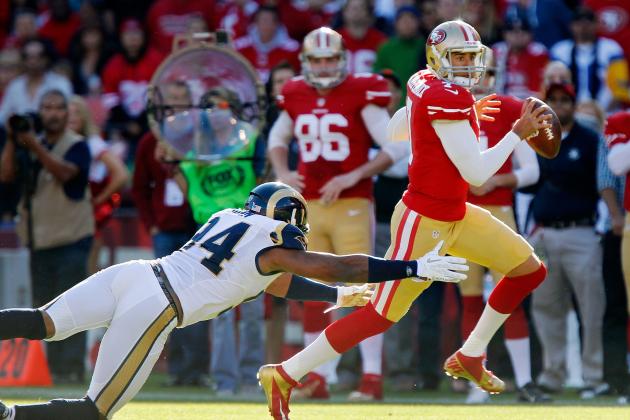 Brian Bahr/Getty Images

One reason why the San Francisco 49ers and St. Louis Rams tied in the first meeting results from similar philosophies.
Each team presents a run-first offense and a defense capable of controlling the line of scrimmage. Also, the defenses can lockdown in man coverage, generate turnovers and get quarterback pressure.
The disparity between the teams; however, comes from weekly consistency. San Francisco allows 14 points per game compared to 23 of St. Louis and roughly 63 fewer yards per game.
Offensively, the 'Niners field more reliable balance and more potential in the passing game from Colin Kaepernick.
San Francisco against the spread
49ers 30, Rams 21
Finals Score: Rams 16, 49ers 13 (OT)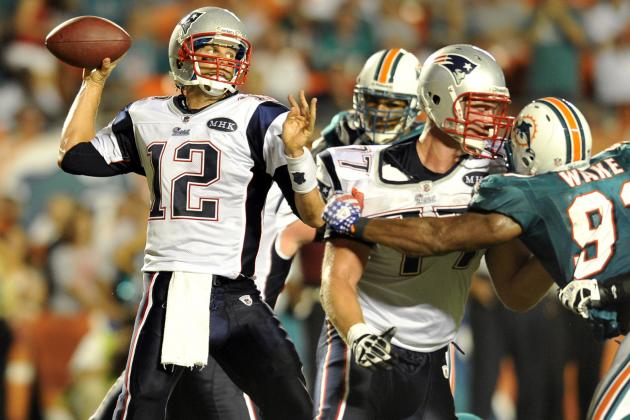 Steve Mitchell-USA TODAY Sports

Will the New England Patriots and Miami Dolphins be able to stop the pass?
It's a reasonable concern for each team, because the Pats allow 289.4 yards passing per game and the 'Fins aren't much better—give up 261.7. A major difference, though, favors Miami as it has recorded more sacks and allows only a 58.1 completion percentage.
New England by contrast, allows a 65.1 completion percentage and has given up 22 touchdown passes. As a result, expect rookie Ryan Tannehill to thwart downfield and Miami to utilize a strong balance.
Unfortunately for Miami, it isn't extensively better defensively than New England's defense, so we can also expect the usual from Tom Brady. The Pats offer far too many weapons for the Dolphins to isolate and there's no way Brady and Belichick lose to a rookie quarterback.
Still, Miami does keep it close at home.
Miami and the points
Patriots 34, Dolphins 30
Finals Score: Patriots 23, Dolphins 16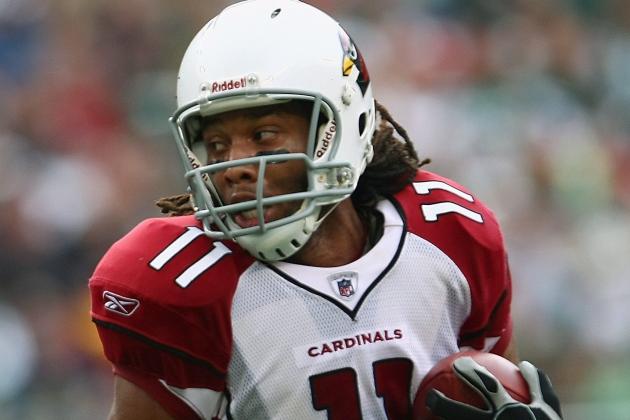 Chris McGrath/Getty Images

The Arizona Cardinals and New York Jets will be one ugly game.
Arizona has no idea how to pass protect and the Jets fail miserably at stopping the run.
Therefore, expect the Cardinals to utilize a run-heavy attack and then take a few chances downfield to Larry Fitzgerald. Now when New York possesses the rock, it too will need to present a run-heavy approach.
The Card's defensive strength is against the pass and getting pressure, so slamming with Shonn Greene will keep Arizona honest. The advantage, though, goes to Arizona as Gang Green does not field a receiver to match Fitzgerald's playmaking ability.
Arizona and the points
Cardinals 17, Jets 13
Final Score: Jets, 7, Cardinals 6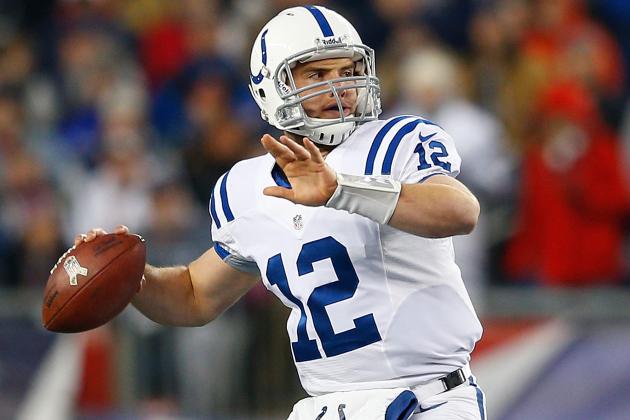 Jim Rogash/Getty Images

Andrew Luck is the key factor between the Indianapolis Colts and Detroit Lions.
Matthew Stafford and Detroit may rank No. 1 in passing offense, but the Lions don't rely enough on the ground game for balance.
Indy, however, does just that between Vick Ballard and Donald Brown. The end result is keeping opponents honest and the Colts defense desperately needs that assistance.
Considering Detroit is capable of burning of the scoreboard, keeping Stafford off the field is crucial. Fortunately Indy can match the Lions for explosiveness, although, running to shorten the contest and keep balance is more important.
Indianapolis and the points
Colts 23, Lions 20
Final Score: Colts 35, Lions 33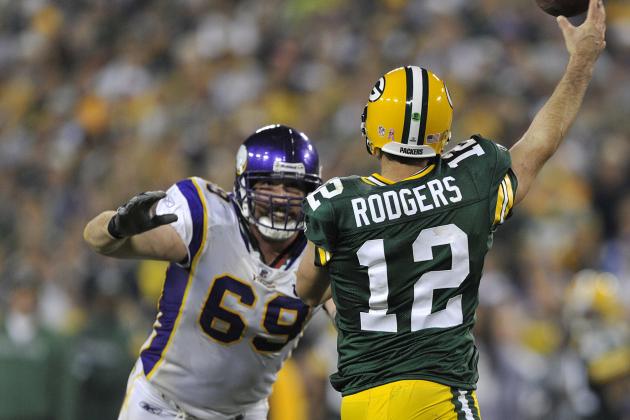 Jim Prisching/Getty Images

The Minnesota Vikings and Green Bay Packers will come down to the impact of Adrian Peterson.
And it's because the Vikings remain a one-dimension offense that needs to keep Aaron Rodgers off the field.
Also, according to Tom Pelissero of 1500ESPN.com:
#Vikings have downgraded Percy Harvin to out.

— Tom Pelissero (@TomPelissero) December 1, 2012
In addition, per Jason Wilde of ESPN Milwaukee:
McCarthy on Matthews: "He's making progress, he's just not ready to play."

— Jason Wilde (@jasonjwilde) November 30, 2012
Therefore, anticipate a heavy dosage of Peterson from Minnesota. The Packers struggle to stop the run consistently and apply quarterback pressure without Matthews. On the other hand, Minnesota can still get pressure and force Green Bay into being one-dimensional.
A close division battle late in the year always goes to the better ground game.
Minnesota and the points
Vikings 27, Packers 24
Final Score: Packers 23, Vikings 14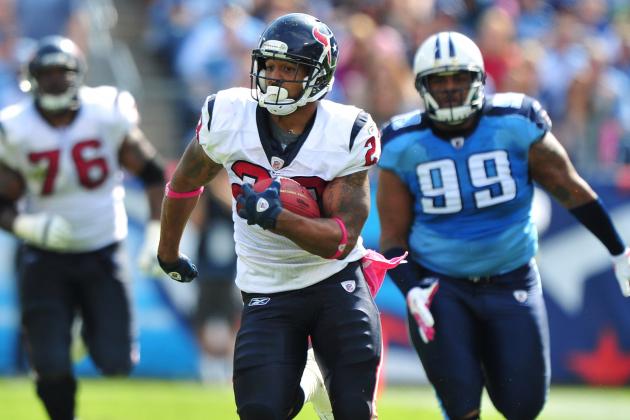 Don McPeak-USA TODAY Sports

The appealing aspect of the Houston and Texans and Tennessee Titans is the ground game.
In short, Arian Foster vs. Chris Johnson.
The rushing attack is each offense's forte; Houston is simply far more consistent and balanced to bulldoze Tennessee. The Titans lack everywhere defensively and don't present an offensive aerial assault to push the pace.
Houston plays much better defense across the board and Foster's running impact will allow the Texans to control the tempo throughout.
Houston against the spread
Texans 35, Titans 16
Final Score: Texas 24, Titans 10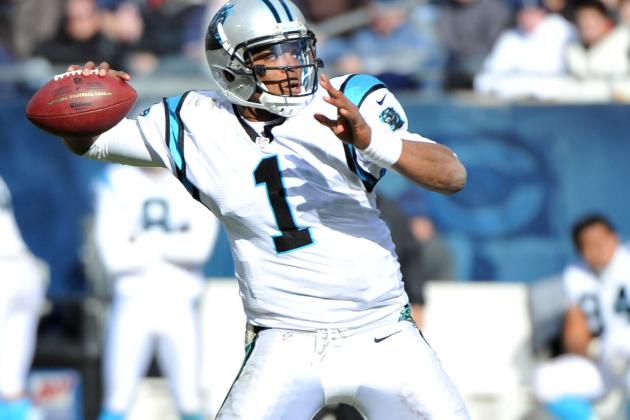 Rob Grabowski-US PRESSWIRE

It's impossible to fathom what the Kansas City Chiefs are going through right now.
Kansas City Chiefs linebacker Jovan Belcher committed suicide in front of the team's coach and general manager at the training facility Saturday after killing his girlfriend in a separate shooting, Kansas City police spokesman Darin Snapp said.
For as tough it is to prepare for an NFL game, this unfortunate occurrence amplifies the difficultly of just playing the game to an unimaginable level.
Still, the Carolina Panthers and Chiefs plan to play in the game per the Kansas City Star.
That said, strictly looking at the football analytics and K.C. has only seen consistency from Jamaal Charles and the ground game. After all, he does average 4.8 yards per carry.
Carolina on the other hand, fields a rather balanced offense and defense capable of making plays. Then again, K.C. still turns the ball over quite often and additional possessions for Cam Newton is the difference.
Carolina against the spread
Panthers 24, Chiefs 17
Final Score: Chiefs 27, Panthers 21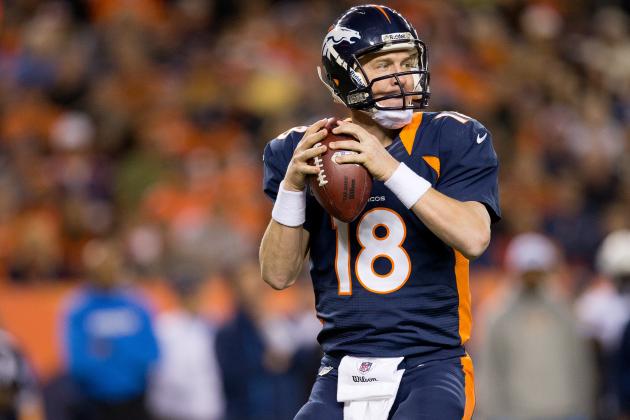 Justin Edmonds/Getty Images

The Tampa Bay Buccaneers and Denver Broncos are an intriguing matchup.
On one side is a Tampa offense with great balance and a stellar rushing attack in Doug Martin.
Here, the Bucs face a complete Broncos defense capable of stuffing the run, locking down in coverage and getting quarterback pressure. When Peyton Manning takes the field; however, he'll still see veteran Ronde Barber in Tampa's secondary.
Unfortunately for the Bucs, they are the worst pass defense around and Manning has been on fire during Denver's six-game win streak. Unless Tampa Bay thwarts Denver's defense and shuts down Manning, the Bucs flop in Week 13.
Denver against the spread
Broncos 34, Buccaneers 13
Final Score: Broncos 31, Buccaneers 23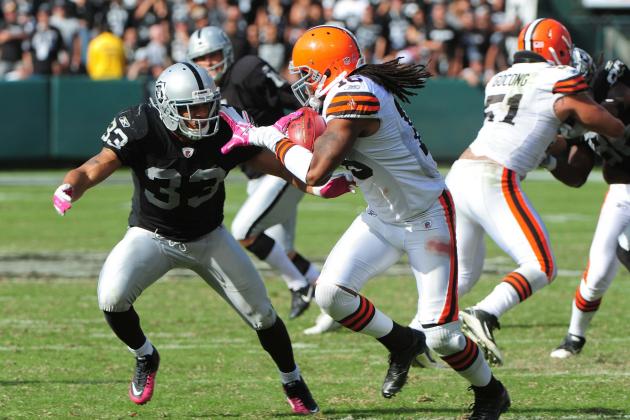 Kyle Terada-USA TODAY Sports

The Oakland Raiders allow 32.4 points per game, which is the worst in pro football.
Now although the Cleveland Browns don't have an explosive offense, the balance focused around Trent Richardson will move vs. Oakland.
The Raiders lack a pass rush and aren't dominant at forcing turnovers, so Cleveland running controls the tempo throughout. Even worse for Oakland, according to Adam Schefter of ESPN.com:
After optimism he would play this week, Raiders RB Darren McFadden unlikely to play today vs Cleveland.

— Adam Schefter (@AdamSchefter) December 2, 2012
So, expect the Raiders to rely on the passing game a bit more. Carson Palmer, however, is capable of dicing the Browns' coverage as Cleveland does allow 22.5 points per game. What the Browns do well, though, is get pressure and generate turnovers.
In short, Oakland frustrates again with limited production when in the red zone.
Cleveland against the spread
Browns 21, Raiders 13
Final Score: Browns 20, Raiders 17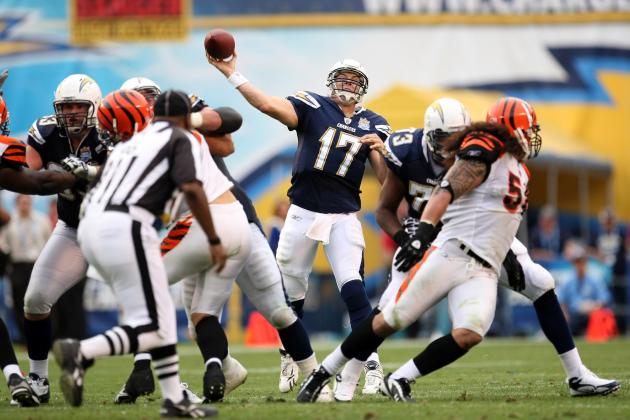 Stephen Dunn/Getty Images

The San Diego Chargers is simply in shambles right now.
The Cincinnati Bengals are arguably the Bolts' exact opposite.
After each team began 3-1, the tides remained equal as both sat at 3-4 through seven games.
Since, the Bengals are 3-1 and San Diego is 1-3. The Chargers lack against the pass and at applying quarterback pressure. Cincinnati's offensive strength is airing it out to A.J. Green, and the Bengals defensively are solid at creating quarterback pressure.
Cincinnati against the spread
Bengals 20, Chargers 14
Final Score: Bengals 20, Chargers 13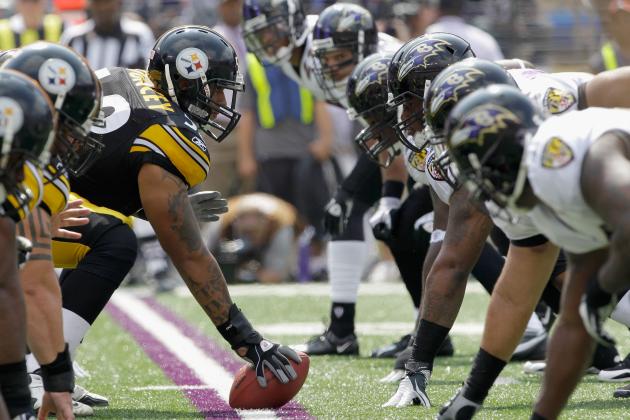 Rob Carr/Getty Images

The quarterback situation for the Pittsburgh Steelers has not gotten any better.
Per Gerry Dulac of the Pittsburgh Post-Gazette:
Ben Roethlisberger ruled out for Ravens game. So is B Leftwich.

— Gerry Dulac (@gerrydulac) November 30, 2012
On the contrary, the Baltimore Ravens don't have that issue and field a potent balance in Joe Flacco and Ray Rice. Baltimore doesn't turn the ball over and Pittsburgh's defense fails to generate turnovers as well.
Include the Steelers ludicrous offensive performance in Week 12 and expect the same against Baltimore. The Ravens defense has improved with each week and Pittsburgh's lack of explosiveness won't match Baltimore's pace.
Baltimore against the spread
Ravens 28, Steelers 7
Final Score: Steelers 23, Ravens 20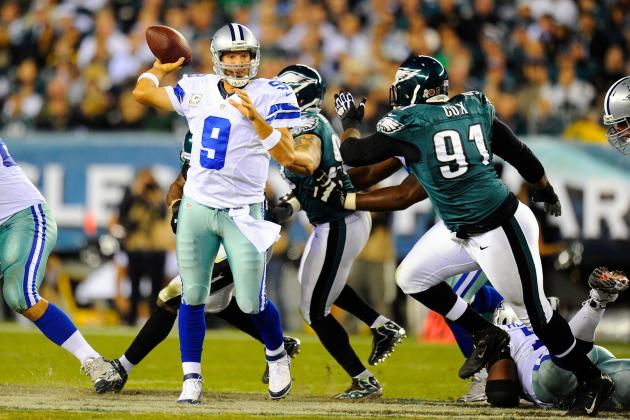 Dale Zanine-US PRESSWIRE

The Philadelphia Eagles are just too banged up to have a chance on Sunday night.
Mainly on offense are the Eagles suffering from some key injuries.
According to Rob Maaddi of the Associated Press, via Yahoo! Sports:
Nick Foles handing off to Bryce Brown in front of a national television audience wasn't the way the Philadelphia Eagles envisioned their season going.

The two rookies will be starting again Sunday night when the struggling Eagles (3-8) visit Dallas (5-6) because Michael Vick and LeSean McCoy are still sidelined by concussions.
Additionally, per Reuben Frank of CSN Philadelphia:
Andy Reid: DeSean two broken ribs. Out for the year.

— Reuben Frank (@RoobCSN) November 27, 2012
Dallas, though, is getting healthier offensive with the return of DeMarco Murray. Per Adam Schefter of ESPN.com:
These things can and do change. But going into tonight's game, Cowboys expect RB DeMarco Murray to be used in a limited role.

— Adam Schefter (@AdamSchefter) December 2, 2012
As a result, don't expect Philly to move the ball and anticipate Big D finding more offensive balance. This game is a route.
Dallas against the spread
Cowboys 35, Eagles 0
Final Score: Cowboys 38, Eagles 33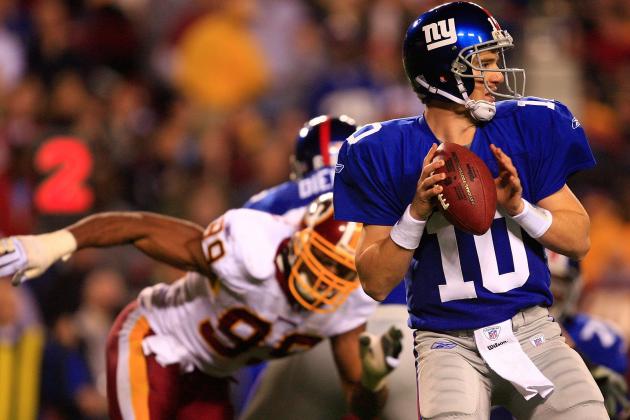 Jamie Squire/Getty Images

Arguably the game of the week, the Washington Redskins need a victory to remain in the NFC playoff picture.
As for the New York Giants, Eli Manning and Co. are looking to extend their divisional lead and keep pace with San Francisco for a postseason bye.
In this matchup, a high-scoring affair will occur as each quarterback possesses the ability to dice up the opposing defense.
The end result then resorts to turnovers. Washington by comparison is not nearly as opportunistic, and Big Blue also presents a much more effective pass rush. New York got solid pressure on RG3 in the first meeting and that impact proves strong again on Monday night.
New York against the spread
Giants 30, Redskins 23
Follow John Rozum on Twitter.