UFC on FOX 5: Benson Henderson vs. Nate Diaz Head-to-Toe Breakdown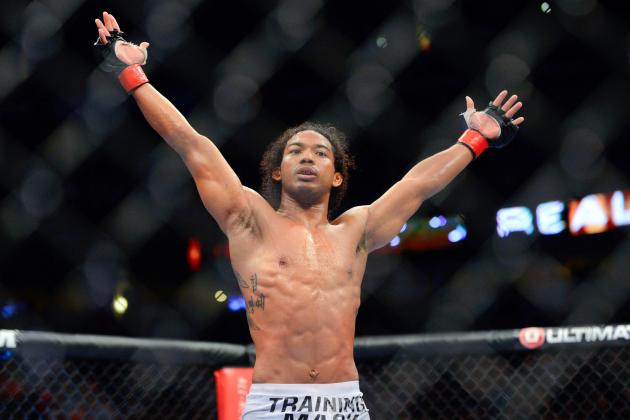 Ron Chenoy-US PRESSWIRE

Benson Henderson has removed Frankie Edgar as a threat to his lightweight belt and can now focus on building his championship legacy by putting controversial wins over his predecessor behind him.
The second title defense in Henderson's reign as champion will come against Nate Diaz at UFC on Fox 5, which will take place at Key Arena in Seattle on Saturday. The lightweight championship bout will serve as the main event for the fight card.
With a win over Henderson, Diaz would join Matt Serra, Forrest Griffin and Rashad Evans as the only The Ultimate Fighter competitors to become UFC champions. Let's take a look at Diaz's chances of winning in his first title fight inside the Octagon.
Begin Slideshow

»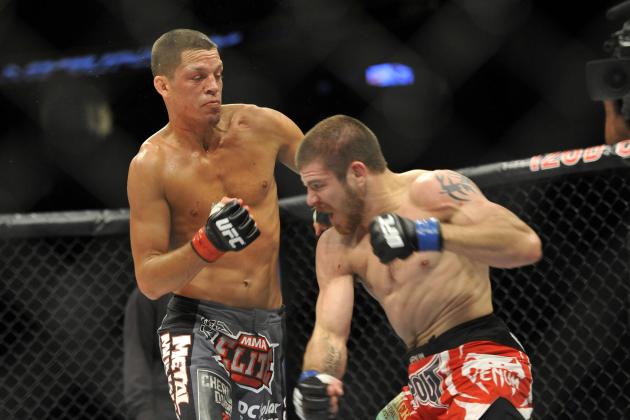 Joe Camporeale-US PRESSWIRE

Benson Henderson has proven himself to be a high-level striker, standing toe-to-toe with Frankie Edgar for 10 rounds and coming away victorious in both fights. Still, it probably won't be a good sign for Henderson if he's forced to stand for the majority of his fight against Nate Diaz on Saturday.
Since he returned to the lightweight division, Diaz's striking has appeared to take a significant step forward. While he still utilizes kicks infrequently, the Stockton, Calif. native has become one of the best boxers at 155 pounds.
With only a few knockouts in his career, Diaz probably isn't going to be able to finish an opponent who survived an Anthony Pettis head kick. However, he's definitely capable of becoming lightweight champion should this turn into a stand-up fight.
Edge: Diaz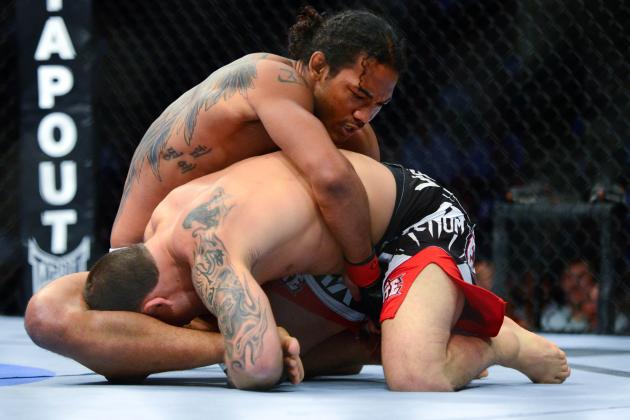 Ron Chenoy-US PRESSWIRE

There's little doubt Benson Henderson's wrestling will play a vital role in his attempt to retain the lightweight title at UFC on Fox 5.
In his short UFC career, Henderson has already taken down Frankie Edgar, Clay Guida and Jim Miller. All of those opponents were considered better wrestlers than Nate Diaz, who has been grounded by everyone who has tried to take him down inside the Octagon with the lone exception of Takanori Gomi.
Henderson won't have an easy time on the ground with Diaz, a dangerous jiu-jitsu black belt, but his best chance of winning this fight is to take his opponent down.
Edge: Henderson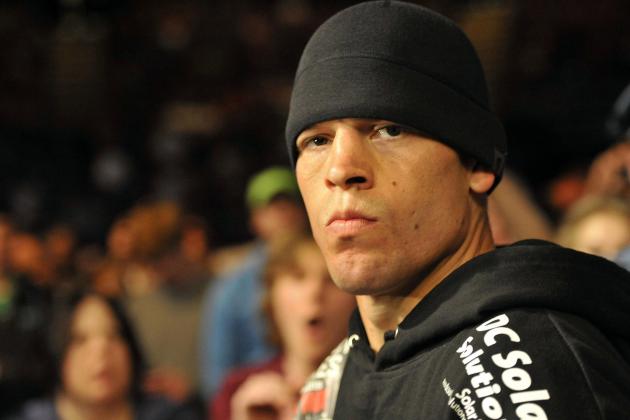 Joe Camporeale-US PRESSWIRE

First instinct leads one to assume the Cesar Gracie-trained Nate Diaz has the advantage in the submission department in this matchup. However, the chances of either of these fighters being forced to tap at any point in this bout are slim.
Both Henderson and Diaz have only been submitted once in their MMA careers, and those losses came more than five years ago.
Diaz does have a few more submission victories than Henderson, but the lightweight champion has defended 14 submissions in just five UFC bouts and is recognized for being one of the hardest fighters to choke in the entire sport.
Edge: Push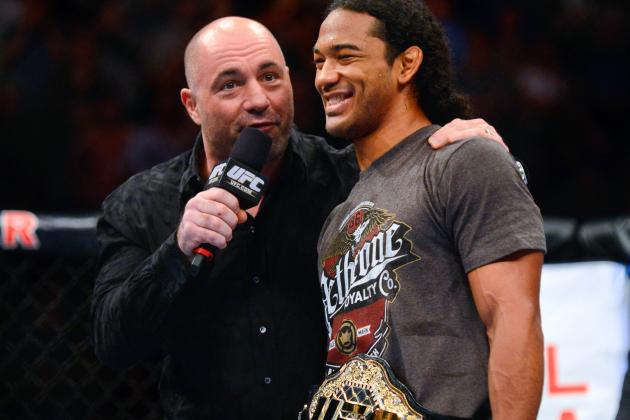 Ron Chenoy-US PRESSWIRE

While this will be Nate Diaz's first shot at a UFC belt, Benson Henderson has won multiple title fights under both the UFC and WEC banners.
Henderson will have to keep his cool when Diaz inevitably taunts him mid-fight, but championship experience will undoubtedly play a bigger role in this fight than the possibility of Diaz annoying Henderson slightly with trash talk.
Edge: Henderson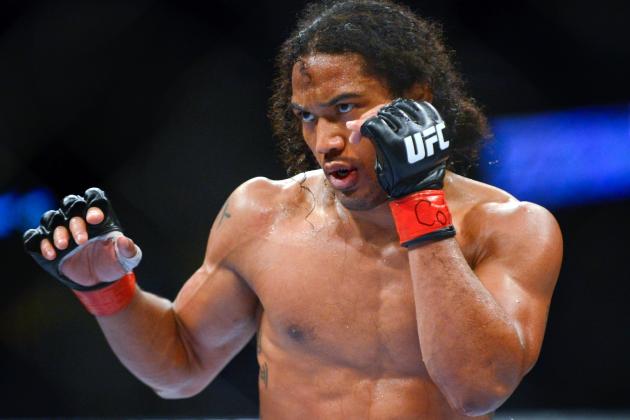 Ron Chenoy-US PRESSWIRE

It is interesting that Nate Diaz didn't have to face off against a wrestler since his return to the lightweight division. While that has helped him climb the ranks and become a top contender, Diaz's lacking takedown defense will show through in this matchup.
Diaz often doesn't have to worry about being taken down because he is so dangerous off his back, but Benson Henderson has proven he is nearly impossible to submit nowadays.
Neither of these fighters are easy to finish, so this bout will very likely go the distance. Considering that conditioning is never an issue for either competitor, Henderson's top control should be enough to earn him a decision victory and a second title defense.
Prediction
Henderson defeats Diaz by decision.