Carolina Panthers vs. Kansas City Chiefs: Postgame Coverage and Analysis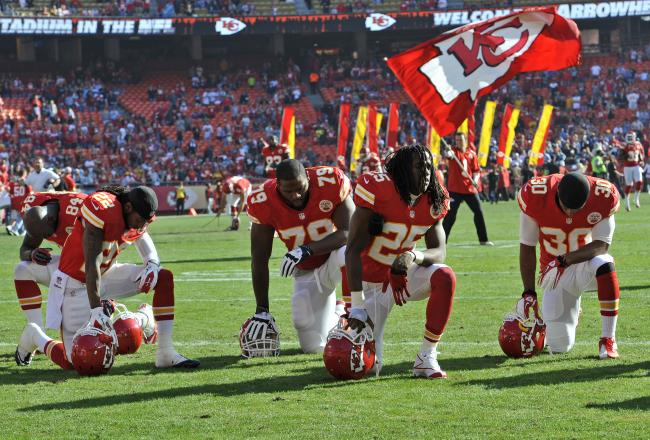 Peter Aiken/Getty Images
In 2010, the team motto for Kansas City was "Chiefs Will." Today, the team personified the meaning of it.
Surrounded by a whirlpool of adversity, Romeo Crennel rallied his team and slammed the brakes on an eight-game losing skid.
Brady Quinn produced his best performance of 2012 as Kansas City's quarterback. No. 9 completed 19 of his 23 passes for 201 yards and two touchdowns.
The open-field mirage that is Jamaal Charles juked his way to 127 rushing yards on 27 carries.
Cam Newton (15-of-27, 232, 3 TD) and the Carolina Panthers (3-9) will attempt to rebound next Sunday, as they host the 11-1 Atlanta Falcons. The Kansas City Chiefs (2-10) will land in Cleveland and clash helmets with the 3-8 Browns.
Season statistics provided by Pro-Football-Reference.com. Today's box score provided by ESPN.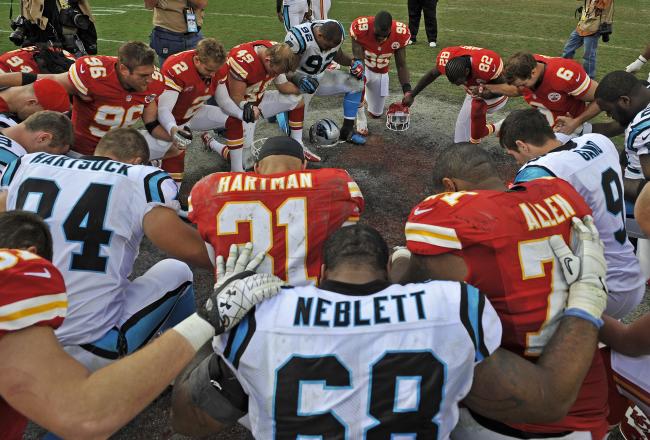 Final Thoughts
Yesterday, we were reminded that sports are just that. Today, we were reminded why they can be so much more.
Sunday's outcome, in the grand scheme of things, was inconsequential, and rain clouds will continue to loom above One Arrowhead Drive throughout the foreseeable future. Kansas City's victory leases a ray of sunshine that will expire as time attempts to work its magic.
However, nothing can bring full closure to the families of Kasandra Perkins and Jovan Belcher.
Chiefs head coach Romeo Crennel opened his postgame comments (Fox Sports) by offering prayers and condolences to both families. He then added, "Our prayers and hopes go out to a three-month-old, Zoey. A little girl who will never get to know her mother and father."
Crennel emphasized that Sunday's win should be framed in proper context (ESPN):
Players have also chimed in with their support.
Outside linebacker Justin Houston:
Thank God for everything.... #trulyblessed... RIP Javon and Kasandra

— Justin Houston (@JHouston50) December 2, 2012
Guard Jeff Allen:
Proud of all my teammates for showing perseverance today. I'm also thankful for our fans for showing us so much support. Love you guys!

— Jeff Allen (@JeffAllen71) December 2, 2012
Tackle Eric Winston:
Great, bittersweet win for the Chiefs today. For a few hours our minds were off this tragic weekend. Thanks Chiefs nation for the support

— Eric Winston (@ericwinston) December 2, 2012
Winston added:
Would be remiss not mention all the families affected by this terrible tragedy and I ask everyone to concentrate their support onto them.

— Eric Winston (@ericwinston) December 2, 2012
And although Zoey won't remember today's game, Chiefs players have made it clear that they won't forget about her:
Brady Quinn said the Chiefs player fund for Jovan Belcher's orphaned daughter will also be opened to the public if they want to donate.

— Bart Hubbuch (@HubbuchNYP) December 2, 2012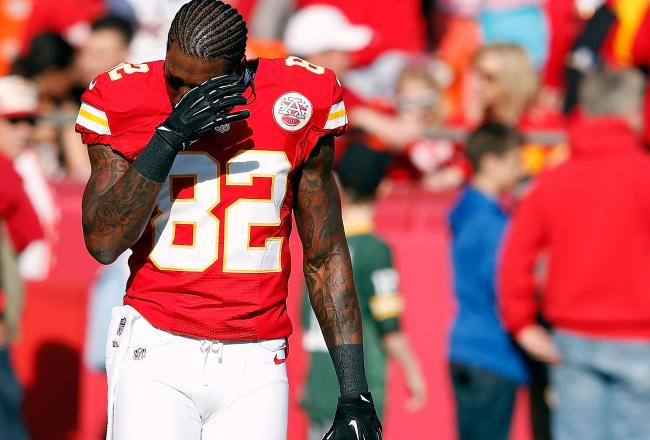 Final:
On the final play, Steve Smith snatches a last-ditch heave but falls eight yards shy of the end zone.
Kansas City guts it out and clutches a spirited, emotionally draining second win of the 2012 season.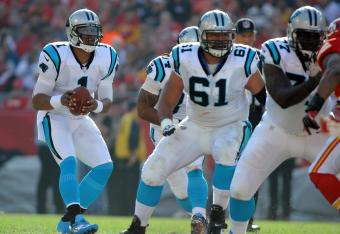 :31, fourth quarter:
31 seconds stand between Kansas City and its second victory of the season.
31 seconds seem like a lifetime with Cam Newton under center.
2:38, fourth quarter:
Committing a delay of game penalty—with three timeouts—is inexcusable when a team is attempting to milk the clock.
A tough task just added another layer of difficulty.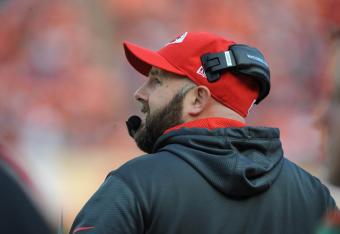 3:30, fourth quarter:
Although Kansas City needs to drain the clock, Daboll can't afford to be conservative and run on 3rd-and-long.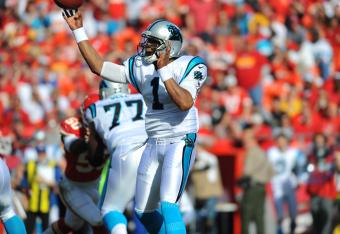 4:49, fourth quarter:
Time and again, the Panthers have collapsed under the fourth-quarter spotlight in 2012.
This is Newton's chance to rectify the aforementioned mistakes.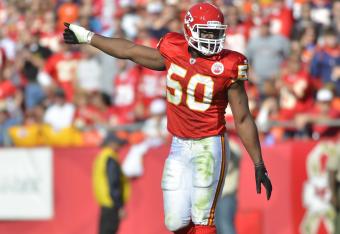 7:39, fourth quarter:
Kansas City's defense had its back against the ropes, but it answered the call and responded impressively.
Justin Houston added an extra digit to his sack total (10).
Tyson Jackson—who blended in with the crowd during his first three seasons with the Chiefs—has also made a name for himself in three consecutive weeks.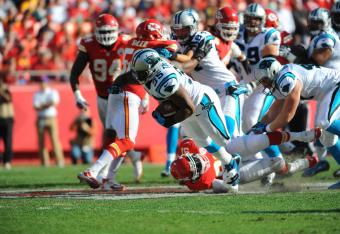 9:24, fourth quarter:
The last third-down conversion showcased Mike Tolbert's diversity.
Jack-of-all-trades.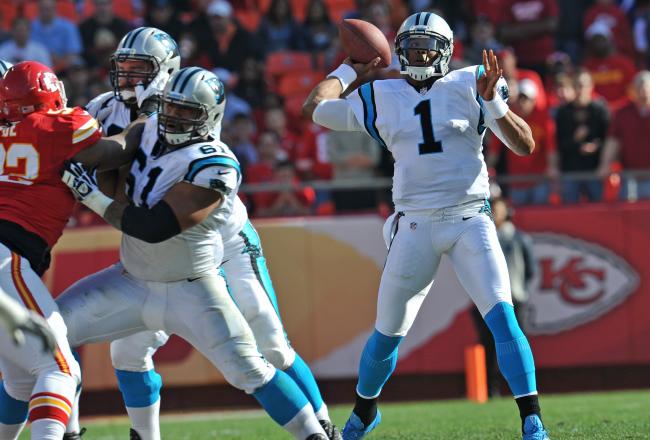 13:01, fourth quarter:
Jalil Brown took the bait, and Louis Murphy cuts Kansas City's lead to three.
Newton treated Monday Night Football like his personal talent show. His confidence is on cloud nine and climbing.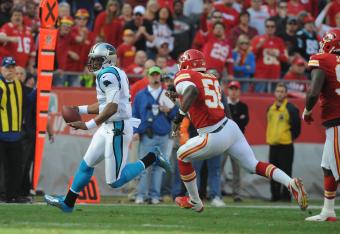 13:40, fourth quarter:
The read-option is a pick-your-poison dilemma with Cam Newton.
Until Chiefs defenders give him a reason not to keep it, Newton will continue to cradle the ball and punish the opposition.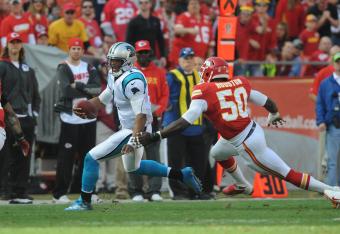 :26, third quarter:
Newton is repeatedly exploiting the interior of the Chiefs defense.
Derrick Johnson also pulled up while in pursuit of the former Heisman winner.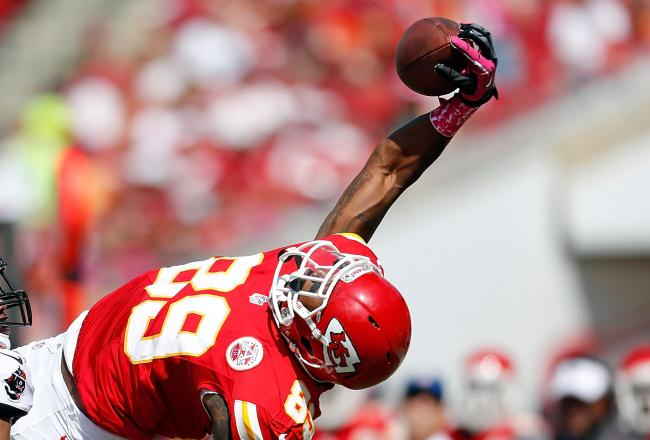 3:00, third quarter:
With the assistance of Jamaal Charles and two leaps of faith by his head coach, Brady Quinn just led the anemic, sluggish, molasses-like 2012 Chiefs offense on a 17-play touchdown drive.
Nastradamus couldn't have seen that coming.
A fastball to Jon Baldwin gives Kansas City a 10-point advantage.
4:10, third quarter:
Crennel is three-for-three on fourth-down conversions today.
Caution, meet the wind.
7:28, third quarter:
Luke Kuechly zips to the ball like metal to a Wile E. Coyote magnet.
In all likelihood, if Carolina hadn't selected him one pick before Kansas City was on the clock, Kuechly would probably be outfitted in red for this game.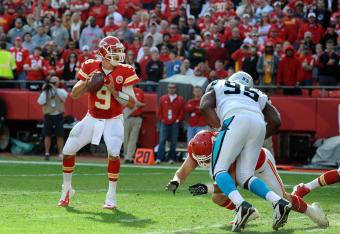 10:30, third quarter:
Brady Quinn looks infinitely more comfortable in Daboll's offense. He's systematically progressing through his reads and hitting his check-downs.
This looks a lot more like the Chiefs offense that fans expected heading into the regular season.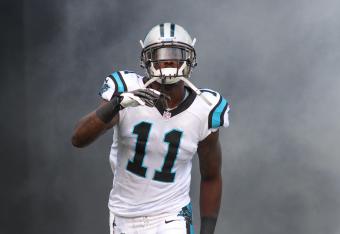 13:01, third quarter:
It goes without saying, but Brandon LaFell's drop could prove extremely costly.
Give Newton credit, the Chiefs dialed up a safety blitz, and he didn't flinch a muscle in the face of pressure.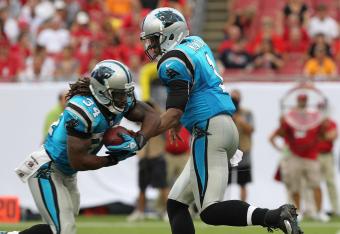 13:48, third quarter:
DeAngelo Williams is quietly putting together a nice game.
The tailback has currently tallied 48 yards on seven carries.
Halftime
Carolina Panthers
Cam Newton: 6-of-10 passing, 116 yards, two touchdowns
Steve Smith: two receptions, 42 yards, touchdown
Kansas City Chiefs
Brady Quinn: 12-of-14 passing, 122 yards, touchdown
Jamaal Charles: 13 attempts, 73 yards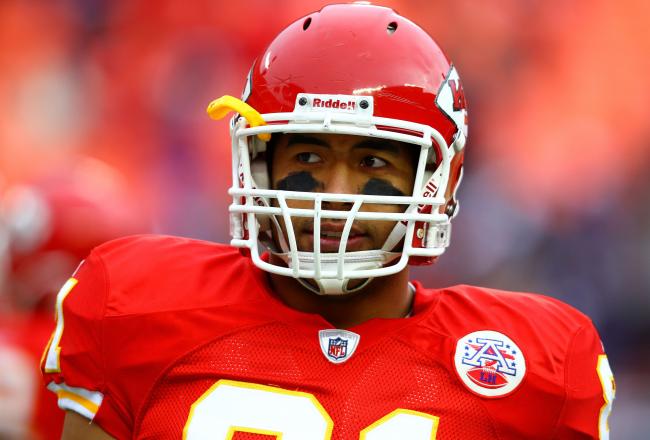 :01, second quarter:
Gutsy call by Romeo Crennel, but it paid off.
The half ends with a play-action touchdown pass to Tony Moeaki.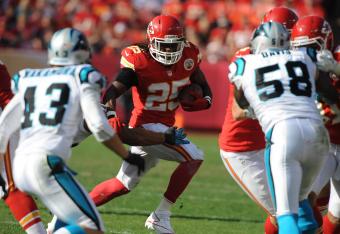 :43, second quarter:
With his last rush, Jamaal Charles has eclipsed the 1,000-yard mark for the season.
Romeo Crennel faced a similar fourth-down scenario last week and elected to kick a field goal inside of the opponent's 5-yard line.
Different week, different decision.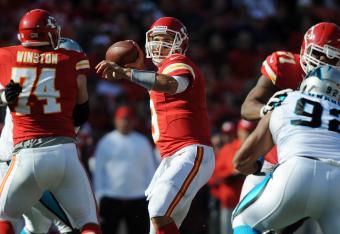 1:29, second quarter:
Brady Quinn has currently completed six consecutive passes.
This has easily been his best half as a member of the Chiefs.
2:00, second quarter:
Penalties are plaguing the Panthers on this drive and have enabled the Chiefs to prolong its lifespan.
Yellow flags are momentum killers—ask any Kansas City fan.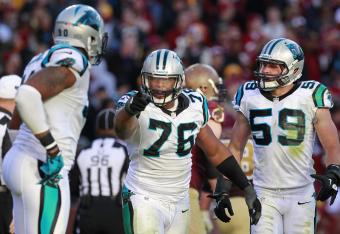 5:01, second quarter:
Carolina's front seven seems to have plugged the holes that Jamaal Charles had been bursting through.
Creases are becoming slimmer by the carry.
8:39, second quarter:
Brandon Flowers (hamstring) questionable return. #chiefs

— Chiefs RapidReports (@CBSChiefs) December 2, 2012
Significant blow to Kansas City if Flowers remains sidelined.
10:40, second quarter:
Carolina's defense finally tightened the loose screws and forced a punt.
The Chiefs, for obvious reasons, can't allow the Panthers to build a comfortable lead. If Kansas City's deficit renders Jamaal Charles ineffective, it will be staring at the Everest of uphill battles.
This article is
What is the duplicate article?
Why is this article offensive?
Where is this article plagiarized from?
Why is this article poorly edited?