Bowl Projections 2012: Predicting Outcome of Most Anticipated Likely Contests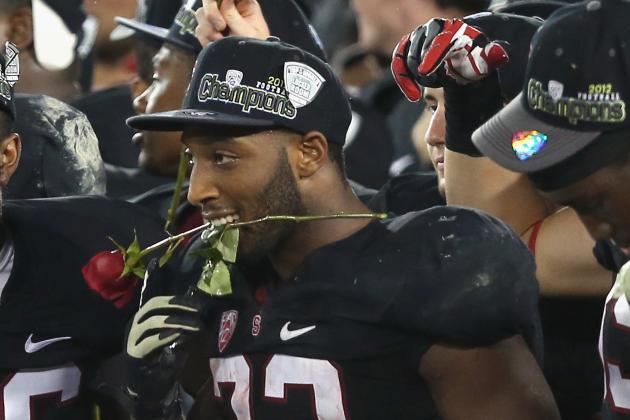 Ezra Shaw/Getty Images

The college football regular season is over, and only the bowl games are left.
While the matchups for the BCS bowls are not completely set, the automatic qualifiers, contractual obligations and a little guesswork provide a nearly complete picture as to where teams will be playing in the first few days on 2013.
There have been wild twists and turns throughout this entire year, and it is reasonable to assume the bowls will provide a few more unexpected results.
Here are my predictions for each likely matchup for the major BCS bowl games.
Begin Slideshow

»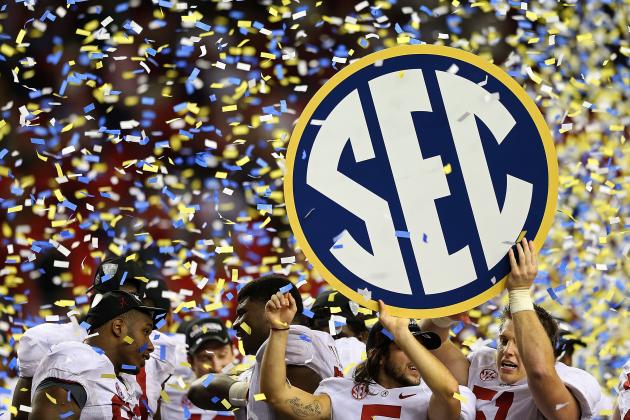 Mike Ehrmann/Getty Images

Alabama's thrilling 32-28 victory over Georgia in the SEC championship game earned NIck Saban a chance to play for his third national title as the Crimson Tide's head coach.
His opponent will be the Notre Dame Fighting Irish, who have made it through their difficult schedule without a loss.
The Irish and the Tide had the top two defenses in the country heading into the weekend. One of these defenses will have to break, though, and Alabama has significantly more offensive firepower than Notre Dame.
Eddie Lacy and T.J. Yeldon will continue running hard like they did against the Bulldogs, and while they will not find as many holes, they will provide enough points for Alabama to win a national title.
Prediction: Alabama 17, Notre Dame 10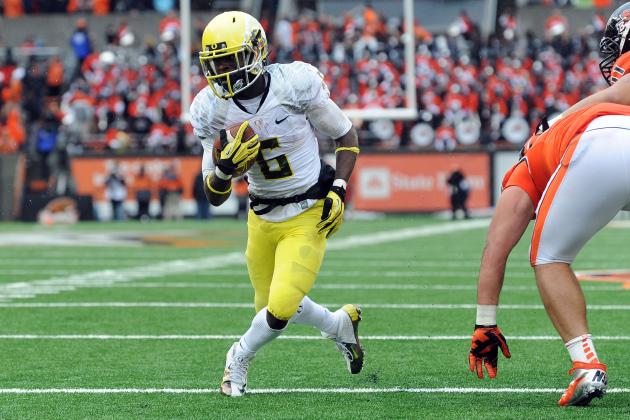 Steve Dykes/Getty Images

Fans looking for a defensive battle will be pleased with the national title game, but they will also be in the minority. Most spectators will be more intrigued by a shootout, and that is exactly what Kansas State and Oregon will provide in the Fiesta Bowl.
These two teams have high-octane offenses, and both have defenses that have hemorrhaged points at times during this season.
Kansas State proved to be especially weak defensively in their lone loss of the season against Baylor. The Wildcats allowed 52 points and 580 total yards in that game.
KSU will have to try and match the Ducks point for point, and it will not be able to keep pace with the speedy Oregon playmakers.
Prediction: Oregon 49, Kansas State 38
Kevin Liles-US PRESSWIRE

This matchup is one that is still in doubt, and the updated BCS standings will determine whether or not Oklahoma plays in a marquee bowl game this year.
Florida is nearly a lock to be chosen for the Sugar Bowl, but if Northern Illinois cracks the Top 16 in this week's rankings, it will earn a guaranteed spot in a BCS bowl game. This will shake up the BCS picture.
If Florida does end up taking on Oklahoma, though, it will show the talent gap between the SEC and everyone else. The Sooners have offensive firepower, but Landry Jones and the passing attack will stall against the Gators defense.
Florida's often anemic offense will not be able to turn this game into a rout, but it will produce enough points to win. If the Gators are fortunate enough to take on Louisville or Northern Illinois, expect a blowout.
Prediction: Florida 23, Oklahoma 13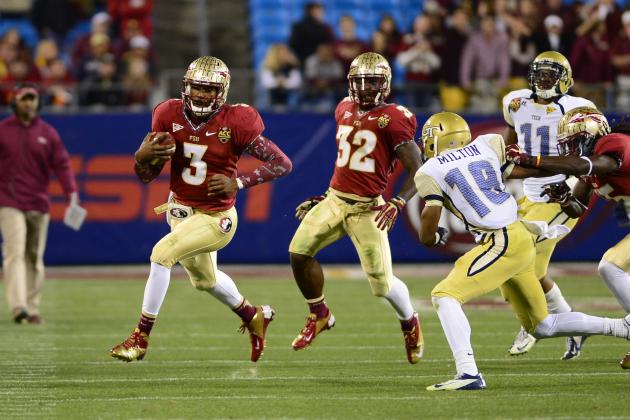 US PRESSWIRE

This matchup is also up in the air, but the most likely matchup is Florida State against Louisville.
The Seminoles have secured a spot in the Orange Bowl by winning the ACC, and the Cardinals will likely end up here if Northern Illinois does not reach the Top 16.
Two talented quarterbacks will face off in this matchup, with E.J. Manuel leading FSU and Teddy Bridgewater under center for Louisville.
Bridgewater will have time to recuperate after playing through a broken left wrist and a sprained ankle, and his presence will ensure that this game is exciting. But in the end, Florida State will pull out a narrow victory.
Prediction: Florida State 35, Louisville 34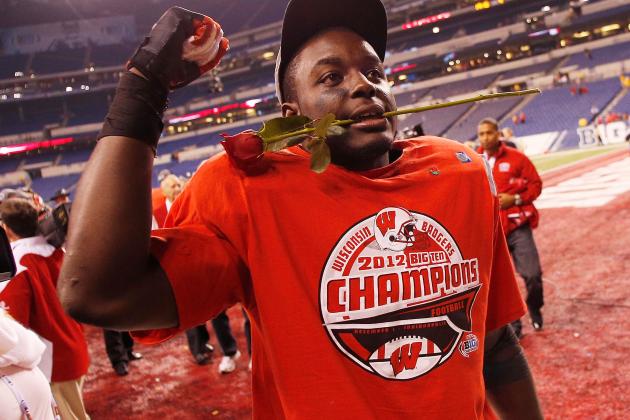 Gregory Shamus/Getty Images

Wisconsin made a resounding statement with their 70-31 victory over Nebraska in the Big Ten championship game, and Stanford will have a challenge in the Rose Bowl.
But the Cardinal have been incredibly impressive on defense this season, and freshman quarterback Kevin Hogan continues to improve with every game. They will certainly be the favorite in this contest.
Still, Montee Ball and Wisconsin have the experience of two Rose Bowl appearances in the past two seasons, and the team will be fueled by painful losses in both of these games.
Add the desire to finally win in Pasadena to the momentum from the Badgers' Big Ten championship blowout victory, and Wisconsin will record an upset.
Prediction: Wisconsin 24, Stanford 21