ACC Championship: 10 Things We Learned from Florida State's Win vs. Georgia Tech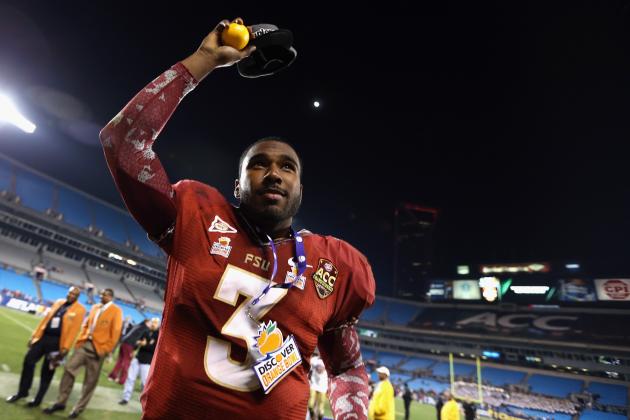 Streeter Lecka/Getty Images

When the ACC expanded in 2005 to add a conference championship game, the common thought was that Florida State and Miami would meet regularly to decide the ACC champion.
Well, Miami has yet to reach the game, and this was just the third time Florida State managed to win its division.
Still, Florida State is your 2012-2013 ACC champion and will represent the conference in the 2013 Orange Bowl.
Florida State was able to hold off a late Georgia Tech rally and pull out the victory, 21-15.
Let's take a look at 10 things we learned from the 2012 ACC Championship.
Begin Slideshow

»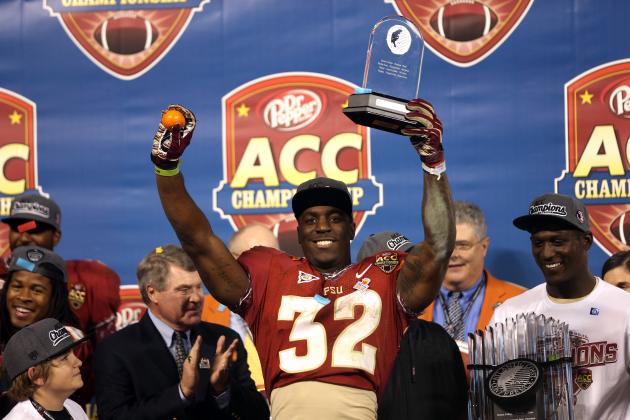 Streeter Lecka/Getty Images

I know, I'm really going out on a limb with this one, but it needs to be said.
James Wilder Jr. is going to be a special player for the Seminoles.
Just a sophomore, Wilder earned MVP honors with his 10 carries for 69 yards and two scores. Wilder ran with bad intentions on Saturday and was able to gash the Yellow Jackets defense and gain big-time yards for the Noles.
On the year, Wilder has 99 carries for 583 yards and 11 touchdowns. His 5.88 yards per carry are impressive, and Wilder should earn more carries from here on out.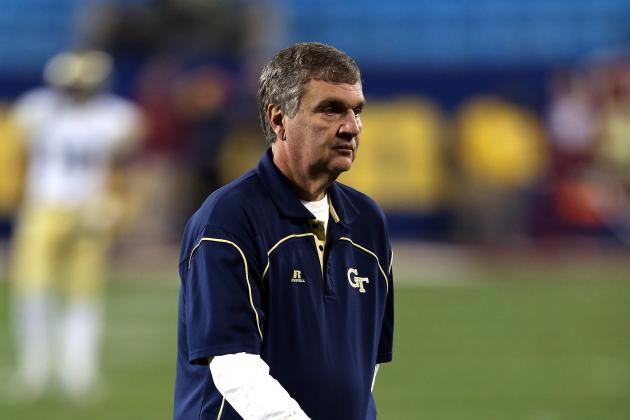 Streeter Lecka/Getty Images

After losing to Florida State, Georgia Tech moves to 6-7 and needs a waiver from the NCAA to still be bowl eligible.
The way Georgia Tech has struggled this season, especially on defense, has started to get people talking about Paul Johnson's job security.
Johnson deserves to keep his job.
Johnson has proven to be a winner with only two losing seasons on his résumé (one at Navy, one at Georgia Tech). He doesn't run a popular offense, but it is effective. Georgia Tech surpassed 4,000 rushing yards on the season against Florida State, the fourth consecutive season the Yellow Jackets have accomplished that.
Georgia Tech's deficiencies have been on defense, and Johnson showed that he can make tough but necessary decisions when he fired defensive coordinator Al Groh midseason.
Paul Johnson deserves to be the head coach at Georgia Tech.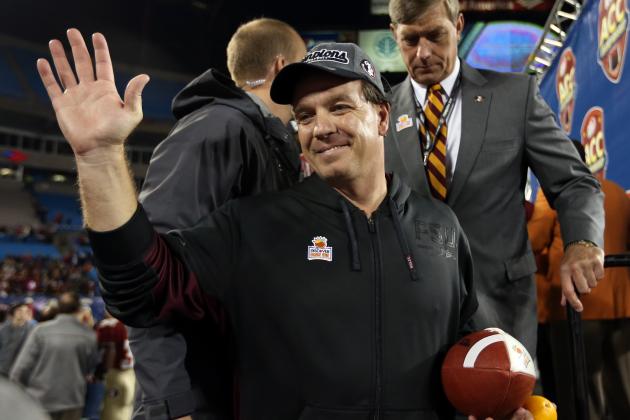 Streeter Lecka/Getty Images

Maybe Jimbo Fisher is wearing too many hats.
Fisher is starting to develop a reputation for being too conservative and allowing teams back into games rather than just running the offense.
Florida State was gashing Georgia Tech with James Wilder and Devonta Freeman, and E.J. Manuel was running the option to perfection, but Florida State couldn't manage to score in the second half.
Fisher's play-calling again grew conservative in the second half when Florida State had the lead, and it almost cost the Seminoles.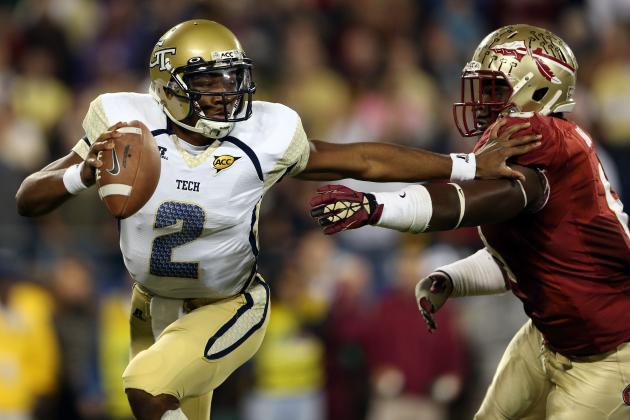 Streeter Lecka/Getty Images

Vad Lee might just be the best quarterback Paul Johnson has recruited at Georgia Tech.
Lee connected on his lone passing attempt of the game for 42 yards and had four carries for three yards, but he didn't play in the second half. Tevin Washington got hot, and Paul Johnson chose to stick with his senior, but that is not a knock on Lee.
Lee stepped up for a struggling Georgia Tech team against Boston College, and the Yellow Jackets offense has surged since Lee began getting significant playing time.
Lee is 25-of-51 passing on the year and could give Georgia Tech an actual threat in the passing game to complement its old-school option attack.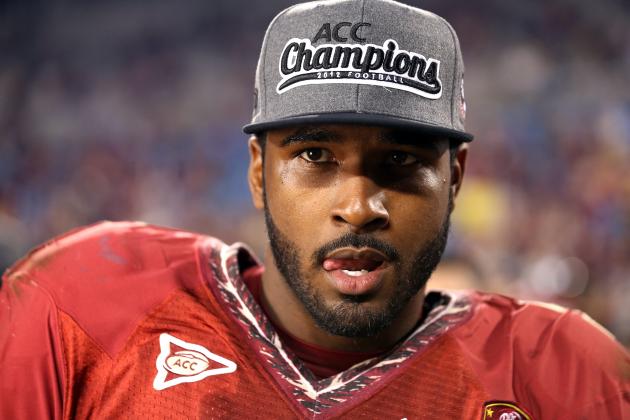 Streeter Lecka/Getty Images

E.J. Manuel followed up a four-turnover game against Florida with two more turnovers against Georgia Tech.
Manuel's first turnover came in the fourth quarter when he was sacked and fumbled the ball deep in Georgia Tech territory. The Yellow Jackets were able to drive 70 yards and score a touchdown, which made it a one-possession game.
The very next drive, Manuel was intercepted on a pass where he overthrew a 6'5" Kelvin Benjamin. Georgia Tech wasn't able to capitalize on the turnover, but the interception could have cost Florida State the game.
Manuel was efficient otherwise, but those two errors late in the game could have cost Florida State the ACC championship.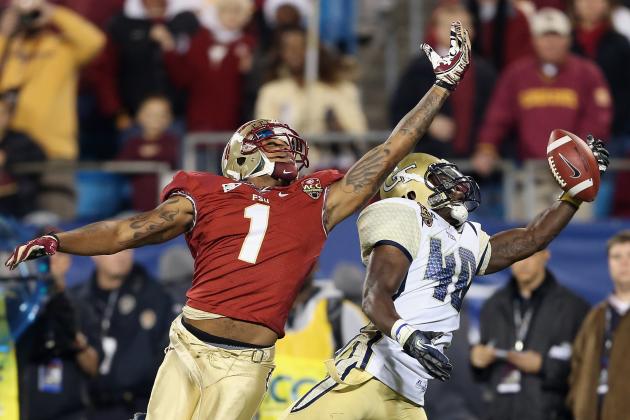 Streeter Lecka/Getty Images

The Ramblin' Wreck defense has been a literal wreck this season, giving up 30.7 points per game coming into the ACC championship. But give credit where it is due, as they played a very tough game Saturday.
Florida State entered the contest averaging 477.4 yards per game but could only manage 328 on Saturday night.
Georgia Tech held the Seminoles offense to zero points in the second half, just the second team to shut out FSU in a half this season.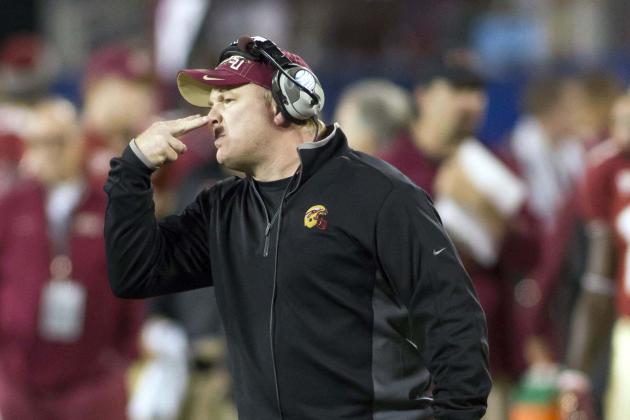 Jeremy Brevard-US PRESSWIRE

Mark Stoops has earned the right to be a head coach.
In 2009, the year before Stoops took over the FSU defense, the Seminoles finished with the No. 93 run defense and was ranked No. 108 in total defense and scoring defense.
In just his first season, FSU jumped into the top 50 in those three categories. This season, Stoop's defense is ranked as the second best total defense just behind Alabama.
Jimbo Fisher will be hard-pressed to find someone who can fill those shoes, but Florida State must find a replacement if it wants to continue competing for ACC championships.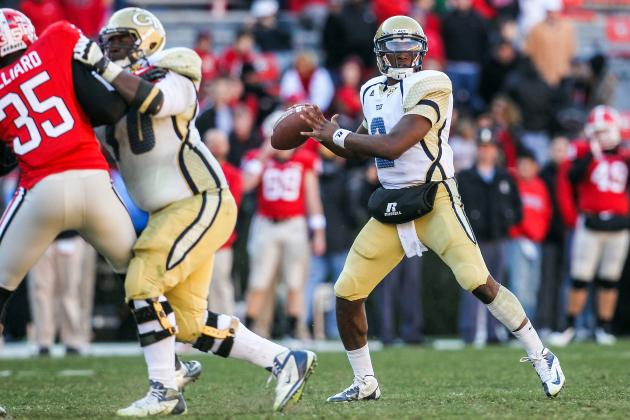 Daniel Shirey-US PRESSWIRE

Paul Johnson's offense works. The Yellow Jackets have rushed for more than 4,000 yards in four straight seasons.
The problem is when Georgia Tech was able to slow down the rushing game, the Yellow Jackets had no answer, which is evident when you look at Johnson's 0-4 record in bowl games.
Johnson has a talented player in Vad Lee. You don't need to overhaul the offense, but being able to throw the ball will open up bigger running lanes and won't make a two-touchdown deficit feel like an insurmountable obstacle to climb.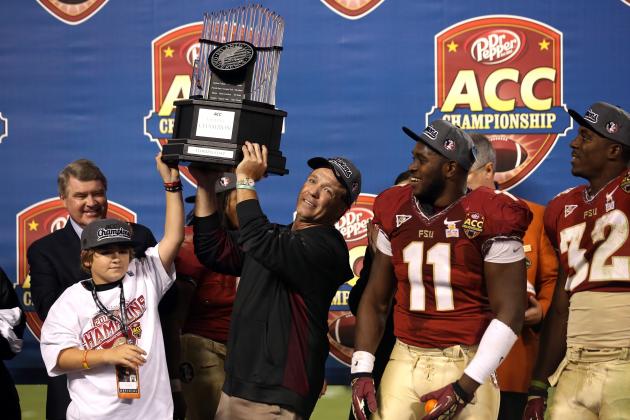 Streeter Lecka/Getty Images

It may not be fair to call this season a disappointment for Florida State.
The coaches and players aren't the ones beating their chests and proclaiming "we're back," it's the media that has hyped FSU the past couple of seasons.
But with a schedule like Florida State had this year, a fifth-year senior at quarterback and a defense that has dominated opponents all season, you can't help but feel a little let down that Florida State won't be playing for the crystal ball.
It is Florida State's first conference championship since 2005, which is an accomplishment that shouldn't be overlooked; but this season will be filled with "what ifs."
What if Florida State hadn't stumbled on the road at N.C. State? What if it hadn't turned the ball over five times against Florida?
Florida State and its fans should be proud to call themselves ACC champions, but this season was supposed to be so much more.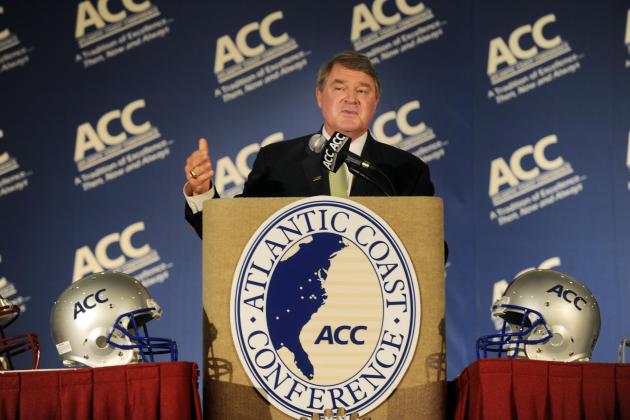 Sam Sharpe-US PRESSWIRE

The week leading up to the ACC championship game, you could buy a ticket to the conference championship for two dollars. Despite tickets costing less than a gallon of gas, the turnout for the game was still less than impressive, and that's putting it nicely.
The ACC took a hit leading up to the game when Maryland announced it would be leaving the conference to join the Big Ten, then followed that up by going 0-4 against the SEC in the final week of the season.
Both North Carolina and Miami had to turn down an opportunity to play in the game because of sanctions and ongoing NCAA investigations, leaving Florida State to face a 6-6 Georgia Tech team.
Really? You have a 6-6 team come just five points short of being named the conference champion? Can you imagine if Georgia Tech would have pulled off the upset and won the ACC after going 7-6?
C'mon ACC, you're better than this.