Eagles vs. Cowboys: Final Report Cards, Player Grades for Dallas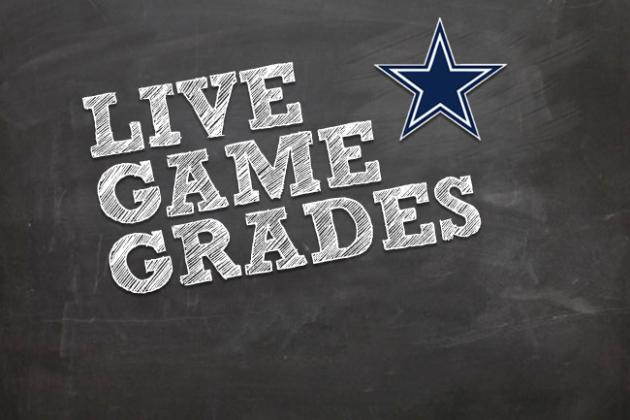 The Dallas Cowboys forgot about the Thanksgiving Day loss to the Washington Redskins and got a big win against the struggling Philadelphia Eagles. Even though the Eagles were without several starters on the offensive side of the ball they were able to keep the game close.
The Cowboys needed to make a furious comeback again but Tony Romo was perfect in the second half throwing the ball and were able to improve to 6-6 on the season. The loss dropped the Eagles to 3-9 and they have been eliminated from playoff contention.
The Cowboys needed this victory heading into December to stay in the playoff hunt. The Cowboys now lead the all-time series, 61-47 over the Eagles.
Let's take a closer look at the final player grades and analysis for the Dallas Cowboys.
Begin Slideshow

»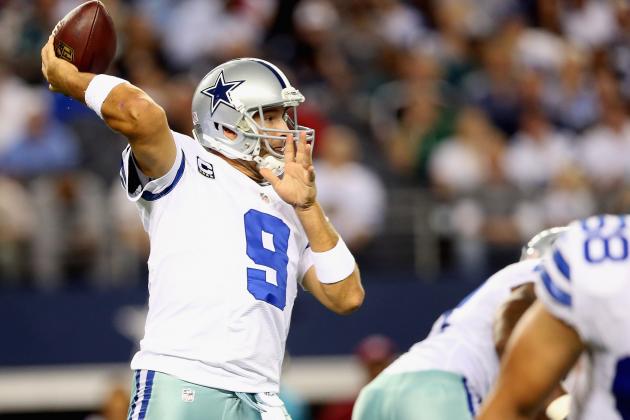 Ronald Martinez/Getty Images

Tony Romo: A+
We've said it before and we'll say it again, Tony Romo is the best offensive weapon in Dallas. The Cowboys need to unleash him instead of trying to hold him back.
Romo was perfect in the second half going 10-of-10 for 169 yards and three touchdowns. Romo was also great protecting the football as he did not have any turnovers in the game.
He finished with a near perfect 150.5 passer rating on 22-of-27 passing for 303 yards. With his TD pass to Dez Bryant early in the third quarter, Romo passed Troy Aikman on the Cowboys' all-time TD pass list.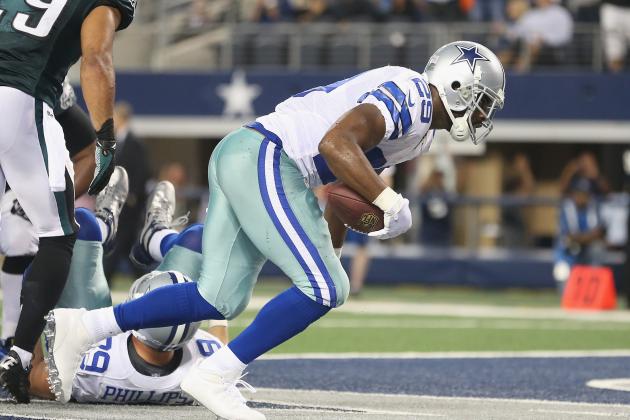 Ronald Martinez/Getty Images

DeMarco Murray: A
Welcome back DeMarco Murray. Murray rushed for 83 yards on 23 carries and added another 19 yards on four receptions. Murray was also able to pick up the tough yards, converting on a 4th-and-1 and scoring a touchdown on a one yard run in the second quarter.
Felix Jones: B
Felix Jones was hardly utilized and only had seven carries in the game. Jones gained 26 yards and was not able to haul in the only pass thrown his way.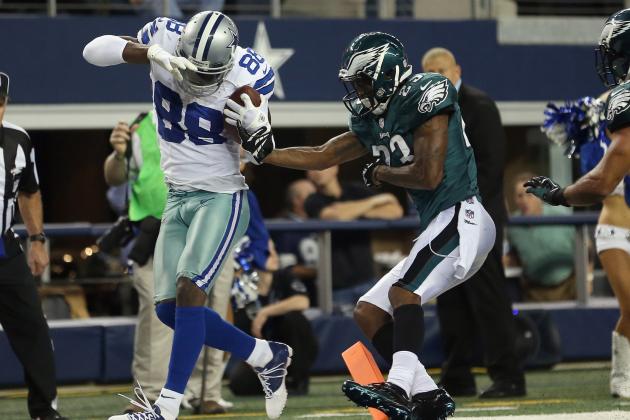 Ronald Martinez/Getty Images

Dez Bryant: A
Dez Bryant continues his streak of big games. It looked like Bryant was going to disappear in the game having no catches in the first half. Bryant exploded in the second half however, catching six passes for 98 yards and two touchdowns. Bryant's second touchdown of the game was excellent. He basically ran over the defender on his way to the end zone.
Miles Austin: B
Miles Austin was relatively quiet in the game and did not have a catch in the first half. Austin only had two catches in the game, but one of them was a big one. He took a short pass from quarterback Tony Romo and raced 27 yards for a touchdown.
Kevin Ogletree: F
It is time to pull the plug on the Kevin Ogletree experiment. Ogletree only had one catch for eight yards and was mostly irrelevant. His worst play came on an end around in which he could not handle the ball on the handoff from Romo. Fortunately for Ogletree, he was able to jump on the ball to avoid a turnover.
Cole Beasley: B-
Cole Beasley was not utilized much in this game as he only saw two targets. He did have one big catch for 13 yards to get a crucial first down.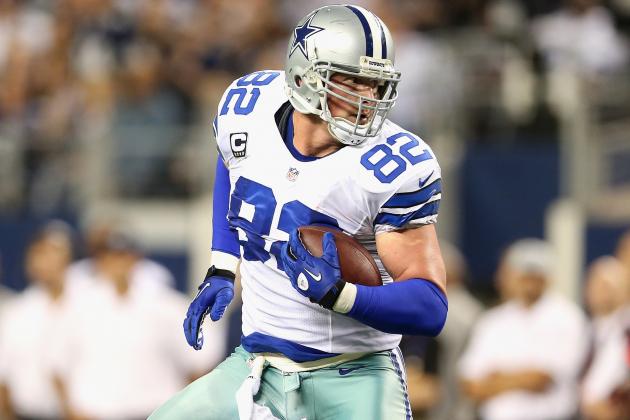 Ronald Martinez/Getty Images

Jason Witten: A
Jason Witten continues to be the most consistent and most reliable receiver on the team. Anytime quarterback Tony Romo needs to make a big play, it almost always goes to Witten.
Witten was targeted a game high eight times and finished the game with 108 yards on six catches.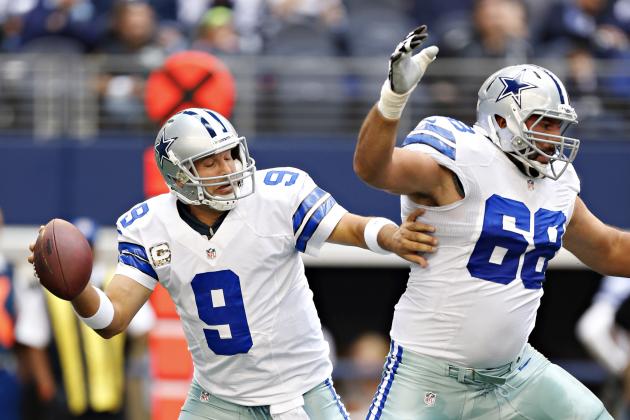 Wesley Hitt/Getty Images

Tyron Smith: A-
Tyron Smith was back in the lineup after missing the game last week with an ankle injury. Smith looked good and was solid protecting quarterback Tony Romo's blind side.
Doug Free: F
Can someone tell us how Doug Free still has a job on this team? Week after week we continue to point out how bad he has been yet week after week the Cowboys continue to start him.
Free gave up two sacks and was penalized for an offensive holding. At this point we would rather see Jermey Parnell over Free.
Ryan Cook: B-
Ryan Cook was back in the starting lineup replacing the injured Phil Costa. Cook was solid snapping the ball, great with run blocks and solid protecting the middle of the line.
Nate Livings: B+
Nate Livings has been quietly getting better on the offensive line. He was much better today with Smith back in the starting lineup. Livings did a great job run blocking and opening holes in the run game.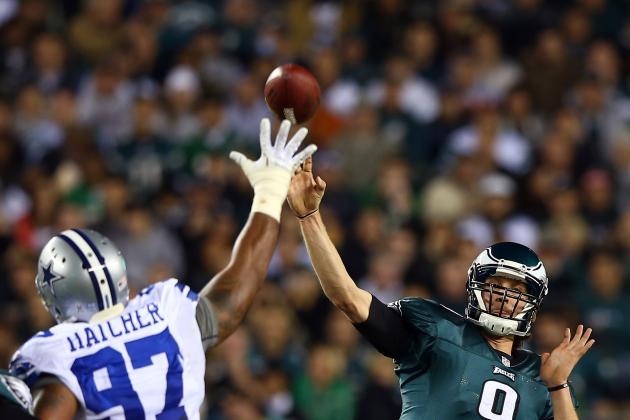 Elsa/Getty Images

Josh Brent: C-
Josh Brent got the start in place of the injured Jay Ratliff and struggled tremendously in this game. Brent got no pressure and was hardly visible against the run.
Most of the big runs rookie running back Bryce Brown got started up the middle. Brent finished the game with a mere two solo tackles.
Jason Hatcher: D
Jason Hatcher was extremely quiet against the Eagles. Hatcher was one step behind on most plays. He finished with one solo tackle and never got near the quarterback.
Marcus Spears: C-
Marcus Spears was equally quiet on the defensive line. He was held to making just two tackles and he also was unable to generate any pressure on the quarterback.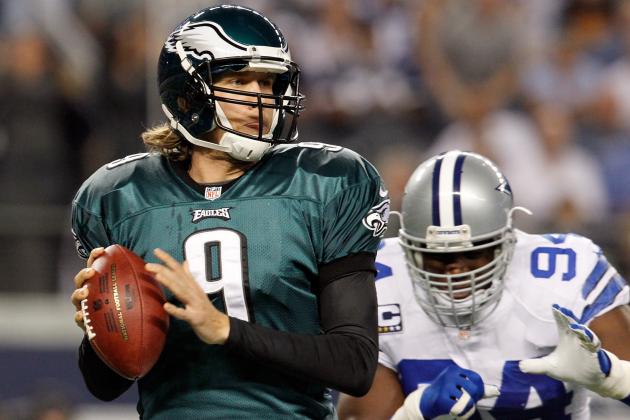 Tom Pennington/Getty Images

DeMarcus Ware: B-
DeMarcus Ware has struggled lately to get to the quarterback. He finished the game with mere three tackles. One of them was for a loss and he did have a quarterback hit.
Ernie Sims: B-
Ernie Sims had a solid first game replacing the injured Bruce Carter. Sims was out of position on some of the Eagles long runs but he did provide some pressure on the quarterback. Sims finished with four tackles and two quarterback hits.
Anthony Spencer: A
Anthony Spencer is becoming a star linebacker opposite Ware. Spencer finished eight tackles, a tackle for a loss and one pass defensed. Spencer has taken on the play call duties and knocked down a pass at the line-of-scrimmage.
Dan Connor: C+
Dan Connor got the start in place of the injured Sean Lee. Connor has to be quicker to the football if he is going to replace Lee. He finished the game with six tackles including one tackle for a loss.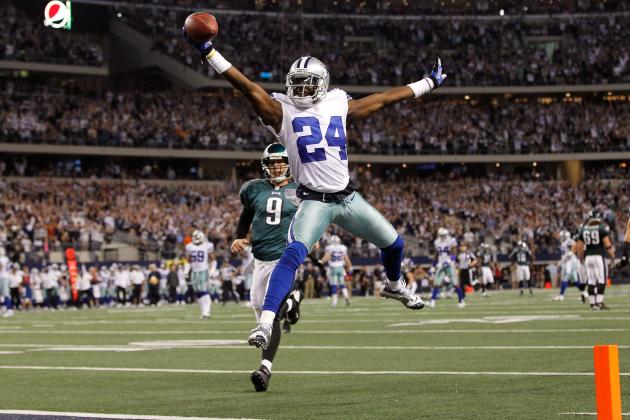 Tom Pennington/Getty Images

Brandon Carr: D
Brandon Carr has looked like the rookie cornerback in the Cowboys secondary. He was beat repeatedly and out of position on some plays. Carr never even turned around to look for the ball on the touchdown pass he gave up to Riley Cooper.
Morris Claiborne: A-
Morris Claiborne flashed his speed when he scooped up a fumble in the fourth quarter and raced 50 yards for a touchdown. Claiborne was strong in coverage and finished the game three tackles and one pass defensed.
Claiborne is clearly more comfortable in press coverage than in zone so they have to let the rookie get up in the wide receivers face more often.
Danny McCray: B-
Danny McCray was out of position on many plays against the Eagles. The angle he took to make the tackle on Bryce Brown's 39-yard run was horrible for a safety. McCray also had the opportunity to make an interception and he dropped the ball that hit him square in the hands.
McCray did have 10 total tackles in the game including one for a loss and one pass defensed.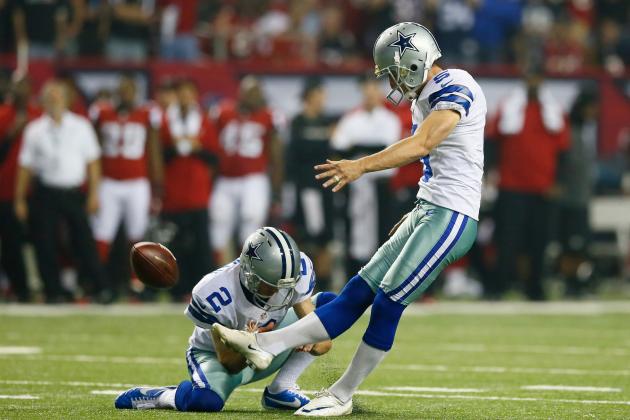 Kevin C. Cox/Getty Images

Dan Bailey: A
Kicker Dan Bailey continues to be perfect on field goal attempts inside for 50 yards. Bailey made his only field goal attempt of the game, a 39-yarder and he was 5-of-5 on extra points.
Brian Moorman: C
Brian Moorman averaged 52 yards on three punts which included a 63-yard punt. The problem was that Moorman should have kicked the ball out of bounds as he gave up a 98-yard punt return late in the game on a punt that should have never been returnable.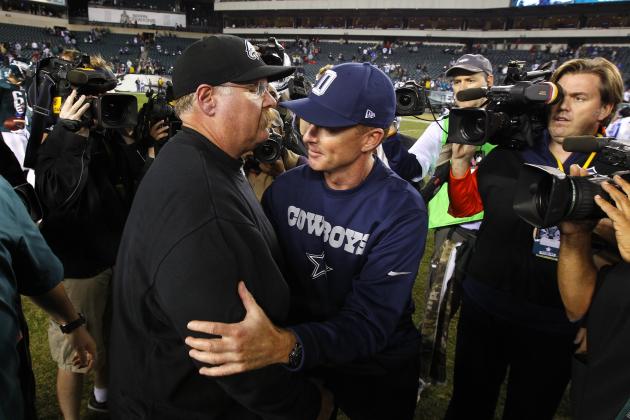 Rich Schultz/Getty Images

Jason Garrett: C-
Even though the Cowboys had 11 days to prepare for this game, Jason Garrett did not have his team ready to play. The Cowboys have been outscored 58-16 in first halves of their last three home games. What's worse, they have come against teams with losing records, starting rookie quarterbacks.
Garrett's inability to have a solid game plan to start games has got to be disheartening for players. Once again Garrett did not show a killer instinct as they did not even try to gain a first down when they were up 11 points at the end of the game.
Instead he ran on three consecutive plays and were forced to punt. On the punt, the Cowboys allowed a 98-yard punt return for a touchdown and the Eagles closed the gap. The best thing Garrett did was throw a challenge flag on a 4th-and-1 play that was marked short.
He won the challenge and the Cowboys went on to score a touchdown.