The Miami Heat have made a habit of coming into games, loafing around for a few quarters and suddenly flipping a switch when they need to in order to come away from the game with the win.
In other words, they're incredibly good, and they know it.
Miami has spent all season turning up the heat (yep, I'm going with the easy pun, so get settled in) when the fourth quarter rolls around, and it has obviously worked. The Heat know they can win any game they're involved in, so they settle, leading to closer-than-necessary games.
Erik Spoelstra has denied that the team is selectively trying harder at times, but that's something that statistics just don't back up:
That's the easy thing for people to deduce, but it's not necessarily the case.We're still working through some things. Different pace. The rotation's slightly different. Just things that you typically encounter at the beginning of the year. Our guys understand how important it is.
In their past few games, the Milwaukee Bucks and Cleveland Cavaliers played down to the wire, San Antonio's bench hung with a much better Heat team until the final seconds, and Miami rode a 20-11 fourth quarter to beat the Brooklyn Nets.
There's something going on in Miami to the tune of lazy first halves and lockdown second halves that's keeping the team from reaching its full potential.
The Heat only need to play 5-15 great minutes a night to win. They know it & Spoelstra knows it too, but you can tell it drives him nuts.

— J.A. Adande (@jadande) December 2, 2012
Statistically speaking, there's no doubt that Miami is flipping a switch.
In the first and third quarters, the Heat give up an average of just over 24 points, in the second they give up an average of more than 27 points. Then, once they gets down to the fourth, they give up an average of just 23 points to their opponents.
Credit has to be given to Miami for its ability to play the game it wants to play. It's always in control of games.
However, that's not something the Heat should rely on. Hanging their hats on casually strolling through games could come back to bite them should habits form from tendencies.
Let's take a look at the three games they've lost this season, all against three of the league's top teams.
Their first loss of the season came against the New York Knicks, and they were never really in that one. Miami got down 33-17 after the first quarter and ended up rolling into the fourth down by 16 points. The fourth quarter run the team relies on never came, and Miami ended up losing by 20 points.
Next, against the Memphis Grizzlies, they ran into a defensive monster. Complacent and going into the second quarter down by one point, they wound up giving up 34 points and scoring only 20 in the second. Memphis was able to ride that through the third and go on another run late in the fourth as the Heat waited for the clock to expire.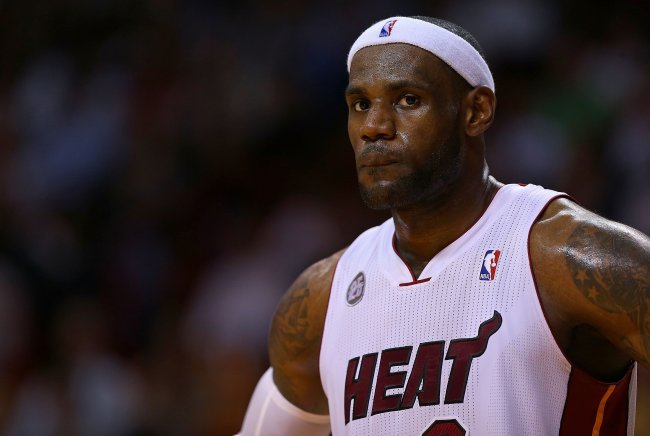 Mike Ehrmann/Getty Images
Moving on down the road to their loss to the Los Angeles Clippers, they were fine with playing a high-scoring game against Los Angeles. Shots didn't fall in the third, and they went into the fourth quarter down by 10 points.
The problem that arose is that they ran into a team with too many hot shooters. If they didn't check the Clippers early, they would have problems later. Once again, the fourth-quarter run never came, and Miami lost 107-100.
What was the common occurrence in every game? Each team they lost to used a singular quarter to pad the lead and was able to hold on the rest of the game. That's what good teams do, especially in the playoffs.
They can easily come back against teams like Cleveland or Milwaukee, but good teams know how to hold leads, and they're not going to be meeting Cleveland or Milwaukee in the Eastern Conference Finals.
Miami doesn't have the constant killer attitude that it needs to dominate its way to another title. Can the Heat win another one with their current attitude? Probably. But they're going to make it a lot harder on themselves.