SEC Championship 2012: 10 Things We Learned from Alabama's Win vs. Georgia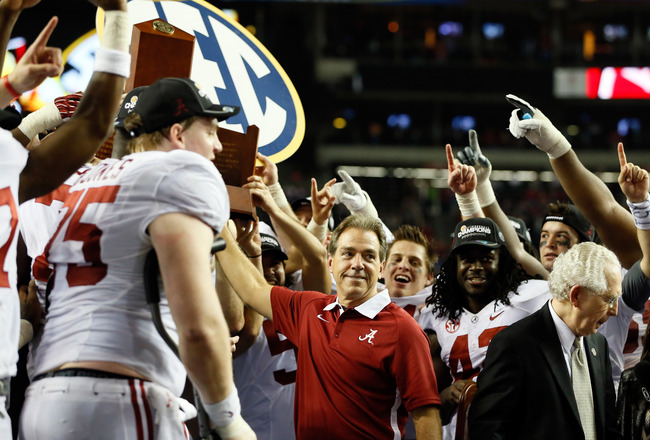 Nick Saban and the Crimson Tide outlasted Georgia in a 32-28 instant classic to claim the SEC title and clinch a spot in the BCS National Championship Game.
Kevin C. Cox/Getty Images
In a game that will likely go down as one of the most thrilling contests in SEC Championship Game history, Alabama overcame a 21-10 second-half deficit to outlast Georgia 32-28.
After enduring a pair of seesaw games in early November against LSU and Texas A&M, the Tide seemed to learn from the mistakes they made in a loss to the Aggies by displaying the mental and physical toughness fitting of a defending national champion.
Nick Saban's defense gave up countless big plays to Aaron Murray and an inspired Georgia offense, but when it mattered most, the Tide stepped up and delivered timely stops with the game on the line.
What can Alabama fans take away from a victory that will be remembered by Tide supporters for years to come?
Here are 10 things we learned from the Tide's victory over Georgia.
10. Special Teams Issues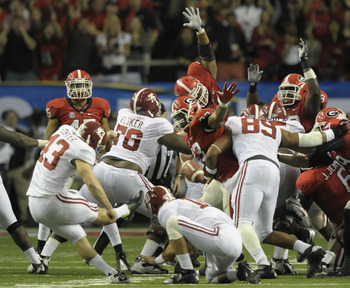 USA TODAY Sports
Special teams miscues almost doomed Alabama's national title hopes last season, and that same unit suffered major breakdowns against the Bulldogs.
The Tide failed to line up properly on a fake field-goal attempt that directly led to Georgia's first touchdown.
The biggest blunder came when Bulldogs defensive lineman Cornelius Washington blocked Cade Foster's 49-yard field-goal attempt, which was returned 55 yards by Alec Ogletree for a touchdown that put Georgia up 21-10 midway through the third quarter.
Another disaster was averted when freshman return man Cyrus Jones recovered his own fumble on a fourth-quarter kickoff.
After surviving those miscues against the Bulldogs, the Tide cannot afford to live as dangerously with the game's ultimate prize on the line in next month's national title tilt with Notre Dame.
9. Geno Smith Steps Up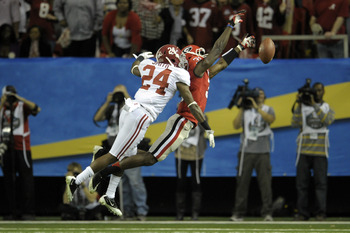 USA TODAY Sports
Freshman defensive back Geno Smith was on the wrong end of Saban's patented flare-ups earlier this season against Arkansas and Mississippi State.
It did not matter that on each occasion, the Tide were comfortably ahead on the scoreboard and the outcome of both games was never seriously in doubt.
For those wondering why Saban coaches his players to the final whistle in every game, the answer to that picture became clearer after Smith's number was called early and often against the Bulldogs.
The first-year corner stepped up and provided a boost in the Tide's nickel and dime sets, and he recorded a pair of crucial pass breakups on third downs that forced Georgia into two of its six punts for the game.
8. Secondary Still Has Holes
USA TODAY Sports
While the play of Smith was encouraging for Tide fans, the rest of the secondary still had its share of struggles against the Bulldogs.
The safeties struggled limiting the deep ball and the corners were unable to slow down Georgia receiver Tavarres King—who hauled in five passes for 142 yards.
Even though the Tide surrendered 281 yards through the air, there were a few signs of improvement in comparison to the unit's struggles against the Tigers and the Aggies.
Safety Ha Ha Clinton-Dix was able to snag a Murray interception in the second quarter that led to an important field goal before halftime, and the Tide held Georgia to just four third-down conversions on 12 attempts.
7. Cooper Continues His Tear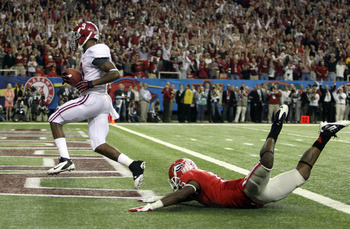 USA TODAY Sports
Coming into this game, the true freshmen that garnered most of the attention were running backs T.J. Yeldon of Alabama and Todd Gurley of Georgia.
While those two beasts did not disappoint, it was Alabama star freshman wideout Amari Cooper that came away with the game's decisive play.
After Yeldon's heroic effort to pick up a crucial third-down conversion late in the fourth quarter, quarterback AJ McCarron—who struggled for most of the game—found a streaking Cooper for a 45-yard touchdown pass that provided the game's final scoring play.
Cooper finished with eight catches for 128 yards and that game-clinching touchdown, with his effort nearly representing the Tide's entire output (162 yards) in the passing game.
6. Second Quarter Spurt Saves Anemic First Half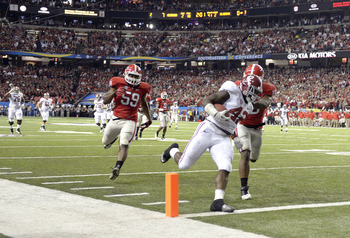 USA TODAY Sports
Alabama's offense has thrived all season long by jumping on top of opponents in the first quarter, but that was far from the case against the Bulldogs.
The Tide's offense sputtered for a majority of the first half, mainly due to its inability to get the passing game untracked.
Similar to the LSU game, the offense turned its focus back to the ground and was able to retake the momentum with 10 quick points in the final two minutes of the first half.
Considering how Georgia was able to score a pair of quick touchdowns early in the third quarter, Alabama's late surge in the first half kept it within striking distance.
5. Uncharacteristic Miscues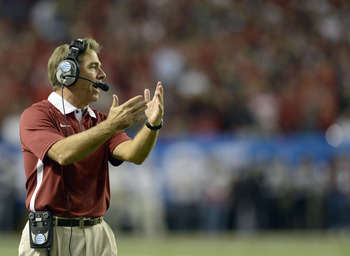 USA TODAY Sports
Alabama has always been a team lauded for playing with a high level of focus and discipline—especially in big games.
Georgia has a noted reputation for being the exact opposite, but it was the Tide that made a host of uncharacteristic gaffes.
A delay of game penalty in the first quarter nullified a beautifully called and executed fake punt that would have set up the offense with a scoring opportunity.
While Alabama was able to notch a field goal to close the first half, Saban and the offense inexplicably failed to make proper use of three timeouts despite driving deep into Georgia territory with the clock running out.
Corner Dee Milliner had a crucial personal foul penalty on a kickoff return that buried Alabama's offense in terrible field position on a critical drive.
Simply put, these are the type of mistakes that Saban-coached outfits typically do not make and cannot afford in next month's BCS National Championship Game.
4. Tide Had Every Answer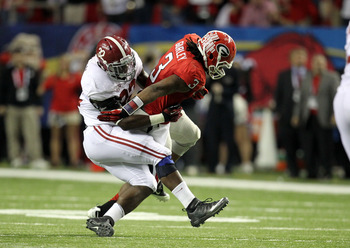 USA TODAY Sports
After a scoreless first quarter, the Tide would encounter a deficit in each of the final three periods.
They would rally to take the lead before halftime and erase a double-digit third-quarter deficit on the first play of the fourth quarter before finally putting the Bulldogs away for good on Cooper's touchdown with a little more than three minutes remaining in the game.
Gurley had a monster effort for the Bulldogs, rushing for 122 yards and a pair of scores on 23 carries, but Alabama stuffed him on a critical 3rd-and-short late in the fourth period.
Even when Murray and Bulldogs marched inside the Alabama 10-yard line with seconds left to play, linebacker C.J. Mosley tipped Murray's final pass that ended up as a short completion to Chris Conley as time ran out.
The bottom line is that every time Georgia punched Alabama, the Tide was able counter every blow and never give into defeat.
3. Injuries Can't Stop Tide's Leaders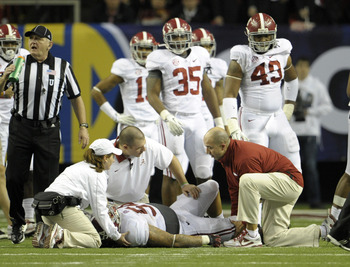 USA TODAY Sports
Eddie Lacy ran for 181 yards and a pair of scores, but he left the game in the second half with an undisclosed injury before returning for brief stints in the fourth quarter.
Senior defensive tackle Jesse Williams left the game in the third quarter with an apparent right knee injury, but he also returned to play a pivotal part in stuffing Gurley on that critical stop that setup Cooper's final score.
Senior center Barrett Jones needed crutches after the game, but played through pain in the second half according to Andrew Gribble of al.com via Twitter.
Barrett Jones was on crutches as Alabama celebrated. He was injured in first half, played through it in 2nd half.

— Andrew Gribble (@Andrew_Gribble) December 2, 2012
Alabama needed a warrior-like effort from all of them and the rest of the team to help put away the pesky Bulldogs.
2. Offense Goes to the Ground in the Clutch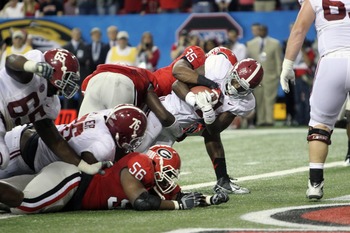 USA TODAY Sports
The biggest gripe from the loss to Texas A&M from the Tide faithful was the decision to put the ball in the air during the game's critical moments.
Consider that lesson learned after Alabama ran for an SEC Championship Game record 350 yards on the ground.
In addition to Lacy's MVP effort, Yeldon pitched in with 153 yards on 25 carries and a touchdown.
After falling behind 21-10, Alabama scored on two straight possessions to retake the lead, with all 11 plays on those two drives coming on carries by Lacy or Yeldon.
1. Heart of a Champion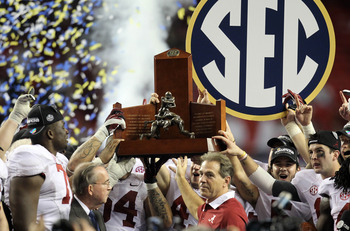 USA TODAY Sports
In a slugfest where both teams had plenty of chances to fold, the Tide responded like a team that simply refused to lose.
Georgia competed with tenacity and played with tremendous heart, but in the end, Alabama was able to make one more play when the game was on the line.
The resiliency displayed by the Tide's veteran leaders, combined with the contributions made by their young stars erased any doubts that this team possesses the mental and physical toughness needed to win a championship.
Keep Reading

Alabama Crimson Tide Football: Like this team?