Houston Astros: Greatest All-Time Roster at Each Position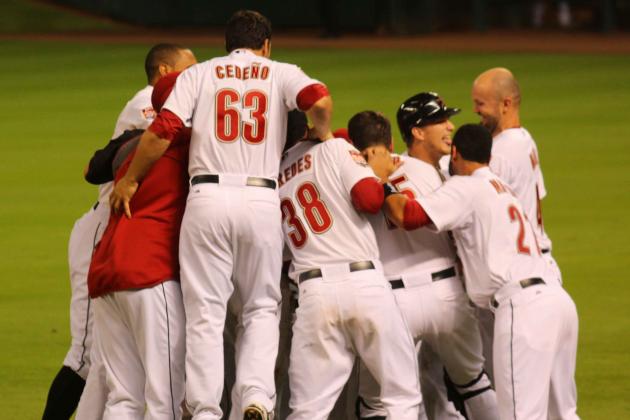 September 2012, The Astros Celebrate a Rare Win against the Reds--Photography by Robert Bluestein
Since their founding in 1962, the Colt 45s/Houston Astros have put many great players on the field. Did you ever wonder what kind of powerhouse team they would be if all the greatest Astros at each position could ALL come back for one game? Here's your chance to relive a little of Houston's past glory in a look back on the All-Star Astros!
Begin Slideshow

»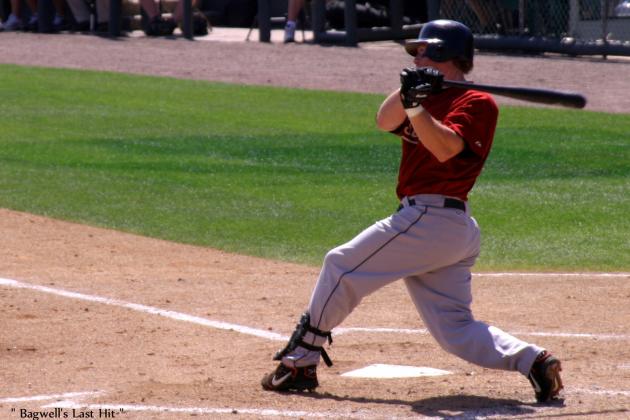 Jeff Bagwell's Last Hit in a Major League Uniform - Photography by Robert Bluestein
Years Played: 1992-2006
Games Played With Astros: 2150 (2)
Batting Average: .297 (1)
Homeruns: 449 (1)
Runs-Batted-In: 1529 (1)
Runs: 1517 (2)
Stolen Bases: 202 (6)
Jeff Bagwell was traded by Boston for a journeyman pitcher and crowd favorite, Larry Anderson. To say the trade was lopsided would be an understatement, especially given the raw talent Bagwell brought to the team. Arguably the greatest first baseman in National League History, Bagwell brought instant respectability to the franchise. He holds the top spots in almost every major category in Astros history and could even swipe a bag now and then too. Still, his toughness was unquestioned. He frequently played hurt but by 2005 he was showing signs of slowing down.
With his shoulder a mess, he managed just 39 games in that World Series year and knew the recovery process for a fifteen year veteran was going to be a long one. In the spring of 2006, Bagwell tried to make a courageous stand and attempted a comeback. While playing a spring training game against Atlanta, Bagwell came to the plate and I steadied my camera for what would turn out to be the last hit Jeff Bagwell would ever get in the major leagues. He stroked a double off the wall and as he went into second, he turned and motioned to the Astros bench; just like that, Bagwell walked off the field. He began the season on the DL and was put on the 60-day unable-to-perform list, effectively ending his season and epic career.
Interesting Fact You Probably Didn't Know: When the discussion of the trade began with the Astros, the Red Sox refused to trade Phil Plantier or Scott Cooper. Considering Bagwell to be a line-drive-hitting third baseman with little power, the Sox were eager to let Bagwell go. The Astros were just happy to get a fellow human being for the aging but affable Larry Andersen and reluctantly agreed to the deal. Red Sox nation has wept ever since.
Honorable Mention: Bob Watson
Bob Watson came up through the Astros minor leagues as a catcher. With John Edwards behind the plate, Watson was unlikely to play much as a catcher. But the team appreciated his disciplined eye and power and came up with an alternate plan to get the big man into the lineup. Showing great versatility, he moved to Left-Field when the Astros acquired Lee May. It gave the team a formidable punch in the middle of the order - especially with the edition of one of the most exciting players in the game, Cesar Cedeno. When Watson was dealt away by the Astros, he ranked number one in homeruns (139) and number one in career batting average (tied with Jeff Bagwell's .297) He also scored Baseball's iconic one-millionth run against the San Francisco Giants on a Milt May homerun.
Watson has made his mark in many other areas including Major League Baseball's vice president in charge of discipline and vice president of rules and on-field operations.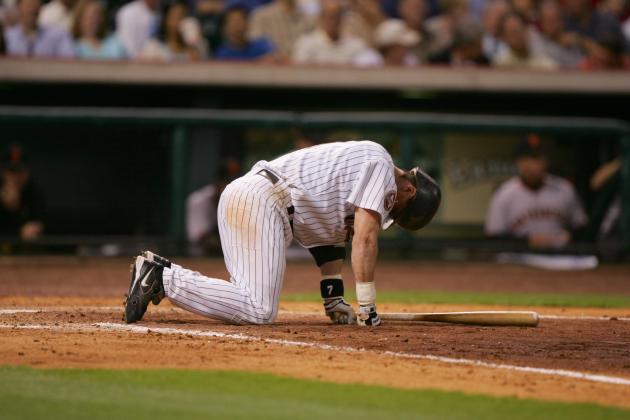 Jed Jacobsohn/Getty Images
Craig Biggio prays for a fastball down the middle, belt high
Years Played: 1989-2007
Games Played With Astros: 2850 (1)
Batting Average: .281 (11)
Hits: 3,060 (1)
Homeruns: 291 (3)
Runs-Batted-In: 1175 (3)
Runs: 1844 (1)
Stolen Bases: 414 (2)
Craig Biggio may well be the all time Astros Astro. Very few players survived the Steroid Era in tact and will have a HOF plaque to show for it. Jim Thome, Chipper Jones and Biggio are an elite group whose numbers would stand out even more if they weren't overshadowed by steroids. Nonetheless, Biggio was a terrific player and even a better team-mate. He was the epitome of unselfishness, moving to second base from the catcher position, then to left-field when the Astros acquired Jeff Kent, and then to Centerfield and back to Left before returning to his familiar position at second base. He never had to do any of that, but he did so in order for the team to get better. He ranks among the All-Time Greats and in Astros history he is pretty much at the top in almost every department. He is the only Astro with 10,000 or more at-bats.
Interesting Fact You May Not Have Known: Craig Biggio is the only player to be thrown out trying to stretch a single into a double for their 3,000th hit.
Honorable Mention:
Bill Doran: Truly the Craig Biggio of his era, Doran played the game just as hard and just as smoothly as Biggio did, just for a shorter duration of time. Doran hit .267 and Joe Morgan hit .261 so both were nearly equal in batting average and both possessed equal power. (Morgan had 72 homeruns with Houston and Doran had 69) Doran had more RBIs and more runs scored than Morgan. In addition, he had almost 200 more hits than Joe. A case could be made for either one of them but in reality, Morgan only has a true advantage over Doran in stolen bases, and even then it's still close. (219-191) Defensively they were fairly equal as well, meaning that if you had to choose a capable back up to Biggio, Doran would be the candidate!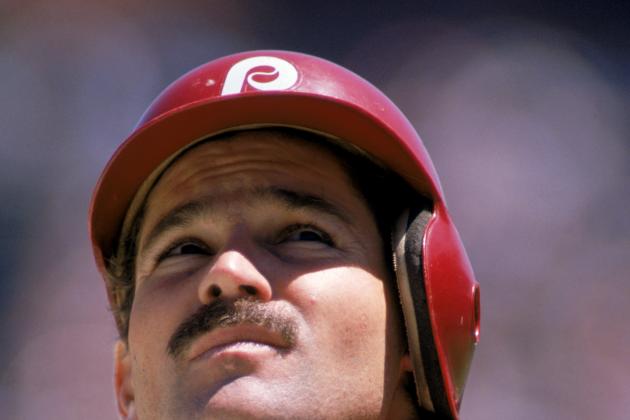 Jonathan Daniel/Getty Images
Dickie Thon, scanning the stands for Mike Torrez
Years Played: 1981-1987
Games Played With Astros: 566 (40)
Batting Average: .270 (22)
Hits: 492 (38)
Homeruns: 33 (42)
Runs-Batted-In: 172 (3)
Runs: 226 (39)
Stolen Bases: 94
Clearly the weakest position the Astros have had throughout their history, the team may have made amends by drafting phenom Carlos Correa with the first pick of the draft. If he can do what he is projected to do, he will have little problem passing the erstwhile Dickie Thon as the club's most valuable shortstop. Dickie Thon was a determined and competitive player who was quite popular with the fans and came to signify the personality of the team through the early 80s. But he is perhaps best known for getting clocked by a Mike Torrez fast ball right in the face. For the most part, Thon never fully recovered and was shuttled around from team to team. While the guy has plenty of sterling defensive plays that you could show on a Dickie Thon highlight reel, the only one that seems to take precedence is of him lying on the ground in pain after getting beaned.
Interesting Fact that You Might Not Have Known: Dickie Thon is actually IN the Hall-of-Fame. The Hispanic Heritage Hall of Fame, inducted in 2003.
Honorable Mention: Craig Reynolds
Craig Reynolds played 1152 games over a ten year period with Houston. He hit .252 but in reality it was his great range and throwing arm that made him such a valuable asset to the club. Reynolds is the ONLY shortstop in baseball history to appear in two consecutive all-star games in both leagues!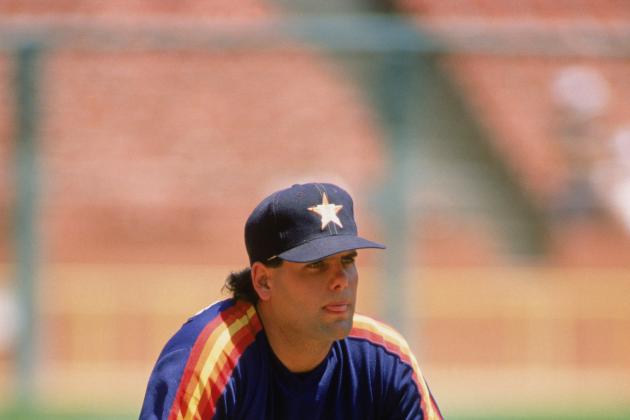 Otto Greule Jr/Getty Images
Ken Caminiti, One of the Greatest Throwing Arms in History
Years Played: 1987-1994; 1999-2000
Games Played With Astros: 1085 (9)
Batting Average: .264 (29)
Hits: 1037 (14)
Homeruns: 103 (13)
Runs-Batted-In: 546 (9)
Runs: 496 (13)
Those of us lucky enough to watch Cammy play were in for a real treat. He absolutely owned third base. You couldn't bunt on him, you couldn't hope to pull the ball down the line, and you sure didn't want to challenge that rifle he had at third. Ken Caminiti had power too. A switch hitting fan favorite, Caminiti's biggest moment as an Astro was in the 1996 divisional playoffs against the Braves. He crushed a game tying homerun to help secure a victory for Shane Reynolds in the opener. A human highlight reel, he made his signature throw to first from his rear-end to nail unsuspecting runners. He had terrific range and awareness. It should be noted that he didn't hit for average as well as Enos Cabell. He did not hit more homeruns or have more RBIs than Doug Rader. In fact, there is not even ONE offensive category where Ken Caminiti is the top player. In stead, Caminiti was a flashy and entertaining third-baseman that commanded attention and respect. Despite the offensive challenges, he more than made up for it in the field. In 2004, Caminiti's life began to unravel and sadly, he died of a drug overdose in the Bronx New York. It was a sad ending to a very promising career where his potential never seemed realized while on the Astros.
Interesting Fact That You Probably Didn't Know: One of the largest blockbuster deals of the era had Caminiti involved. Among the 12 man trade included Andujar Cedeno, Roberto Petagine, and Steve Finley. He helped San Diego make its 1996 World Series appearance while winning the MVP that year, while on steroids.
HONORABLE MENTION: Enos Cabell
Although he hit far fewer homeruns than Doug 'Red Rooster' Rader, Cabell was a steady .281 hitter for the team from 1975-1980 and the corner piece of that 1980 team which lost the NLCS to Philadelphia. His middle name is actually 'Milton.'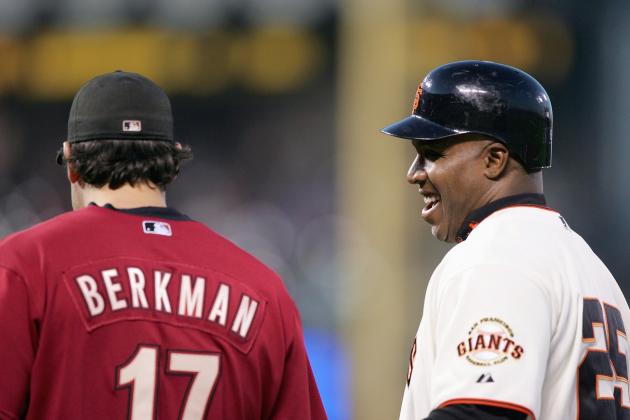 Jed Jacobsohn/Getty Images
"Hey Lance, I would lend you my helmet but its a size 92 now."
Games Played With Astros: 1592 (4)
Batting Average: .296 (3)
Hits: 1648 (5)
Homeruns: 326 (2)
Runs-Batted-In: 1090 (3)
Runs: 1008 (4)
Stolen Bases: 82 (18)
Lance ''Big Puma'' Berkman began his journey to the Major Leagues while graduating from Rice University in Houston. A powerful switch-hitting machine, Lance Berkman was a great team mate as well as a fan favorite as part of the well marketed ''Killer B's." He was vastly underrated as an outfielder but as the years went by his range diminished. In 2006, Lance had one of the greatest seasons any Astro ever had. Berkman hit 45 homeruns, 136 Runs Batted In, and hit a resounding .326. As he got older he began to put on weight and slow down, which earned him the moniker of ''Fat Elvis.'' One of the true characters in Astros history, his number 17 uniform will likely end up retired and hanging from the rafters of Minute Maid Park.
Little Known Fact You Probably Didn't Know: Lance Berkman and Miguel Tejada were the two finalists in the 2004 Homerun Derby during the All-Star-Game break. The two of them put on a great and dynamic display of raw power. I photographed the event and marveled at just how fast Berkman's hands were through the strike zone. Tejada would end up winning by one homerun but it was indeed a great night.
Honorable Mention: Jose Cruz
Jose Cruz was one of the steadiest and consistent players to wear the Astro rainbow colors. Cruz career batting average of .292 easily puts him into the top 10 in terms of batting average amongst Astro players. Standing upright with a menacing serpent-like bat motion, Cruz was a line-drive hitting speedster who stole 288 bases in his Astro career.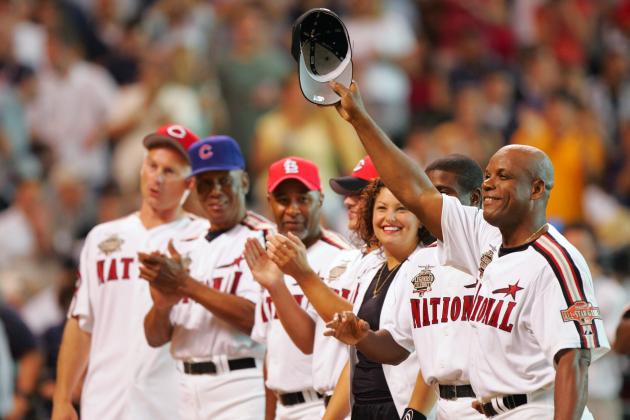 Jed Jacobsohn/Getty Images
Cesar Cedeno Acknowledges his Fan
Games Played With Astros: 1512 (6)
Batting Average: .289 (6)
Hits: 1659 (4)
Homeruns: 163 (6)
Runs-Batted-In: 778 (6)
Runs: 890 (4)
Stolen Bases: 534 (1)
Tabbed to be the next ''Willie Mays'' by then manager Leo Durocher, Cedeno put together two back seasons where he seemed to be well on his way. In 1972 and 1973, Cedeno managed to hit .320 in each season. He also stole over 50 bases and hit over 20 homeruns, while playing a recklessly spectacular centerfield. But Cedeno never seemed to live up to his full potential during his tenure here in Houston. His offseson in 1973 was marred by the accidental shooting of his 19-year old mistress. Cedeno never seemed to shake the event from his mind and soon, his numbers began to decline. By 1977 he was still a consistent performer who could be counted on as long as he was healthy. But staying healthy and off the Disabled List was not easy for a man who played with such energy and desire. He would ultimately suffer a broken ankle, hamstring pulls, and a bout of hepatitis would keep him sidelined. Moreover, his legacy to the Astros franchise was tarnished repeatedly with his repeated run-ins with the police and his reputation as an abusive husband. Cedeno now lives in the Dominican Republic where he presumably has settled down a bit and is an instructor for the Dominican and Venezuelan baseball leagues.
Interesting Fact You Probably Didn't Know: Cesar Cedeno is ranked as the 21st Greatest Centerfielder of all time, just between Hugh Duffy and Dominic DiMaggio by Baseball Statistician Bill James.
Honorable Mention: Jimmy Wynn (The Toy Cannon)
Jimmy Wynn is certainly one of the most colorful and likable players to have been with the team. Wynn leads all center-fielders in games played (1456) and is fourth all-time in homeruns as an Astro. He was known for hitting some absolute bombs, including a 475-foot homerun in the Astrodome that broke the back of one of the seats high in the gold-section (5th deck) of the stadium. He also his one completely out of old Crosley Field in Cincinnati that is probably still traveling. With the emergence of Cedeno, Jimmy Wynn became trade-bait and was subsequently shipped off to Los Angeles where he made a great throw to nail a runner at home in the 1974 World Series.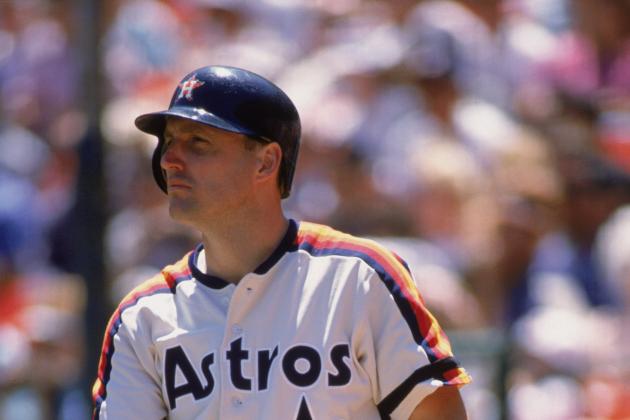 Otto Greule Jr/Getty Images
Terry Puhl - About to strain a neck muscle
Years Played: 1977-1990
Games Played With Astros: 1516 (3)
Batting Average: .281 (4)
Hits: 1367 (9)
Homeruns: 62 (4)
Runs-Batted-In: 468 (9)
Runs: 226 (5)
Stolen Bases: 217 (3)
Arguably one of the GREATEST players to ever come from Melville Saskatchewan, Terry Puhl roamed the outfield and trainers rooms for the better part of his 14 seasons with Houston. In thirteen of fourteen seasons with the club, Puhl missed significant playing time due to a variety of ailments, afflictions and disease. Among the more 'unique' injuries Puhl ever suffered included a 'Inflamed Abdominal Muscle', several Hamstring Pulls, a Thigh Bruise, a severely sprained ankle and a stiff back. When he actually did play however, Puhl was one of the most quietly consistent players the team had. It is even more amazing that he suffered so many injuries while almost never diving for a baseball in the outfield and rarely hitting the dirt while running the bases. Puhl was a spectacularly conservative player, almost never one to stretch a triple out of a sure two-bagger and catching each and every fly ball hit directly to him with the grace and ease of any player who hadn't yet broken a sweat.
Puhl ranks in the top 10 in almost every category and was a sure-handed outfielder and All-Star. He is perhaps best remembered for not being injured during the 1980 National League Championship Series where he obliterated Phillies pitchers for ten hits in nineteen at-bats for a .526 batting average. These records will probably stand forever since the traditional 5-game format is a thing of the past. The fact that Puhl scored only four runs despite all that time on base is indicative of just how good Phillie pitchers were and how weak the rest of the Astro lineup was at the time. Since he missed an average of 38 games per season for thirteen years, a projection of how good Puhl might have been would leave you shaking your head in disbelief. Puhl would have ranked in the top 5 in each category and certainly would have had more All-Star games than the one he did have. One can only hope that if Puhl reads this that he doesn't end up with a severe eye strain that would eat into his retirement time.
Interesting Fact You Probably Didn't Know: There have actually been five players born in Saskatchewan. Their names are probably not familiar to most people but in case you were wondering, the list includes: Reggie Cleveland, Dave Pagan, Joe Erautt, Ralph Buxton, and of course Terry Puhl. That my friends is some pretty nice company.
Honorable Mention: Kevin Bass
Bass is best known for being the last out in the 1986 NLCS against the Mets. But aside from that, Bass was actually a reliable player for the team. He hit 103 homers as an Astro which put him 16th all time, and his 990 hits put him at 13th place, just ahead of Joe Morgan. For some reason, opposing pitchers liked to intentionally walk Kevin Bass, who managed to get 49 Intentional Free Passes to first base.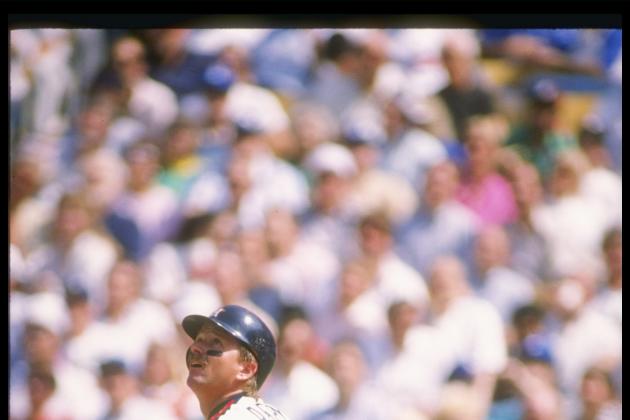 Mike Powell/Getty Images
Alan Ashby smashing a pop-fly to short
Years Played: 1979-1989
Games Played With Astros: 965
Batting Average: .252
Hits: 736
Homeruns: 69
Runs-Batted-In: 388
Runs: 282
Alan Ashby didn't have as high an average as Tony Eusabio. He didn't score as many runs as Brad Ausmus. But he was the anchor for some very good Astro teams throughout the 1980s. He was a capable switch-hitter with minimal power but it was behind the plate that Ashby excelled. He called an excellent game and his calm demeanor worked with guys like Joaquin Andujar, Joe Neikro, JR Richard and Nolan Ryan. Simply put, what makes Ashby the greatest Astro catcher of all time was his presence, and on a team with volatile characters, it was sorely needed.
Interesting Fact You Probably Didn't Know: Alan Ashby caught three no-hitters in his career, catching Ken Forsch's no-no in 1979, and Nolan Ryan's record breaking 5th no-hitterin 1981. In 1986, he caught Mike Scott's NLWest clinching no-hitter against the Giants.
Honorable Mention: Tony Eusabio & Brad Ausmus
Next to Ashby, Eusabio was probably the best all-around catcher the team has ever had. He was superb defensively and hit for higher average. (.279) His career was shortened due to injuries but in his prime, Eusabio was highly underrated and a valuable key to the 1999 run the Astros had to the playoffs.
It is impossible not to recognize Brad Ausmus who is also among the all-time great defensive catchers. He had the added plus of playing some second base as well. Ausmus was arguably the most intelligent catcher the team ever had and was respected by virtually everyone in the game. Ausmus weakness was obviously his bat. He hit just .246 in his career with Houston but he probably saved a few games with his arm. Opposing base stealers were successful only 50% of the time against Ausmus. He currently is coaching Israel's team in the World Classic.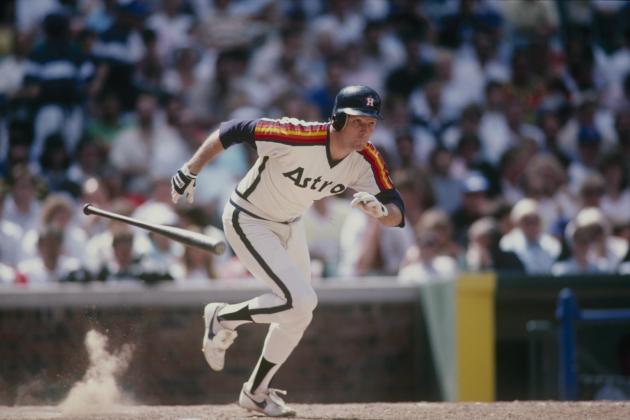 Getty Images/Getty Images
Denny Walling, being chased by a possessed baseball bat
Rusty Staub, Denny Walling and Steve Finley
If you needed a couple of bats off the bench, you couldn't go wrong with Staub or Walling. Rusty Staub played five years with Houston and was a two time All-Star. Late in his career he became a reliable pinch-hitter and set a record for eight straight pinch-hits. 'Le Grande Orange' has a restaurant in Montreal and is apparently quite a chef.
Denny Walling (1977-1988, 1992) was a reliable left-handed hitter who hit .277 in his years with the Astros. He had a knack for coming through when it mattered most, hitting almost 30 points higher when runners were in scoring position.
For pure defense, Steve Finley was one of the best. He was a center fielder with great range and was capable of some highlight catches all his own. A .281 hitter while with Houston, Finley is best remembered for being one of the three players acquired from Baltimore for Glenn 'Big Flopper' Davis. (Curt Schilling and Pete Harnisch were the other two.)
Interesting Fact You May Not Have Known: JR Richard was a very good hitting pitcher. At 6'8" and well over 250lbs, Richard looked threatening enough on the mound. But he hit 10 career homeruns for the Astros and could be counted on to make contact more than your average pitcher.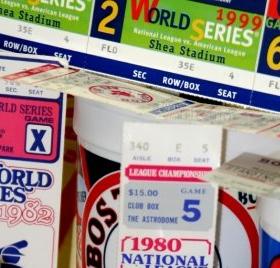 From my Collection: Game 5 Unused 1980 Playoff Ticket -An Epic Game - Photography by Robert Bluestein
Wins: 144 (1)
Losses: 116
ERA: 3.22
Strikeouts: 1178
Complete Games: 82
Joe Neikro (1975-1985) was the best pitcher on a staff that included JR Richard and Nolan Ryan. 'Knicksie' was a terrific knuckleball artist who beguiled opposing hitters for ten seasons. He was the first Astro to win 20 games in back-to-back seasons. His 1979 season was so good that he took home The Sporting News pitcher of the year. Neikro was in his element in Houston despite having played elsewhere. On a personal note, I remember Neikro wearing his western attire upon coming out of the dome to head to his house. He had a belt that had the word 'KNUCKSIE' printed in the leather that he wore on days he pitched. He was a fan favorite and left a wonderful legacy in the charity work he often performed that speaks volumes. Joe Neikro passed a way in 2006, but his knuckler flutters in the hearts of Astros fans everywhere.
Interesting Fact You May Not Have Known: On May 29, 1976, Niekro hit the only big league homer of his career, and it came against his brother Phil. I wonder if Phil grooved one to his brother.
Honorable Mentions: JR Richard, Roy Oswalt, Larry Dierker
JR Richard became the first National League Right Hander to strikeout more than 300 batters in a season, and he did it twice. Clearly the most dominant pitcher in baseball while in his prime, JR Richard was a relentlessly hard thrower. He was so very good that he finished 76 games in a shortened career, (unheard of today) and threw 19 shutouts.
Roy Oswalt was undersized for a pitcher but he had the heart of a lion. Oswalt was determined to win, and that is just what he did. He has the highest winning percentage of any Astro pitcher in history and is just one win shy of having tied Joe Neikro for total wins. One of his great accomplishments is winning the Gold Medal in the Olympics for the United States.
When discussion of great Astro pitchers come up, Larry Dierker's name continues to surface. It's easy to forget just how good Dierker was. He is third all time in wins and with a 3.28 ERA he is in the Top-15 all-time. With 102 Complete Games he is certainly cemented that record for the Astros. Throughout the late 60s and early 70s, Dierker was the face of the franchise and his contributions to the team as a Manager and ambassador for the team keeps him in the spotlight. But he sure was a good pitcher too.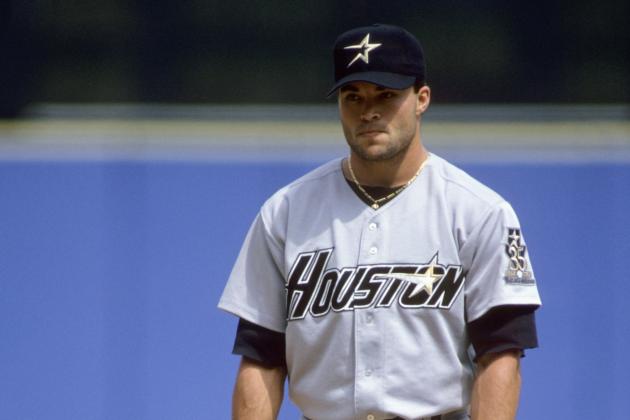 Matthew Stockman/Getty Images
Mike Hampton pitching in perhaps the best looking Astros uniform ever
Wins: 76
Losses: 50
ERA: 3.59
Strikeouts: 767
Complete Games: 13
Mike Hampton played from 1994-1999 and again in 2009. He was perhaps the most complete athlete to wear the Astros jersey. Hampton could do it all. He could hit well enough that you could out a hit-and-run on with him at the plate. He could run fast enough to be counted on for a stolen base. He hit for occasional power as well. Hampton had great control and he gave manager Larry Dierker a lot of options. Capable of working deep into games, he was an innings machine, averaging 7.1 innings per each start. In 1999 Hampton had a truly dominant year, going 22-4 with a 2.91 ERA. Hampton may not have had the numbers that other lefties had with Houston, but his overall set of tools that complimented his stellar pitching are enough for him to be the greatest left-handed starter in Houston's history.
Interesting Fact You Probably Didn't Know: Mike Hampton wore #10 during his first stint with the Astros. When he returned however, he wore #11 to honor his close friend Brad Ausmus.
Honorable Mention: Bob Knepper, Wandy Rodriguez
Bob Knepper pitched from 1981-1989. He remains the winningest lefty the team has had. He won 93 games and lost 100, with a pedestrian ERA of 3.67. He pitched the Astros within two outs of a World Series in 1986 and was a steady left hander throughout his tenure with the team.
Wandy Rodriguez: Much like Roy Oswalt, Wandy Rodriguez was a small pitcher with a lot of heart. With 80 wins, he is ranked number two of all left-handers in Houston's history.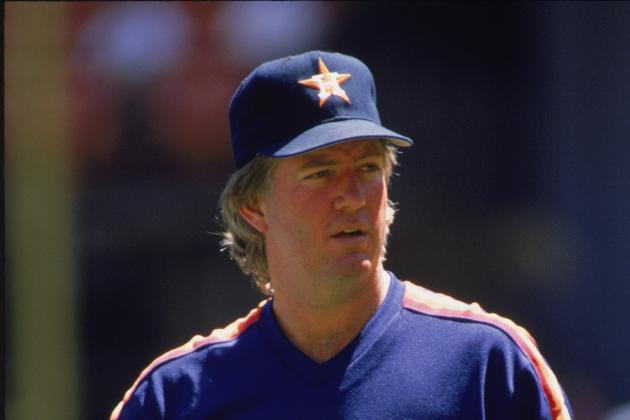 Otto Greule Jr/Getty Images
Dave Smith getting ready to throw a pack of sunflower seeds to an opposing hitter
Saves: 199
Wins: 53
Losses: 47
Earned Run Average: 2.53
Dave Smith was one of three great closers the team had in the early-to-mid 1980s. Together with Lefty Joe Sambito and Frank Lacorte, the Astros bullpen was rock solid. He saved an impressive 84% of every game he had an opportunity to close and gave manager Bill Virdon a number of choices once the game got to the seventh inning. By having Smith in the bullpen, Virdon was able to save his starters for the all important September run and it is one of the reasons the starting pitching remained so fresh during the dog days of the season.
Honorable Mentions: Brad Lidge, Fred Gladding
Brad Lidge is the teams third best reliever in terms of saves with 123. He established himself as a capable set-up man for Billy Wagner and took over when Wagner was dealt away. When Lidge was on his game there were few better in the business. In fact, Lidge threw a 94 mph slider and was clearly automatic - until Albert Pujols came along. Thereafter, Lidge was shaky and it reached the point where manager Phil Garner couldn't trust Lidge in the World Series. When fans and writers alike began to question Lidge's mental state after the Pujols homerun, Lidge did nothing to convince anyone he was past it. In fact, In game one, he gave up a game winning homerun to Scott Podsednick - who hadn't hit a homer all season.
Fred Gladding was one of the game's early designated closers. He saved 76 games for the Astros and in 1969 he led the league in saves - which was the first season that saves were actually tabulated. Gladding also has an unusual record. He was a mere 1-63 at the plate, giving him a lifetime batting average of .016. This is the lowest batting average for a player with 50 or more at-bats.
Craig Melvin/Getty Images
Billy Wagner may blow bubbles, but he almost never blew a save
Wins: 26
Losses: 29
Saves: 225
ERA: 2.53
Billy Wagner was supposed to be a starting pitcher but fate had a different path for him. Instead, he would become the all-time best closer in Astros history and one of the best of all time. Simply put, Wagner's close to 100mph high fastball blew many hitters away. He was a small pitcher (a common theme for Astro hurlers) with excellent control. How good is Billy Wagner? Opposing players hit just .186 against him. That is how you pitch for many years and keep your ERA at 2.53 mark.
Interesting Fact that You Probably Didn't Know: Billy Wagner was born right-handed. He broke his arm when he was a kid and began tossing a ball left-handed against his barn in Virginia.
Honorable Mention:
Joe Sambito was your typical left-handed relief specialist who is fifth all time in Houston history in saves. (72) In 1979 he had a scoreless streak of 40 2/3rds innings and was otherwise unstoppable. Few remember that Sambito came back after Tommy John surgery with the Boston Red Sox, but he did just that - saving 12 games for the Red Sox in 1986, where the Mets were guilty of making the Red Sox choke in the series.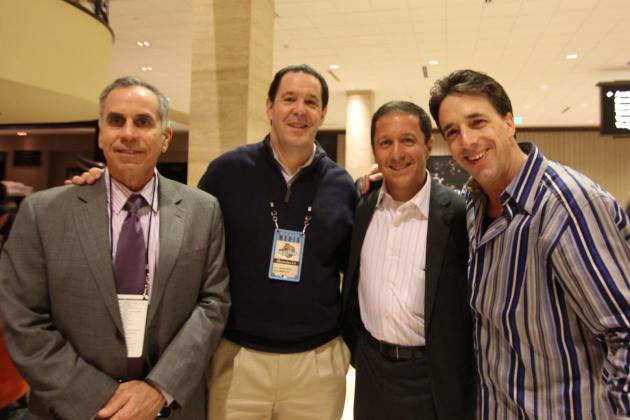 Robert Bluestein with ESPN Baseball Tonight Crew at The Winter Meetings
Robert Bluestein is an accredited photographer for Major League Baseball. As a clubhouse boy for the Astros for three seasons, Bluestein came to know many of the players personally. He brings a humorous and fascinating background to his writing that usually brings laughter and commentary. Combined with his love of Baseball History and in-depth knowledge of the game, his columns are insightful and compelling. He currently plays Men's Hardball in Texas and remains very well connected to Major League Baseball.
You can reach Robert at his email address at robertbluesteinphotography@yahoo.com.