Big East in the Post-BCS World Pt. 4: What Schools Maximize Its Potential?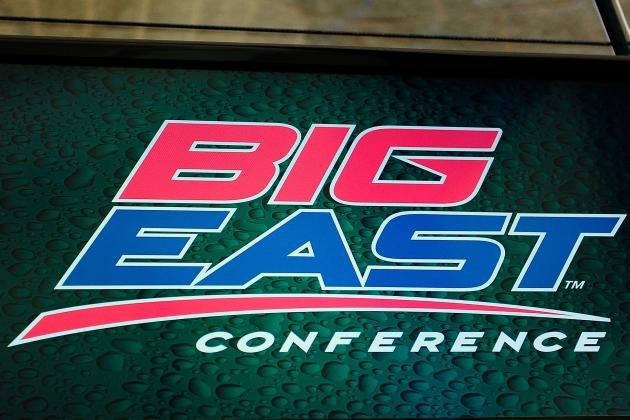 Stacy Revere/Getty Images

Welcome to the fourth and final editorial in the "optimizing the Big East for maximum long term value in the Post-BCS world" series.
About a month ago, in the first article in this series, I tackled pinning down how much Big East sports were worth.
Two days later, in part two, I questioned the logic behind and the viability of the Big East's plan to execute a small expansion to only 16 football members.
(I think expansion to 16 provides too small of a membership, undercutting the conference's contention of having a nationally relevant media product. The latest reports of offers in the $60-80 million dollar range may suggest the TV networks are reaching similar conclusions. Luckily, yesterday Big East Commissioner Mike Aresco mentioned further expansion as a possibility, "if it made sense financially and in terms of media and our membership".)
On November 17th, just as I finished part three—explaining the real, unrecognized assets the Big East has on hand to deliver an optimal future lineup—news broke of the Big Ten's surprise raid of Rutgers.
Since then the ACC has taken Louisville from the Big East, and the Big East has added East Carolina as a football-only member and Tulane as an all-sports member.
In this last article in the series, I go on record and name the schools I believe the Big East should add in order to protect their current position in the conference pecking order.
The Reason for the Series
Anyone who writes an editorial suggesting a conference takes a certain path has a secret hope that someone running the conference will read the idea, see some merit in it and implement some of it.

Certainly that won't happen if the plan deviates from the stated goals of the conference membership.

The Big East's stated goals are to add Brigham Young, Army and Air Force. I certainly agree those would be great additions for a conference trying to establish itself as a national brand. The Big East is positioned to add many of these schools but has not been able to figure out the right strategy to close the deal.

In this editorial, I am going to reveal how to get that done.
(I have formatted this article where one can read the first section under each picture and go on to the next slide, reading the whole article in less than five minutes. If the decisions do not make sense and more details are desired, each has additional sections covering the minutia for the realignment junky.
If you are more of a casual sports fan, skip on to the next page.)
The First Bit of Minutia for the Realignment Junky
Other Things to Keep in Mind
As I hope I have explained clearly in my earlier articles:

- It is probably impossible for the Big East would be able to add only that trio of schools in an expansion to 16 football members.
- The Big East needs to cut a deal with Villanova. The Wildcats need to upgrade to the MAC now, then move to the Big East in five to 10 years.
- Boise State may not think it will get its money and now appears to be working against the Big East. I have a strategy to control that possibly corruptive influence.

The plan would also have to account for unstated, but fairly obvious goals of the conference.
The Big East's Olympic sports-only school—the seven eastern Catholic privates—have 7-3 voting control of the conference until the new football schools officially join next summer. In effect, they control what the conference membership will look like.
They cannot abuse the selection process too much, lest they risk driving schools like Houston and Boise State to defect. There are clauses that could allow key schools to leave if certain conditions are not met. (The deals Boise and San Diego State signed that link them together in particular are capable of really hobbling the Big East and opening the door for football schools to depart.)
But it should also be noted that the privates could also have a gun pointed at the heads of the football schools. With a 7-3 voting edge, the Olympic schools could potentially vote the Big East out of existence. There was an article last month in the Providence Journal by Kevin McNamara that suggested the privates were considering that course of action.
One would hope that by adding ECU and Tulane, the privates have moved on from considering that position in any way (as it is obviously a poor strategy for recruiting the best new members possible) and are now content pointing the Big East realignment bus to it's next stops.
The addition of Tulane more than anything else seemed to suggest a desire by the privates to maintain a strong voting voice down the road by adding schools with a shared worldview. (Tulane is also a private school.)
It isn't just a self-centered thought. There is reasonable logic there that I kept in mind in making my recommendations. Georgetown and St. John's reportedly recognize the value the FBS schools bring to the table. The other Olympic privates, it appears... not so much.
Adding more private schools (Olympic-sports only members or all-sports members) to help the Catholic privates' voting position in the future would seem the surest way to keep the more unruly private schools (likely Marquette, Seton Hall and Providence) from pushing the idea of defecting to form their own conference.
I am keeping in mind that stability long-term requires a more balanced voice between privates and publics at the end of expansion.


A Series of Actions
I have written this as a series of suggested actions to deal with the problems facing the Big East.
The Big East has to rebuild their basketball strength at the top of their standings, not the just the middle. Adding more NCAA tournament bubble teams alone will not rebuild the strength of this conference. They need more strength at the top to raise the conference RPI. That will raise the strength of schedule in conference play—something that will help carry more Big East bubble schools into the NCAA Tournament.
This will not only ensure the interest of ESPN and other broadcasters, but it will also improve the ability to secure the volume of bids and high seedings the Big East had before the defections.
The Big East also has to limit the ability of any Boise State secret meetings with the MWC to sink the expansion efforts of the Big East membership.
It has to address the loss of depth of support in the New York City DMA. The New York DMA has as many TV households as the Philadelphia, Dallas/Fort Worth and Houston DMAs combined. Losing the conference's only football playing member in that DMA is a huge blow to the media plan.
A conference with FBS football and a nationwide footprint is a compelling media argument for a network. The Big East can't credibly make that argument today. Not being able to do so is tying the hands of their negotiating crew.
It is not enough to point at the Northeast schools as an "almost sensible collection of brands with some history together" and then assume that toeholds in a bunch of other large markets in other regions of the country will somehow appeal to a network.
That isn't a conference with "nation-wide appeal."
The Big East today is like a moth-chewed sweater. They have to fix all the holes if they want to interest TV networks at a serious level.
They have to add schools that enhance the attributes of their current member schools.
My suggested actions leave a 20 football, 24 basketball member conference. That is the smallest number I can see meeting the immediate stated goals of the conference. Most schools do not like large memberships anyway, so I listed that as a stopping point.
I have also included a 10th action for a further expansion to 30 basketball members should the Big East find that multiple networks are interested in splitting the Big East content.
If 24 is good enough, why bother talking about six more schools?
The thought is, if the Big East has two (or more) broadcasters interested in splitting the content, it makes sense to throw out the option of expansion to 30 in order to have enough content for each broadcaster.
In addition to adding more content, taking the additional step and getting up to 30 schools improves the validity of the media argument of a valid nationwide support, making the conference more appealing to all interested broadcasters.
These two aspects would open the door for two networks to split the Big East content (a la the Pac-10 and Big 12 deals).
The Big East is reportedly talking to six suitors, making this kind of strategy a smart one to consider. Today the numbers being discussed are packages worth $60-80 million—about half of what was allegedly discussed when Rutgers, Louisville and Notre Dame were in the fold.
Let's say the Big East does an expansion similar to the 20/24 expansion described in this article, landing replacement NYC FBS member and several valuable national and regional brands. A single network may only be willing to pay say $150 million annually for a 20-football member/24-Olympic sports member conference.
Assuming the conference wisely corrects for the diminished value of their football offerings and shifts down from a 70-30 split to say a 60-40 split between football schools and basketball schools, football-only schools might take home $4.2 million and Olympic-only members about $2.8 Million from such an offer.
Two networks splitting the content could agree to pay as much as $120 million each for half of the rights to a 20-football member/30-basketball member conference. That could break down to $3 million per football school and $2 million for each basketball playing school from each network.
That is a 20-percent discount on what each broadcaster would have to pay to secure the rights outright. With the market set at $150 million, $120 million could be a very cheap price for the level and volume of content. The broadcasters would still get to fill their broadcast day with very cheap content (in comparison to the contract conferences) that is still quite popular.
For the Big East, there is a compelling argument there. Getting heavy exposure on two (or more) national networks is better than one in terms of exposure and recruiting. Taking this financial breakdown to its conclusion, following this path could drive up the per school TV shares to $6 million for football playing members and $4 million for basketball-playing members.
Begin Slideshow

»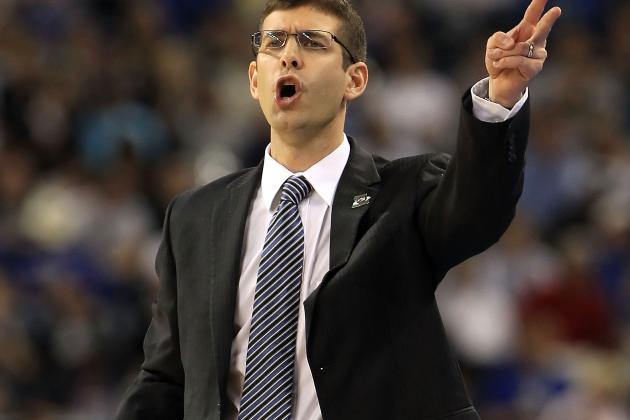 Streeter Lecka/Getty Images

How to get it done: Offer Atlantic 10 members Butler & VCU membership in the Big East ---conditional on head coaches Brad Stevens and Shaka Smart getting immediate $1 Million raises to their annual salaries.
General sports fans may chose to go to the next tab.


The minutia realignment fans demand

Why it makes sense for the Big East: As hardcore readers who have followed this series might catch, this does seem to be in violation with an idea I recommended in an earlier article of bringing in only basketball programs that average more than 8000 fans per game. Although both schools are close to that number, they do not hit that threshold.
Frankly 8000 was chosen arbitrarily to keep the candidate pool consisting of the right caliber of basketball programs and mostly to eliminate Boise State's Olympic sports from consideration. It could just as easily have been set at 7000.
Due to the changing conditions in the Big East brought about by the loss of Louisville, VCU and Butler should be strongly considered.
The Big East needs a tournament heavy hitter to replace Louisville. Although neither school draws as well as the Cardinals, both schools could become similar heavy hitters on the court.
Butler and VCU were recently added to prop up Big East competitor, The Atlantic 10. Stealing these two coaches helps re-create a wide gap in perception of quality between the two conferences. That (and the two coaches' media relevance) makes it very much worth doing.
Butler is in a fairly populous state (Indiana, about 6.6 Million) between states where the Big East has schools. It is located in Indianapolis, the largest school in that state. Indianapolis is the nation's 26th most populous DMA, with .955% of the nation's TV sets. In that, they are a geographically sensible add.
Butler under Stevens has played at an elite level recently making two championship games in a row despite not having the media profile to recruit at that level. Admission to the Big East would provide that recruiting platform.
Indiana is a basketball hotbed for talent.
VCU is located in Richmond Virginia, not all too far (in recruiting terms) from the North Carolina border. Richmond is the nation's 57th largest DMA with .485% of the nation's TV households. Virginia has a population of just over 8 Million.
Under Smart, VCU has won the CBI Tourney and made deep runs into the NCAA tourney. Being in a conference that can recruit vs. the best of them could make the achievements of VCU's recent past more easy to replicate. Virginia and North Carolina are strong basketball recruiting states.
Both schools have pretty strong basketball cultures.
Neither of these schools would be that appealing to the Big East without their current coaches, so conditions should be added to dramatically improve the chances of both schools bringing value long term (retaining their coaches a little longer).
The Big East needs some added coaching credibility as that has big financial implications for the conference. These two coaches may be the two best collegiate coaches under 45 in the U.S.
In 6 years, Stevens has a .773 winning percentage overall and an 11-4 NCAA tournament record. Smart has a .739 winning percentage in 4 years with a 6-2 NCAA Tournament record.
Both coaches direct a unique and distinct brand of basketball that most NCAA tournament teams aren't used to seeing...Much like Louisville and Syracuse of the old Big East.
Butler is a private school which adds to the voting block of the privates. VCU is a public school, but one that stubbornly refuses to to play FBS football and take advantage of their large enrollment (31,899), alumni base, large native metro area (1,269,000 in the Richmond metro area), and neighboring City Stadium (a 22,000 seat stadium right next door to campus). If that remains the status quo (and there is no reason to believe it won't), they would seem to be another reliable vote for the private schools.
Neither coach seems likely to jump for a contract to play at a weaker Big East school, so the other option for the Big East to land these elite coaches is to elevate their schools.
Why it makes sense for the schools: Butler gets how important Brad Stevens is to that school.
They do not have a lot of money to offer in the grand scheme of things, so they offered Stevens security, signing him to an extension that goes until the 2021-22. Stevens' new deal is estimated to pay around $750,000-900,000 annually.
Brad Stevens has shown a lot of loyalty to Butler for taking a chance on him. There are editorials saying why it doesn't make sense to leave for most positions and indications he doesn't want to leave any time soon.
Joining the Big East for recruiting and collecting those Big East checks extends the amount of time Brad Stevens will be at Butler. It also amounts to Butler jumping to the highest tier athletic conference a private school without FBS football can aspire to join.
VCU merits being in a conference like the Colonial or the Atlantic 10. As a public school without FBS football, it has no business even sniffing a Big East invite, but... the cards have fallen right for them.
Shaka Smart has proven fairly loyal to VCU so far. If the Big East schould invite them to secure Smart, it would be a very sensible for VCU to accept such an offer.
Like Butler's leadership, VCU's leadership also understands they have lightning in a bottle with Shaka Smart.
Smart showed no interest in the Nebraska or North Carolina State jobs and turned down an offer from Illinois.
That is not to suggest Smart isn't interested in any higher paying job --- just that he felt those weren't the right jobs for him and that he sees what he has done at VCU as maintainable. Smart signed an 8 year extension that has his base salary at a reported $1.2M a year.
Neither deal lines up well vs. the salaries paid at better basketball schools in contract conferences.
Both schools reportedly take home TV revenue that averages $312,000 in the Atlantic 10. That is not going to help either school retain their coaches vs. strong offers from better athletic programs.
The cost of the raises would be fully paid by the difference in TV money coming in after moving to the Big East.
It is not an unreasonable thought that they could earn TV payments of 10 times (or more) their Atlantic 10 TV shares as Olympic members of an improved Big East.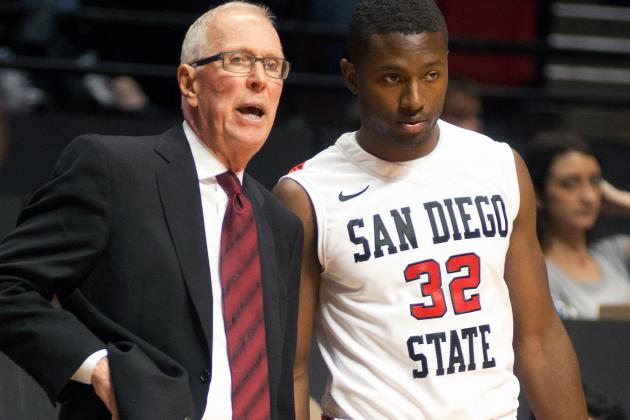 Kent Horner/Getty Images

How to get it done: Have a meeting with SDSU's President, Athletic Director, and their head basketball coach Steve Fisher.
Tell them,
"When SDSU was offered a slot the Big East hoped payouts for a football only member might be in excess of $5.5M. The Big East understands SDSU accepted a Big East membership based on that premise.

With the conference's recent losses, that may or may not happen.

With that in mind, the Big East offers to sell out for SDSU.

The Big East offers SDSU a full membership along with a promise to aggressively pursue the top western basketball schools within a 3 hour flight from San Diego (including all the old MWC elites) to build a multi-sport western division."
As an all-sports member, SDSU is far more likely to pocket the $5.5+ Million they hoped to land (and frankly have probably planned to receive).
There is every reason to believe if things go well, SDSU could earn much larger TV payouts.
It would also be a far, far better home for Steve Fisher's program.
General sports fans may chose to go to the next tab.
The minutia realignment fans demand
Why it makes sense for the Big East: The Big East stands a better chance of cashing in with Steve Fisher's basketball program than without it. That program means legitimacy in the west, much like Boise State's football program.
It increases the chances the Big East will land the schools they have targeted.
An argument of a national footprint suggests to fans and broadcasters coast to coast teams. San Diego State as an all-sports member literally satisfies that concept and does so quite efficiently, in a very TV friendly manner.
Although San Diego is a much smaller DMA than the neighboring Los Angeles DMA (#2 in the US with 4.92% of the nation's TV households), The San Diego DMA is still quite valuable. Of the 210 DMAs in the nation, San Diego is ranked the 28th in the number of TV households with about .942% of the nation's total.
Southern California has a population of 23 million, which, if it was a state, would only be slightly smaller than the nation's second largest population state, Texas. There are only 3 FBS schools in Southern California, one of the nation's richest talent recruiting regions in football and basketball. California Universities are in perpetual financial trouble, so there is little change of another school emerging as a serious player in FBS football or DI basketball in southern California.
A strong SDSU athletic program, not just a football program, in a higher profile, national conference could quickly gain much more regional relevance (gaining measurable support in the Los Angeles DMA) making them a hugely important media asset.
There is just not a lot of top level content created in southern California. That could really help SDSU and the Big East.
And there is the coaching angle. The Big East had a ridiculous collection of elite coaches with a proven ability to win games in the NCAA tournament year after year. The conference has lost Jim Calhoun (retirement), Rick Pitino, Jamie Dixon, and Jim Boehiem (all to the ACC).
They still have dangerous tourney threats John Thompson III (Georgetown), Jay Wright (Villanova), Mick Cronin (Cincinnati), and Buzz Williams (Marquette) as well as recently hired SMU coach Larry Brown (a heavy hitter with a 19-6 NCAA tournament record, 3 final four appearances, and a national title on his collegiate resume), but to help secure more invitations to the tourney, the Big East could use more coaches who regularly win in the NCAA tournament.
Steve Fisher has lead a team to win an NCAA national title. He has a .649 winning percentage in 23 years despite taking over a very forgettable SDSU program and a 22-11 tourney record with 3 final fours appearances.
He has spent over a decade building up San Diego State Basketball to a program of national relevance with a quality talent base.
In the last 7 seasons, he hasn't won less than 20 games, but in the MWC, his teams only made the NCAA tournament 4 times in those 7 years. In the last two years, his SDSU teams have finally been good enough to advance. Clearly this program displays a consistent upward trend. It seems to be on the path to develop into an elite program.
There is no NBA team in San Diego. With access to Southern California's talent, membership in a higher profile conference could turn SDSU's basketball program into a peer of Louisville or Syracuse. The Big East could use that.
Fisher has proven he can win a title with a team with elite talent.
If the Big East wanted an all-sports member in the West, no school makes more sense than San Diego State.
But today, Boise State and San Diego State appear more loyal to each other than the Big East. That dynamic could lead to moves that seriously cap the potential of the conference. Boise State and SDSU's bromance has to be broken up.
Securing all of San Diego State's sports would be the Big East driving in a stake in the west and announcing their intent to stay. It would make securing a strong western division much easier.
Inviting San Diego State as an all-sports member puts SDSU's leadership into a position where accepting a greater commitment to the Big East just makes sense.
Why it makes sense for the school: SDSU decided to jump to the Big East for a fat check as a football only member.
To make that happen they moved their basketball program into a very weak Big West. That program is probably going to seriously regress in the Big West. That was basically asking Steve Fisher to take one for the team; To allow the hard work he has done over the past decade to build a program to erode.
It doesn't show much loyalty to Fisher and that probably bothers the leadership at SDSU.
Today the Big East football conference looks much less valuable, making the decision to join as a football-only member appear questionable. Today SDSU is at risk to leave the Big East.
Returning to a rebuilt MWC is really not that strong of alternative solution for SDSU. The money will be less in the MWC. The MWC as a home does not seem to get much attention in Southern California. And finally, Fisher has seen several NCAA Tournament caliber teams he has coached in that conference not get invited after playing MWC schedules.
A return to that status quo does not add value.
Moving all sports to the Big East would allow SDSU to get the money they anticipated, promote the school nationally, and not crap on Fisher after all his years of quality service.
It would be a compelling offer.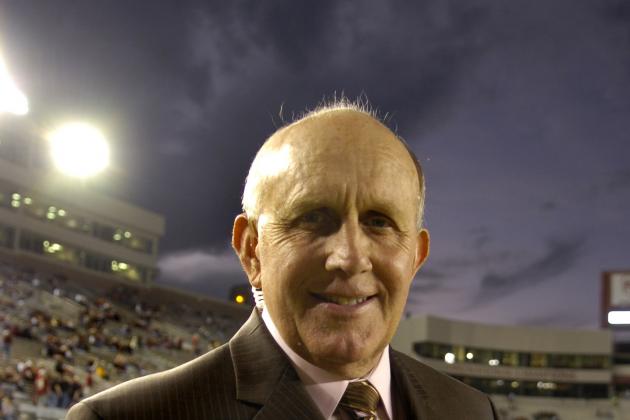 Al Messerschmidt/Getty Images

How to get it done: Offer UTSA a football-only membership to give the Big East a third FBS football program in Texas.

General sports fans may chose to go to the next tab.


The minutia realignment fans demand


Why it makes sense for the Big East: Securing a chunk of the most valuable piece of California was required to have a stable and valuable western division.
Securing a strong presence in Texas is the other part of that equation.
There is no way to get there without UTSA football.
Although UTSA is a comparatively young school (founded in 1969), it is a large enrollment (over 25,000 students) public school with alumni in many of the major metro areas in Texas.
Larry Coker's program is well ahead of schedule and is drawing large crowds (35,521 per game in 2011), but their on the field success is not why they should be added. It is only part of the bigger picture.
Texas has a larger population than New York (25 million vs. 20 million). Texas can partially replace New York as the fulcrum powering the Big East TV deal (The Big East will still need a little more in the northeast, but with a stronger Texas presence in pocket, that should become a manageable acquisition).

Texas has four big media markets. There is Dallas/Fort Worth (home to SMU), the nation's fifth largest DMA with 2.267% of the Nation's TV households. There is Houston (home to the University of Houston), the nation's 10th largest DMA with 1.941% of the nation's TV households.
Compared to most FBS programs, Houston has a large alumni base in their native DMA; SMU does not. That is already a bit of a media problem for the Big East in Texas.

Then there is the neighboring Austin (#45) and San Antonio (#36) DMAs. They are very close together. Now obviously The University of Texas dominates the Austin DMA, but UTSA is doing quite well in San Antonio and they do have fans in Austin and will get media coverage there. (Some UTSA games were actually broadcast on the UT Network, underscoring the media relevance.)

If the Big East can't land UT, landing UTSA is really the next best option in those two DMAs.

If those were a single DMA, it would have the 17th largest number of TV households in the nation with about 1.390% of the nation's TV households (...And the area is growing very quickly).

That "if" won't get counted directly in the Big East's TV valuation as is, but adding UTSA football would give the conference media relevance in San Antonio, Austin, and a small bump in DFW & Houston. It helps them in all the markets that matter in Texas.

If the Big East appears to have legitimate statewide support in Texas, that would be considered.
Additionally, Coker's Roadrunners are the most popular football team based in San Antonio. San Antonio is 63.2% Hispanic. Texas is 36.7% Hispanic and that population is growing quickly.
UTSA gives the Big East inroads into the Hispanic Texas football fan.
Why it makes sense for the school: Football gets noticed in Texas. That is why UTSA started football and why they hired Larry Coker, a former national title winning coach at the University of Miami.
This kind of offer is the kind of offer they would accept.
Making $3-$6 Million (or more) as a football-only member in the Big East is better than making $2 million a year as an all-sports member in Conference USA. The WAC or Sun Belt Conference would likely readily accept UTSA's less developed Olympic sports.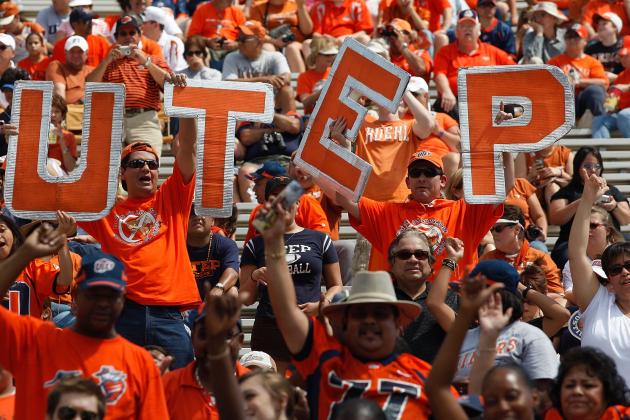 Ronald Martinez/Getty Images

How to get it done: Invite UTEP as an all-sports member for a fourth Texas school.

General sports fans may chose to go to the next tab.


The minutia realignment fans demand

Why it makes sense for the Big East: The Big East needs another strong Texas athletic program as they can't roll with UTSA's Olympic sports.
Although UTEP's native DMA is small (El Paso is #91 with .297% of the nation's TV households), UTEP is much stronger candidate than their DMA indicates.
UTEP has a long-lived program (ie. invested alumni everywhere in the state) with strong fan support in all the main Texas DMAs. They have long been viewed as the most prominent Texas university with a large Hispanic enrollment. And as I mentioned earlier, Texas is 36.7% Hispanic.
UTEP is glue for what I am advocating the Big East should build in Texas.
UTEP draws well in basketball and Tim Floyd is a veteran, proven coach with a .635 winning percentage in 19 years and a 7-8 tourney record. UTEP is also a strong basketball program on the court with an awesome history.
Plus UTEP is a key target of the MWC, so adding the Miners would likely attract (or more likely redirect) other western schools.
UTEP also draws well in football when they are playing well.
Having four well placed football schools in the state guarantees pretty good media coverage statewide and gives a very good chance to see rivalries develop that might appeal to a broadcaster.

Why it makes sense for the school: Obviously the money is better...
UTEP joined Conference USA to play and recruit in Dallas and Houston. Since the the Miners joined CUSA, they have recruited better and won more games.
If the Big East is going to have SMU, Houston, and UTSA, it is likely UTEP would feel a need to not to be left behind.
UTEP is often made to feel like an inconvenience in Conference USA as a distant outlier. In this Big East, they would not only help the contention of statewide support in Texas, they would also glue Texas and the west together to help the argument of nation-wide relevance.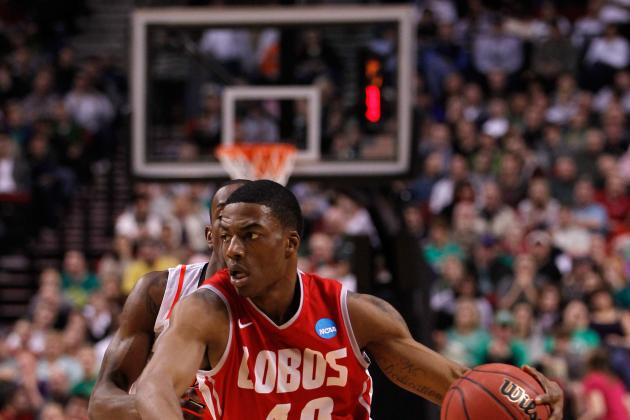 Jonathan Ferrey/Getty Images

How to get it done: Run a professional and thorough sales pitch at the leadership of the University of New Mexico.
There is a chance that UNM's leadership and alumni may have to be sold on the idea.
UNM's leadership may have warmed to the idea of a MWC reunion with Boise State and BYU coming back.
A soft touch... and hard logic... may be required.
While Rudy Davalos used to hint at an opportunistic side in his interviews from time to time, I cannot say for sure if current New Mexico AD Paul Krebs would feel comfortable biting on a Big East offer without a strong sales pitch that underscores the benefits UNM would see.
"While New Mexico has decent rivalries in the MWC, membership in that conference puts UNM in a lousy recruiting position.

As such, UNM will always be at a competitive disadvantage in that conference and as such will not consistently be bowl eligible in the MWC.

The numbers won't let it happen.

Being an annual winner in football gets fans in the stands and booster money flowing. Staying in any MWC amounts to the status quo of the last 30-plus years—basketball winner, football loser.

In a rebuilt MWC, that is a lot of money UNM is leaving on the table to prop up Boise State and BYU's coffers.

If UNM joins the Big East now, when our membership needs you, you will be reunited with UTEP, your main rival, as a fellow all-sports member.

The Big East's new western division offers you better money, a better group of regional rivals (including most of the good draws for UNM in the old WAC), better access to the NCAA tournament, better geography, and better recruiting. "
General sports fans may chose to go to the next tab.
The minutia realignment fans demand

Why it makes sense for the Big East: UNM may be the most valuable member of the MWC.. for the needs of the Big East.
They may be the MWC school most willing to jump ship, given their location. Playing San Diego State, Houston, SMU, UTSA, Tulane, and other central teams probably does not offend the ears of UNM's leadership as it might the leadership at a school like UNLV or Fresno State.
UNM has no pro competition from the NFL or NBA.
New Mexico has one of the best supported basketball programs in the nation. They are a terrific draw that is regularly in the NCAA tournament. They are basketball crazy. They are a cultural fit for the Big East.
Head Coach Steve Alford has a .645 winning percentage in 18 years with a 5-6 tourney record. He has not won fewer than 20 games in his five seasons at UNM, but his teams have only earned NCAA tournament invites twice playing a MWC schedule. His teams did advance both times.
Imagine how well UNM basketball could do with an extra star player on the roster.
Having SDSU and UNM basketball helps rebuild the Big East basketball brand and gives the Big East a great deal of traction in blocking a MWC reformation.
While UNM doesn't draw well in football today, that could change in the Big East.
UNM's stadium is fairly big and when they have seemed promising in football they have drawn fairly well (38,341 in 2005). There is every reason to believe UNM would become an annual bowl eligible team in the Big East.
Even if they don't, a better football future and in-conference play against UTEP is the right hook to dangle front of the boosters and leaders at UNM.
Hispanics account for 46.3% of New Mexico's population
I know the idea of adding two schools to land UNM seems stupid on the surface to the casual sports fan. To that fan, chasing UTEP and UNM looks like chasing bad football programs in two small markets. You have to think big picture and look at how each piece builds on the previous one.
Adding both schools fixes the lack of talent issue at both schools and seals off the MWC access point to Texas.
That caps the amount of money the MWC could earn from a TV deal, diminishing the appeal of that conference to schools like BYU and Boise State.

Both the Lobos and Miners would be welcome and familiar opponents for Aztec basketball and would help the conference's strength of schedule.

In this kind of Southwestern division, both schools (as well as San Diego State) would recruit San Diego/Los Angeles, Dallas, Houston, Austin/San Antonio, the Mississippi/Louisiana corridor, and Memphis.

No schools that want to win in football and basketball could ask for a better recruiting footprint. Combine that with better money than other FBS schools and they will win more than they lose. This ensures that both UNM and UTEP will more than hold their own athletically.

If that happens, in addition to being good basketball draws, they will probably be strong draws in football.

It isn't a huge stretch to think this would eventually yield the Big East two annual bowl teams with attendance in the 40,000-45,000 range with a great rivalry. That would help a lot.
It would also bring two potentially valuable western bowl games.

It may seem like overkill and may seem a bit irresponsible market-wise (if you take too fine of a view), but it deprives the MWC of access to a lot of good markets and recruiting territories, driving down what the networks will offer them.
San Diego State, UTEP, Houston, UTSA, and UNM.... If you think about it, this gives the Big East an excellent claim to being the most relevant conference to Hispanic college sports fans. 16.4% of the US is Hispanic. What would Univision or Telemundo pay for the Spanish TV broadcast rights to Big East sports?

Why it makes sense for the school: Intellectually, it's the numbers in football. A rebuilt MWC offers UNM the same bad footprint for recruiting that the old MWC and WAC offered the Lobos.
New Mexico is a small population state (2 Million) that is not known for it's football. UNM splits the best of New Mexico high school talent with 3 nearby FBS schools --- Texas Tech, New Mexico State, and UTEP. UNM will have trouble recruiting surplus talented players from the other states and regions potentially represented in a rebuilt WAC --- Idaho, Utah, Colorado, Nevada, or Northern California.
If a school like BYU has 85 legitimate FBS caliber talents on their roster, how many does UNM have on theirs? 70? 65? Less?
If UNM cannot replace an injured player with a solid replacement, the caliber of coach doesn't make a huge difference. Rocky Long is a very good coach and his results varied quite a bit at UNM. Having thin talent levels for an FBS program vs. the other schools in their conference has always been an underlying problem at UNM.
In the Big East, UNM potentially could play in a footprint that allows for recruiting in San Diego (and southern California), Houston, San Antonio (and Austin), Dallas/Fort Worth, Memphis, and the Louisiana/Mississippi border.
Those are all major talent hotbeds. They are also areas where players might seriously consider going to school at UNM. If you look at UNM's rosters today, they get their talent from New Mexico, California, Texas, and Louisiana. This move just enhances their recruiting position.
What would UNM football look like with 4-6 more quality players coming in each year?
(For that matter, how would UNM basketball look with a couple extra quality big men from Texas on the roster? Given the historic quality of UNM basketball, the strong fan support, and this recruiting footprint, it could be a regular occurrence.)
If UNM has more money coming in than peer schools like Nevada or Fresno State and access to suitable and rich recruiting areas, the odds of being an annual winner increase dramatically.
Everything but the depth of talent is in place at UNM.
If UNM is an annual bowl team, the fans have shown they will show up. If they are a strong team, they will show up in great numbers.
Having no pro competition in Albuquerque (a metro area of 898,000 people) makes the sky the limit in attendance terms if the Lobos can consistently hit .500 or better on the field and spend a little more on promoting ticket sales and stadium seating improvements.
Plus, which conference is going to sell the Lobo brand in the most beneficial way to UNM?
That's the intellectual argument.
But emotionally, it could be as simple as if UTEP is in (and they would chose to be), a lot of UNM's boosters would want in.
UTEP and UNM fans are like the Romeo and Juliet of the FBS world — secret lovers tragically separated.
They love to play each other. But they haven't been good together.
Their schools chased the same area players in football while in the old WAC, which made them both longtime football doormats... A reunion in the MWC threatens to do so again.

But their fans want to play each other in conference.
Membership in the Big East would allow that and remove the ceiling from both programs.
The Big East is their best option.
Additionally, should New Mexico leave the MWC, it would do a lot to enhance New Mexico State's case for MWC inclusion. That would mean a lot in the state.
Both UNM and NMSU are media relevant in both of the DMAs in New Mexico (Albuquerque and Las Cruces/El Paso DMAs). The MWC has publicly passed on NMSU, but that doesn't mean that New Mexico State actually has no media value. The MWC simply doesn't want a second school from a small population state when they already have a strong claim in both markets via Lobo sports.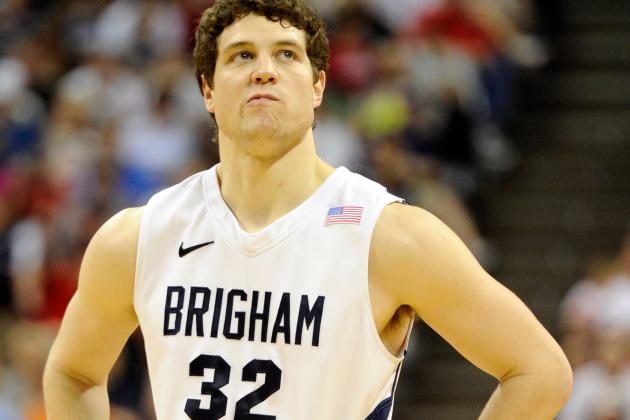 Ethan Miller/Getty Images

How to get it done: Understand that the ties between Utah State and BYU are strong.
Offer Utah State an Olympic-only membership in the Big East if BYU joins as an all-sports member.
At this point, for BYU the financial viability of the MWC as an option to the Big East or football independence would be very questionable. Make it very easy for BYU to walk away from Craig Thompson again.
Be willing to allow BYU a ton of leeway with their broadcast content and to totally waive BYU's exit fees after a couple years.
Advise Utah State that should the MWC boot out Utah State football (very unlikely when you consider the media ramifications of such a move), the Big East will set up scheduling arrangements to fill the Aggies' schedule. Also advise the Aggies that should BYU stick around for at least 3 years, the Aggies will be given preferential consideration in filling BYU's football slot.

General sports fans may chose to go to the next tab.
The minutia realignment fans demand


Why it makes sense for the Big East: BYU draws well on the road and at home. Their games have strong viewership in the western US.
They are regular playoff participants in both the revenue sports.
TV loves them and the big money bowls like them.
BYU is a better candidate than the Big East has been able to land or retain. They are legitimately one of the top 25 or so athletic programs in the FBS ranks. No one in the Big East is close to that.
Only BYU's "quirks" have kept them out of the Pac-12 and Big 12.
They really are a poor man's Notre Dame and should be treated as such. It shouldn't surprise the Big East leadership if they have to offer BYU more than they offered East Carolina or Tulane. And it certainly shouldn't offend the Big East membership.
BYU will eventually be in the Big 12. The question is really does BYU hang out in the MWC and WCC until then or the Big East? Financially, the Big East need BYU to chose them.
This action is about the cost of renting BYU in the short term.
Frankly moving to the Big East may be seen as a bit of an unnecessary headache by BYU. BYU can escape their ESPN deal by joining a BCS AQ conference like the Big East, but BYU likes the idea of their own network. There are a lot of niggling questions about their network (Would it be severely compromised? Would such a move upset their broadcast partner and interfere with the network?) that BYU leadership may not want to think about should BYU chose to join the Big East.
In some way shape or form, BYU is going to want to keep their network.
And it should be possible to make that work. The Big East needs BYU playing as a full member as soon as possible. They need that far, far more than the Big East needs BYU to make the same media rights deals as other Big Eas members.
Making Mormon sports fans care about the Big East is more important than binding BYU to the same profit sharing terms as all of the other Big East members. (It really is very similar to the dynamic with Notre Dame).
Securing BYU as an all-sports member (even short term, even with limited media rights) makes an optimal expansion and a good TV contract much more possible for the Big East --- even if the conference has to make major media concessions to the BYU network.
Given both perspectives, it is stupid not to give BYU a lot of the special demands they might request.
It could actually be very smart to allow BYU re-broadcast rights for any games featuring the Cougars for as long as the Cougars are in the conference. I would strongly consider allowing them to retain those rights without fees for a full year after they leave, if it will get BYU signed.
Think about it. Games are not regularly re-broadcasted on networks. Games are basically expired product after the results are known. Why not let BYU promote BYU games featuring the Big East's brands to Mormon fans? If the games are not getting shown anyway, where is the financial loss there?
Really the sticking point is that BYU might be making some money on that content and not sharing it. That is possible, but really what kinds of ratings will re-broadcasted game earn?
All the Big East needs to do is work out a threshold point. If BYU makes money hand over fist on expired content, then the Big East gets a cut.
I would strongly consider allowing BYU the ability to leave the Big East for free after 3 years. If the Big East acknowledges BYU is a temporary acquisition and nothing will likely change that, it makes sense to waive all exit fees and conditions in return for a firm minimum commitment --- say 3 years.
An exit fee is just an uneccessary hurdle preventing BYU from joining.
The Big East needs BYU so the MWC doesn't land the Cougars. The Big East needs BYU to secure the loyalties of western schools.
The sooner the Big East schools embrace the reality that BYU is worth extra concessions as a temporary rental, the sooner the Big East leadership will be able to have substantive talks with BYU.

Utah State has about as strong of a basketball program as you can have coming from a mid-major conference. In a mid-major, the strength of schedule generally doesn't prepare a school for the tournament and the seeding a school earns is too low, making first round games tougher than they should be.
USU coach Stew Morrill's .687 winning percentage in 27 years is distorted by playing in weaker conferences. Fortunately, so is his 1-9 tourney record. He is a quality coach and it is a strong program with good fan support.
This would give the Big East 4 of the 5 strong basketball brands from the old MWC and WAC.
Strategically this isolates UNLV, making them very eager to join the new Big East at any moment, even if they have to take an Olympic sports-only membership.
These additions and UNLV's position would totally kill any secret plans Boise State may have for rebuilding a strong MWC, transforming Boise State into what they should be in this new environment --- a compliant, quiet football-only member.
Why it makes sense for the school: Mormons in Utah have larger families and culturally value education.
When you consider the schools in Utah and the geography, it should come as no surprise that their are a lot of Mormon sports fans who are fans of two or more Utah schools. Maybe love one loves BYU, but their kids go to Utah. Maybe they have degrees from BYU and Utah State.

BYU allegedly has some members of their board who are strong Utah State fans. This goes a long way to explain the appeal of "the project" (the 2010 WAC/Utah State-lead plan to move BYU to the WAC --- a lesser conference).
Utah State was not under serious consideration for inclusion in the MWC at the time of the project. Using BYU's upcoming move to independence to prop up the WAC could have had the WAC consuming the MWC, rather than vice-versa. If that had occurred, Utah State fans would not have any stressful moments wondering about conference memberships.
This same dynamic on the BYU board may be pulling BYU (and BYU's wanna-be best friend Boise State) back towards the MWC.
It makes a lot of sense for the Big East to take advantage of those inroads before the MWC does.
BYU probably views being a football independent and member of the WCC as more or less a wash vs. being a member of the Big East. They make pretty good money as a football independent and get good coverage. As a member of the West Coast Conference, they are part of a fraternity of mostly Christian-based private universities. That probably means a lot to BYU's leadership.
However, if BYU can commit to the Big East for 3-5 years and in doing so carry Utah State into a better conference, that would read very well with a lot of people in Utah (and create a lot of goodwill with Catholics in large markets in the East).
A proposal to move to the Big East could be made to be pretty appealing to BYU's leadership.
Utah State would have literally nothing to lose. The Salt Lake City DMA is a very important asset for the MWC in TV terms. The MWC is very unlikely to boot out Utah State football.
Should the MWC cut off their nose to spite their face and kick USU out, there is no reason the Big East could not do scheduling alliances in football with Utah State for a few years. They can even work them into western bowl deals.
USU makes $800K from TV playing all of their sports in the MWC. They could potentially make up to $3-4 Million as an Olympic member of this Big East and have a very good chance of inheriting BYU's football slot in 3-5 years.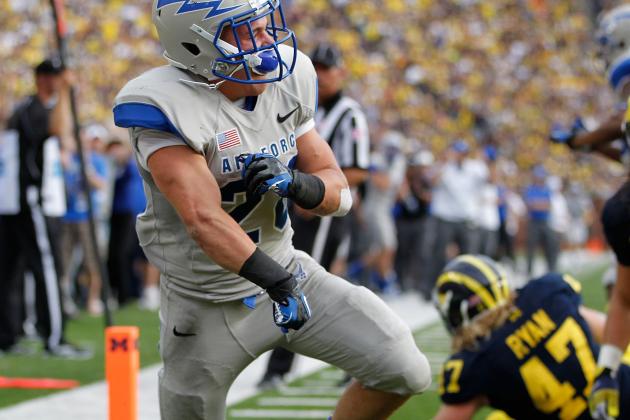 Gregory Shamus/Getty Images

How to get it done: Utah State and UNM leaving should show Air Force that the level of loyalty they showed to their conference mates in the MWC is not reciprocated.
Offer Air Force an football-only sports membership with a commitment to try to land Army. Should the Big East land Army, the idea would be to put all the military schools in the eastern division. If not, Air Force would play it's historic WAC/MWC rivals as a western member.
If that deal is not enough, have a conference call with Air Force leadership and Colorado State President Tony Frank. Offer to give Colorado State an all-sports membership to the Big East if Air Force agrees to join as a football-only member.


General sports fans may chose to go to the next tab.


The minutia realignment fans demand

Why it makes sense for the Big East: Colorado State is located in Fort Collins, a small city in the geographic center of the Denver DMA, far north of Denver.
After graduation, CSU's young fans are fairly likely to stay within the Denver DMA. That suggests they are a very good candidate school if a conference desires to achieve media relevance in the Denver DMA. Their off-campus stadium has created an impression of a smaller fan base than what probably exists.
The Denver DMA is a good one, ranked 17th in the nation with 1.372% of the nation's TV households.
Air Force is a strong national brand, but it is based in the much less attractive Colorado Springs DMA (#89 .301% of national TV households).
Adding either school makes media sense for the Big East, just in different ways.
Competitively, Colorado State has generally been a middle of the pack school in it's revenue sports. Lately they have been pretty competitive in basketball, consistently chasing the elites of the MWC.
They are coached by veteran coach Larry Eustachy who is in his first year. Eustachy has a .602 winning percentage in 21 years as a collegiate head coach and some success in the NCAA tournament.

Why it makes sense for the schools: Air Force was interested in the Big East as an Olympic member with a stated desire to drop their Olympic sports into a less competitive conference (much like the setup Army and Navy use). They hoped to continue their rivalries with Colorado State and Wyoming (Both MWC members are in the Denver DMA).
"In my perfect world, with the Big East on the radar, I would love Air Force, Navy and Army to be in that conference together," said AFA AD Hans Mueh at the time "...I need money to allow them (AFA players) to compete... For us, competition is a mission. It builds the leadership, self-confidence, discipline, teamwork, courage and stamina that we want in the officers we're producing for America."
The Air Force academy turned down the Big East because they wanted to keep their local rivalries and said they preferred to avoid a schedule crammed full of long cross country flights. Who are their valued rivals in the MWC? It would seem to be a short list. One would also suspect that they also did not want to be seen as abandoning Colorado State in a conference that might have to look to the FCS level for replacements.
With SDSU, BYU, CSU, and UNM in and UNLV likely to follow, how much appeal would be left in staying in the MWC?
Air Force carrying CSU into the Big East would read well in Colorado, which I suspect is very important to Air Force leadership. Colorado State can return the favor by agreeing to play Air Force whenever requested in any sport from here on out.
Air Force could join the Summit League for their Olympic sports, becoming Denver's travel partner. That would provide reasonable travel and a less cutthroat conference in which to compete.
If BYU and Air Force are in (driving up the TV value of the conference), Colorado State has a lot of reasons to jump.
Colorado State President Tony Frank chose to spend his political capital ramming through a hugely expensive plan to build a new stadium on campus.
Building a new stadium on campus was controversial in itself (but IMO exactly the right move for CSU). The costs of the project ($250 Million) for a relatively small stadium (42,000) added a second layer of controversy. (CSU has an enrollment of almost 25,000 and averaged 30,631 to their old stadium in 2004, so 42,000 hits me as about the right size.)
Frank has pushed for the construction of a stadium and surrounding areas which is critics say may not generate the annual revenue streams to pay for its construction. There may be a financial shortfall on the construction end there which makes the stadium look like a very risky move for President Frank personally over the next few years.
The Big East (BYU and Boise State in tow) sweeping in with an offer of an extra $5-10 Million a year in TV revenue could do a lot to erase that possible financial deficit --- and paint Frank as an exceptional leader who came up with a bold plan and made it happen.
It is much smarter for Colorado State to tie it's future to the nearby Texas schools and their large DMAs in the Big East than to smaller distant California DMAs in the MWC.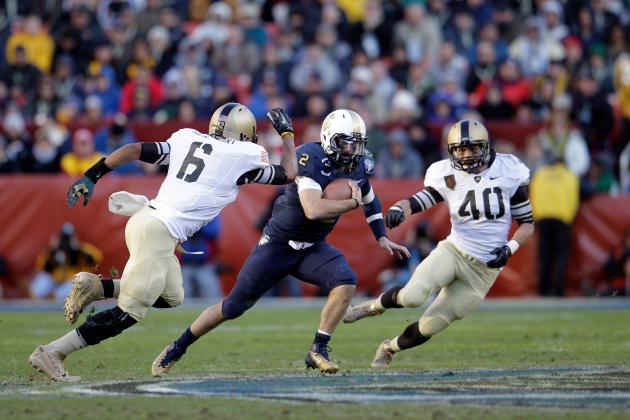 Rob Carr/Getty Images

How to get it done: Offer them a football only admission with a promise to be in the same division as Navy and Air Force.
I think the Big East would need to have some frank, but polite, discussion of how Army annually engineers their football schedule to make bowl eligibility feasible. It is plainly apparent that they do, but it has to be shown that a Big East schedule will allow that just as well as a non-Big East schedule does.
"We guarantee you that you will only have to play 9 big east games a year. That is it.

If you schedule Notre Dame and two tin cans in OOC play, most years you will come in 2-1. If you beat division mates Army and Navy, that will give you 4 wins out of 5 games. From there you just need to beat 1 of the remaining 7 team in your division to be bowl eligible.

If you split with the academies, you need to go 2-6 vs. the rest of your big East schedule to go to a bowl.

If you lose to both academies, you would need to go 3-5. That's tough, sure, but the odds of you making a bowl after losing to Navy and Air Force would have been tough anyway.

Your complaint is a competitive one...What really is the difference competitively with a 9 game Big East schedule vs. your current schedule? Does the difference between going 8-4 at best vs. going 7-5 at best matter?"
And if that fails? Try throwing a little more money at them.
General sports fans may chose to go to the next tab.


The minutia realignment fans demand

Why it makes sense for the Big East: Army is the school the Big East absolutely needs to have in TV terms. Without Rutgers, the Big East desperately needs an FBS presence in the NYC DMA heading into TV negotiations. Army is the only remaining FBS school the Big East can land who can fit that goal immediately. Army football with St. John's basketball would still give the Big East solid relevance in the NYC DMA.
And they offer a huge national following.
It might actually be worth the Big East schools committing to surrendering a slice of their TV shares to form a pot of money for the three military academies to split. This could lead to some healthy encouragement from key personnel at the Naval and Air Force Academies to get Army leadership to consider the plan with an open mind.
Big East members may actually net significantly more TV money by paying the three academies an extra fee out of the members' pockets.

Why it makes sense for the school: Army has a lot of reasons to say no --- even in this scenario --- but it is the best scenario I can imagine that would be acceptable to the membership of the Big East.
Like Air Force, Army has played FBS football in an FBS conference. Unlike Air Force in the MWC, Army struggled mightily in Conference USA.
Like the other academies, this is a decent situation for Army, but Army's struggles in C-USA may just be too fresh in the minds of their leadership.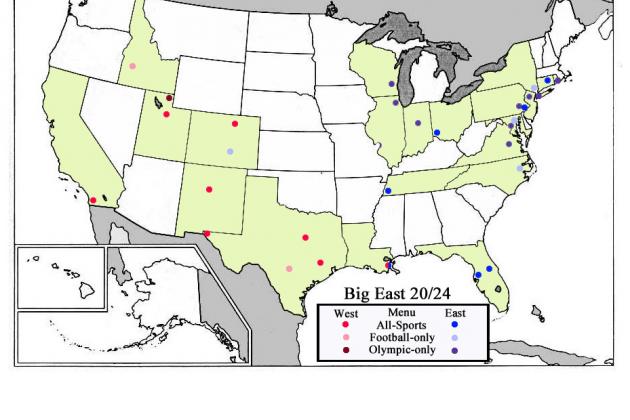 So here it is.
Here are my basketball recommendations.
Basketball (with possible travel partners)
Classic Southwest/Border Division
SDSU - UTEP
CSU - UNM
USU - BYU
SMU - Houston

Classic USA Division
Tulane - Memphis
Marquette - DePaul
Butler - Cincinnati
USF - UCF

Classic East Division
VCU - Georgetown
Temple - Villanova
Seton Hall - St. John's
UConn - Providence
And here are my football recommendations.
Football
Classic Southwest/Border Division
San Diego State
Boise State
Brigham Young
Colorado State
New Mexico
UT - El Paso
UT San Antonio
Southern Methodist
Houston
Tulane
Classic East Division
Air Force
Memphis
Cincinnati
South Florida
Central Florida
East Carolina
Navy
Temple
Army
Connecticut
That's all fine and dandy, ...But what if Army Says "No!" ?
Should Army decline the invitation, every school in the Big East (especially the football schools) would feel the financial cut.
Still, it wouldn't be the end of the world.
Should that occur, a couple shifts would need to happen.
Without Army, Air Force would want to play in the Southwest football division. Their game against Navy might be counted as an out of division 10th game (or not counted at all by the conference. The Division II Pennsylvania State Athletic Conference handles out of division play in that manner).
Tulane can easily slot into the East to take Air Force's place.
No New York City team?
Well at that point, the Big East could consider other less developed, big market options with the last remaining football-only slot.
While I wouldn't recommend moving Villanova up as they would be coming directly from the FCS level (It would be a different matter if the Big East didn't already have a solid FBS school in that market.), having two schools in the nation's fourth largest DMA (Philadelphia 2.583%) isn't the worse thing in the world.
If Air Force would agree to stay in the east division (somewhat counterproductive in my view), it could make sense to offer San Jose State the last football-only slot. (The Bay DMA is the 6th largest with 2.191% of the nation's TV households.) SJSU is a football afterthought most years, but they do have a large alumni base and are well established as the #3 FBS native school in that market. It is certainly a debatable point, but a move like that might give the Big East the second best media position among conferences in California.
UMass would make some sense. Boston is the nation's 7th largest DMA with 2.073% of the nation's TV households. Now UMass isn't located in that DMA, but they do have a pretty good statewide fan following. UMass is one of those schools that will either be viewed as glass empty (they deliver a trivial fan following in the Boston DMA) or half full (they deliver sufficient fans in all of Massachsetts's DMAs and are already in the FBS ranks).
Georgia State is transitioning to FBS. They are in Atlanta and in this kind of conference playing ECU, UCF, and USF could build a football audience quickly... Atlanta is the 9th ranked DMA with 2.038% of the nation's TV sets.
Florida International is probably my favorite out of this uninspiring group though. Miami has the 16th largest DMA with 1.420% of the nation's TV households.
FIU plays in a 25,000 seat on campus stadium with plans to expand to 50,000. They are already in C-USA, so it isn't a black eye to add FIU.
I like them because they enhance what the Big East already has in USF and UCF.
FIU has an enrollment of 47,966. USF has an enrollment of 47,122 and UCF has an enrollment of 59,767. Wrap your head around those numbers.
These are 3 of the top 15 or so largest enrollments in the nation. All in Florida's 3 best DMAs... Which are all in the top 20 DMAs in the country...Which are also some of the best recruiting grounds in the US.
Having 3 schools in the same state with similar attributes screams "rivalries" and that will appeal to TV networks and drive attendance gains at FIU.
Plus as a football-only member, effected members of the the Big East would still only be looking at a single, two-stop trip to Florida in sports like basketball every year. (FIU's Olympic sports would probably be welcomed back enthusiastically by Sun Belt commissioner Karl Benson.)
Now as compelling as that argument may be, it isn't easy to close the door on New York City.
As much as I have shined up the candidacy of FIU, none of these schools are all that appealing today. Are they worth burning a slot earmarked to a football platform in the NYC DMA?
The New York City DMA is the largest DMA in the country by a wide margin. It has 6.468% of the nation's households. It has as many households as the Philadelphia, Dallas/Forth Worth, and Houston DMAs combined. That is mind-blowing.
Even a bad candidate in that market could make a significant media impact. (Consider the impact of the loss of Rutgers. How dominant were Rutgers's football and basketball programs over the last 30 years?)
The Big East still has three obvious (if very unpalatable) options to have a NYC FBS entry.
Stony Brook University. Yep. Stony Brook.
Stony Brook University would represent a shocking and embarrassing dip into the FCS ranks for a conference trying to separate from the other non-contract conference, but the Seawolves might be the best long-term financial option.
Stony Brook University is located in Suffolk County on Long Island.
Academically Stony Brook is top notch, easily a peer to Big East schools. Athletically Stony Brook is a work in progress.
Stony Brook has not been invited to join the Colonial Athletic Association, the local dominant FCS conference. For the Big East to swoop in and invite Stony Brook will be embarrassing for some Big East members, but it is strategically sound if Army is out.
Stony Brook has a big enough enrollment to excel in FBS football with 24, 594 student enrolled. The problem is Stony Brook was established in 1957. It is a young university lacking the depth of boosters to fund their athletic development. It has been difficult to get facilities built in a timely manner.
They play in a 4000 seat arena and an 8000 seat stadium. The University has plans to invest $5.7 Million dollars to expand LaValle Stadium seating capacity to 10,000 and plans down the road for an expansion to 15,000, but that won't cut it for a Big East Stadium.
On one hand, the money would not be an issue. If a Big East football share is worth $3 to $6 million a year, a $30 Million dollar capacity expansion to 25,000 can be somewhat easily fully funded by TV money. The gems of the Big East are already gone, so whatever the payouts will be, they are likely to remain in that ballpark for as long as a NYC FBS program is in the mix.
But it is still inviting a school that the CAA doesn't want yet.
It is still risking seeing the Seawolves draw 13,000 a game even with stronger Big East draws.
The other options may not seem be much better to Big East fans.
Hofstra University.
Hofstra President Stuart Rabinowitz pulled the plug on Hofstra's 72 year old football program in 2009. In what may have been spin, it was reported to papers that Hofstra considered a move to the FBS level before ultimately deciding that would only be "delaying the inevitable".
"The Southeastern Conference and the Big Ten weren't calling us,"
Rabinowitz said at the time.
How would he feel about a call from the Big East with a promise of $3-5 Million in TV revenue and a Big East football schedule?
Rabinowitz is widely considered an hater of football after pulling the plug on Hofstra football. That perception could be put to the test.
Hofstra is a private non-sectarian school with an fairly large enrollment of 12,400. They have James M. Shuart Stadium. It sits 15,000. The end zone seating is overbuilt in relation to the sideline capacity, a situation that probably used to stunt attendance, but it has decent bones.
Like LaValle, Shuart Stadium would require a large investment in stadium improvements to raise capacity to at least 25,000.
But unlike Stony Brook, Hofstra has some added advantages. They would be starting an FBS program from scratch, which may not sound like much of an advantage, but if the Big East wants to lord the fact they are not dipping into the FCS ranks over other non-contract conferences, that helps.
Hofstra is located in Hempstead in Nassau County. That is also on Long Island, but it is about 1 hour father inland, closer to New York City, dramatically increasing the chances of strong crowds from fans of Big East schools and media based in NYC.
Finally they are a private school which would likely be very receptive to working with the other privates.
Fordham University.
Fordham University is another strong academic private with a better travel situation than Stony Brook.
Fordham is a Jesuit private university with 3 campuses --- the Bronx, West Harrison, and Manhattan.
Fordham is an Atlantic 10 member which plays non-scholarship FCS football at a hybrid football/baseball stadium called Jack Coffey Field located in the Bronx. The quirky nature of their stadium situation makes their candidacy possible.
They have a grandstand on one sideline that seats 7000 and then no bleachers on the other sideline. In theory, $30 million could build a cheap 3000 seat bleacher in the northwestern endzone and a nice 10,000 seat southeast sideline grandstand.
If they pushed the field as close as possible to the existing grandstand (to create space and enhance the experience) they might even have enough space to squeeze in a little parking garage into the side of the new bleacher, similar to what was done at Southeastern Louisiana's Strawberry Stadium (only smaller).
That's a pretty easy to imagine Jack Coffey Field transformed into a 20,000 seat stadium in short order with Big East TV money.
The population density in the Bronx and the lack of any other pro or FBS teams would probably make ticket sales comparatively easy.
So that is New York...
FIU or a New York school make the most sense to me and bring solid media value in the short and long term.
Neither of these three New York schools may bring much to the table in terms of Big East-level fan support today, but they would give the Big East a football presence in NYC and a platform to show off more marketable brands to the NYC residents and the local media. That does create TV value immediately.
Additionally, for the 2 private candidates, there is the internal politics question. In terms of binding the football schools to the privates long term, would it not be smart to have the only conference FBS school in the NYC DMA be a private totally committed to the eastern privates?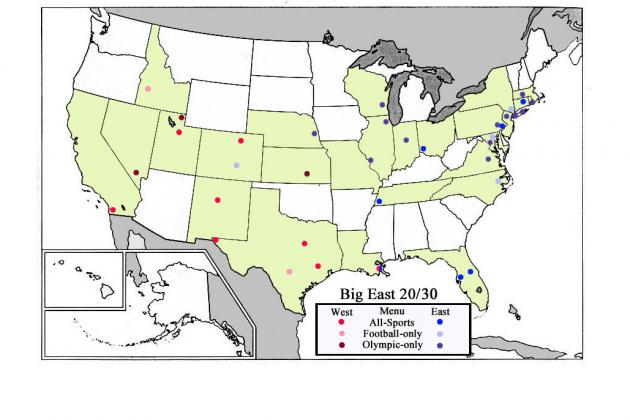 How to get it done: At this point? Just ask.
At this point UNLV, Wichita State, Creighton, St. Louis, UMass, and Stony Brook would have nothing better going on.



The minutia realignment fans demand

Why it makes sense for the Big East: Three things:

1) More TV content.
2) Better basketball.
3) Better nationwide TV relevance.
These three benefits would make acquiring a portion of the Big East 's media rights more appealing to multiple broadcasters.
While the UMass and Stony Brook are more long term projects added for TV value, the other schools are strong basketball programs with strong support. UNLV, Creighton, St. Louis and Wichita State are fairly regular post-season performers and all draw strong crowds at home.
school - 2012 att - 2012 record
UNLV - 13,253 - 26-9
Wichita State - 10,428 - 27-6
Creighton - 13,507 - 29-6
St. Louis - 6299 - 26-8
UMASS - 3300 - 25-12
Stony Brook - 1555 - 22-10
These schools carry a couple of proven coaches with them.
WSU Coach Gregg Marshall has a 683 winning percentage in 15 years with a 1-8 tourney record. Creighton's Greg McDermott has a .573 winning percentage in 12 years with a 1-4 Tourney record.
Las Vegas and St. Louis are two good DMAs and both schools have strong programs.
UMass gives the Big East a Massachusetts presence. Their fans in Boston should combine with Providence and UConn's fans in Boston to should deliver solid TV numbers in that valuable DMA.
With it's enrollment, Stony Brook looks like it is destined to grow into a nationally relevant athletic program with FBS football. The sports options on Long Island are very limited. It makes a lot of sense to add UConn and Stony Brook's basketball in an effort to funnel money in to fund their football stadium enlargements and football facility improvements.
The travel partners are a little rough in the northeast, but eventually, the ACC will grab UConn. When it happens those travel partners will look much better.
When the ACC comes for UConn, it would be great for the Big East to have a choice of 3 ready to go eastern programs already at the FBS level in UMass, Stony Brook, and Villanova. UMass has already moved up --- the Big East may want to push the other two into the MAC.
This further expansion also creates more pro-Olympic school votes which I believe are needed for the stability of the conference down the road.
Why it makes sense for the schools: The likely financial difference would make it a no-brainer.
How the Big East might look with 30 Olympic members...

Basketball
Classic Southwest/Border Division
SDSU - UNLV
USU - BYU
UNM - UTEP
SMU - Houston
CSU - Wichita State

Classic USA Division
Creighton - St. Louis
Tulane - Memphis
Marquette - DePaul
Butler - Cincinnati
USF - UCF

Classic East Division
VCU - Georgetown
Temple - Villanova
Seton Hall - UConn
Providence - UMass
St. John's - Stony Brook