Texas Longhorns vs. Kansas State Wildcats: Live Score, Highlights and Analysis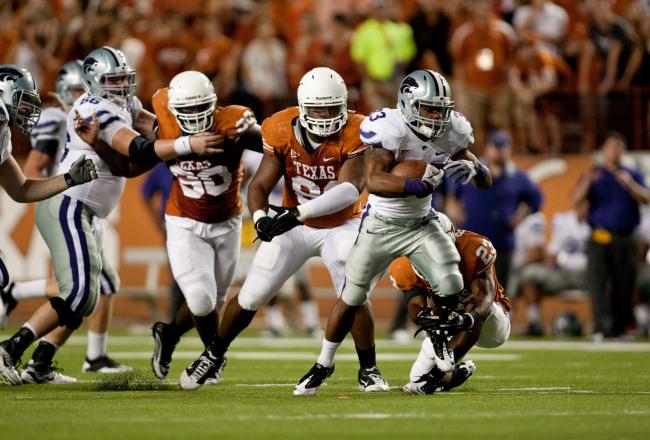 Darren Carroll/Getty Images
Texas Longhorns 24, Kansas State Wildcats 42 — FINAL
Bill Snyder has resurrected the Kansas State program. They are Big 12 champions and 11-1. They would have a legitimate claim at the National Championship slot without a loss to Baylor.
This game was punctuated by Collin Klein and John Hubert each having a hand in three touchdowns. Their combined speed and vision out of the backfield created 178 yards and 5 touchdowns worth of offense on the ground.
The defense also did their part by intercepting Case McCoy twice while he had a surprisingly good game. McCoy finished 26-for-34 (76.5 percent) for 314 yards and two touchdowns. The biggest difference in this game is that his two interceptions led to touchdowns for the Wildcats.
The player of the game is easily Collin Klein and his three touchdown performance. He has a legitimate shot to sneak in the Heisman win and should definitely be invited to New York.
All stats used are either from Pro Football Focus's Premium Stats, ESPN.com, CFBStats.com or NFL.com.
Scott Carasik is a Featured Columnist for Bleacher Report. He covers the Atlanta Falcons, NFL and NFL Draft. He is also the Falcons analyst at Drafttek, runs the NFL Draft Website ScarDraft.com and hosts Kvetching Draftniks Radio.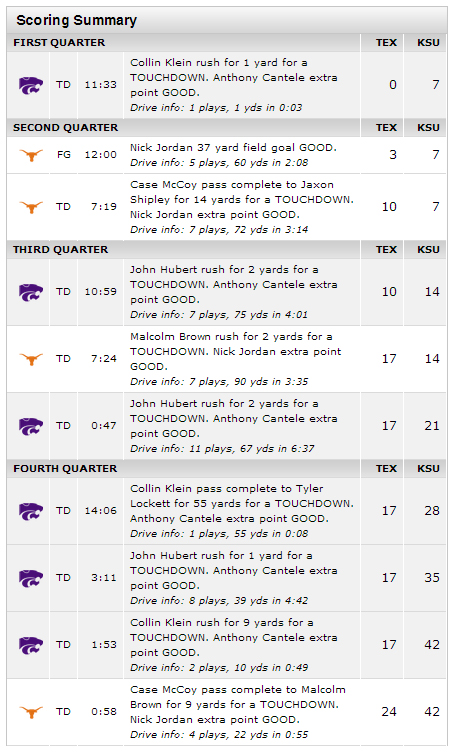 Graphic Courtesy ESPN.com
After the failed onside kick, Kansas State downed it to finish the game.
Texas Longhorns 24, Kansas State Wildcats 42 — FINAL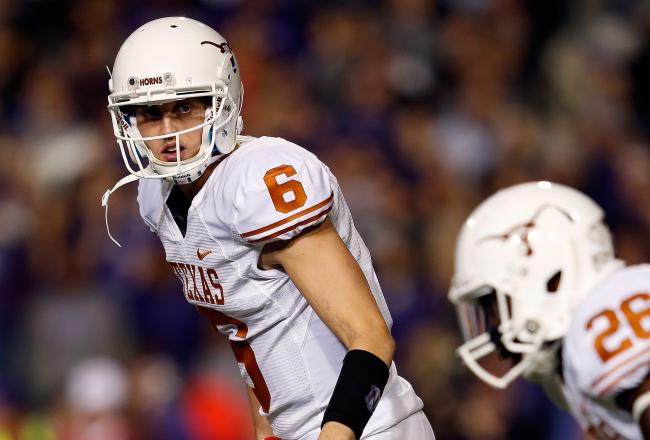 D.J. Monroe shows that Texas still wants this game, but it's too little too late for his awesome return that brought the Longhorns to the Wildcat 22.
A short pass to Malcolm Brown and another to Mike Davis gives Texas a goal-to-go from the 8. Then on second down from the 8, Malcolm Brown caught a Case McCoy pass for a touchdown.
Texas Longhorns 24, Kansas State Wildcats 42 — 0:58 4th Quarter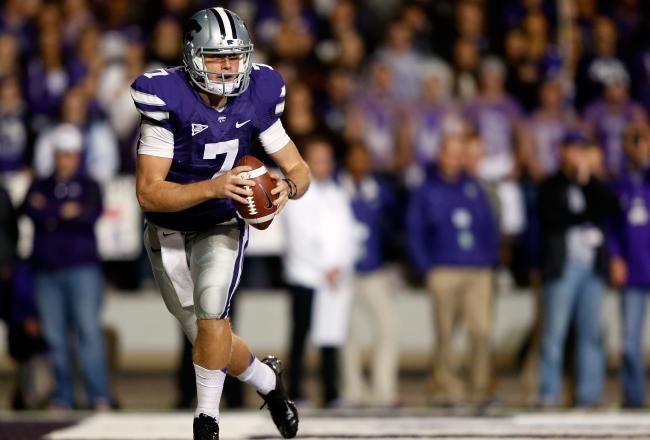 After forcing Texas to take over at their own 10-yard line, Case McCoy hit D.J. Grant for a huge play. Then he threw it right back to Kansas State defender Allen Chapman.
Collin Klein capped off his senior night with a 9-yard touchdown run to just embarrass the Longhorns.
Texas Longhorns 17, Kansas State Wildcats 42 — 1:53 4th Quarter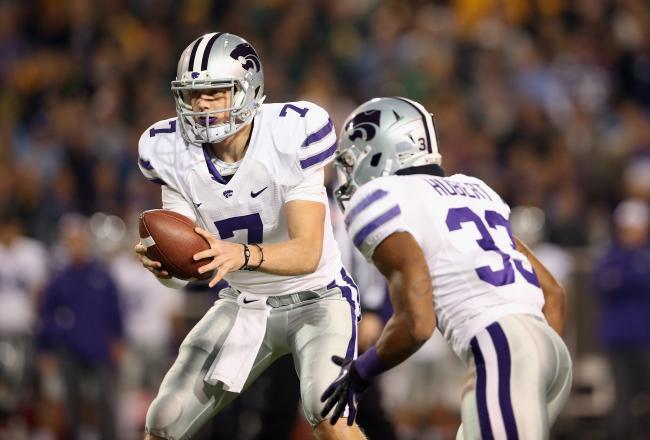 On 2nd-and-goal from the 3, John Hubert got the toss and got stopped at the one. After going with the same exact play on third down, Hubert scored.
Texas Longhorns 17, Kansas State Wildcats 35 — 3:11 4th Quarter
Kansas State drove down using it's running backs and Collin Klein to bring it to another goal-to-go scenario from the 5. On 1st-and-goal, Klein brought it to the 3.
Collin Klein missed the first down pass and was even over the line. After a 2-yard loss set up 3rd-and-14, Kansas State had to call their second timeout.
The 3rd-and-14 play was a blitz by Texas, and they stuffed Klein for no gain.
On the punt, Texas fumbled the ball multiple times and Kansas State recovered it at the Texas 39.
After another three-yard gain, a personal foul and a 5-yard penalty weirdly offset to give Texas another first down. After a unique series of plays and fumbles, Texas faced a 3rd-and-16 from the Kansas State 23 and failed a slip screen.
On the 40-yard field goal attempt, Nick Jordan missed the field goal.
After a Texas false start and gain to negate it brought them to a 2nd-and-8 situation, Randall Evans knocked away a pass for Jaxon Shipley. Then on third down, Case McCoy hit the soft spot in the zone for the first down.
Adding in another 15 yards for a roughing the passer penalty, and Texas has it at the Kansas State 40.
"Yeah! Colin hit a home run! How many field goals is that worth?" - Mrs Klein #UTvsKSU

— Andrew Hadley (@xDelta07) December 2, 2012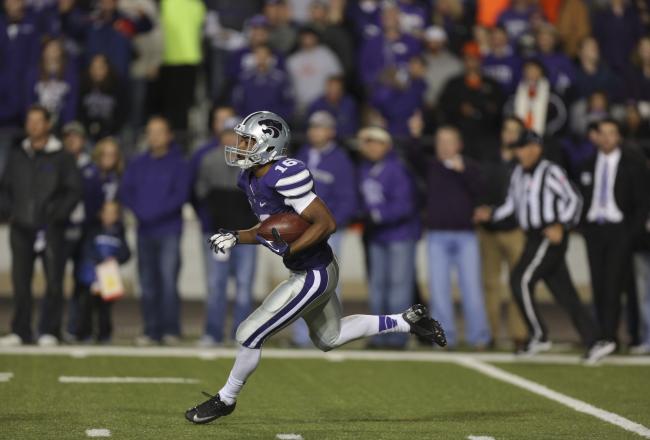 After the excellent field position was established, Collin Klein hit Tyler Lockett for the quick 55-yard touchdown pass to extend the lead out even more.
Texas Longhorns 17, Kansas State Wildcats 28 — 14:06 4th Quarter
On 3rd-and-16 to start the fourth quarter, Johnathan Gray got the call to pull the punter out of the endzone. After the great punt, Kansas State takes over at their own 45-yard line to start off their first drive of the quarter.
I'm going to keep my eye on this Daje Johnson kid. Think he's gonna be really good.

— Jason Madson (@Jason_Madson) December 2, 2012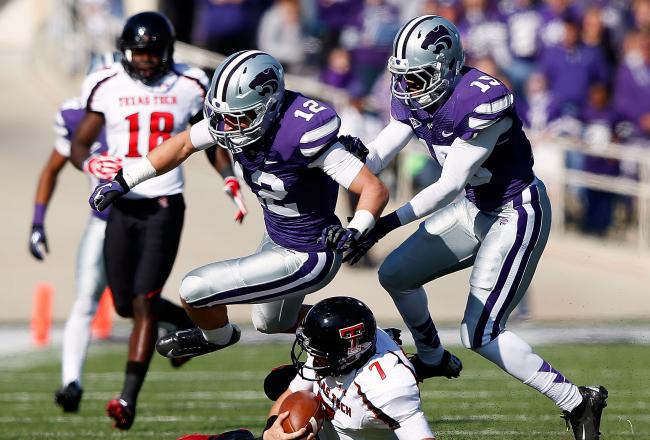 After another great special teams play by the Wildcats, they also stuff Daje Johnson on first down for a short gain. Randall Evans got the sack on Case McCoy to end the third quarter. The ball popped loose but a Texas lineman recovered.
Texas Longhorns 17, Kansas State Wildcats 21 — End 3rd Quarter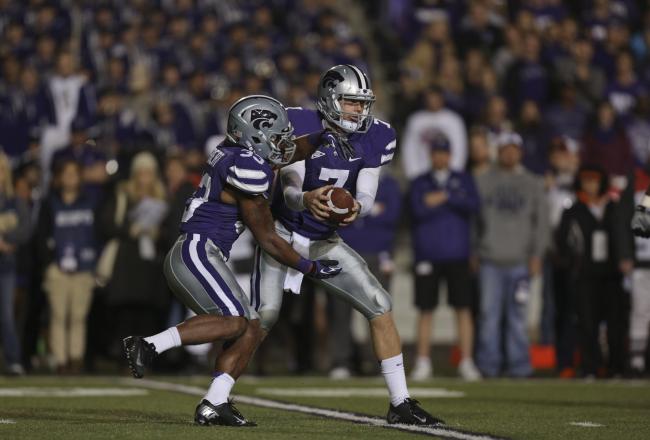 On 1st-and-goal from the Texas 4, Collin Klein ran it for just a 2-yard gain. On second down, Klein hit John Hubert with yet another toss sweep for a touchdown.
Texas Longhorns 17, Kansas State Wildcats 21 — 0:47 3rd Quarter
A pair of Collin Klein runs brought the ball to a 3rd-and-3 situation from the 33. On that third down, Klein hit Tyler Lockett with a strike at the 15-yard line.
After a failed draw, Klein brought the ball to the Texas 10 for a manageable 3rd-and-5. Kansas State went to the Pistol, and Klein ran it down to the four.
Tyler Lockett took the kickoff after the Texas touchdown to right around the 30-yard line. Then a unique half option/half pass brought Kansas State to the 43 for another first down. A short Klein run was followed by a 14-yard Klein run to give Kansas State the ball at the Texas 40.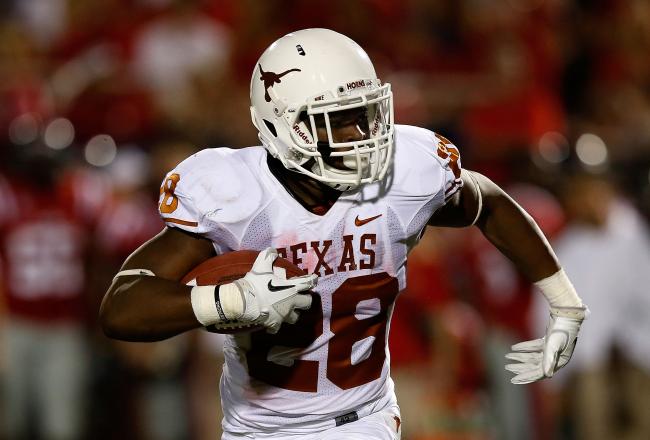 Wow, Kansas State is really undisciplined in the run game. A D.J. Monroe 46-yard run sets up a goal-to-go scenario. After first and second down failed to get in the endzone, Malcolm Brown punched it in from two yards out.
Texas Longhorns 17, Kansas State Wildcats 14 — 7:24 3rd Quarter
After a holding penalty forced the Longhorns back to their own 10-yard line, Kansas State stuffed the first down run before allowing a huge play on a Case McCoy screen to Johnathan Gray for 30 yards. After that a 10-yard run by Cayleb Jones gave Texas the ball right at midfield.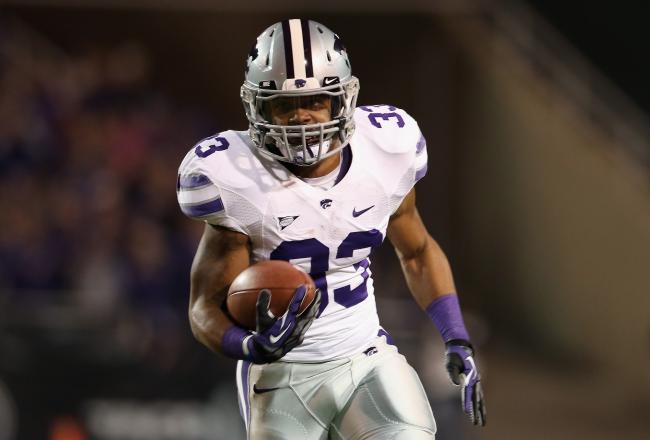 Collin Klein faked the run up the middle and then hit Tyler Tannahill for the huge play design bringing the ball to the 15-yard line. After another 11-yard run, it's a goal-to-go situation from the Texas 4.
First down was run for a loss to the right side. After the second down run brought it to the 2-yard line, John Hubert took the pitch on the option for a quick touchdown.
Texas Longhorns 10, Kansas State Wildcats 14 — 10:55 3rd Quarter
After poor communication at the line, Collin Klein was forced to take the timeout.
Kansas State Timeout #1 — 13:35 3rd Quarter
And halftime is over! Kansas State receives the initial kickoff for a touchback.
John Hubert gets a huge 28-yard gain on the first play of the half. Then Collin Klein takes a huge shot from Kenny Vaccaro around the midfield line.
This article is
What is the duplicate article?
Why is this article offensive?
Where is this article plagiarized from?
Why is this article poorly edited?