Texas vs. Kansas State: Postgame Grades from the Longhorns Loss vs. the Wildcats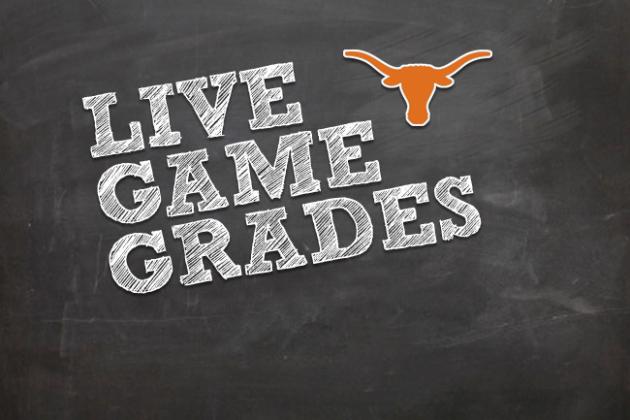 The Texas Longhorns had a group of fans they never thought they would.
A win Saturday over the Kansas State Wildcats would have given their archrivals, the Oklahoma Sooners, the Big 12 title.
However, it wasn't to be as the Wildcats pulled away late for the win, 42-24.
Here's a look at postgame grades for Texas' loss to Kansas State.
Begin Slideshow

»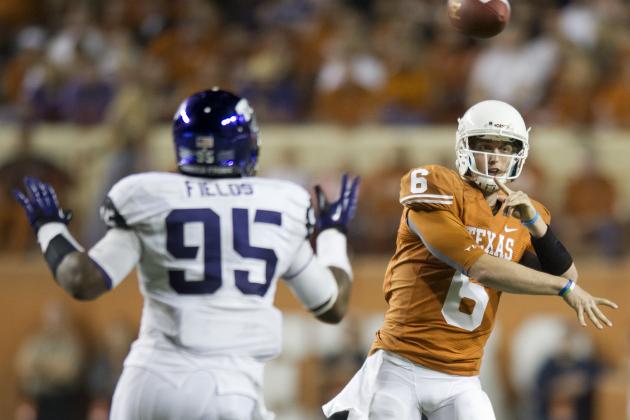 Cooper Neill/Getty Images

Postgame Grade: B+
Casey McCoy played surprisingly better than most thought he would, completing 26 of 34 passes for 314 yards.
McCoy made two mistakes the entire game, both of which were interceptions.
At one point during the game, he completed 17-straight passes, which was one off the school record set by his brother, Colt.
McCoy spread the ball around, finding 10 different receivers. He gave head coach Mack Brown a lot to think about heading into next season.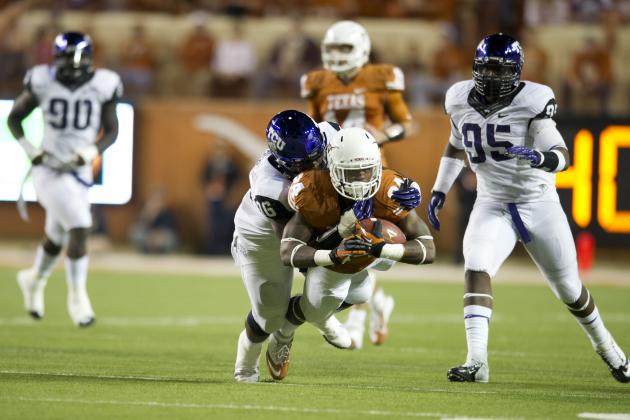 Cooper Neill/Getty Images

Overall Game Grade: B-
The Texas running game was null and void throughout the game.
While Malcolm Brown did score a touchdown, the running backs struggled. D.J. Monroe, Brown and Jonathan Gray combined for 116 yards on the ground and 83 receiving yards. Daje Johnson also led the team with five catches for 85 yards, including one for 70 yards.
They did a good job catching passes out of the backfield, but let's be honest, Texas running backs haven't had a long string of success in years.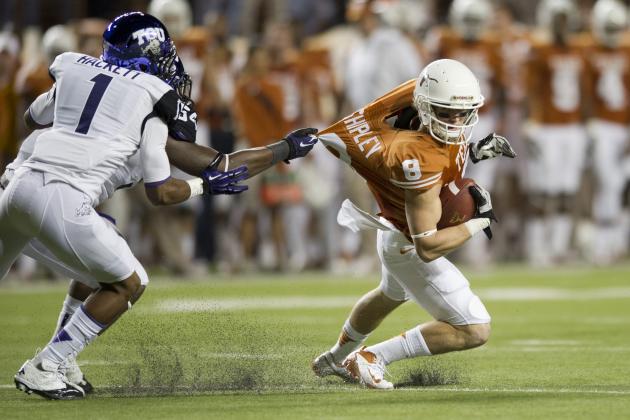 Cooper Neill/Getty Images

Overall Game Grade:C-
Jaxon Shipley was the only receiver who did anything as he had five receptions for 68 yards and one touchdown.
Outside of that, the Longhorns were exposed in their lack of depth at receiver.
When a quartet or running backs makes up more than half of a 300 yards receiving, there's something wrong.
Texas has to get this issue fixed. I believe it's one of the reasons why they've had their struggles this year.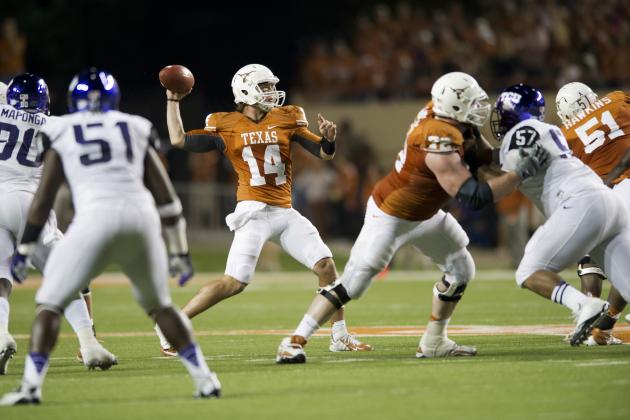 Cooper Neill/Getty Images

Overall Game Grade: D+
The offensive line was horrendous throughout the night as they allowed the TCU defense to get four sacks on McCoy.
Not to mention the Longhorns rushed for less than 100 yards as a team. In fact, 19 of the 27 rushes went for two yards or less.
The big guys up fronts simply didn't get the job done to help develop the running game. Had they done their job, Texas might have stuck with the run a little more.
Despite this fact, McCoy still had a successful evening throwing the ball.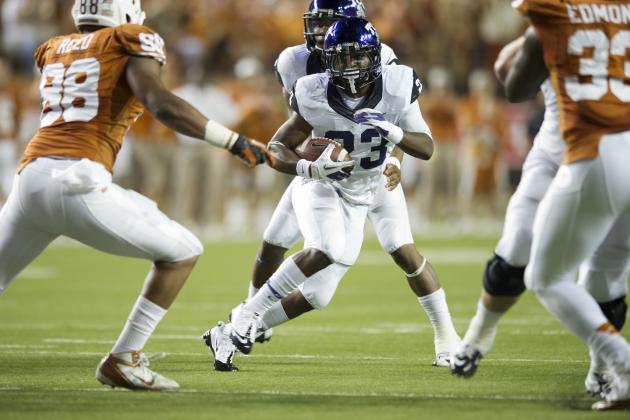 Cooper Neill/Getty Images

Overall Game Grade: D-
The Longhorns defensive line had no highlights on the evening. There's not much to be proud about if you're on the defensive line.
The Wildcats had 13 rushes of five or more yards, pretty much having their way with the Texas defensive line. The Longhorns were muscled around all evening as they couldn't do anything to stop Kansas State quarterback Collin Klein.
The defensive line is another issue Texas fans are hoping head coach Mack Brown addresses in recruiting.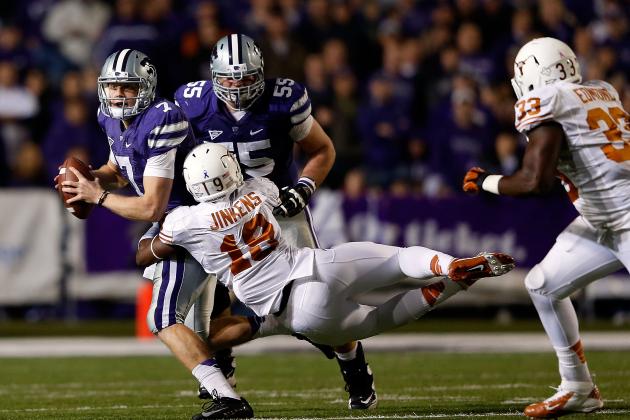 Jamie Squire/Getty Images

Overall Game Grade: C+
The linebacking corps combined for 13 tackles, but were largely unimpressive when it came to taking down Klein.
Too many times the linebackers tried to make arm tackles, and most every time Kansas State was breaking through those.
In a league where the passing game is No.1 for most offenses, there sure are a lot of teams that have weak front sevens.
Texas is just another one of those teams that has issues at all spots in the front seven.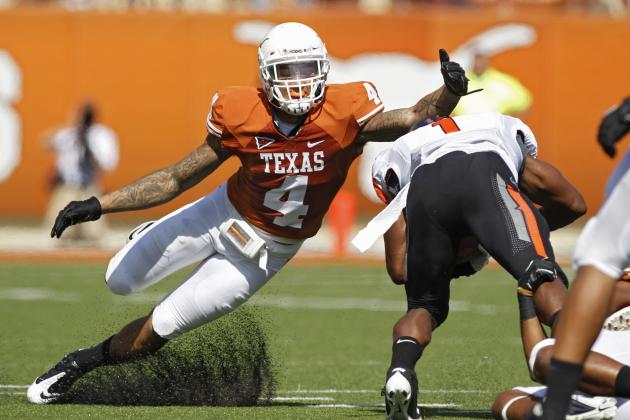 Erich Schlegel/Getty Images

Overall Game Grade: B+
The Longhorns' secondary allowed Klein to get 184 yards through the air, forcing him to tuck and run a lot of times.
Kenny Vaccaro led the team with 12 tackles, while Adria Phillips had an interception.
The pair lead a secondary that has been decimated by the pass all year. However, on Saturday, they showed up ready to play.
It''s a shame the rest of the defense didn't follow suit.
Erich Schlegel/Getty Images

Overall Game Grade: C
Texas showed it wasn't confident in its field-goal kicker late in the second quarter when it opted for a fake field goal, instead of trying to kick a 41-yard field goal.
The Longhorns missed on the fake and could never recover after halftime.
One of the big highlights was near the end of the game when D.J. Monroe returned a kickoff 72 yards to set up a touchdown in the fourth quarter.
While it did come too little, too late, the Longhorns definitely have something with Monroe.
Alex King finished the game averaging 43.3 yards per punt.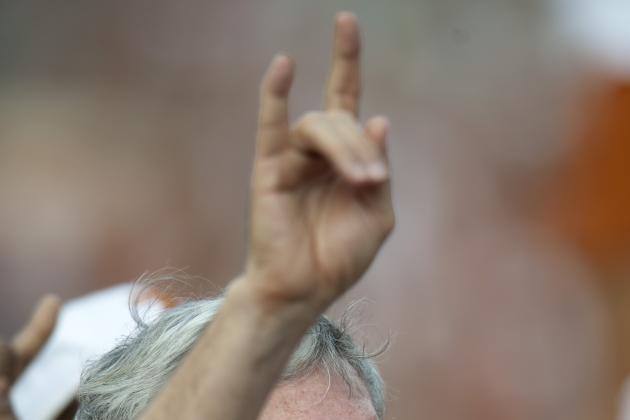 Cooper Neill/Getty Images

Overall Game Grade: B-
The score looks worse than the game really was and the Texas coaches deserve credit for having their guys ready to play.
However, in the end, Kansas State just wore down the Longhorns on both sides of the ball, making the score more lopsided than it should have been.
Mack Brown and his staff have struggled in multiple games this year and they have some issues that need to be addressed in recruiting.
One thing is for sure, Brown and his coaches got a lot out of their players, especially on offense where nobody thought the Longhorns would do much of anything with McCoy under center.