New England Patriots vs. Miami Dolphins: Live Score, Highlights and Analysis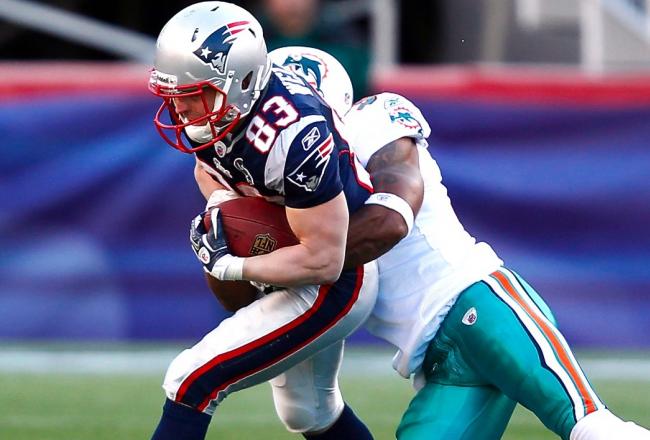 Patriots 23 - Dolphins 16
Final
The Patriots let the Dolphins stick around for three-and-a-half quarters, but come crunch time, Tom Brady did what he does best: put the game away.
Brady engineered a 15-play scoring drive that took a huge, 7:18 chunk off of the clock and left the Dolphins with only 1:10 to overcome a 10 point deficit.
In other words, the Patriots won the game—and clinched the AFC East crown—with that drive.
Despite a mostly subpar performance from Tom Brady, the Patriots defense held the Dolphins to just 13 points and 277 yards of total offense. This should give it some confidence heading into next week's showdown with the Houston Texans.
Meanwhile, the Dolphins might not want moral victories, but they got one today. Miami hung with the New England despite a very subpar offensive performance, a botched punt, a costly fumble and eight penalties.
This loss knocks the Phins to 5-8 and puts a serious damper on any remaining playoff hopes. And, with matchups against the 49ers, Bills and Patriots looming, the playoffs may only be a pipe-dream now.
Here's your final box score: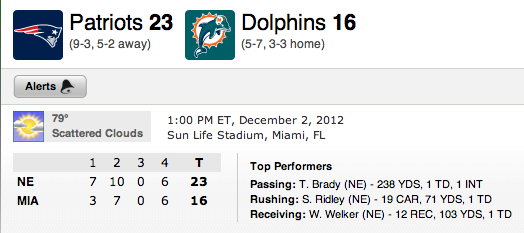 Thanks for reading, everybody.
Different year, same story.
Congratulations, New England:
The #Patriots are your 2012 AFC East Division Champions.

— New England Patriots (@Patriots) December 2, 2012
Dolphins bring Dan Carpenter and Brandon Fields out for onside kick.
Cool strategy, but kick goes straight into the gut of Brandon Lloyd.
4Q - 0:31
FIELD GOAL DOLPHINS
Joe Philbin opts to attempt a field goal now, then try to recover an onside kick and then score a quick touchdown.
Dan Carpenter hits from 42 yards out and bettors who have the Patriots +7.5 cringe.
Carpenter now out for the onside kick.
Tannehill is padding his stats. Had 130 yards before this drive, just went for 56 yards on his last two passes

— Ben Volin (@BenVolinPBP) December 2, 2012
Patriots scoring drive summary. Impressive:



4Q - 1:10
Stephen Gostkowski converts a chip-shopt 21-yard field goal that all but seals a Patriots victory.
Tom Brady engineered a beautiful 15-play drive that compensated for his offense's uncharacteristic struggles from this afternoon.
Patriots 23 - Dolphins 10
Woodheads...New England's answer to the Cheesehead?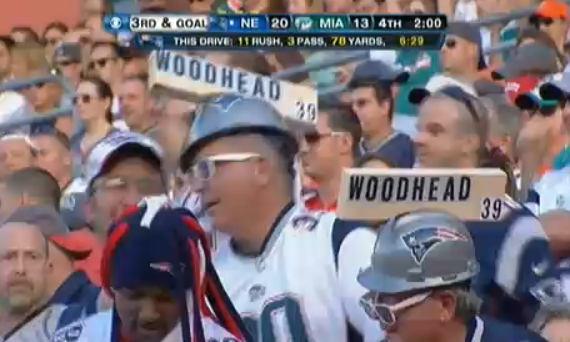 4Q - 2:00
The Patriots are essentially letting the Dolphins bleed out here.
Nothing Miami can do now except hope for a miracle.
This is the best fourth-quarter salt-away drives the Patriots have executed in two seasons (cue the fumble at the 2). #PatriotsTalk

— Tom E. Curran (@tomecurran) December 2, 2012
Patriots slowly burying the Dolphins with a heavy dose of Stevan Ridley and Shane Vereen:
Soul-crushing drive by the #Patriots on this drive, now have first and goal on the 8 with 3:30 left

— Ben Volin (@BenVolinPBP) December 2, 2012
With four minutes left in the fourth quarter, Brandon Lloyd gets his first target of the game.
That 11-yard run gave Ridley 1,000 for the season.

— Jeff Howe (@jeffphowe) December 2, 2012
Impressive milestone for Wes Welker: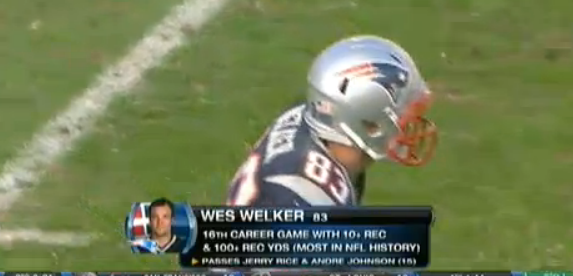 A Patriots field goal or touchdown might put this game away. It'll be tough for Dolphins to score twice in what will likely be fewer than three or four minutes:
#Patriots grinding it out with Ridley, 24 yards his last three runs, clock ticking down to 5:30

— Ben Volin (@BenVolinPBP) December 2, 2012
Thin at WR with No. 3 target Julian Edelman (foot) sidelined with foot injury, Matthew Slater now getting reps in 3 WR package.

— Mike Reiss (@MikeReiss) December 2, 2012
Dolphins scoring drive summary:


Ryan Tannehill gets sacked by Jerod Mayo on a blitz Daniel Thomas doesn't pick up. Dan Carpenter kicks a 33-yard field goal. 20-13 Pats lead

— Omar Kelly (@OmarKelly) December 2, 2012
Here's a look at the hit Ryan Tannehill took when he scrambled on third-down. He's lucky he didn't get knocked out of the game, and the Pats are lucky they didn't get flagged for a helmet-to-helmet hit: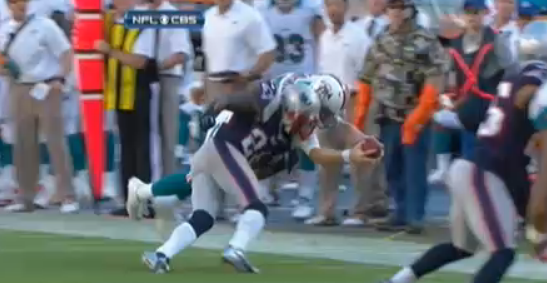 4Q - 10:17
The Dolphins go for it on 4th-and-1 at the Patriots 21 and Daniel Thomas flies through through a truck-sized hole for a first down.
Miami refuses to go away.
Injuries piling up for the Patriots:
Julian Edelman has left the game with a foot injury. His return is questionable.

— New England Patriots (@Patriots) December 2, 2012
Brian Hartline giving the Patriots secondary all kinds of problems.
On three consecutive plays he torched Kyle Arrington, reeled in a huge third-down conversion, and then drew a pass interference call.
Status update on injured Patriot Dan Connolly: He will not return to the game due to a back injury.

— New England Patriots (@Patriots) December 2, 2012
Patriots scoring drive summary:


This article is
What is the duplicate article?
Why is this article offensive?
Where is this article plagiarized from?
Why is this article poorly edited?