ACC Championship: Florida State vs. Georgia Tech Live Scores and Analysis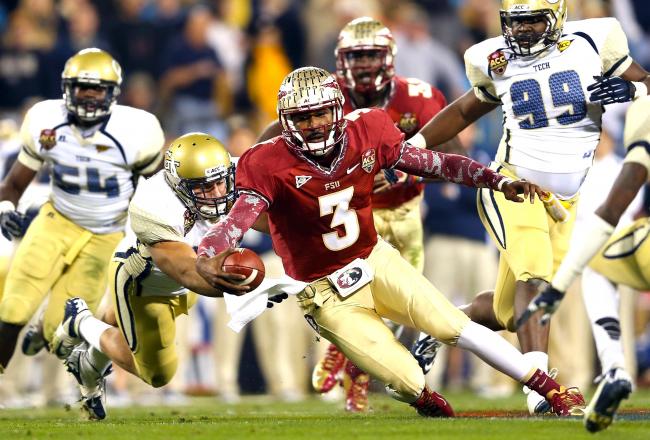 FINAL: Florida State 21, Georgia Tech 15
For much of the game Florida State was able to out option Georgia Tech. EJ Manuel gained 49 rushing yards, most coming on option runs, and Florida State was able to hold on to become the 2012-2013 ACC Champions.
Florida State got the scoring off early as Devonta Freeman scored on the Noles first possession of the game. James Wilder, who led FSU in rushing, gave the Noles a 14-point lead with a 16-yard touchdown in the second quarter. Wilder scored twice in the second quarter and FSU led going into the locker room 21-6.
The second half was all Georgia Tech. The Yellow Jackets have struggled defensively this season but they stepped up in a big way in the second half tonight, holding Florida State scoreless.
Georgia Tech would kick a field goal in the third quarter and score a touchdown to make it a one possession game with 6:27 left in the fourth but couldn't complete the comeback.
This is Florida State's first ACC Championship since 2005 and the first conference championship for Jimbo Fisher.
Florida State wins the ACC Championship and will represent the ACC in the Orange Bowl.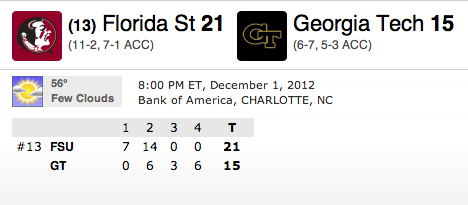 That's going to do it for our live blog. Thank you to everyone who came and followed the game with us tonight.
In his final game as Florida State's defensive coordinator, Mark Stoop's defense held Georgia Tech to 140 fewer rushing yards than their season average.
Stoops will be introduced as the new head coach at Kentucky tomorrow.
A quick look at the final stats for both teams. Via ESPN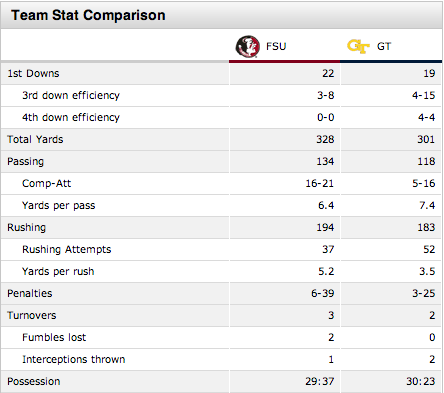 Here's how they scored tonight. Via ESPN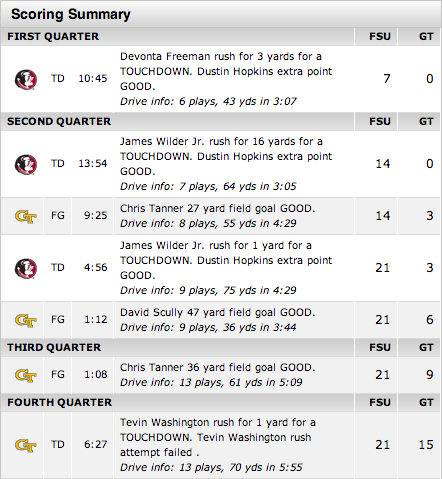 Florida State is able to survive a late surge from Georgia Tech and are the 2012-2013 ACC Champions.
It is Florida State's first conference championship since 2005.
EJ Manuel kneels out the clock as both Jimbo Fisher and Mark Stoops are on the receiving end of Gatorade baths.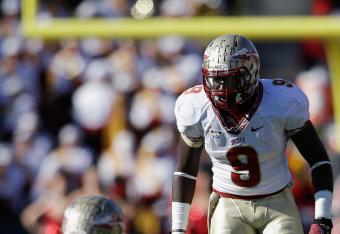 INTERCEPTION KARLOS WILLIAMS!
Washington is picked off and Williams returns it inside the five-yard line.
That should ice the game and send Florida State to Miami for the Orange Bowl.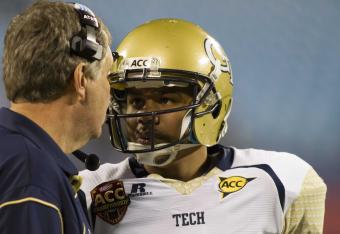 Washington keeps it and picks up a first down.
Georgia Tech is still alive.
Fourth-and-one.
The game is on the line here with 1:23 left on the clock.
Washington finds Waller on third-and-long to keep Georgia Tech's hopes alive.
WOW!
WHAT AN INTERCEPTION!
Jemea Thomas comes up with an incredible one-handed interception.
A huge third down play coming up for both teams.
Georgia Tech fans have to be wondering where this defense has been all season.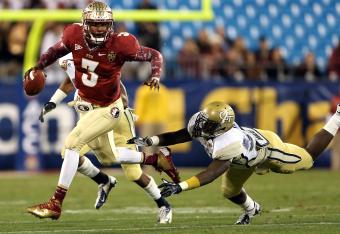 EJ Manuel picks up a first down with his feet on second-and-long.
Manuel's mobility has made a huge difference for the Seminoles today.
Florida State should have learned their lesson against N.C. State. When you let inferior teams hang around anything can happen.
Can EJ Manuel and the Seminole offense respond and put together a drive to ice this game?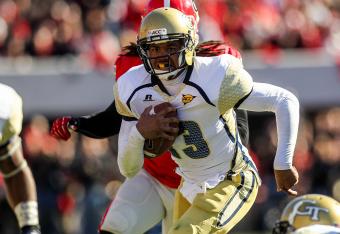 Florida State 21 Georgia Tech 15
TOUCHDOWN Georgia Tech and don't look now but we have a ball game in Charlotte.
Tech elected to go for a two-point conversion but were unsuccessful.
Georgia Tech picks up another fourth down conversion. The Yellow Jackets are knocking on the door here.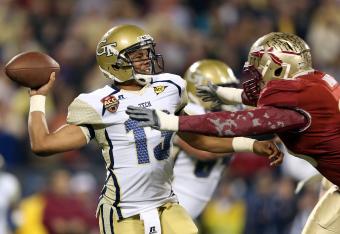 Washington finds Bostic on a third-and-long play.
Washington was 0-6 passing on the day but has gone 2-of-3 on this drive.
Georgia Tech comes up short on a third-and-three but elect to go for it on fourth down.
Washington picks up the first down on his own and Georgia Tech is 2-of-2 on fourth down tonight.
WOW!
A HUGE fumble from EJ Manuel and Georgia Tech recovers.
The Yellow Jackets absolutely have to find the endzone on this drive. A touchdown makes this a one possession game and they way their defense is playing in the second half you have to like Georgia Tech's chances.
Georgia Tech held FSU scoreless in the third quarter. It is just the fifth time FSU has been held scoreless in the past 50 quarters of play.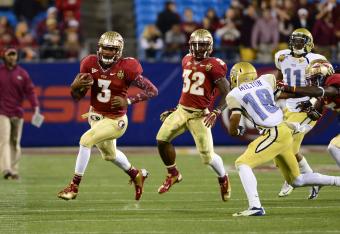 Florida State is running more option plays than they have in any game all season long. They're gashing the Yellow Jacket defense with the play.
Florida State 21 Georgia Tech 9
Washington overthrows Godhigh in the endzone. You have to connect on that pass.
Chris Tanner connect from 36-yards out but Georgia Tech missed a HUGE opportunity to make this a one possession game.
This article is
What is the duplicate article?
Why is this article offensive?
Where is this article plagiarized from?
Why is this article poorly edited?