Jeremy Roenick's Idea to Reduce the Number of NHL Teams Should Be Considered
Use your ← → (arrow) keys to browse more stories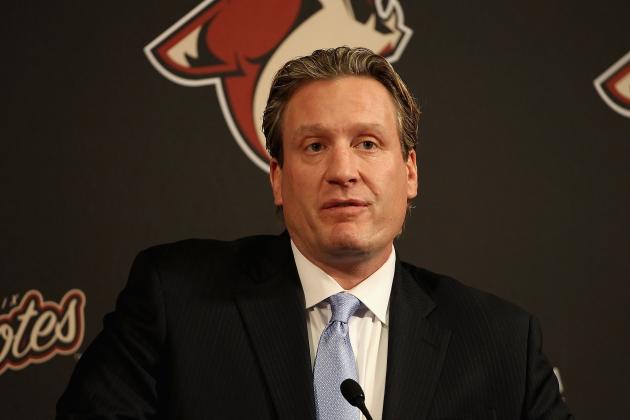 Christian Petersen/Getty Images

The claim that the NHL has overextended itself since expanding to 30 teams is not a new one, but when those words come from a former player who sees the reduction of teams in the league as a solution to the NHL's revenue problem, a new spotlight will shine on the concept.
Yes, the words came from one of the most attention-craving men that has ever skated on an NHL ice surface, Jeremy Roenick, but the thought still has merit, especially when you consider what some of the failing NHL teams are losing and in turn costing some of the more profitable teams.
Roenick, according to USA Today, offered the following:
There are 30 teams and there are some places that can't hold teams. That kind of weakens the economy of the whole National Hockey League. Maybe diluting a couple of the teams and diluting a little of the talent would make it an even stronger league.
Looking at the recently published list from Forbes on the value of each NHL franchise during 2011-12, we see that the Phoenix Coyotes and Columbus Blue Jackets suffered a combined operating loss of more than $39 million. If those two teams were removed from the equation, do you think the league as a whole would miss them?
Sure, the union would lose the jobs that those teams provide for players, and some fans in the cities in which the teams play will go without hockey, but overall, would the league be better off without them? I'll clue you in—the answer is a resounding yes.
That's two fewer teams the moneymakers of the league would have to prop up with the revenue-sharing program, and if the rumored expansion of the NHL to two Canadian cities in the near future takes place, the NHLPA won't be without those jobs for too long.
If you think the revenue-sharing money is not a big issue with the owners that own profitable teams, think again. CSNPhilly recently published that Flyers' owner Ed Snider has to write a check each year for between $5 and $7 million that goes toward revenue sharing. As far as the most profitable team on the Forbes list, the Toronto Maple Leafs, the estimate is that they pay double that amount.
If you were the owner of one of the profitable teams, how happy would you be to write a check to prop up a failing team? I know if I were, I'd be pretty unhappy, to put it kindly.
The reality is that Roenick's suggestion is a good one. Sadly, it will go unheeded, and the profitable will continue to write checks for the failures of others. The system is broken and something needs to be done to fix it. The answer is not to expand the revenue-sharing program.