2013 NBA Mock Draft: Where Next Year's Top Prospects Should Land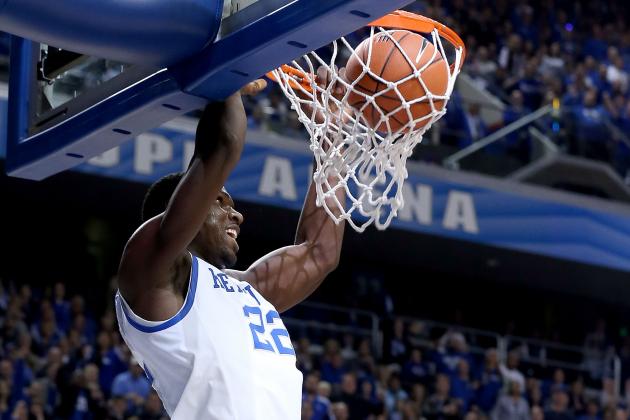 Andy Lyons/Getty Images

As the 2012-13 college hoops season unfolds, we can start to put the pieces together for the 2013 NBA Draft and project how high each prospect will land on the board.
We know there will be lots of size at the top, but who exactly will get picked first? It's a three-man race right now.
Which international standouts will land in the first round, and what can we expect from them as pros?
Most importantly, which prospects are the ones who will perform best in the NBA, and where will they land on the board?
Find out as we break down the 2013 draft in an early-season mock.
Statistics gathered from College Basketball Reference.
Begin Slideshow

»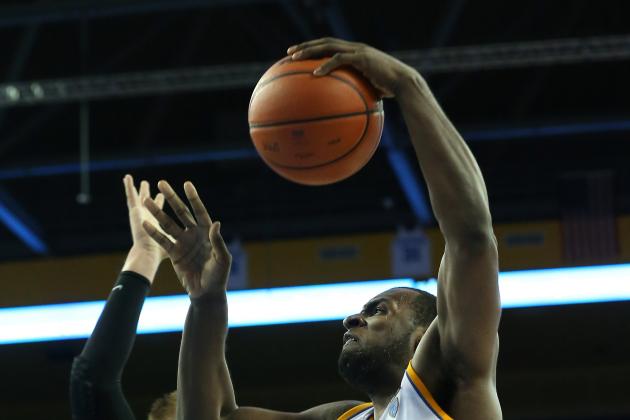 Stephen Dunn/Getty Images

Age: 19
Height: 6'6"
Weight: 225
Shabazz Muhammad tops the mock draft due to his combination of current talent and untapped potential.
The UCLA swingman missed the Bruins first three games, but he immediately showed his scoring prowess once he was inserted into the lineup.
His early rebounding inconsistency shouldn't deter any scouts. Rather, the biggest concerns surrounding Muhammad is his passing and defense. And even those deficiencies aren't enough to dissuade NBA franchises from drooling over him.
Muhammad's jump shot, passing and instincts are only going to get better, and that's fantastic news for whichever team wins the draft lottery this spring.
*Top Prospect: Muhammad will be an All-Star caliber player with Olympic potential.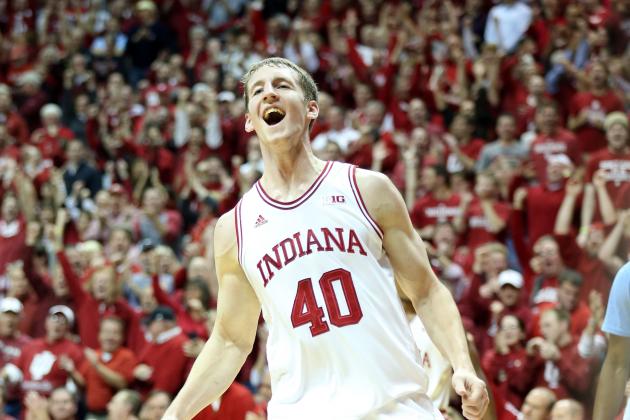 Andy Lyons/Getty Images

Age: 20
Height: 7'
Weight: 240
Indiana Hoosiers sophomore Cody Zeller has all the attributes necessary to be an effective post player in the NBA.
In addition to his size, strength, mobility and agility, Zeller possesses phenomenal footwork, fundamentals and instincts. He's got great hands around the rim, a good feel for the defense around him and a knack for finishing.
He could stand to bulk up a bit more and continue to expand his range, but other than that, there's not much to complain about for this top-5 lock.
*Top Prospect: Zeller has All-Star potential, with 20-point, 10-rebound NBA seasons in his future.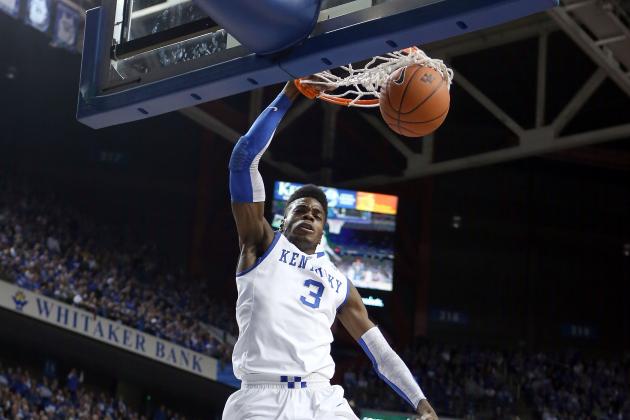 Andy Lyons/Getty Images

Age: 18
Height: 6'11"
Weight: 215
Big Blue Nation's favorite shot-blocker will get some buzz for the top selection throughout the 2012-13 season, but he's already shown that he's no Anthony Davis.
During his freshman campaign at Kentucky, Nerlens Noel will develop and excel, likely leading the Wildcats to an SEC title and a deep NCAA tournament run. But his offense isn't ready for heavy NBA minutes, as he must improve his decision-making, court awareness and ball skills.
His athleticism and success at Kentucky will keep him toward the top of the draft board, and I don't see a scenario in which he falls out of the top three.
*Top Prospect: For most of his career, Noel will average a double-double plus 2.5 blocks per game.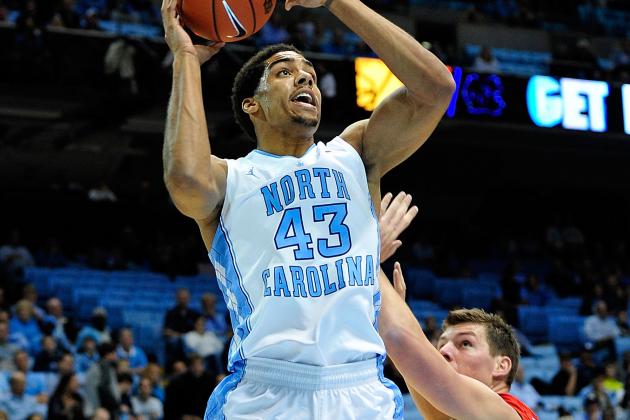 Grant Halverson/Getty Images

Age: 19
Height: 6'9"
Weight: 225
James Michael McAdoo saw a moderate amount of playing time as a part of North Carolina's ultra-deep 2011-12 lineup, but he's stepping up as a major component of Roy Williams' 2012-13 attack.
His explosiveness and offensive promise are enticing, as he has a chance to become an impact combo forward in the pros. A team like New Orleans or Phoenix will take a hard look at him in the lottery, and he won't slip past the top 10.
McAdoo's main deficiency right now is taking care of the ball, as he's coughing up 3.8 turnovers per game.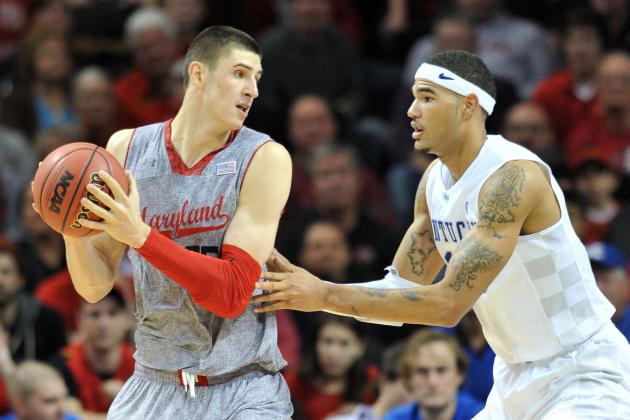 Jason Szenes/Getty Images

Age: 19
Height: 7'1"
Weight: 225
Just a few weeks into the season, Maryland Terrapins center Alex Len has already shown a drastic improvement in his offensive game compared to last year. He now has some legitimate scoring ability to go along with his formidable defense.
Len's 23 points and 12 rebounds in the season-opener against Kentucky signaled his arrival as a premier prospect.
He's more confident and aggressive, and it's paying off because he's drawing more fouls and hitting a higher percentage of his free-throws.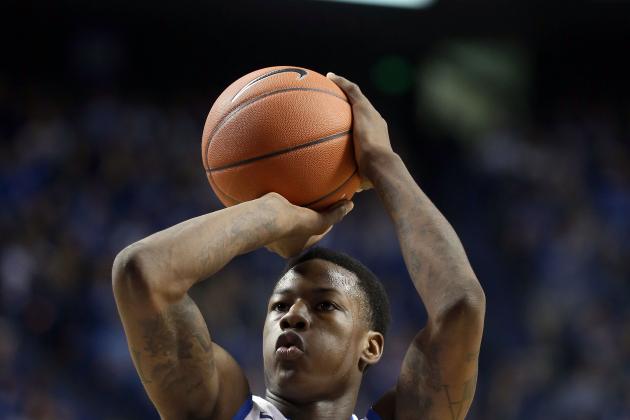 Andy Lyons/Getty Images

Age: 18
Height: 6'5"
Weight: 195
Kentucky's leading scorer is making plenty of plays for himself, and even a few for others, but some wonder if he's ready to lead the Wildcats offense through the ups and downs of a championship run.
Archie Goodwin's physical qualities have "NBA" written all over them, but are his fundamentals good enough to contribute as a rookie in 2013-14?
He must improve his jump shooting consistency and become a reliable defender. Once those skills match his explosiveness, he'll be a starting-quality combo guard.
*Top Prospect: Goodwin will compete for a starting spot by the end of his NBA rookie season.
Age: 20
Height: 7'1"
Weight: 235
With an astounding wingspan and ample mobility, French standout Rudy Gobert has caught the attention of American scouts.
He can finish with either hand over almost anyone, and his shot-blocking range covers a lot of ground.
With some bulking up and a couple go-to moves, Gobert could eventually be a European version of Javale McGee. He will be a nightmare to defend in the pick-and-roll, and he'll be tough to score on at the other end of the floor.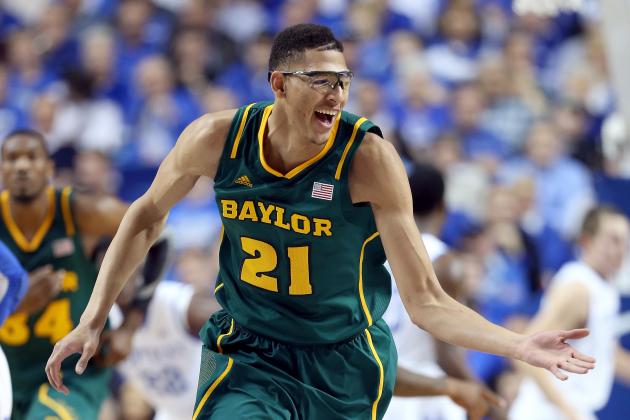 Andy Lyons/Getty Images

Age: 19
Height: 6'11"
Weight: 200
This is the second year in a row that Baylor has had a tall, lanky prospect with impressive ball skills. Last year, it was Quincy Miller, and this year, people are wondering if 6'11" Isaiah Austin is the better version.
He can dribble like a swingman and has a solid turnaround jumper, and he also has the potential to be a good passer as a stretch four in the NBA. But he still lacks dynamic shot-creating skills and a true go-to move.
Unless he adds 15-20 pounds and a couple post moves soon, he won't get picked higher than eighth.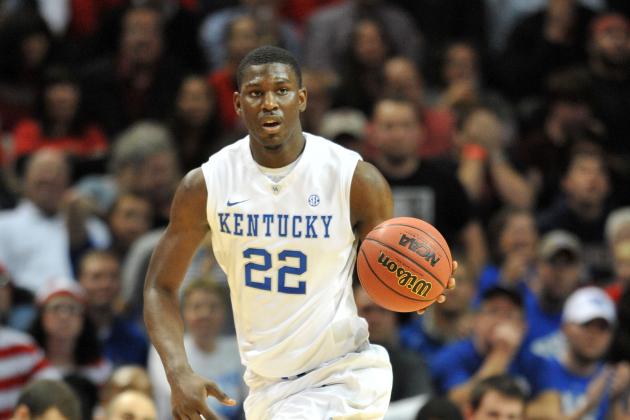 Jason Szenes/Getty Images

Age: 19
Height: 6'8"
Weight: 240
Nothing says "youth" like scoring three points and grabbing two rebounds against Notre Dame just a couple weeks after notching 20 and eight against Duke.
No, I'm not saying he'll be 2013's version of Perry Jones. He has a different motor and a slightly-different skill set. I just wonder how he'll fair against the rest of Kentucky's tough opponents.
Will he play like a freshman who looks like he needs a sophomore year, or will he look like the dominant athlete who's ready for the next level?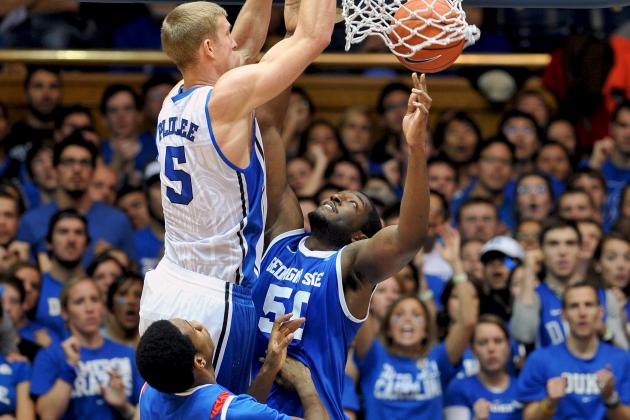 Lance King/Getty Images

Age: 22
Height: 6'11"
Weight: 245
Duke Blue Devils dunk master Mason Plumlee can rebound, rim-run and execute the pick-and-roll. His ability to finish the fast break is showcased all over Sportscenter.
But does his game translate to the next level?
As it currently stands—no, not quite. Plumlee is without a reliable mid-range jump shot or even a short bank shot. He's also an average ball-handler for a power forward.
However, his acrobatic exploits and offensive resourcefulness are impressive, and at Duke he's shown that he can develop skills.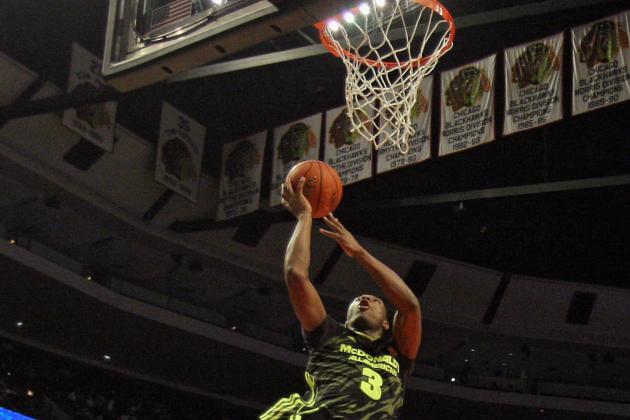 Jonathan Daniel/Getty Images

Age: 18
Height: 6'4"
Weight: 200
Regarded as one of the better defenders in this class, Oklahoma State Cowboys guard Marcus Smart won't "wow" you with his athleticism.
Instead, he'll win you over with his versatility, strength and active hands on defense. He's already getting 35 minutes per game, which tells you he's more than ready for the college game.
So ready, in fact, that he'll be ready for the NBA by next summer.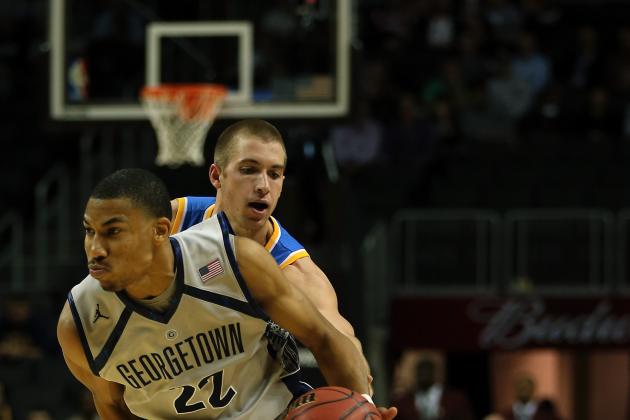 Elsa/Getty Images

Age: 19
Height: 6'9"
Weight: 200
Speaking of good defenders, Georgetown Hoyas forward Otto Porter will be one of the best in the Big East in 2012-13.
He's not an advanced shot-creator, mostly due to his underwhelming ball-handling skills, but he still gets involved in the offense and gets double-digit points with his rebounding skills and developing jumper.
If the Derrick Rose-less Chicago Bulls fall far enough in the standings, which could happen, Porter could land there in the late lottery.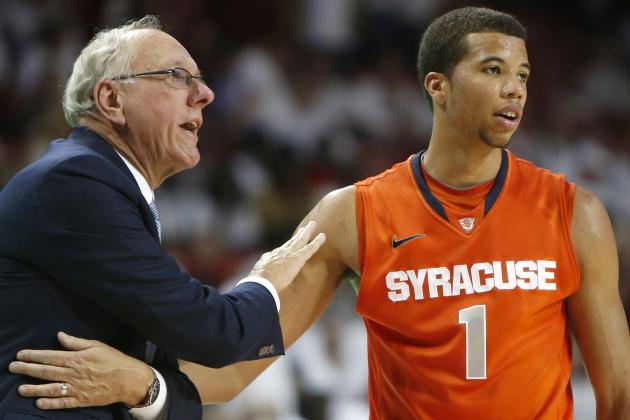 Wesley Hitt/Getty Images

Age: 20
Height: 6'5"
Weight: 167
So far, Syracuse Orange point guard Michael Carter-Williams has lived up to the expectations fans and media set for him.
The slick-handed lanky guard is leading the country in assists with 9.2. He's also thriving in the zone defense and swiping 3.8 steals per game (good for second in the country).
Carter-Williams' instincts and playmaking talent are great, but his slender physique and spotty jump shot will prevent a top-10 team from pulling the trigger on him. A team that's willing to groom him will get someone with great upside to go along with his already-polished passing skills.
*Top Prospect: Williams won't be on the All-Rookie team in 2013-14, but he'll eventually be a 12-point, eight-assist guard in the NBA.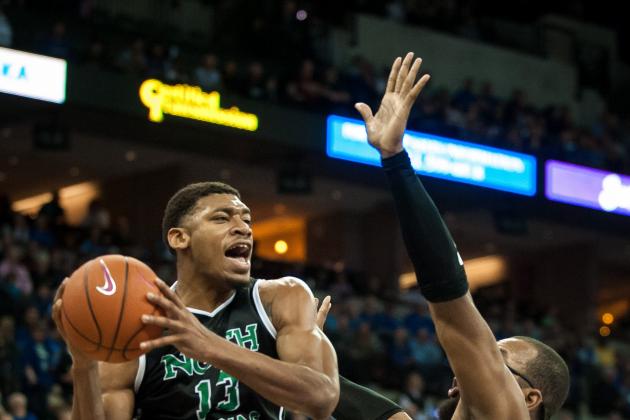 Eric Francis/Getty Images

Age: 20
Height: 6'8"
Weight: 235
Rounding out our lottery selections is North Texas standout Tony Mitchell.
He can hop with anyone and has an NBA-ready frame, but he isn't the most efficient player. If he plays power forward, he will be undersized in many matchups, and if he plays small forward, he will be outmatched skill-wise by most starting swingmen.
But if we look at the glass half full, he may present some matchup problems himself, and he has the potential to play both positions. That's why he'll hear his name called in the first half of the first round.
Chris Trotman/Getty Images

Age: 20
Height: 6'7"
Weight: 220
In 2011-12, Oklahoma State Cowboys forward Le'Bryan Nash was the kind of freshman I feared would go one-and-done.
But he didn't, and it will pay dividends in 2013-14 when he's an NBA rookie. The 6'7" slasher is working on his mid-range and outside shooting, which he'll need as a small forward in the association.
He'll be able to post up smaller swingmen, which is a nice skill to have, but the consistency of his long-range shooting will ultimately determine how strong his early pro years will be.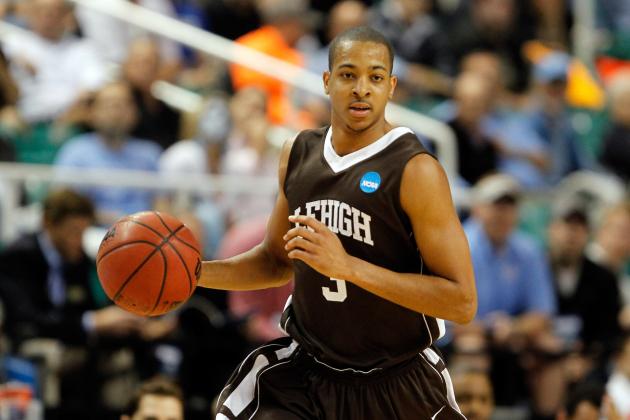 Streeter Lecka/Getty Images

Age: 21
Height: 6'3"
Weight: 165
One of the best mid-major players in the country, Lehigh guard C.J. McCollum leads the nation in scoring. His ball-handling, change of pace and shot-creation are exemplary.
Teams that are looking to fill out their backcourt or get an instant-offense reserve are targeting him, but they're hoping for too much if they think he's the next Damian Lillard or Stephen Curry.
Specific teams that should keep a eye on him are Dallas, Minnesota and Boston in the latter half of the first round. But it's not limited to those three, especially the way he's shooting three-balls (24-of-43) lately.
*Top Prospect: McCollum will work his way into a starting lineup by his second year.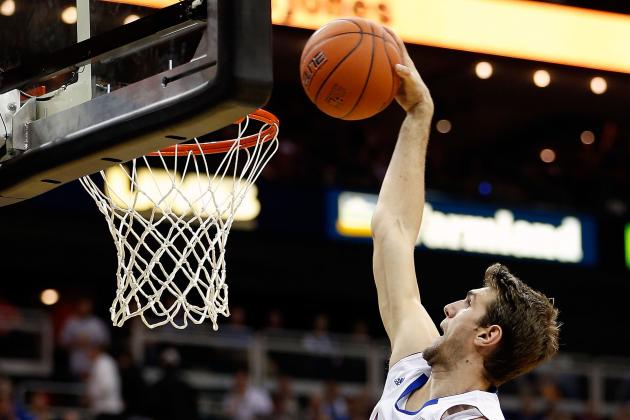 Jamie Squire/Getty Images

Age: 22
Height: 6'11"
Weight: 240
Over the first month of his final season at Kansas, Jeff Withey has improved from his junior year in nearly every major category.
The stat I'm most encouraged by is his 5.4 free-throw attempts per game, up from 4.0 a year ago. He's upgrading his ability to work in the post and put pressure on opposing defenses.
As for putting pressure on opposing offenses, well, that's no problem for this block machine averaging 5.7 per night. Considering his size, he won't slip past the late first round.
Age: 18
Height: 6'10"
Weight: 225
Although he's 6'10", Croatian prospect Dario Saric is less of a post-up player and more of a cutter, slasher and a shooter.
This could make him a somewhat limited offensive player as a pro, especially because he's not a great dribbler. However, what he does have going for him is his great motor and comprehension of space and timing.
Teams interested in him know that he's a bit of a project, but one with size and shooting skill.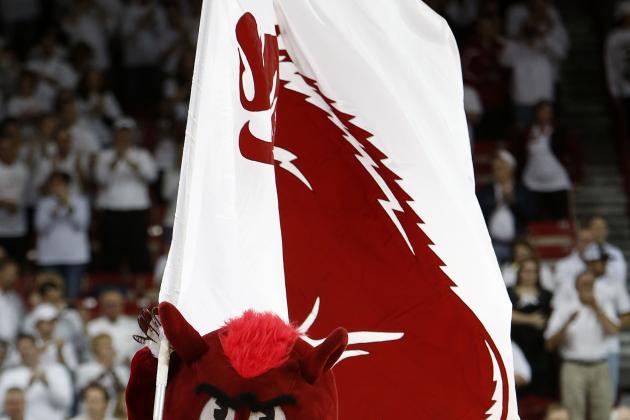 Wesley Hitt/Getty Images

Age: 19
Height: 6'3"
Weight: 175
On a higher-profile team, B.J. Young probably wouldn't have stood out so much, but since he's at Arkansas, we can all witness him carry a team offensively.
He can score from any spot on the floor and in a variety of ways: he uses his quickness to get open, and then uses it again to get past his defender.
The Milwaukee Bucks could really use his combo guard skills to add depth behind Brandon Jennings and Monta Ellis.
*Top Prospect: Within the first three years of his career, Young will start and average 15 per game.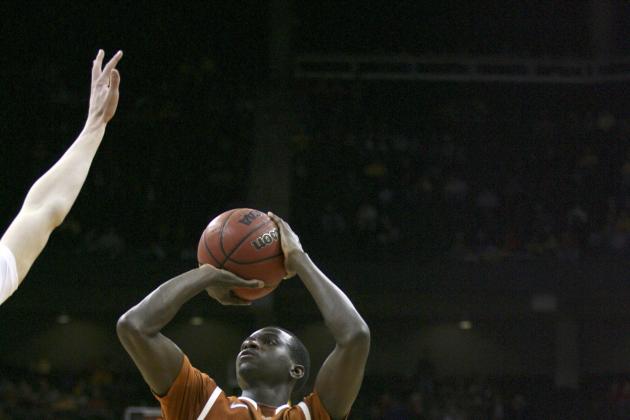 Ed Zurga/Getty Images

Age: 19
Height: 6'2"
Weight: 170
Whether he plays and excels for Texas in 2012-13 is one thing, but the 19-year old Myck Kabongo is an exciting player to watch.
He can break down defenders by changing direction and using his quickness to accelerate to the paint. Once he gets there, it's a creative finish or a dish to a teammate.
Kabongo sometimes gets caught trying to do too much in mid-air, but that's part of the price of a dazzling guard. Plenty of teams will still take a flyer on him in the late first round.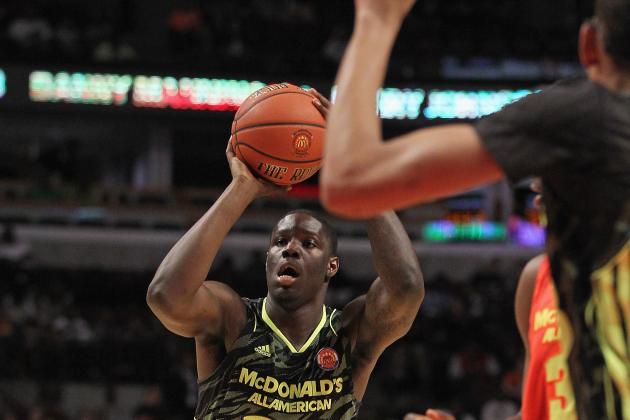 Jonathan Daniel/Getty Images

Age: 19
Height: 6'7"
Weight: 240
UNLV's Anthony Bennett has a thick frame, but don't be fooled, he can move well and often exhibits tremendous agility.
It's just the first week of December, but it's still impressive that this freshman has a Player Efficiency Rating of 34.7.
At the college level, the Runnin' Rebels bruiser can get away with being a power forward, but he will almost certainly be a combo forward in the NBA.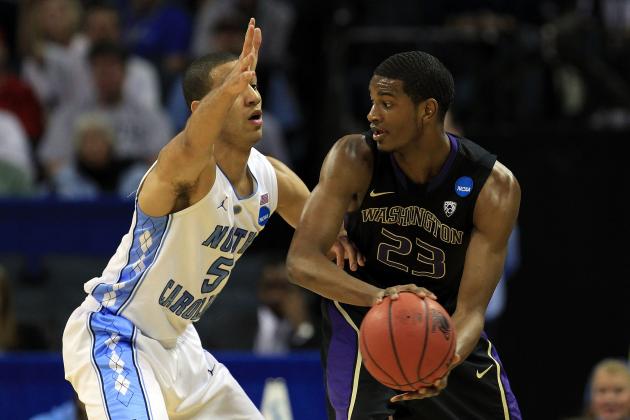 Streeter Lecka/Getty Images

Age: 21
Height: 6'5"
Weight: 195
Lorenzo Romar saw two of his Washington Huskies guards get plucked in the first round of the 2012 draft, and he will likely see another one make the ranks in 2013.
Why? Because C.J. Wilcox can flat-out shoot. He's lighting the 2012-13 season on fire thus far, shooting 52 percent from the field and 46 percent from the three-point line. This follows up an already-respectable 40 percent from long range last year.
Wilcox doesn't have the versatility of a Terrence Ross-type swingman, but he has enough shooting to rise to the middle of the draft.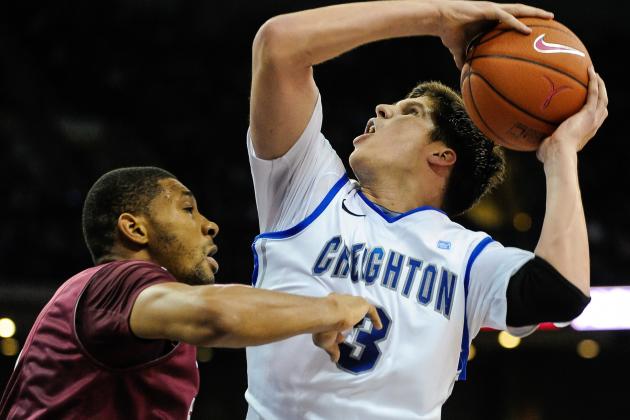 Eric Francis/Getty Images

Age: 20
Height: 6'8"
Weight: 225
Some of the best footwork, post skills and outside shooting in this class belong to 6'8" Creighton Bluejays forward Doug McDermott.
He keeps his school on the map with his scoring and rebounding proficiency, thereby keeping himself on the 2013 draft radar.
Lack of quickness or leaping ability limits his ceiling as a prospect, but the nice part for NBA teams is that they know exactly what they're getting out of this fundamentally-sound junior.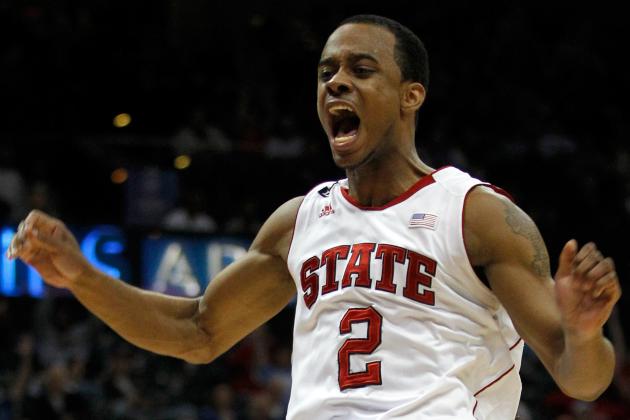 Streeter Lecka/Getty Images

Age: 22
Height: 6'4"
Weight: 220
An extremely rough start (34 percent from the field, 3.8 turnovers per game) might chip into Lorenzo Brown's draft stock a little bit. But I'm confident that a player like him in a system like NC State's will iron it out and put together a first-round worthy campaign.
Size and athleticism aren't a problem for Brown, but he does need to prove that he can run an offense efficiently.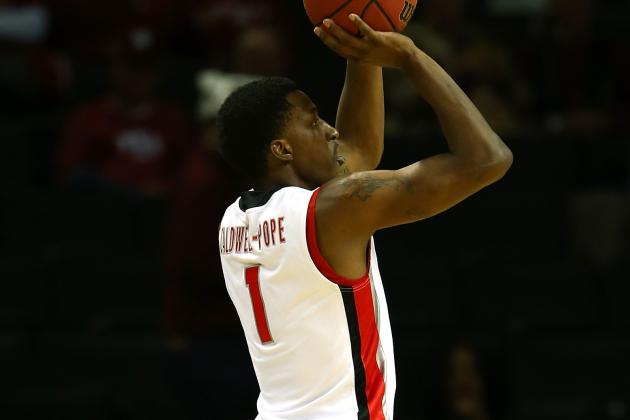 Elsa/Getty Images

Age: 19
Height: 6'6"
Weight: 185
Kentavious Caldwell-Pope is hoisting a ridiculous amount of three-pointers (8.9 per game) so far this season, and luckily for the Georgia Bulldogs, 36 percent of them are going in.
Caldwell also has some explosiveness to go with that shooting, and he's dropping 17.6 points per contest. Defensively, he's snatching 2.7 steals a night.
But the only thing keeping him from the middle of the first round is his inability to be a truly dynamic scorer. No one will show much interest until the mid-20s.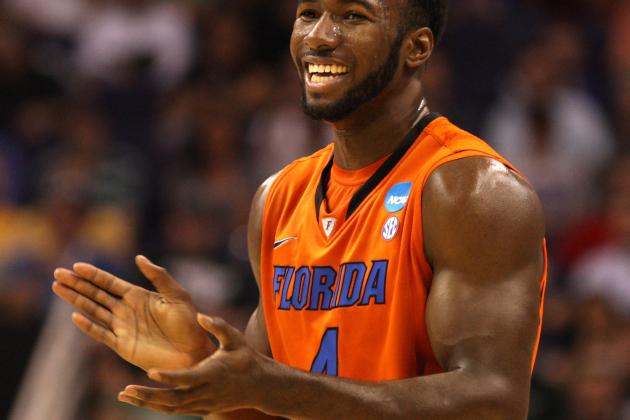 Christian Petersen/Getty Images

Age: 20
Height: 6'9"
Weight: 249
Physically, Patric Young of the Florida Gators is lottery-worthy.
Unfortunately, his skills and court sense aren't lottery-worthy, and it will keep him in the latter half of the first round.
That doesn't mean he won't be a valuable asset to an NBA club. Young could do very well as power forward off the bench, especially if he improves his touch around the hoop.
Right now, he's turning heads with his rebounding (7.8 per game) and shot-blocking (2.5 per game). If he keeps that up, he'll hear his name called somewhere in the 20s.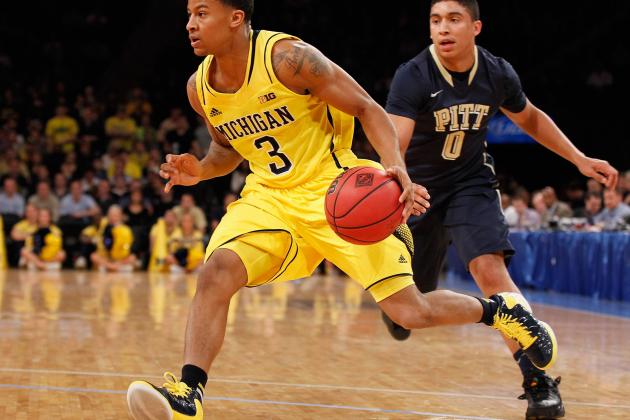 Mike Stobe/Getty Images

Age: 20
Height: 6'0"
Weight: 180
In his second year in Ann Arbor, Trey Burke has made noticeable strides as a floor general. So far, his assist-to-turnover ratio has gone from 1.6 to 2.6, something that will help his case for cracking the first round.
Burke can get past most defenders with his skills and speed, but his size will be a problem once he gets into NBA-caliber paint areas.
As long as he can show that he can penetrate and dish and run the pick-and-roll, teams like Houston, Denver and Minnesota will be eye-balling him for a reserve guard slot.
*Top Prospect: Though undersized, Burke will exceed expectations and play 10-plus years in the NBA.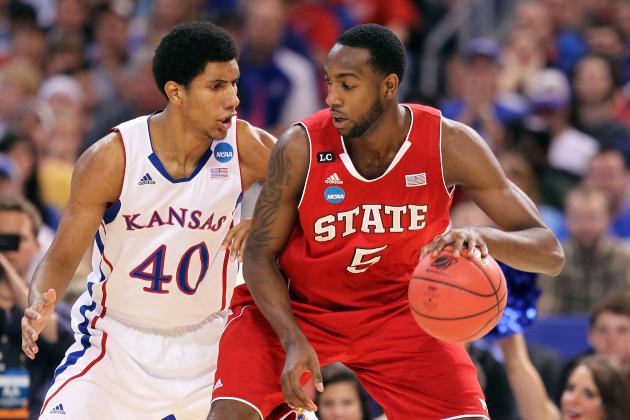 Andy Lyons/Getty Images

Age: 20
Height: 6'9"
Weight: 210
Much like his Wolfpack teammate Lorenzo Brown, N.C. State's C.J. Leslie is blessed with athleticism.
Unfortunately, he's not sturdy enough to survive as a true power forward in the NBA. I fear that he may become a 'tweener for the worse unless he can add 15-20 pounds.
That would be okay if his swingman skills were reliable, but they aren't.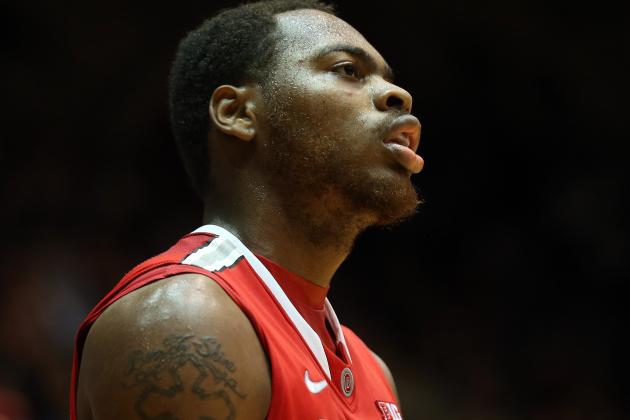 Streeter Lecka/Getty Images

Age: 21
Height: 6'7"
Weight: 220
In almost the same amount of playing time as 2011-12, Ohio State Buckeyes forward DeShaun Thomas has upped his scoring from 16 to 21 a night, and increased his long-distance shooting percentage from 35 percent to 44 percent.
But is there a position for him in the NBA? He's not quick enough to be a prototypical wing player, and he's definitely not big enough or athletic enough to be a prototypical center.
Two Southwest Division clubs jump out at me: Memphis and San Antonio are two teams that could use Thomas' offense more than anything.
Mike Stobe/Getty Images

Age: 20
Height: 6'6"
Weight: 190
Early on in the 2012-13 season, Michigan Wolverines star Tim Hardaway Jr. is displaying the kind of shooting efficiency that NBA executives love to see.
As the leader of one of the nation's top teams, Hardaway has a lot on his shoulders this season.
A Big Ten title and a Final Four should be a goal for this first-round hopeful. He still has one year left of eligibility, but a stellar 2012-13 will undoubtedly lead to an early exit.
For more college hoops and NBA chatter, follow me on Twitter: @Danielobleacher