Juventus vs. Torino: What We Learned from Juve's 3-0 Win in the Turin Derby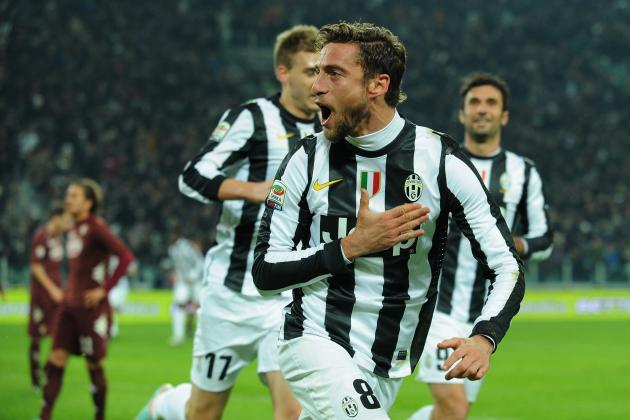 Valerio Pennicino/Getty Images
Marchisio found the net twice.
Juventus came into the game against their cross-town rivals Torino in dire need of a win after consecutive letdowns against Lazio and AC Milan.
After a mediocre first half that saw Andrea Pirlo miss a penalty and Torino get reduced to ten men, the Bianconeri picked up the pace and put three goals past Torino stopper Jean-François Gillet.
It wasn't the most inspired performance from Juventus, but it did provide us with a lot of insights regarding Antonio Conte's men, and the 3-0 score line will keep the Bianconeri on top of the Serie A table while offering some momentum ahead of the all-important UEFA Champions League game against Shakhtar Donetsk.
Here's what we learned from tonight's game.
Begin Slideshow

»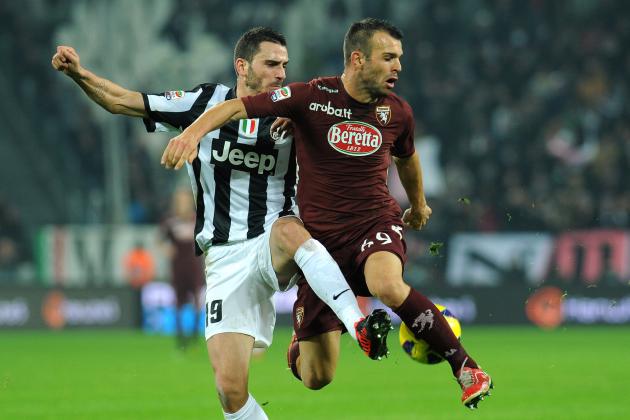 Valerio Pennicino/Getty Images

Before I say anything, I just want to make clear how glad I am that Torino is back in the Serie A.
Casual fans of the game might not know this, but this club was the best team in Italy for a long time and was at one point widely considered to be the best team in the world.
In fact, if I had to pick the most dominant side in football history, I'd go with Il Grande Torino right before the Superga air disaster.
Despite playing with just 10 men the entire second half, Torino showed that they belong in the Serie A tonight. They have a lot of talent on their roster and just too much class and history not to be a part of Italy's top division.
The Turin derby is a game lots of fans look forward to, and these games always offer something.
So in summary: let's all pray Torino is here to stay.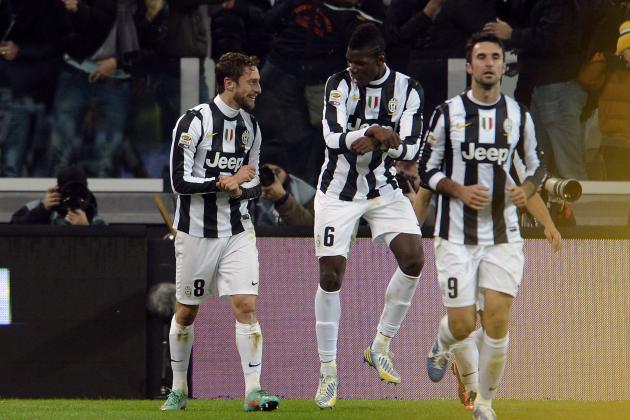 Claudio Villa/Getty Images
Gangam style. Why not.
Coming into this game, Claudio Marchisio was experiencing a major drop in form. He'd put in bad performances against Lazio and AC Milan, and there were even rumours he'd start this game on the bench.
During the first half, he looked very much like the player we saw (or didn't see) in those two games. He looked sluggish, lacked the confidence to take risks and played one bad pass after another.
Yet when his team needed him the most, he did what all great players do—he delivered.
His goal early in the second half liberated Juventus, and it seemed to have a positive impact on Marchisio as well.
He started taking some risks again, and became more of a presence on the field.
Then he scored again.
By the time the final whistle blew, he looked very much like the Marchisio of old. The one we saw against Pescara, playing with a flair that makes everything look easy.
This just goes to show why you never just bench a player who's struggling with form. Marchisio simply has too much class to not overcome such dips.
Fans must hope his excellent performance in the second half was enough for Marchisio to return to his old ways, as he will play a major part for the Bianconeri in the remainder of this season.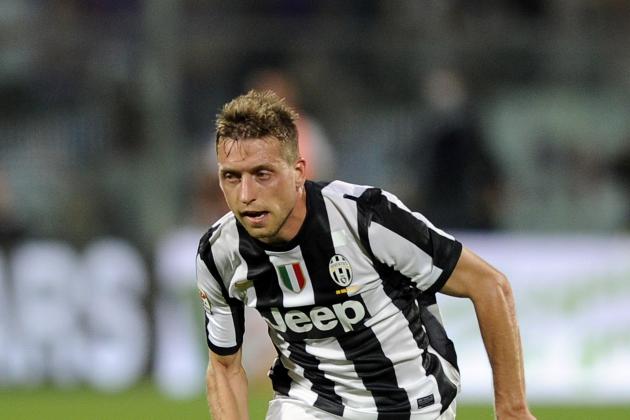 Claudio Villa/Getty Images

You might think I'm overreacting, but I've had it with Emanuele Giaccherini. His performance tonight proved what I've long known: the guy isn't good enough to play for Juventus.
I'm pretty sure he led Torino in passing, because the rate at which he turned the ball over was stunning. I've never seen a player get dispossessed so many times in one half of football.
Not a single good cross. Not one. A defensive liability that runs into defenders and whines if the referee doesn't blow the whistle.
How Giaccherini is a part of the national team is beyond me.
He has the occasional moment that makes you think he might be worth it after all, but 95 percent of what he does on the field is detrimental to the team. To top it all off, he doesn't fit the 3-5-2 system that Juventus runs.
I'm sorry, but I'm calling it right here: Giaccherini is a bust.
He's not even a serviceable backup, unlike Paolo De Ceglie who had a solid night in place of Kwadwo Asamoah.
De Ceglie might not be flashy, but he understands his role on the field and does enough to warrant a spot on this roster when he sets foot on the pitch.
Not the case for Giaccherini.
I'm sure some team desperate for a winger will see something in him and gladly take him off Juve's hands during the January transfer window, and the team could use the funds to bring in a new striker.
But please, stop giving this guy chances.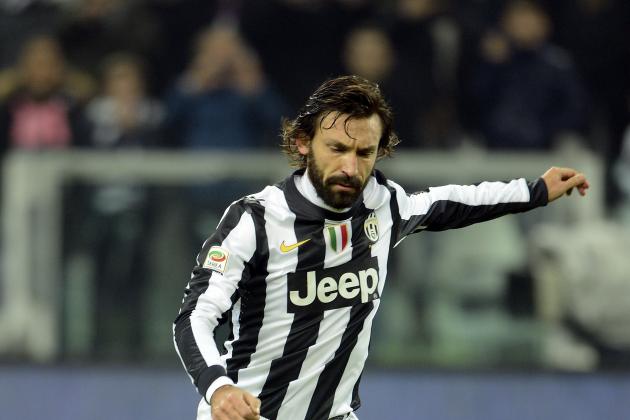 Claudio Villa/Getty Images

Reports say there was an injury outside of the Juventus Stadium: someone got hit by Andrea Pirlo's penalty.
In all seriousness, Juventus have an issue with spot kicks.
Arturo Vidal is the designated penalty taker for the Bianconeri, but when he's not on the field, Pirlo is the next man up. You'd think someone with his phenomenal set-piece skills would be a logical choice, but then again...
Ask any coach, on any level, and they'll all give you this golden advice:
No matter what you do, always hit the target.
Most teams will give the task of backup-penalty taker to a striker, and maybe that's something Antonio Conte should consider as well.
Valerio Pennicino/Getty Images

I love the idea of Sebastian Giovinco as a substitute, where he can use his energy and pace against a defense that is already tired. It would make a lot of sense if there was someone who could start in his place.
The problem is: there isn't.
The partnership of Fabio Quagliarella and Mirko Vucinic doesn't work, and Juve need Giovinco's creativity and mobility in games like this, where the opposing team puts up a double wall and hopes for a draw.
The Atomic Ant plays well alongside Vucinic, who likes to play with his back towards the goal and provide space for other attackers.
He also links up well with Quagliarella, who takes advantage of the space that is created by his running.
Alessandro Matri and Nicklas Bendtner are not an option at the moment, as the coaching staff clearly lacks confidence in both players.
As long as the Bianconeri don't bring in a class striker that works well alongside Vucinic or Quagliarella, Giovinco needs to start.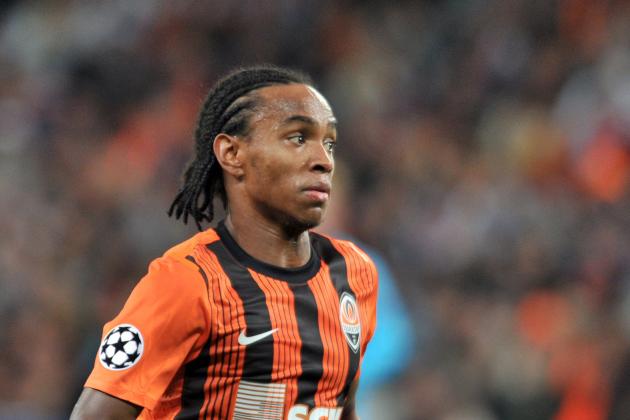 EuroFootball/Getty Images
Luiz Adriano will be suspended following his goal against Nordsjaelland.
Three points are three points, but don't kid yourself: Juventus did not play a good game tonight.
They looked uninspired in the first half, and while Torino never posed much of a threat, the Bianconeri were helped a great deal by Kamil Glik's horrible tackle that saw him get sent off.
On a side note, I'm already looking forward to the Milan fans saying that was not a red card, and the referee helped Juventus once again.
Despite all of this, Juve were still able to muster a number of chances, but failed to capitalise on the bulk of them.
Paul Pogba and Nicklas Bendtner in particular missed chances that should always find the back of the net.
Against a team like Torino, you can afford to miss some chances. Against Shakhtar, not so much.
Juventus only need a point against the current leaders in Group E of the Champions League, but a win would guaranteed first place for the Bianconeri. You can be sure Antonio Conte will be playing for the win and won't tell his troops to take it easy in the knowledge that a draw will suffice.
If Juve want to beat the Ukrainian champions, they can't afford to miss any big chances. At the UCL level, any miss can prove fatal.
Shakhtar nearly beat Juventus when these two sides last met. The Bianconeri will need a far better performance than the one we saw tonight if they wish to return from Donetsk with three points and the top spot in Group E.
Be sure to check Bleacher Report for all coverage of the Champions league game between Juventus and Shakhtar Donetsk.