WWE Raw: 7 Moments That We Need to See Happen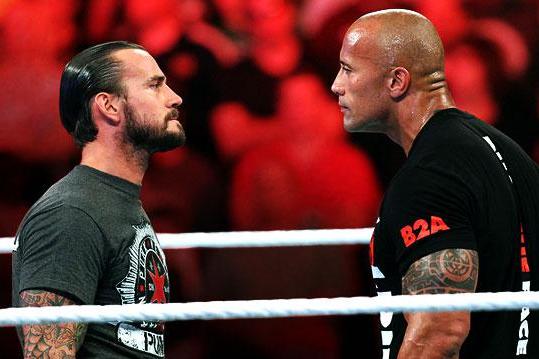 Photo courtesy of WWE.com
On Dec. 11, the WWE will release one of its most highly anticipated DVDs in recent memory, The Top 100 Moments in Raw History.
As the title implies, the three-disc DVD set will cover the 100 biggest moments that occurred during the first (roughly) 20 years of the flagship show's run.
The DVD figures to be a very entertaining look at some of the monumental occurrences that changed the WWE forever, but there's no doubt that the list will be incomplete as soon as it's released.
Why? Well, because more monumental Raw moments are bound to happen in the not-so-distant future.
With plenty of fast-rising superstars and big names set to appear on Raw for the foreseeable future, we're bound to get many more unforgettable moments on Monday night.
Here are seven Raw moments that we need to see.
Begin Slideshow

»
Due to the advancement of the Internet, many superstars who make themselves famous on the independent scene enter the WWE with a ridiculous amount of hype surrounding them.
The four names that immediately come to mind for many fans? CM Punk, Daniel Bryan, Dean Ambrose and Seth Rollins.
Perhaps more so than any other stars in history, these four guys entered the WWE with a ton of buzz and lofty expectations from fans across the world. Now, they're finally on national TV on the same roster at the same time.
As a result, the WWE has the potential to put on so many dream matches involving Punk, Bryan, Ambrose and Rollins. We could see Rollins vs. Bryan, Ambrose vs. Punk or a Fatal 4-Way involving all four guys.
Either way, plenty of Internet wrestling fans will be overcome with excitement if and when the day comes that four of the most successful indy wrestlers in recent memory step into the ring on the WWE's flagship show at the same time.
Maybe not a monumental moment for younger fans, but for the older fans, one they'd never forget.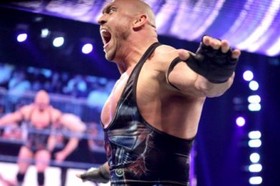 Photo courtesy of WWE.com
While Ryback isn't winning over some hardcore wrestling fans, it's hard to deny that he has great ring presence, charisma, power and an incredible physique.
Like it or not, he's the WWE's new monster, and it's going to be hard for any one individual to step in and change that.
One man who might be capable of such a task, however, is none other than Brock Lesnar.
We haven't seen Lesnar on Raw since the night after SummerSlam, but we all know he's coming back at some point. The only real question is whether he will reignite his feud with Triple H when he does.
There doesn't seem to be much benefit to having a rematch between those two, which is why using Lesnar to put over the up-and-coming Ryback would probably be, as Triple H might say, best for business.
Whenever Lesnar returns, some fans will hope to see him go after "Big Hungry," and an epic faceoff between the two on Raw could be the defining moment of what would be a WrestleMania-worthy rivalry.
Rumors have been swirling about Randy Orton turning heel for months now, but at least so far, it hasn't happened.
The closest we've gotten to an Orton heel turn was him teasing the punt kick at Survivor Series. Yet, that doesn't mean that he won't go bad anytime soon.
In fact, that punt kick seemed to be a foreshadowing of what seems like a certainty: Orton indeed turning heel in the near future.
While Orton has had a great run with a long line of fantastic matches as a face, it also seems like he's mailed it in at times and is no longer interested in being the good guy anymore. As a result, the WWE will turn him heel, and it will do it soon.
What we don't know is how and when that will happen. The best option, though, is to do it when the most viewers are watching and the resulting buzz will be the greatest.
That, of course, would happen on Monday Night Raw, when an Orton heel turn would be sure to trend on Twitter, likely cause a big spike in ratings and generate a lot of interest in the following SmackDown episode as well.
When the greats hang up their boots for good, they deserve to be honored for everything they contributed to the wrestling business.
In recent years, we saw both two of the best ever, Ric Flair and Shawn Michaels, receive a couple of the greatest sendoffs in wrestling history.
Within the next year or two, another all-time great will likely call it quits as well, and he, too, deserves a ceremony that celebrates one of the greatest careers in wrestling history.
That superstar is none other than The Deadman. The Phenom. The Undertaker.
While a big, magical sendoff isn't exactly fitting with The Undertaker's character, his retirement (which figures to be after his last WrestleMania match) should not even take that into consideration.
The Undertaker has made as big of an impact on wrestling as just about anyone in the history of the business, and like Flair and Michaels before him, his career should end with an epic sendoff on Monday Night Raw.
After it was announced on Monday's Raw that Dolph Ziggler would put his Money in the Bank briefcase on the line against John Cena at WWE TLC, this may never actually happen.
But "The Showoff" has worked his tail off over the years and is finally getting the type of push that most think he deserves.
Ziggler is undoubtedly one of the WWE's top talents, and assuming he holds onto that that briefcase (that better happen), we have to see him win his first legitimate World Heavyweight Championship.
His first "reign" didn't even last for an entire episode of SmackDown and has become somewhat of a forgotten piece of WWE history. That can't happen with his second one.
Whenever Ziggler cashes in to become the World Heavyweight Champion, it needs to be treated like a monumental moment and be the start of a lengthy run with the belt.
Oh, and it should happen in front of the WWE's biggest audience on Monday Night Raw.
It's almost a lock that The Rock will challenge CM Punk for the WWE Championship at The Royal Rumble.
If and when that match takes place, it's going to be one of the most anticipated matches ever and the biggest match of Punk's career.
The match itself is expected to deliver the goods, but what has wrestling fans even more excited is the potential of the buildup to it.
The Rock and Punk are two of the greatest talkers in wrestling history, and as a result, we're expecting to see some absolutely classic promos between the two on Raw.
Looking back at the year-plus long rivalry between The Rock and John Cena, they had some truly amazing moments on the mic. Will Punk and The Rock top those?
Probably so.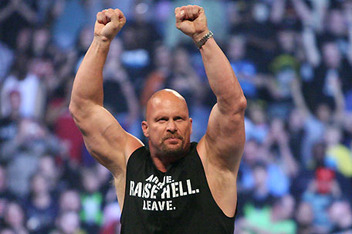 Photo courtesy of WWE.com
Over the last couple of years, we've seen some of the biggest names in wrestling history return to the WWE.
Chris Jericho, The Rock and Brock Lesnar all came back to the place that launched them to superstardom.
After seeing the success that those guys have had, the WWE is bound to bring back more major stars down the road. It's just a matter of which big-time star returns.
One that seems possible these days? "Stone Cold" Steve Austin.
Austin has openly stated that he could and would wrestle one match under the right circumstances, and there are fans across the world who would love to see him do exactly that.
At this point, it seems like there's a 50/50 chance that we'll get one more "Stone Cold" match, but if/when it happens, his return will provide us with one of the most unforgettable moments in Raw history.
Drake Oz is a WWE Featured Columnist for Bleacher Report. Follow him on Twitter!